Israeli defense minister: 'We are ready to fight' Iran and Hezbollah – IDF is now finalizing targets and strike packages
In his bluntest language yet, Benny Gantz warns that an Israeli attack on Iranian nuclear sites – and a Third Lebanon War – could be coming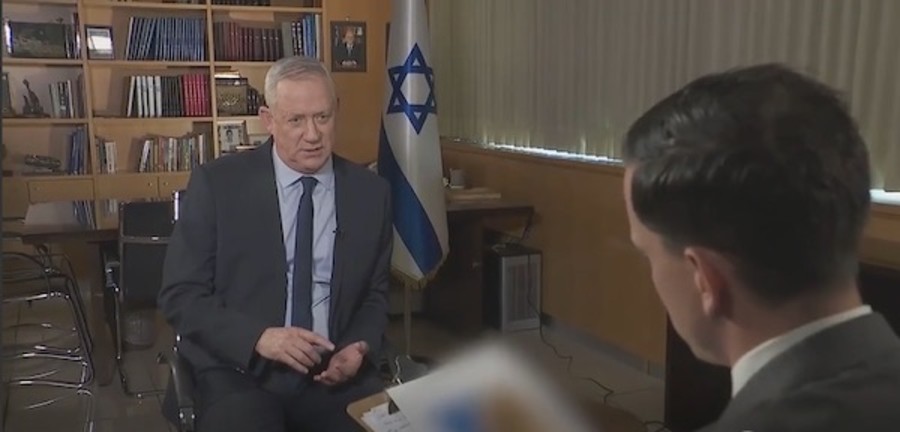 Screenshot of Gantz interview with Fox News.
JERUSALEM – To put it bluntly: The Biden administration is making Israel nervous. 
Yes, U.S. President Joe Biden ordered air strikes in eastern Syria yesterday against Iranian-funded and supplied terrorist militias whom U.S. intelligence says were responsible for the recent series of attacks on American and Iraqi bases and soldiers in Iraq.
But those were pinpricks, designed to take out a few buildings, not to take out actual terrorist leaders.
Meanwhile, Biden has removed the Houthis – an Iranian-funded and armed terrorist proxy group in Yemen – from the State Department's "foreign terrorist organization" list, even as the Houthis continued to fire missiles at Saudi targets, including its capital Riyadh.
And the White House seems determined – indeed, almost desperate – to get back in the deeply flawed Iran nuclear deal, the Joint Comprehensive Plan of Action (JCPOA), despite the fact that Tehran has bluntly and repeatedly rejected Biden's terms.
Iranian aggression in the region is steadily growing, yet the White House does not seem ready, willing or able to make it clear to Tehran that there is a heavy price to pay for such aggression.
Indeed, Biden and his team appear to be letting up on the Trump "maximum pressure" campaign of sanctions on Iran.
Moderate Sunni Arab allies throughout the Middle East are getting edgy.
So are senior Israeli officials.
Now, in his bluntest language yet, Israeli Defense Minister Benny Gantz is warning that Israel is finalizing its target packages to strike Iran and Hezbollah – Iran's terror proxy force in Lebanon – in case the U.S. and international community are unwilling or unable to prevent the mullahs in Tehran from moving closer to building nuclear weapons.
"If the world stops [the regime in Tehran] before, it's very much good," Gantz said in a major interview with the Fox News Channel that aired Thursday night. "But if not, we must stand independently and we must defend ourselves by ourselves."
Trey Yingst, a Fox correspondent based in Jerusalem, sat down with Gantz to discuss the growing threat.
"Iran is now enriching uranium at 20%, well beyond the confines of the nuclear deal," Yingst noted in the clip released by Fox. "In the nuclear deal, the limit puts Iran around 3.7%. Iran's Supreme Leader, Ayatollah Khamenei, says he reserves the right to enrich uranium at 60%. We know that weapons-grade purity would be around 90%. With each enrichment scale that is reached, and each day that goes by where there isn't a deal on the nuclear deal, Iran is getting closer and closer to a nuclear weapon."
"Recently, the IDF (Israel Defense Forces) chief of staff – Aviv Kochavi – said that Israel is preparing to strike Iranian nuclear targets if needed. Are those preparations complete?" Yingst asked.
"They will never be complete," Gantz said. "The only time for completing them will be the time that we will actually conduct them. Until that, we will continue to build them, to improve them. This is something that any military needs to do. We are working on it. We have them [targeting plans] in our hands, of course, but we will continue and be constantly improving them to the highest professional level possible."
"But it's very important to remember what you have just said Trey," Gantz continued. "The Iranians are breaking everything that we [the international community] agreed with them. This is something they are trying to build [nuclear arsenal], either to use it – God forbid – or to use as a deterrence canopy to enable them to even further the pressure on the regional aspects that we have been talking about. Therefore, the Iranian nuclear aspiration must be stopped."
Yingst then asked how many missiles that Israel believes Hezbollah has.
"Hundreds of thousands," Gantz said, and then showed the Fox correspondent a classified IDF map of Lebanon, showing Hezbollah strongholds.
"What you see there is ground forces, missiles, headquarters, launching sites, etcetera," Gantz said. "Everything is aimed at [Israeli] civilian targets and its being conducted from [Lebanese] civilian infrastructure. That's the case in Lebanon."
"Now, you tell me – what's going to happen in Lebanon?" the defense minister asked.
"This is a target list for you?" Yingst asked, while studying the document.
"This a target map," Gantz confirmed. "Each one of them [the targets] has been checked legally, operationally, intelligence-wise and we are ready to fight."
"The annual Israel Defense Forces intelligence briefing indicated that Israel is preparing for several days of fighting with Hezbollah," Fox reported. "Local media reports said 3,000 Lebanese targets would be hit every day during the next conflict, with an aim to kill 300 Hezbollah fighters every 24 hours."

Joel C. Rosenberg is the editor-in-chief of ALL ISRAEL NEWS and ALL ARAB NEWS and the President and CEO of Near East Media. A New York Times best-selling author, Middle East analyst, and Evangelical leader, he lives in Jerusalem with his wife and sons.
A message from All Israel News
Help us educate Christians on a daily basis about what is happening in Israel & the Middle East and why it matters.
For as little as $5, you can support ALL ISRAEL NEWS, a non-profit media organization that is supported by readers like you.
Donate to ALL ISRAEL NEWS
Current Top Stories
Comments