Israel to send world's second-largest delegation to UN climate change summit next week
Bennett declares climate change a "national security issue" for Israel
President Isaac Herzog and the Environmental Protection Ministry host the Israeli delegation to Glasgow COP26 (Photo: Amos Ben Gershom/GPO)
After having positioned itself as a world leader in the fight against COVID-19 through aggressive vaccination policies and closed borders, Israel is taking on a new global crisis with gusto: climate change.
The Jewish state is sending the second largest national delegation to the United Nations Climate Change Conference of the Parties (COP26) in Glasgow, Scotland. The conference – whose slogan is "Uniting the world to tackle climate change" – begins on Sunday and will continue through Nov. 12.
Israel may be comparatively small relative to other nations attending the summit, but its delegation of 120 members is second only to the United States. The Israeli delegation will be led by none other than Prime Minister Naftali Bennett, underscoring the nation's priority on this issue.
"The climate crisis is one of the major issues on the world agenda. It concerns the lives of all of us, and also the lives of our children and grandchildren," Bennett said this week. "We are obligated to deal with it in Israel; it is at the core of our being."
In fact, Bennett called climate change a national security issue.
"The COP26 summit will bring parties together to accelerate action towards the goals of the Paris Agreement and the UN Framework Convention on Climate Change," the website says.
Representatives from some 197 nations are expected to attend and most will be exempt from quarantine.
Earlier this week, Israel's President Isaac Herzog and the Environmental Protection Ministry hosted the Israeli delegation at the president's residence where the menu consisted of vegan eggs made from chickpea protein and cultured chicken grown in a lab by the company Future Meat, which is said to be able to produce food with reduced greenhouse gas emissions and very little water.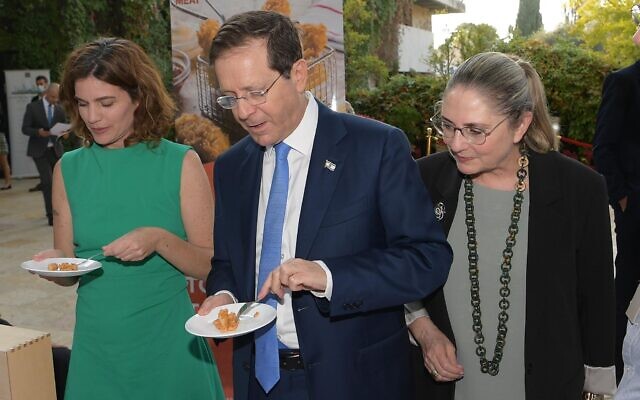 President Isaac Herzog, his wife, Michal (r), and Environmental Protection Minister Tamar Zandberg taste chicken made from laboratory generated cells, at the President's Residence in Jerusalem, October 25, 2021. (Photo: Amos Ben Gershom/GPO)
At the reception, Herzog said climate issues constitute a "state of emergency."
"We must create as broad a coalition as possible, comprising all branches of industry, trade, academia and of course the public sector and local government, joining forces with a single goal: to urgently and immediately address the climate crisis," he said. "Not next year, not in two months' time. Here and now." 
At the reception, Herzog was given a "carbon footprint" calculator, the first of its kind in Israel, which calculates the quantity of greenhouse gases a person emits along with an estimate of their impact on the planet and recommendations to minimize their carbon footprint.
Israel needs to take the lead once again on solar energy, Herzog said, and also educate children from first grade about climate change. The president founded the Israeli Climate Forum, led by former Knesset Member Dov Khenin, to "deliberate on the climate crisis and especially the State of Israel's role in addressing it." The forum will meet regularly.
Environmental Protection Minister Tamar Zandberg has asked the government to declare a national climate emergency.
"Israel is behind, but we are on the right track to close the gap and raise our targets to zero emissions," she said, adding that her ministry has already presented a strategy to reach its goals. "We also worked with the National Security Council on introducing the climate crisis as a national threat that requires a response from state authorities."
Energy Minister Karine Elharar said her ministry has its eyes on Israeli companies that are leading the field in green energies.
"Bring to the table ideas and proposals to rapidly and correctly manage the transition toward renewable energy. Promote inter-ministerial collaboration, to promote the State of Israel's fight against global warming," she said. "This government is fully mobilized for the joint struggle against the climate crisis, each in his own field, but most importantly hand-in-hand."
Bennett presented a plan of "100 Action Items" to the Cabinet this week to prepare Israel for dealing with emergencies, climate innovation, regional cooperation and reducing greenhouse gas emissions.
The government passed four resolutions committing to reduce greenhouse gas emissions, encouraging a significant shift to public transportation, removing obstacles to renewable energy and promoting technological innovation.
SPANNING NATIONS, COMPANIES & EVEN RELIGIONS
Here in the Middle East both Bahrain and Saudi Arabia committed to reaching reach net zero carbon emissions by 2060. In addition, Saudi Crown Prince Mohammed bin Salman announced the launch of the "Middle East Green Initiative" – a sustainable road map for the wider region.
"Given our starting point, beginning this journey to a greener future has not been easy. But in line with our overall modernization philosophy, we are not avoiding tough choices," the crown prince said. "We reject the false choice between preserving the economy and protecting the environment."
This was preceded by a joint call in September that superseded national borders when three Christian leaders – Pope Francis, the Archbishop of Canterbury and the spiritual leader of Orthodox Christians – said climate change delegates must "listen to the cry of the Earth."
"As leaders of our Churches, we call on everyone, whatever their belief or worldview, to endeavor to listen to the cry of the earth and of people who are poor, examining their behavior and pledging meaningful sacrifices for the sake of the earth which God has given us," said the statement issued jointly by the Pope, Archbishop Justin Welby of the Anglican Communion and the Istanbul-based Ecumenical Patriarch Bartholomew I.
"We must decide what kind of world we want to leave to future generations," they said.
Tech giants, Google and YouTube, also recently announced a new policy prohibiting "climate deniers" from monetizing their content on its platforms via ads or creator payments.
As with a clamp down on what it calls COVID misinformation, now they will target advertising content that contradicts "well-established scientific consensus around the existence and causes of climate change," according to a company statement.
"Advertisers simply don't want their ads to appear next to this content. This includes content referring to climate change as a hoax or a scam, claims denying that long-term trends show the global climate is warming, and claims denying that greenhouse gas emissions or human activity contribute to climate change," Google said.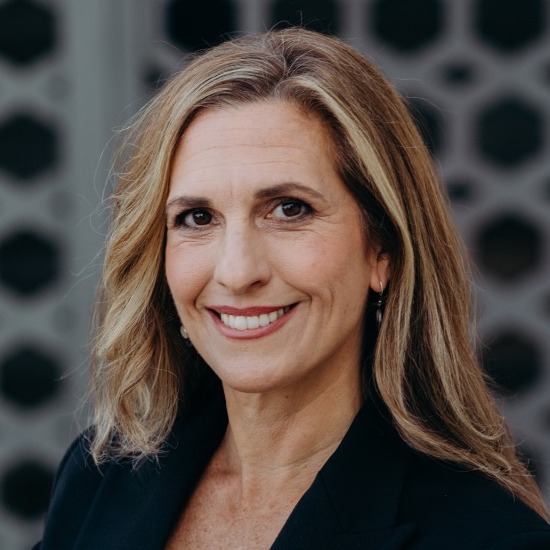 Nicole Jansezian is the news editor for both ALL ISRAEL NEWS and ALL ARAB NEWS and senior correspondent for ALL ISRAEL NEWS
A message from All Israel News
Help us educate Christians on a daily basis about what is happening in Israel & the Middle East and why it matters.
For as little as $5, you can support ALL ISRAEL NEWS, a non-profit media organization that is supported by readers like you.
Donate to ALL ISRAEL NEWS
Current Top Stories
Comments