Israel set to absorb up to 15,000 Ukrainians by end of month
Israeli ministers deliberate over how to handle influx of Ukrainian refugees and whether Jewish immigrants should get priority; PM Bennett: "The State of Israel is a refuge for Jews in distress."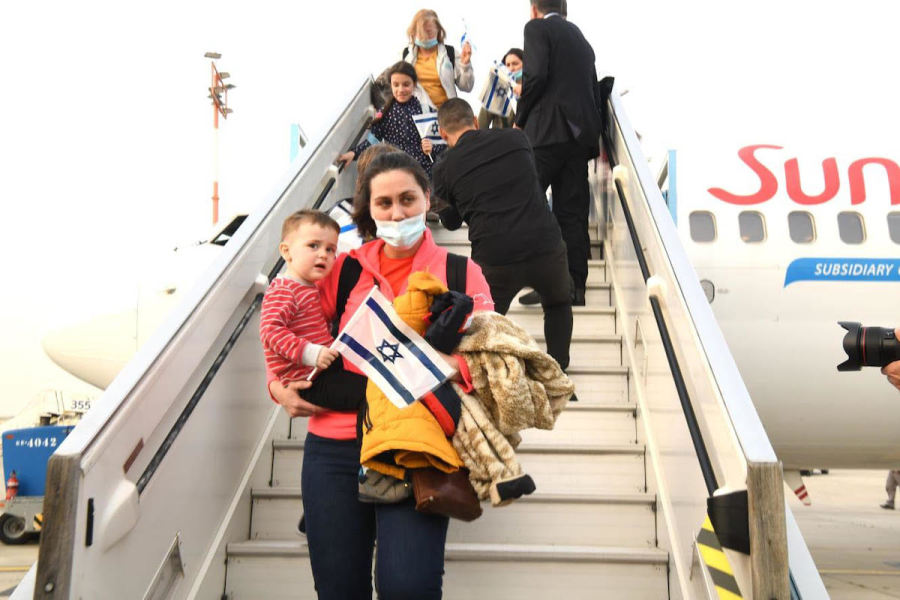 Ukrainian Jewish refugees arrived at Ben-Gurion International Airport as part of a special rescue operation, Mar. 6, 2022 (Photo: The Jewish Agency for Israel)
As the war in Ukraine continues to unfold, the State of Israel is preparing to absorb tens of thousands of refugees in the coming weeks and even welcomed a flight that brought in 90 children from an orphanage in Zhytomyr on Sunday. 
"I was excited to receive them and told them - you are safe now, you have reached a safe shore," said Prime Minister Naftali Bennett who was on hand to receive them.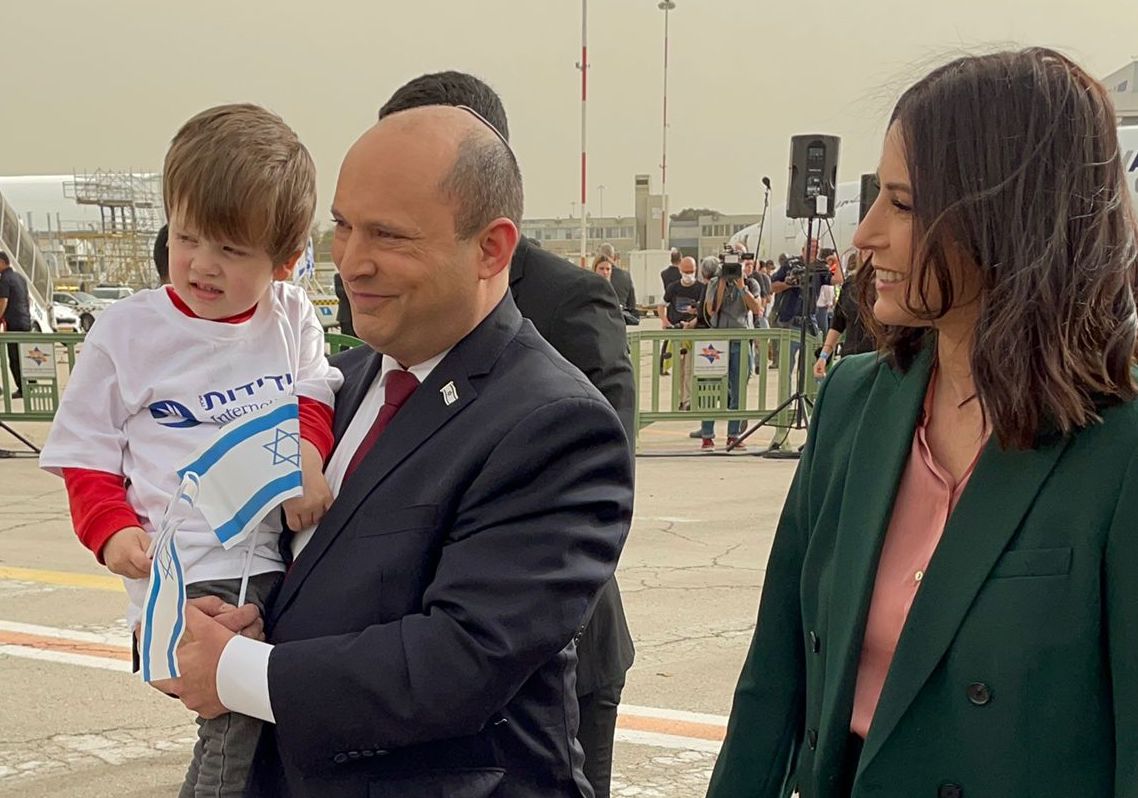 Israeli Prime Minister Naftali Bennett and his wife, Gilat, welcome Ukrainian children from Zhytomyr (Photo: Naftali Bennett/Twitter)
The children arrived as part of a special rescue operation carried out by the Jewish Agency that so far has helped more than 300 Ukrainian Jews make aliyah immediately. The agency has received more than 1,500 such requests from refugees that are currently in shelters in Moldova, Hungary, Poland and Romania.  
"The implications of the war are reaching everywhere, to us as well," the Israeli premier told a Aliyah and Integration Ministry Committee on Monday. "We in the State of Israel have absorbed, as of now, hundreds of refugees, some of them Jews, most of them not. Naturally, the State of Israel will focus on Jewish refugees." 
Bennett added that "the State of Israel was founded as a state that is the safest place in the world for Jews. This is the heart of its purpose." 
He stressed that Israel's internal bureaucracy cannot create obstacles for refugees seeking to immigrate. 
"We must know how to overturn worlds and cut through bureaucracy in order to carry out this historic mission," he said.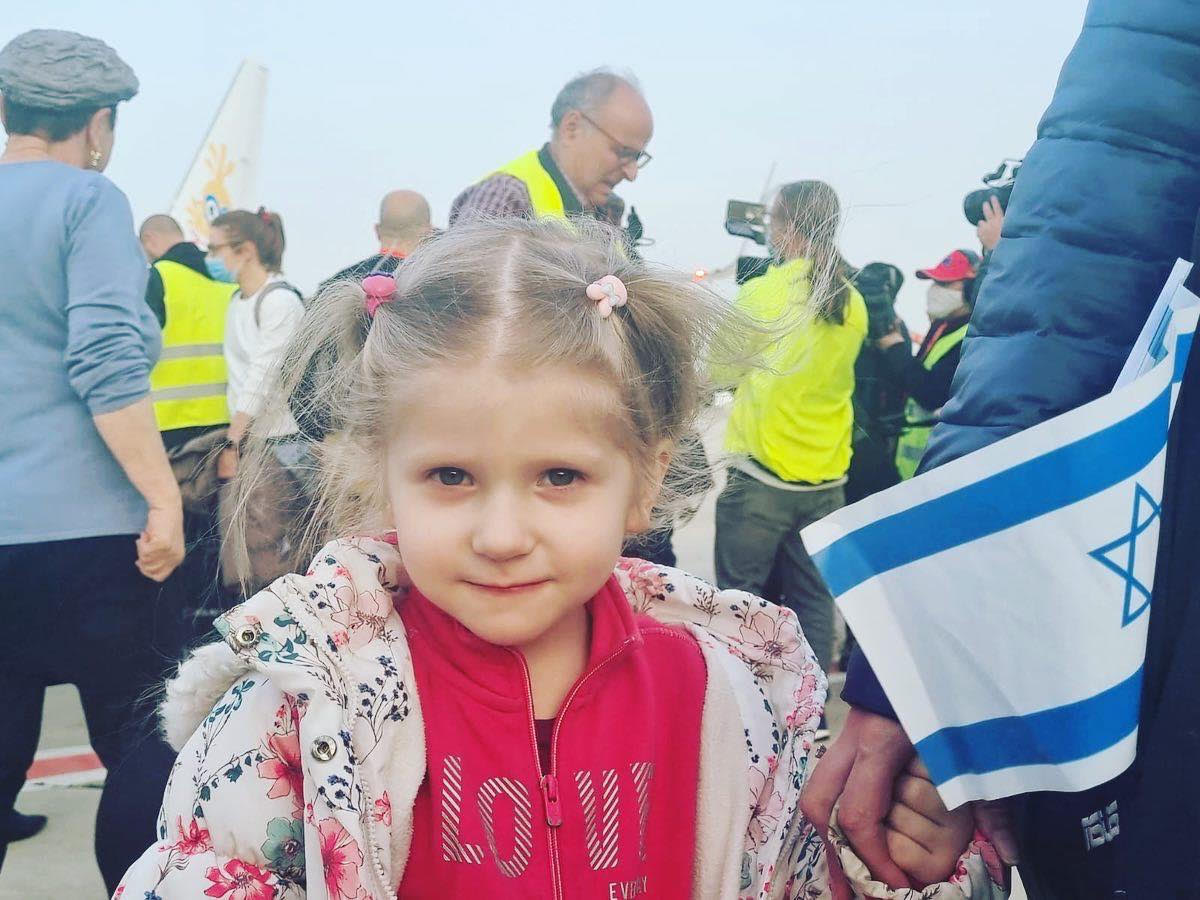 Ukrainian Jewish refugees arrived at Ben-Gurion International Airport as part of a special rescue operation, Mar. 6, 2022 (Photo: The Jewish Agency for Israel)
On Sunday, Interior Minister Ayelet Shaked noted that since the outbreak of the war, 2,034 Ukrainian nationals have entered Israel. 
"We are on an upward trend," said the minister. "Israel is the western country without a land border with Ukraine that has absorbed the most Ukrainians per capita since the outbreak of fighting."
Last week alone, more than 1,500 refugees from Ukraine arrived in Israel, and authorities are expecting around 15,000 by the end of the month. Shaked noted that 90% of them are ineligible to be included under the Law of Return, meaning they are not considered Jewish under rabbinic law.    
Government ministers and authorities are currently holding urgent discussions over accommodation and entry criteria for refugees. Whereas some lawmakers wish to see a more restrictive immigration policy that prioritizes Jewish Ukrainians, others urged the prime minister to loosen restrictions. 
Justice Minister Gideon Sa'ar said that Israel should be focusing on absorbing Jewish refugees. 
"Jews are also refugees. Israel's job is to absorb those who meet the criteria for aliyah," he said. 
Shaked said she intends to formulate a clear immigration policy for Ukrainian refugees in the coming days. 
"Contrary to what is being said in the media, the State of Israel has a broader policy than almost any Western country that does not share a land border with Ukraine," she said in a statement. "No country in the world, which does not have a visa exemption, has as broad a policy as Israel. For example, in Canada, New Zealand, the U.S. and the UK, the policy is not to allow people to board a plane without a visa. We are already dealing with 26,000 Ukrainian nationals present in Israel, most of whom are here without a legal status."
According to Shaked, Israeli authorities are prepared to absorb approximately 100,000 Jews and their extended family members who are eligible under the Law of Return, from both Ukraine and Russia.
"Israel is uniquely ready to absorb and give citizenship to the most Ukrainian nationals in the world. There is no other country that absorbs and gives immediate citizenship. This is the very great challenge that awaits us vis-à-vis housing, employment, and other areas. We need to focus and be prepared accordingly and deal with the number of humanitarian cases that we will decide on in the coming days," the interior minister added.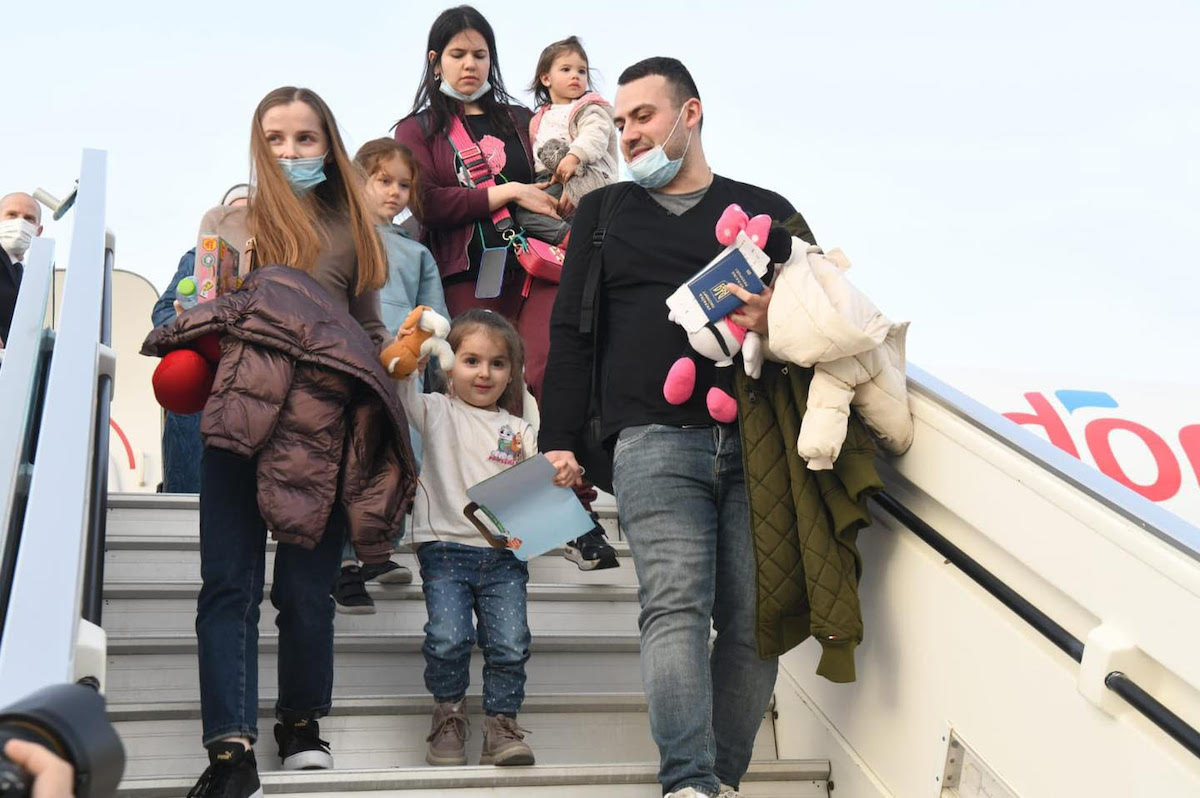 Ukrainian Jewish refugees arrived at Ben-Gurion International Airport as part of a special rescue operation, Mar. 6, 2022 (Photo: The Jewish Agency for Israel)
The flights carrying war refugees from Europe to Israel are operated by EL AL, Israel's largest airline. Ukrainian Foreign Minister Dmytro Kuleba slammed the airline on Monday, claiming that it takes payments made through Russia's Mir payments system that manages to bypass the western sanctions.
"While the world sanctions Russia for its barbaric atrocities in Ukraine, some prefer to make money soaked in Ukrainian blood. Here is @ELALISRAEL accepting payments in Russian banking system 'Mir' designed to evade sanctions. Immoral and a blow to Ukrainian-Israeli relations," Kuleba wrote on Twitter.
Last week, the Ukrainian Ambassador to Israel Yevhen Korniychuk criticized Israel's decision to turn away Ukrainian refugees from Poland and Hungary, claiming that dozens of Ukrainian refugees were deported after arriving at Ben-Gurion International Airport and sent back to Europe. He told reporters at a press briefing that "thousands of Righteous Gentiles in Ukraine saved Jews during the Holocaust." 
Another asylum policy that came under fire is a demand by Israel's Interior Ministry that Ukrainian refugees seeking to enter the country would be able to prove that they have relatives in the country and make a deposit of 10,000 shekels (around $3,125). 
The Ukrainian ambassador urged Israeli authorities to reconsider the criteria. 
"Demanding cash guarantees of 10,000 or 20,000 shekels is very difficult. We are asking for your help. They aren't coming here to work. They are fleeing war," Korniychuk said on Tuesday. 
Israel's Diaspora Affairs Minister Nachman Shai sent an urgent letter to Bennett on Sunday, calling to remove the deposit barrier for war refugees. 
"Such a demand at this moment is inhuman and immoral," Shai wrote. "It automatically restricts the entry of refugees to Israel who do not have relatives and do not have the means to meet this demand. I request that you immediately give instructions to cancel the requirement for these deposits for Ukrainian citizens arriving in Israel." 
Transportation Minister Merav Michaeli demanded that Ukrainian refugees, whose immigration status is being reviewed, be provided with immediate accommodation.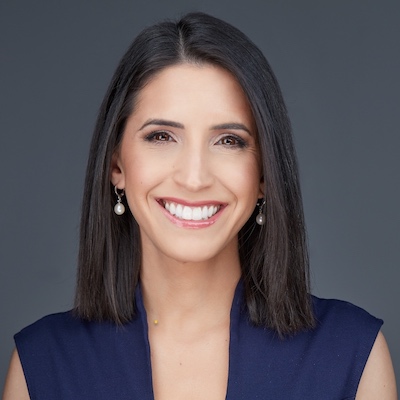 Tal Heinrich is a senior correspondent for both ALL ISRAEL NEWS and ALL ARAB NEWS. She is currently based in New York City. Tal also provides reports and analysis for Israeli Hebrew media Channel 14 News.
A message from All Israel News
Help us educate Christians on a daily basis about what is happening in Israel & the Middle East and why it matters.
For as little as $5, you can support ALL ISRAEL NEWS, a non-profit media organization that is supported by readers like you.
Donate to ALL ISRAEL NEWS
Current Top Stories
Comments