Israel's 'queen' of chess
Meet Ilana David, the 61-year-old grandmother who led Israel's men's chess team to the FIDE World Team Championship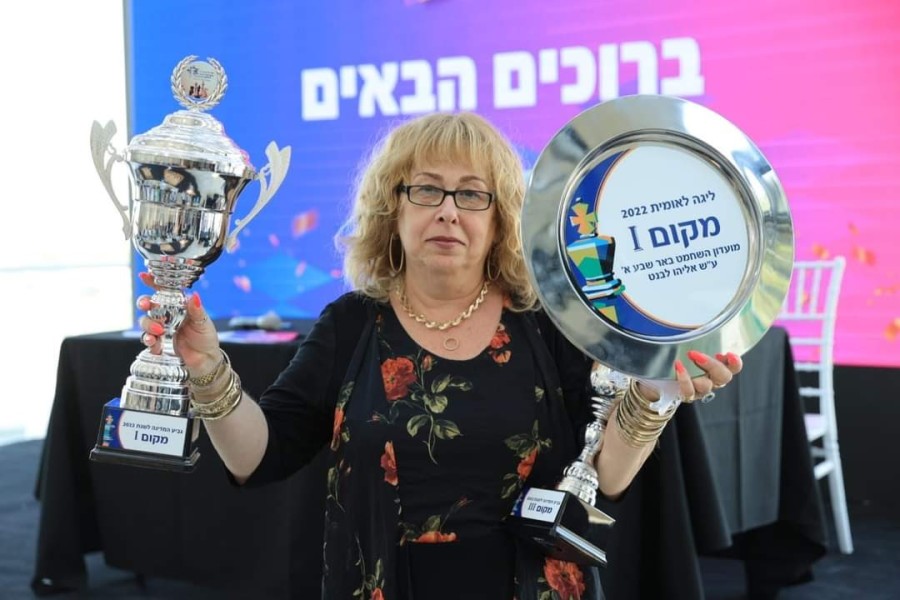 Ilana David (Photo: Mark Lipschitz/Beer Sheva Chess Club)
Like the queen on a chess board, Ilana David, 61, is arguably the most powerful player on Israel's chess scene. 
Last month, she led Israel's national chess team at the FIDE World Team Championship in Jerusalem. Although the team came in ninth place out of 12 and did not make it to the knockout stage, David – who serves as the captain of the all-male team – was proud of her team. 
"It was a very meaningful and exciting event," she told ALL ISRAEL NEWS. "The competition is very prestigious and it was so exciting not just to be a visitor but part of the event. There are no words to describe the excitement."
She said that participants are hand selected by FIDE or are among the top winners of the Chess Olympics. Israel was only invited because it hosted the event.
"We were not supposed to be there," she said. "If the event had taken place in another country, we would not have been invited. However, I won't lie, I really thought we could do better. But the competition was very hard and we gave it our all."
This was the second time Israel hosted the World Team Championship – the last time was in 2005 in Beer Sheva – making Israel the only country in the world to host the event twice. 
"This was really an honor," David said. "FIDE, it seems, was very impressed with our professionalism and organization. People came from all over the world and said it was just wonderful."
David also took the team to the Olympics over the summer. The Israeli team finished in 16th place, up from No. 22, which it was ranked at the start of the event. Some 180 countries competed. 
"We did really well," David said, adding that she hopes Israel will once again make the ranks of the world's top 10 teams in the near future.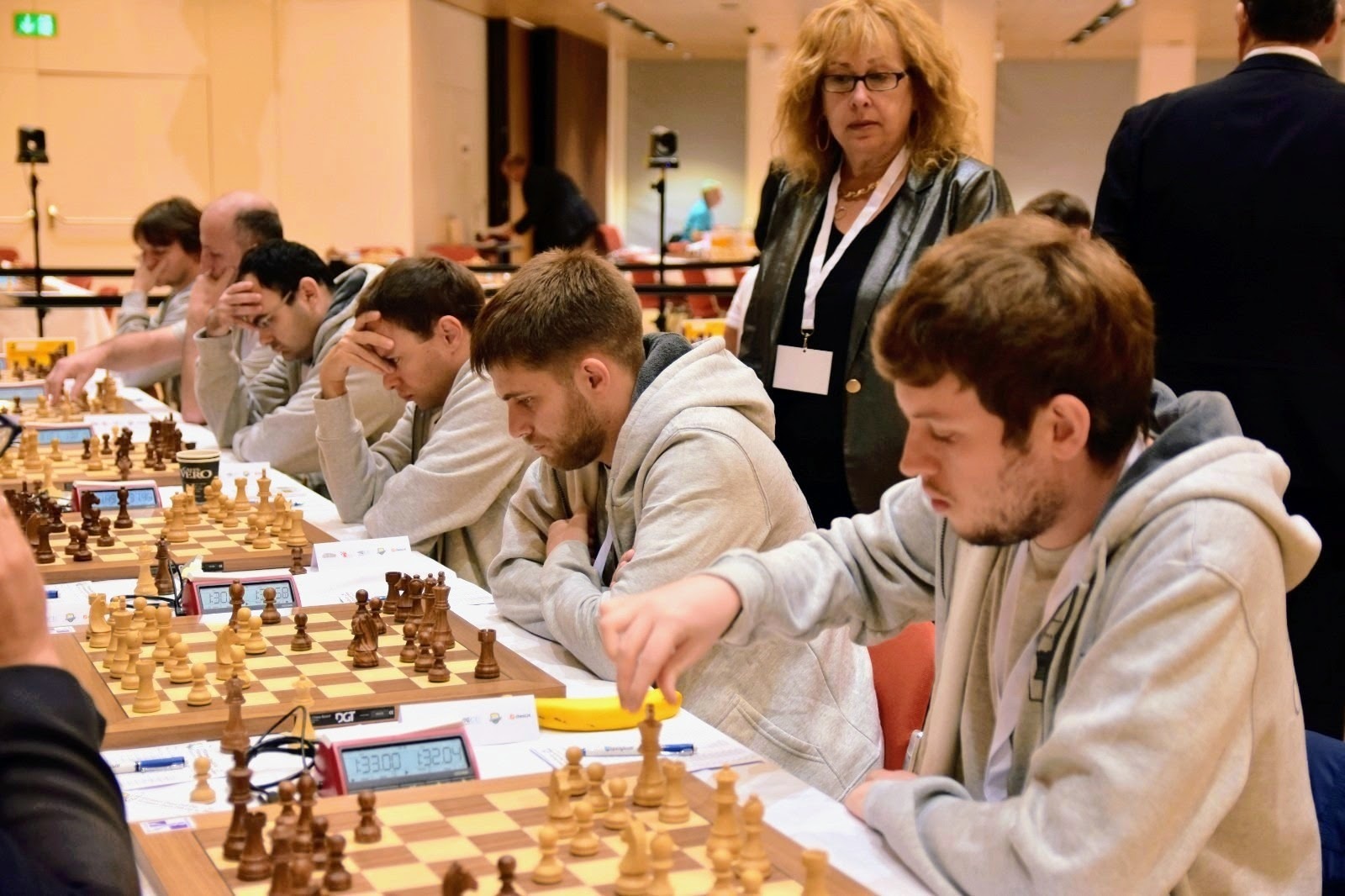 Ilana David with Israel's national chess team at the FIDE World Team Championship in Jerusalem (Photo: Mark Lipschitz/Beer Sheva Chess Club)
LONE PAWN
David started serving as captain of the men's team in 2019. Before that she was manager of the Beer Sheva chess club, whose men's team is considered the best in the country and is listed among the top five in the European region.
She explained that her job is less to play with the players as it is to recruit players, organize their training program and prepare them for competitions. The team also has a trainer: Grandmaster Michael Roiz.
David is the only woman captain ever to attend the World Team Championship and one of only a few around the world to captain men's teams at all. At the Olympics, she said only three of the 180 teams had female captains.
"Even 90% of women's teams have male captains," David told ALL ISRAEL NEWS. "They don't really consider women for these roles. If a woman moves up the ladder [in chess] she is still a woman."
She said that when her captainship was announced, every Israeli media outlet called to interview her and "it really bothered me. If a man had gotten the role, no one would call him. It would just be obvious."
She sees this sexism in chess but in many other areas of life, she said: "If a woman wins a Nobel Prize or becomes CEO, people look and say 'Wow! A woman made it.' 
"Why not?" she continued. "Women are not less smart, less developed or less capable than men. It's sad."
David's father started teaching her chess at the age of 4 in Baku, Azerbaijan, where she was raised until she turned 18 and immigrated to Israel with her family. She played alongside world-renowned chess player Garry Kasparov. 
Six months after moving to Israel, she won the women's chess championship and the national championship before she turned 19, entering the Olympic team. She played in four Olympics and won first place in several international women's chess championships.
"I think women have to push themselves twice as hard as men to prove they can lead," David said. "If a man comes for a job with a degree, some skills and a recommendation he will be hired. A woman has to convince the potential employer that she is right for the job."
Some employers prefer not to hire young women because the women may take maternity leave, leave the office to care for a sick kid or attend a play at a child's preschool, David said. 
"After three years and all of our successes, I still feel like each time we go to another competition, I have to prove I am good enough to be captain," David noted. "Men are just preferred over women."
David gave up her chess career for more than 20 years, between the ages of 28 and 51, to raise her two sons. Today, the boys are grown and she is a grandmother to two grandsons with a granddaughter on the way. During her time off from professional chess, she worked as a trainer and a judge. Her father also taught her sons to play chess from an early age. 
DAVID'S RECIPE FOR CHESS SUCCESS
To be a good chess player takes three things: skills, hard work and finances, David said. 
In the former Soviet Union, top chess players were heavily subsidized by the government, which provided money for training and travel to competitions. 
"The best players did not have to think about finances. They just had to be players, practice a lot and be the best," David recalled. "In the free world, in the capitalist world, most countries don't provide these kinds of budgets to chess."
She said that while some soccer games can draw 10,000 to 20,000 viewers, chess players draw 50 to 100, making the sport less popular and, therefore, less funded in Israel. 
"I don't think it is that the Ministry of Culture and Sports does not want to fund chess, we just don't have those kinds of budgets in this country. There are other things that are more important," David said. "Therefore, for young chess players in Israel it is harder than for those in Uzbekistan, for example."
At the same time, she said that chess has been gaining increasing popularity in Israel since she moved to the country 43 years ago. The Israel Chess Federation and Mifal HaPais fund a program to teach students chess in elementary schools in 100 municipalities across Israel. 
"It means tens of thousands of kids are getting exposure to chess – kids that likely would never have been brought to a chess club," David said. 
She stressed that chess is "a tool for developing critical, logical and creative thinking" and that from a social standpoint, it builds unity.
"In a chess club, you find Israeli-born kids, new immigrants, ultra-Orthodox, religious Zionists and secular kids all sitting together and learning chess. There are kids with autism, kids in wheelchairs. They all play together," David said. "In another situation, they would not meet."
David said that even if the students in these programs do not continue with chess when they leave elementary school, she believes they will be better kids than if they had not learned chess.
"They will have gotten the tools that only chess can give them," David concluded.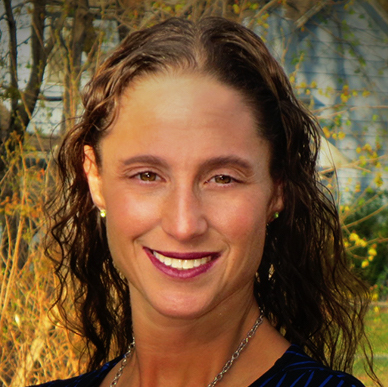 Maayan Hoffman is a veteran American-Israeli journalist and strategic communications consultant. She is Deputy CEO - Strategy & Innovation for the Jerusalem Post, where she also served as news editor, head of strategy and senior health analyst.
A message from All Israel News
Help us educate Christians on a daily basis about what is happening in Israel & the Middle East and why it matters.
For as little as $5, you can support ALL ISRAEL NEWS, a non-profit media organization that is supported by readers like you.
Donate to ALL ISRAEL NEWS
Current Top Stories
Comments