Israel's Interior Ministry turns against Evangelicals, refuses to issue staff visas for pro-Israel groups like Christian Embassy
I ask Netanyahu to intervene ASAP
Israeli Prime Minister Benjamin Netanyahu speaks at the Christian Media Summit 2018 in Jerusalem, Oct. 14, 2018. (Photo: Noam Revkin Fenton/Flash90)
JERUSALEM, ISRAEL — No Israeli leader has done more to build a strong and strategic alliance with the world's 600 million Evangelical Christians than Prime Minister Benjamin "Bibi" Netanyahu.
"Israel has no better friends — I mean that — no better friends in the world than the Christian communities around the world," Netanyahu told nearly 200 visiting Evangelical journalists at the inaugural "Christian Media Summit," which was organized and sponsored by the prime minister's office in Jerusalem in 2017. "And Israel is the one country in a vast region where Christians not only survive, they thrive."
"You are ambassadors of truth — you're not merely the greatest ambassadors that Israel has around the world – you're champions of truth," Netanyahu said the following year, at the second Christian Media Summit in 2018.
"And if there's one thing that I can ask you to do is, to tell the truth. Tell the truth about our history. Tell the truth about our present. Tell the truth about who wants peace and who doesn't want peace."
At the time, I praised Netanyahu's decision both to organize these summits and to be the keynote speaker at them.
"I think what these summits show that Israel feels very much under siege — not from bullets, bombs, missiles, and terrorists, although that remains a real threat, but from the propaganda war that's being waged against them in the UN, in the media, all over — and they're reaching out to a constituency, a set of allies, the Christians," I explained in an interview with the Christian Broadcasting Network that was covering the summit.
"It's encouraging to see that the government of Israel realizes that Christian journalists are at least willing to consider their perspective and in fact communicate a fair picture of what's going on," I added.
Israel has continued to hold these summits every year since, including during the COVID pandemic, and Netanyahu has continued to use these and similar forums to thank and praise the Christian Zionists for their steadfast support for the Jewish state.
When he published his memoirs last Fall — BIBI: MY STORY — Netanyahu did a series of interviews with Christian journalists and media outlets that he has been building friendships with for years.
A SERIOUS CRISIS IS DEVELOPING 
But a new and serious crisis is developing that requires Netanyahu's immediate attention. 
Israel's Interior Ministry has suddenly turned against pro-Israel Evangelical organizations that are operating in the country and is threatening to cripple their important work.
Specifically, the Ministry of Interior — currently led by Minister Moshe Arbel, an ultra-Orthodox rabbi and Knesset Member who is part of the religious Shas political party — has stopped issuing clergy visas for staff working at the International Christian Embassy Jerusalem (ICEJ) and similar Christian Zionist groups. 
It's not clear whether Arbel is making the decision himself. 
It may very well be happening at lower levels and the Minister is not aware of either the problem or the potential fallout of blatantly discriminating against the Christian Zionist friends and allies of Israel.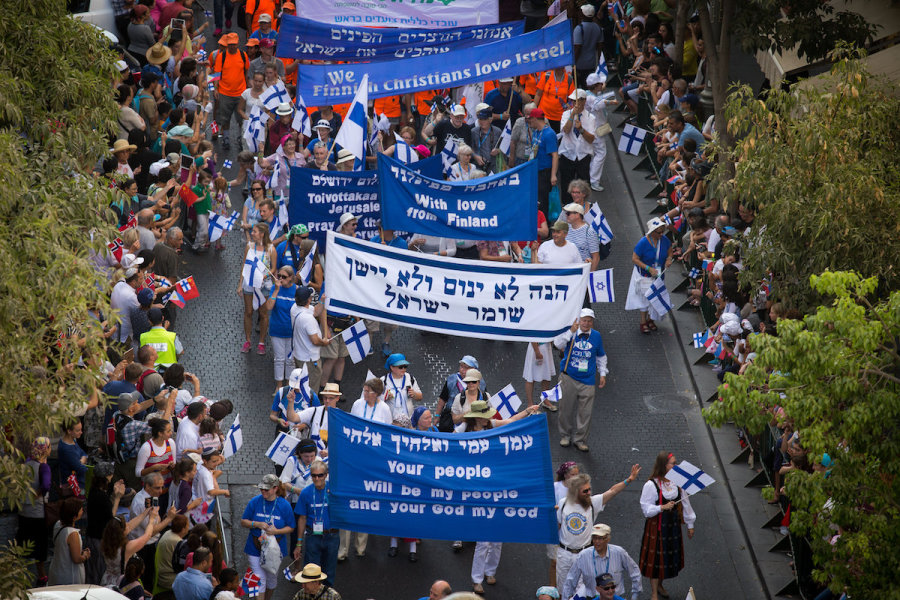 Thousands of Evangelical Christian wave their national flag alongside the Israeli flag as they march in a parade in the center of Jerusalem, marking the Jewish holiday of Sukkot, Oct. 1, 2015. (Photo: Nati Shohat/Flash90)
AN "UNPRECEDENTED" SITUATION 
Dr. Juergen Buehler is the president of the Christian Embassy, which operates a range of very effective pro-Israel initiatives, including helping more than 180,000 Jews to emigrate to Israel over the years, and hosting the week-long Feast of Tabernacles conference every September that typically draws 4,000 to 5,000 Christians to Israel from all over the world. 
In an interview with ALL ISRAEL NEWS, Buehler said that he and his team have no idea why the Interior Ministry has made this sudden change of policy towards ICEJ and other Evangelical groups. 
But he made clear that the move threatens to severely impair his work. 
"The situation we face at the moment with the Ministry of Interior is unprecedented," Buehler told us.
"It has made us unable to operate effectively in our mission to stand and support the State of Israel," he continued. 
"In particular our television and media department is affected by the new visa policy which is even more difficult to understand. This is the main arm of the Christian Embassy for 'hasbara' [a Hebrew expression meaning public relations], telling good news about Israel and fighting anti-Semitism."
"So, we are clueless and disappointed in this new change of policy in the Ministry of Interior and, of course, we hope this will be reversed to the previous mode of operation as soon as possible," Buehler added.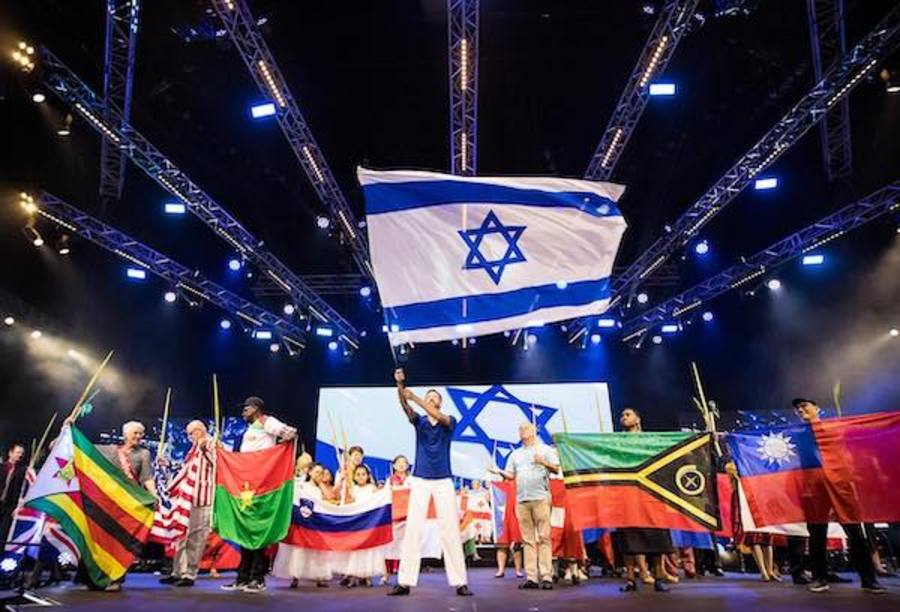 ICEJ Feast of Tabernacles celebration in Jerusalem, Oct. 15, 2019 (Photo: ICEJ/Facebook)
"WE ARE SLOWLY BEING SQUEEZED OUT OF EXISTENCE"
"We are slowly being squeezed out of existence by the Interior Ministry," David Parsons, vice president and senior spokesperson of the ICEJ told the Israeli newspaper, Haaretz, which broke this story yesterday. 
"We cannot continue our vital work to build global Christian support for Israel under these strict new rules," Parsons added.
The International Christian Embassy Jerusalem was established in 1980 as a duly registered Israeli amutah (non-profit organization) with the assent of then-Prime Minister Menachem Begin. 
They have been receiving clergy visas for their staff on a regular basis for decades without problems.
What's more, ICEJ and several other Christian groups operating here — like Christian Friends of Israel and Bridges For Peace — actually have a written agreement with Israel's Interior Ministry to receive a quota of visas annually. 
THIS IS "ILLEGAL DISCRIMINATION" AND MAY TRIGGER A COURT CASE
Senior ICEJ executives — and their lawyer, Calev Myers — indicate that they are prepared to go to court to challenge this discrimination, though they hope that is not necessary.
"They have no legal ground to stand on,"
Myers told me, "It's just illegal discrimination."
The Interior Ministry's policy change "goes against their recognition of ICEJ as a religious organization for the last forty years," he noted. "It goes against the fact that ICEJ has a written agreement with the Ministry of Interior from 2019 giving a certain quota of clergy visas, and the fact that they [ICEJ] have fulfilled all the legal requirements.
"So, it's just illegal religious discrimination — and all the other large Christian organizations are in the same situation," said Myers.
Myers added that there is a "Christian communities department" within the Interior Ministry that has already approved all of these visas.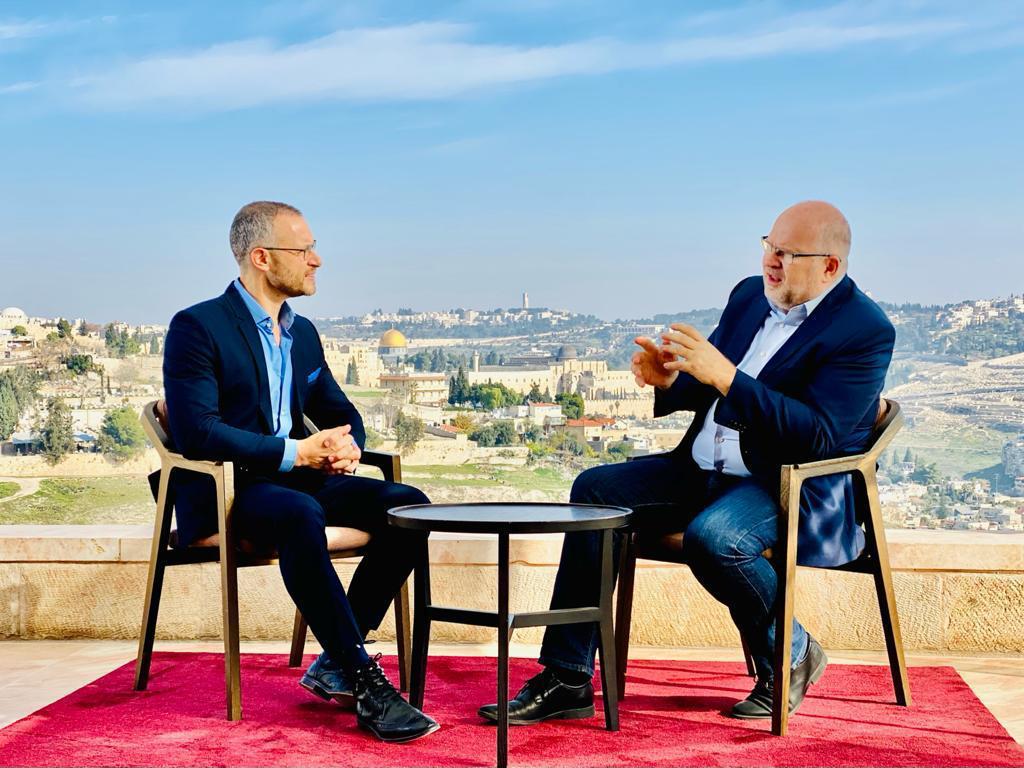 Calev Myers and ICEJ's Dr. Juergen Buehler at the TBN studio
PLEASE PRAY NETANYAHU WILL INTERVENE AND LEGAL ACTION WON'T BE NECESSARY 
"I'm highly confident that if we go to court we will win," Israeli attorney Calev Myers told me. "But I hope it doesn't come to that."
"I hope this is a case of clerks at a lower level that are making bad decisions. I also hope that somebody in the upper echelon of the Ministry of Interior will recognize the complete diplomatic disaster this will create for Israel by harming the relations with their strongest supporters around the world and will change this decision and go back to granting these visas that these organizations need for their long-term staff."
I hope so, too, and I ask Evangelicals around the world to pray for the situation to be corrected quickly.
Please also pray Prime Minister Netanyahu will direct Interior Minister Arbel to fix the problem without delay. 
In March, Netanyahu decisively intervened to stop legislation in the Knesset that would have trampled the religious freedom of Christians.
ALL ISRAEL NEWS praised the prime minister for his bold and quick action in defense of Christians. 
"I am deeply grateful to the prime minister for his strong, clear unequivocal statement in defense of the Israeli Christian community," I wrote at the time. 
"Netanyahu is a longtime proven friend to the global Christian community and this statement is further proof. Evangelicals all over the world will be very grateful for this move. It is what we expected, and Netanyahu delivered."

Joel C. Rosenberg is the editor-in-chief of ALL ISRAEL NEWS and ALL ARAB NEWS and the President and CEO of Near East Media. A New York Times best-selling author, Middle East analyst, and Evangelical leader, he lives in Jerusalem with his wife and sons.
Popular Articles
A message from All Israel News
Help us educate Christians on a daily basis about what is happening in Israel & the Middle East and why it matters.
For as little as $5, you can support ALL ISRAEL NEWS, a non-profit media organization that is supported by readers like you.
Donate to ALL ISRAEL NEWS
Latest Stories
Comments