Israel calls on the UN Security Council to condemn Islamic Jihad for 'double war crimes'
Ambassador Gilad Erdan: Israel acted only against the terrorists of the Islamic Jihad, not the people of Gaza, Hamas or the P.A.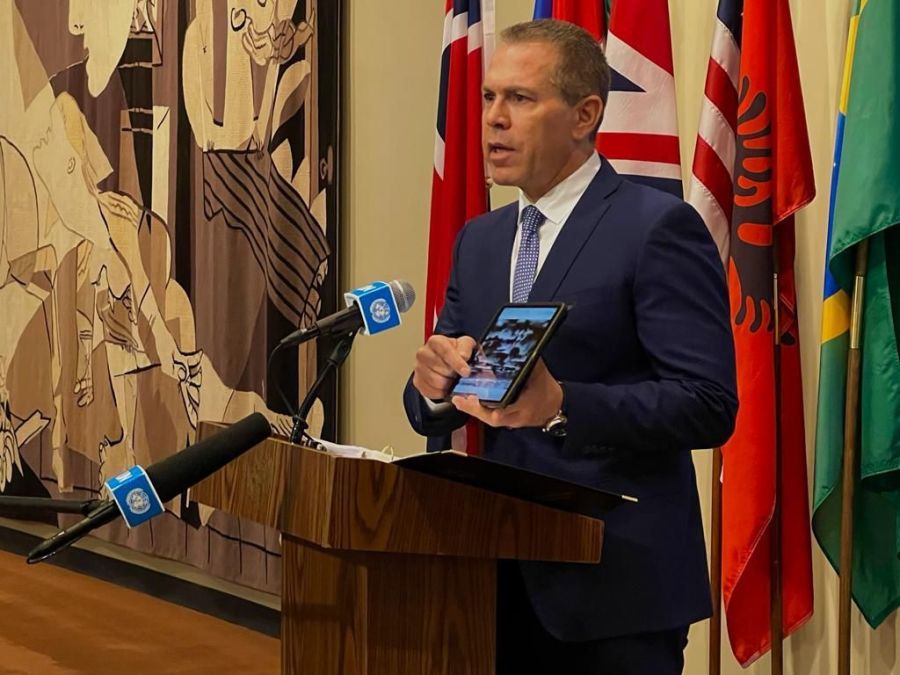 Israeli Ambassador to the UN Gilad Erdan speaks outside of the UN Security Council, August 8, 2022 (Photo: Shahar Azran)
New York—The United Nations Security Council convened for a special, public session on Monday to discuss the latest escalation between Israel and Gaza, per the request of several nations. 
The United Arab Emirates, which represents Arab nations on the council, along with China, France, Ireland and Norway, requested the discussion. 
Israeli Ambassador Gilad Erdan presented to the council video evidence that allegedly shows that most of the deaths of civilian Palestinians in Gaza were a result of indiscriminate shooting by the Palestinian Islamic Jihad (PIJ) terrorist group. 
The ambassador also presented a video showing how the Israel Defense Forces and Israel's Security Agency have gone above and beyond to reduce collateral damage and prevent harm to civilians, including children, during military operations. 
"Due to the extensive precautions, there is no other military that has such a low collateral damage rate," Erdan stated.
In his speech to the UNSC, Erdan emphasized that Israel acted only against the terrorists of the Islamic Jihad in Operation Breaking Dawn. 
"Not against the people of Gaza, not against Hamas and not against the Palestinian Authority – only against Islamic Jihad," he said. 
Ahead of the discussion, the ambassador quoted a famous line of former Israeli Prime Minister Golda Meir, who once said that "peace will come when the Palestinians love their children more than they hate us [Israelis]."
"Unfortunately, this past operation proved just how true this statement still is. The Palestinian Islamic Jihad deliberately fired 1,100 rockets at Israeli civilians, with roughly 200 landing inside the Gaza Strip, killing innocent Palestinians and among them young children," Erdan said.  
U.S. Ambassador Linda Thomas-Greenfield expressed sadness in her remarks over reports of civilian casualties but said there is a "need to swiftly and thoroughly investigate each of them."
"We should refrain from jumping to conclusions until we can determine the facts. As just one example, Israel was originally blamed for an attack that inflicted civilian casualties in Jabalia refugee camp. It now appears to have been caused by a Palestinian Islamic Jihad rocket. So let us be sure to follow the facts and see where they lead us," the U.S. ambassador said. 
She also noted that PIJ is "an Iranian proxy group, which has conducted attacks against innocent civilians for years. It is telling that Palestinian Islamic Jihad leaders were in Tehran the last several days while the people they claim to be protecting were left in harm's way."
"This Council should be able to come together and unconditionally repudiate the terrorism of Palestinian Islamic Jihad, whose reckless actions have put the lives of civilians, on both sides, at risk," she said. "Their actions must be condemned by all countries in no uncertain terms. And no country should be expected to tolerate or passively accept such brazen attacks on its civilians."
Erdan criticized the members of the Security Council who initiated the meeting.
"How would Norway react to Islamists plotting to fire missiles at civilians in Oslo? How would Ireland react if Jihadi rockets were raining down on Dublin in an effort to wipe out the 'infidel'? I think we all know the answer," he said.
The ambassador thanked Egyptian President Abdel Fattah el-Sisi for his "efforts to restore calm and stability to our region and not for the first time." 
Erdan called on member states of the UN's top body to condemn "the Islamic Jihad for its double war crimes while placing the full accountability for the murder of innocent Palestinians on the shoulders of this radical terror group."
The meeting ended without any such condemnation by its members.
A statement issued by Norway did not explicitly mention the Islamic Jihad and noted that "Norway strongly condemns all acts of terror, indiscriminate attacks and attacks against civilians." 
The United Kingdom, however, said: "We strongly condemn the firing of over 1,100 rockets at civilians by Palestinian Islamic Jihad and the ongoing campaign of terror attacks by the group, which has resulted in the deaths of innocent civilians, Israelis and Palestinians alike." 
Russia issued a statement saying that, "Rapid degradation in the conflict zone, which has resulted in an armed confrontation and caused numerous casualties raises our deep concern. Another spiral of escalation was provoked by strikes of Israeli air forces against Gaza on 5 August. In retaliation, Palestinian formations started massive indiscriminate bombardments of the Israeli territory."
Palestinian Authority envoy Riyad Mansour told the UNSC that "during his visit, President Biden reiterated that Palestinians and Israelis deserve equal measures of freedom, security and prosperity." 
"He certainly did not mean that the Israelis should enjoy the abysmal level of freedom, security and prosperity that the Palestinians are currently living under," Mansour said. "Gaza's fate is not to go from rubbles to rubbles nor is Palestine's fate to remain under occupation. How will Israel answer our calls for protection? By blaming the victim. Israel is beyond reproach. It kills Palestinians because it has to and it always has to."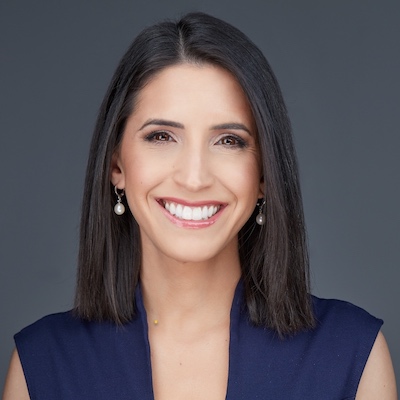 Tal Heinrich is a senior correspondent for both ALL ISRAEL NEWS and ALL ARAB NEWS. She is currently based in New York City. Tal also provides reports and analysis for Israeli Hebrew media Channel 14 News.
A message from All Israel News
Help us educate Christians on a daily basis about what is happening in Israel & the Middle East and why it matters.
For as little as $5, you can support ALL ISRAEL NEWS, a non-profit media organization that is supported by readers like you.
Donate to ALL ISRAEL NEWS
Current Top Stories
Comments