IMPEACH BIDEN? 60% of Americans say Biden failing Constitutional duty to protect US from 'invasion' through Mexican border
As Biden stumbles literally and figuratively, exclusive ALL ISRAEL NEWS poll reveals he is in political trouble
U.S. President Joe Biden bows his head while delivering remarks after the deadly attack at the airport in Kabul, Afghanistan, Aug. 26, 2021 (Photo: Screenshot)
JERUSALEM, ISRAEL – As we reported on Wednesday, with the Biden White House doing so little to stop the flood of 5.7 million people illegally entering the United States through Mexico, huge numbers Americans fear Middle Eastern terrorists will use the border crisis to unleash catastrophic attacks inside the homeland similar to, or even worse than that of the attacks on Sept. 11, 2001.
What's more, huge numbers of Americans now believe that President Joe Biden should be removed from power because of how badly he has violated his Constitutional duty to protect the country from invasion.
ALL ISRAEL NEWS recently commissioned one of the most respected polling firms in the U.S. – McLaughlin & Associates, founded by John McLaughlin, who's done polling for many U.S. and Israeli political leaders, including former President Donald J. Trump and Israeli Prime Minister Benjamin Netanyahu – to go into the field to ask several questions about the prospect of Middle Eastern terrorists exploiting the crisis on America's southern border.
IS AMERICA FACING A NUCLEAR 9/11?
The first question we asked was this:
With millions of people illegally entering the U.S. since President Biden took office, are you worried that Middle Eastern terrorists will attempt to enter the U.S. through Mexico to launch more 9/11-style terror attacks, or even to attempt a "nuclear 9/11" with nuclear "dirty" bombs?
I certainly fear such a scenario.
This, after all, is the very premise of my new political thriller, THE LIBYAN DIVERSION, which just hit the Publishers Weekly hardcover fiction best-seller list at #18.
But clearly I am far from alone.
Fully two-out-of-three Americans – 66% – say they are "worried" or "very worried" by such a scenario.
This includes 20% of Americans who fear that radical Islamist jihadists coming into the U.S. through Mexico will actually try to detonate nuclear "dirty" bombs to create a "nuclear 9/11." 
Bible-believing Christians are even more concerned.
The survey found that fully 79.1% of Evangelicals fear Middle Eastern terrorists coming through Mexico wanting to pull off major attacks inside the homeland.
As we head into the 2024 presidential campaign, this is very serious news for Biden, who is already stumbling in the polls but also just fell flat on his face on Thursday at a graduation ceremony at the U.S. Air Force.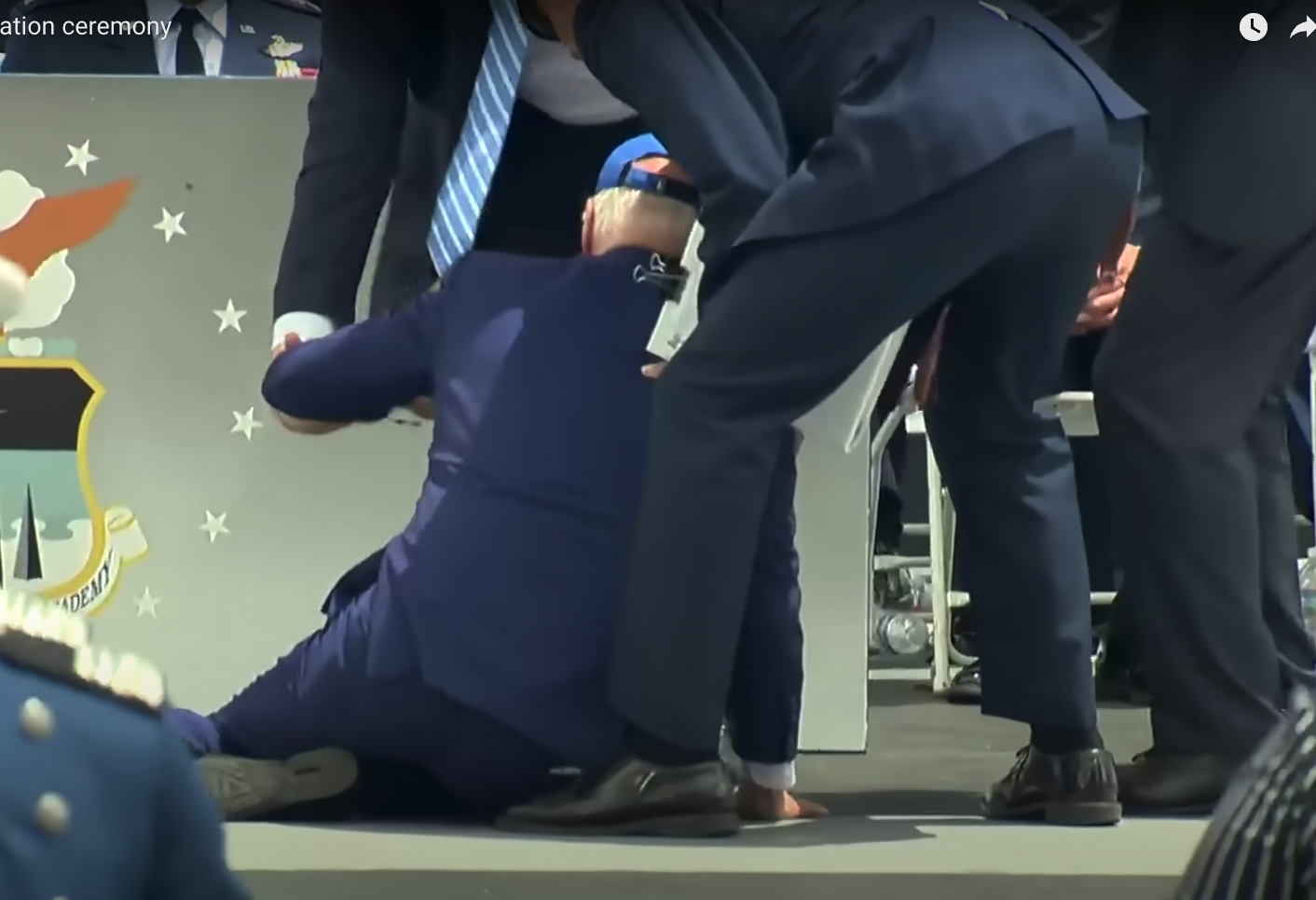 Biden trips and falls during graduation ceremony at the U.S. Air Force, recovers quickly (Photo: YouTube screenshot)
But as I reported last night on THE ROSENBERG REPORT, there is more very troubling news for Biden from the poll results.
IS BIDEN FAILING TO FULFILL HIS CONSTITUTIONAL DUTIES?
We also asked this question:
In the U.S. Constitution, Article IV, Section 4 indicates that one of the responsibilities of the Federal government is to protect the American people and the States from "invasion." With millions of people illegally entering the U.S. each year since President Biden took office, opening the country to the threat of attack by Middle Eastern terrorists, do you believe Mr. Biden is fulfilling his Constitutional duty?
It turns out, only 27% of Americans say "yes," Biden is doing what the Constitution requires to stop the invasion of people illegally entering the country.
That's right – only 27%.
Fully six-in-ten Americans – 60% of the country – say "no," they do not believe that President Biden is fulfilling his Constitutional duty to protect Americans from invasion.
That's a huge number and a warning sign for the White House.
Not surprisingly, 88% of Republicans say "no," President Biden isn't fulfilling his Constitutional duty.
But so do 60% of Independents.
What's more, fully 25% of all Democrats say President Biden isn't doing his job when it comes to protecting the border and keeping Americans safe.
SHOULD BIDEN BE IMPEACHED FOR FAILING TO PROTECT THE BORDER?
These numbers would be bad enough for the U.S. president.
But there's more.
While the survey found that 25% of Americans believe Biden is not fulfilling his Constitutional duty, they believe he should be given more time to change and improve his handling of the border.
However, more than 1-in-3 Americans – 35% – now believe that Biden should be impeached for failing to fulfill his Constitutional duties to keep Americans safe from invasion.
In fact, 69% of Republicans say it is time to impeach President Biden because of the border crisis.
Only 6% of Democrats agree.
But what should really trouble the White House is that 27% of Independents now believe Biden should be impeached.
ARTICLES OF IMPEACHMENT HAVE ALREADY BEEN FILED
Last month, as we reported on ALL ISRAEL NEWS, Congresswoman Marjorie Taylor Greene, the Georgia Republican, introduced three articles of impeachment against President Joe Biden.
She alleges that Biden is "endangering the security of the United States and thwarting the will of Congress" by allowing a surge in "illegal aliens and illegal narcotics" flowing into the U.S. and creating "a national security crisis" and "endangering the lives of everyday Americans" due to his "open border policies."
Her effort has gained little traction among Republicans so far.
The White House called the move "a shameless sideshow political stunt."
Still, these new poll numbers are major warning signs for the president.
Will President Biden wake up to the enormous security threat he's created, change course, and get serious about border security before it's too late?
Let's pray the answer is yes.
Let's also pray that the premise of THE LIBYAN DIVERSION never comes true.
Either way, ALL ISRAEL NEWS and THE ROSENBERG REPORT will be watching Biden's handling of the border crisis – and his efforts to keep terrorists, drugs and human traffickers out of the U.S. – very closely.

Joel C. Rosenberg is the editor-in-chief of ALL ISRAEL NEWS and ALL ARAB NEWS and the President and CEO of Near East Media. A New York Times best-selling author, Middle East analyst, and Evangelical leader, he lives in Jerusalem with his wife and sons.
Popular Articles
A message from All Israel News
Help us educate Christians on a daily basis about what is happening in Israel & the Middle East and why it matters.
For as little as $5, you can support ALL ISRAEL NEWS, a non-profit media organization that is supported by readers like you.
Donate to ALL ISRAEL NEWS
Latest Stories
Comments