IDF reservist, American security guard serve with Turkish Christians in Antioch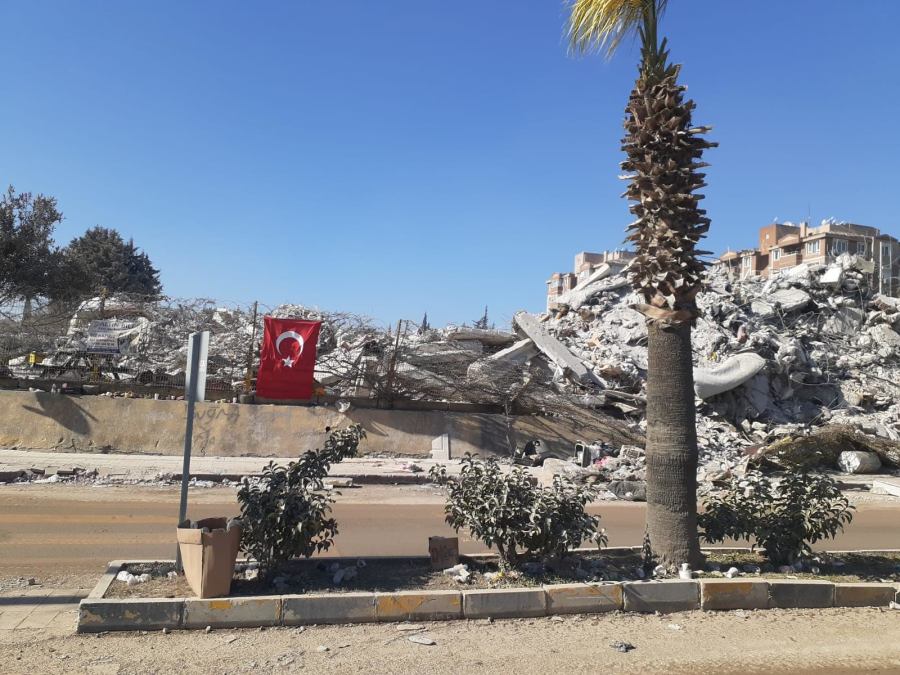 Southeastern Turkey following devastating earthquakes (Photo courtesy)
While dozens of international organizations sent search and rescue delegations and medical personnel to southeastern Turkey following a pair of devastating earthquakes in early February, individuals also trickled into the country to search and to serve.
The first, a 7.8-magnitude earthquake, struck the Kahramanmaraş region of southeastern Turkey around 4 a.m. on Feb. 6, with a second, 7.5-magnitude earthquake following nine hours later.
Together, the earthquakes took more than 47,000 lives in Turkey and Syria combined, as the heavy stone buildings that comprise the local architecture tore and toppled, trapping and killing a multitude. The death toll continues to climb as additional victims are discovered and counted.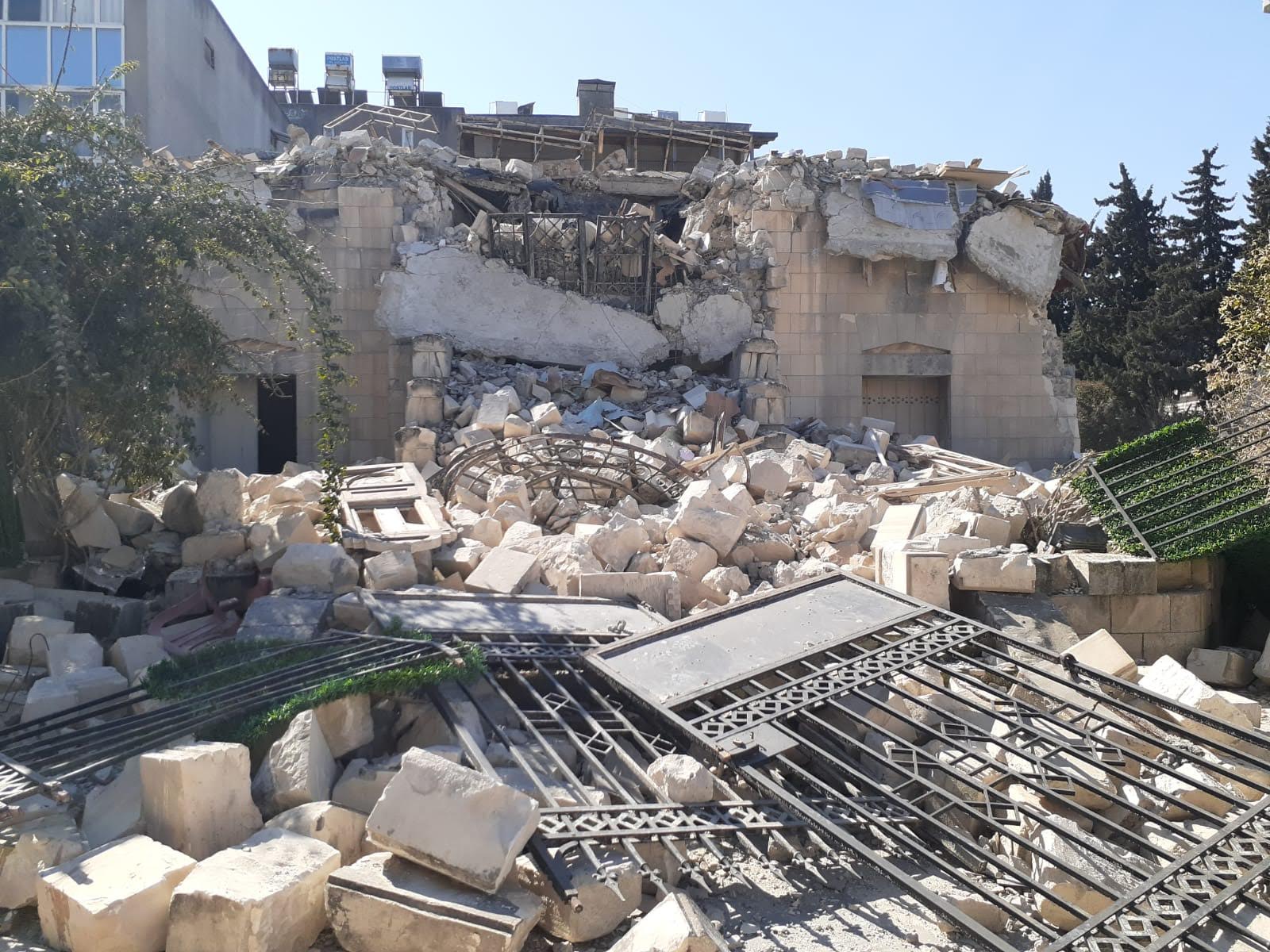 Southeastern Turkey following devastating earthquakes (Photo courtesy)
Shira, an Israel Defense Forces Search and Rescue reservist, arrived at Turkey's Ankara Airport from Israel five days after the Kahramanmaraş earthquakes. There, she met Americans Sammy and Connor, and the three would coordinate their 7.5-hour drive south to the stricken cities of Adana and Antakya.
Sammy was a woman on a mission to find a missing college friend, and Connor was a security guard at Kansas City's International House of Prayer who was joining an NGO search and rescue mission.
While Sammy went to Adana to wait for the recovery, ultimately, of her friend's body, Shira and Connor joined a soon-to-disband SAR mission before joining locals from the Ankara-based Kurtuluş Church to operate a donation-distribution hub in Antakya.
International disaster-relief teams operating through the distribution hub included South Korean organization, Worldwide Neighbors, and Romania's Samaritenii Renovatio, which serves families in extreme poverty. Euro Relief, the MGM Association and Foursquare Disaster Relief were some others.
These groups coordinated truckloads of goods for donation to the survivors, including large bags of rice, lentils, bulgur, flour, undergarments and hygiene items.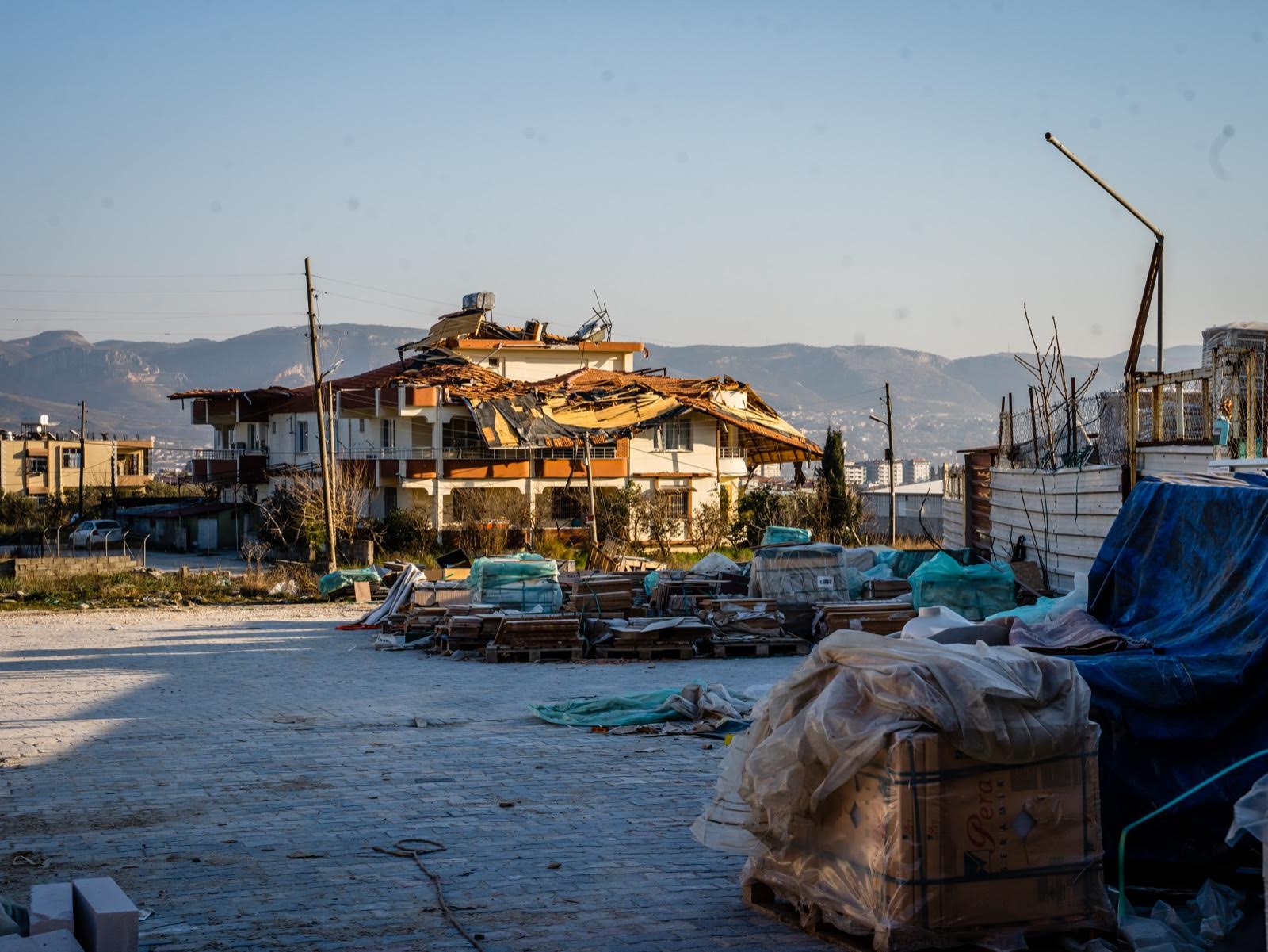 Southeastern Turkey following devastating earthquakes (Photo courtesy)
Earthquake survivors walked along the makeshift distribution line holding dilapidated cardboard boxes and plastic bags to be filled – the line included old men with canes, women reaching out to kiss foreign cheeks and praising God in loud voices, and children, whose skinny arms reached out to accept heavy bags of bulgur.
"We had a lot of different nationalities, groups and individuals represented," Shira said. "Foursquare Disaster Relief paid for the workers to get fresh vegetables and a water filtration system – once the tap water showed clear signs of contamination. As we were leaving, the group was talking with Mercy Chefs and others about setting up a kitchen at the junction point connecting three or four villages. I believe Dafne was one of these villages, and it happened to be the epicenter of another earthquake, a 6.4, that happened a few days ago [on Feb. 21]."
"The church group was also waiting for permission from the government to set up a container for a medical clinic and had started to receive supplies for it from a couple Israelis," she said.
According to Shira, the locals described Antioch, or Antakya, in the Hatay province, as an egalitarian city, where "Turks, Christians and Muslims" coexisted in peace.
"Several days in, a local family invited me and another volunteer to come to their home to shower. Not only was the hot, running water amazing, but the family also invited us to eat with them and sleep in their living room, where we learned that the entire extended family slept, in case of another earthquake. That level belonged to the grandmother, and the younger relatives' homes were on an upper floor," she said.
"The man of the house came to pick us up in his work vehicle but the belt in the engine disintegrated and stranded him for more than a day. The mechanic who eventually came to fix his truck arrived to where we were in a van with his wife and children. I realized they were living in their vehicle. The wife asked us if we had socks to give her, and we were able to bring her some other things, as well."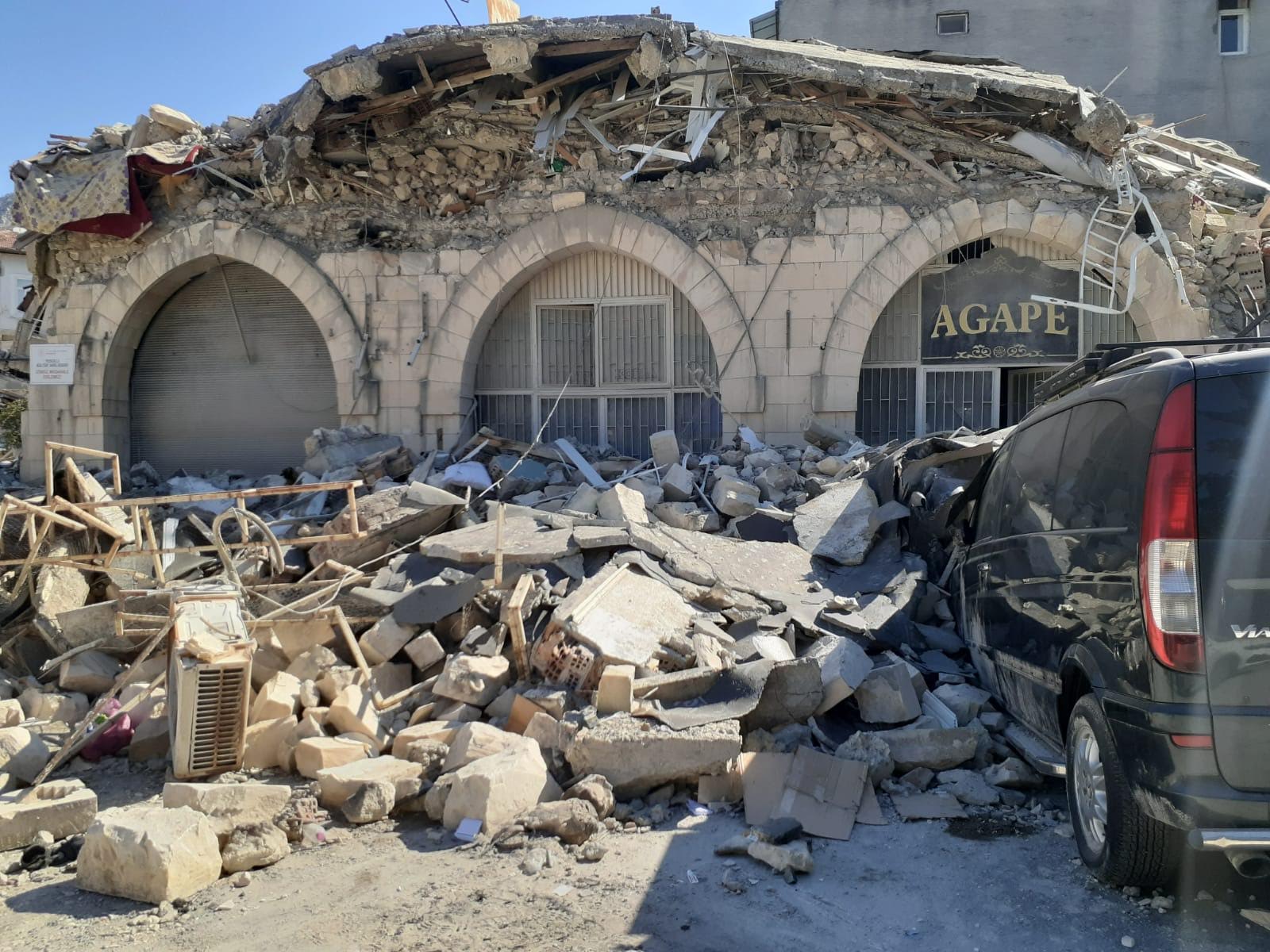 Southeastern Turkey following devastating earthquakes (Photo courtesy)
According to Shira, members of the Kurtuluş Church were communicating directly with individual villages and were able to determine, house by house, the amount of food and supplies to deliver to each village.
One native to Antakya, a young translator, estimated that the Kahramanmaraş earthquakes reportedly destroyed more than 90% of her hometown. She said it would likely be years before Antakya would return to what she sees when she closes her eyes.
"'This is where I learned English,' she told me, pointing at one of hundreds of shattered buildings amid pile after pile of rubble," Shira said. "She calls Antioch 'My Little Jerusalem.'"
Antakya, or biblical Antioch, was where the disciples of Jesus were first called "Christians." There, the Good News was spread among Jews and Greeks, and "the Lord's hand was with them, and a great number of people believed and turned to the Lord" (Acts 11:21).
In the Book of Acts, hearing this news from Antioch, the believers in Jerusalem sent Barnabas, "a good man, full of the Holy Spirit and faith," to teach the people; and, similarly, Barnabas called on Saul to join him. In Antioch, the pair would teach "great numbers of people for a whole year" (Acts 11:26).
By Tuesday, Turkey halted search and rescue efforts in all but two provinces, Kahramanmaraş and Hatay. Despite the occasional report of a miraculous survival, the government redirected official search teams to recovery efforts after determining that most trapped victims in the vast region had already died.
Beyond the loss of life, the quakes cost the country "an estimated $84 billion in losses, the equivalent of about 10% of Turkey's entire economy in 2022," according to the Wall Street Journal.
The government expressed alarm at the continued exit of survivors from the earthquake zone, which it said carried a secondary blow to production and other industries in the area.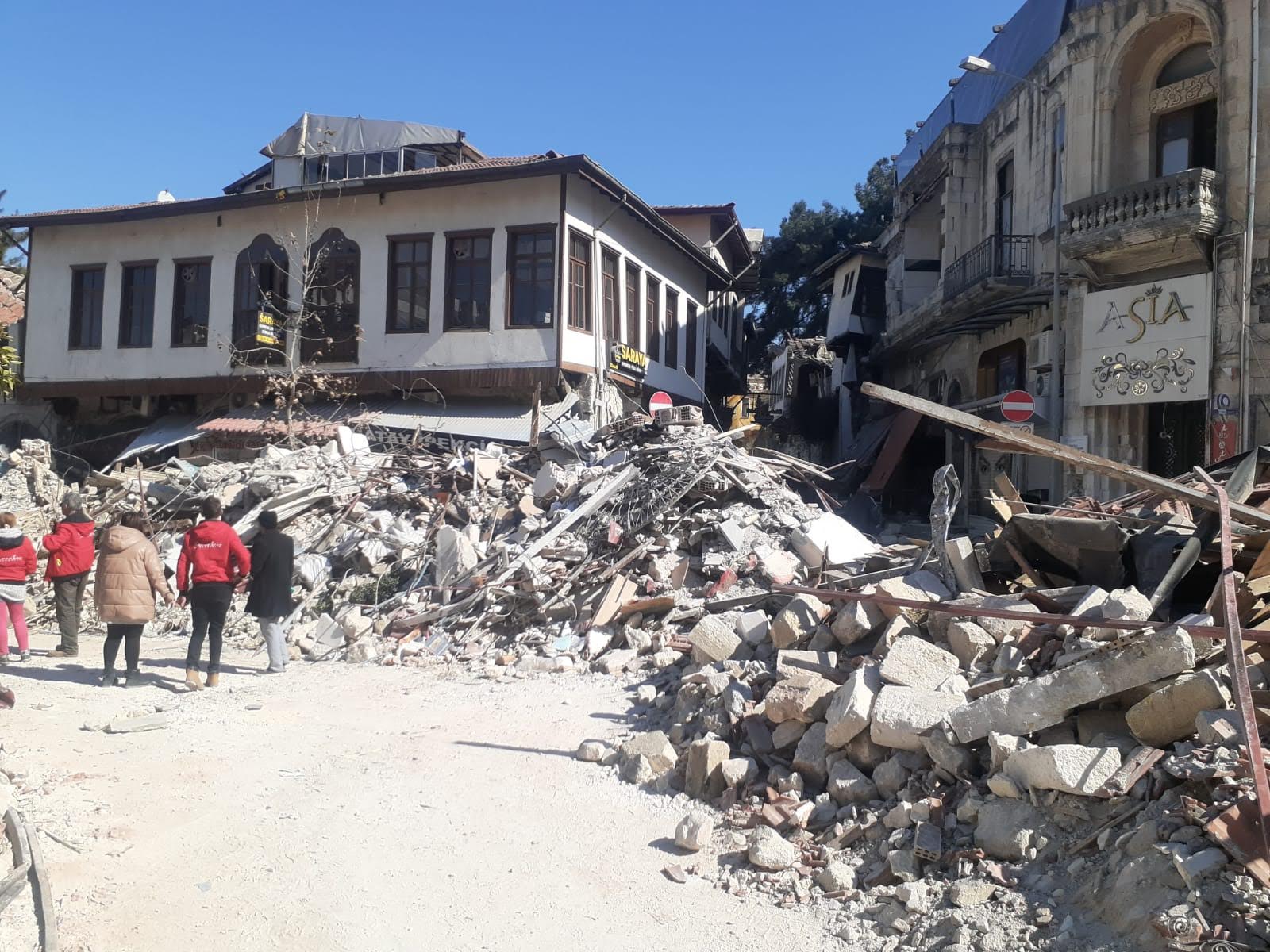 Southeastern Turkey following devastating earthquakes (Photo courtesy)
Survivors of the disaster have since either fled or moved their families into tents and vehicles to escape the winter cold and await the country's rebuilding. Many lost family homes, places of business and personal belongings. Regular aftershocks, as well as smaller earthquakes in the days following, further destabilized compromised buildings and even injured already-traumatized survivors.
When Shira returned to Israel via Hatay Airport after a week, she estimated that about 95% of the domestic flight to Ankara was filled with search and rescue responders from multiple organizations, Turkish and international.
Three times, travelers at the airport broke into thunderous applause for the search dogs and their handlers moving through the crowds, exhausted men and women in hardhats and reflective vests.
According to Essex County Fire and Rescue Services, on Wednesday, "In total, there were 90 international search and rescue teams who helped save 211 people who would not have been here if it wasn't for the selfless bravery of these teams."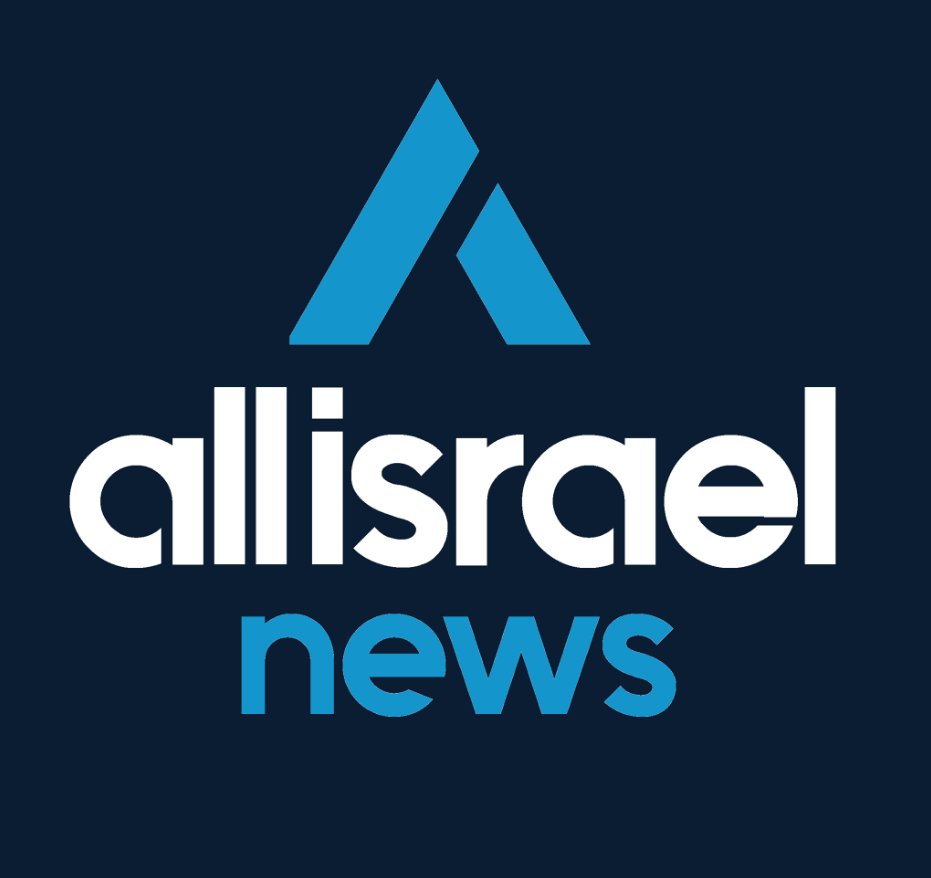 The All Israel News Staff is a team of journalists in Israel.
A message from All Israel News
Help us educate Christians on a daily basis about what is happening in Israel & the Middle East and why it matters.
For as little as $5, you can support ALL ISRAEL NEWS, a non-profit media organization that is supported by readers like you.
Donate to ALL ISRAEL NEWS
Current Top Stories
Comments