ENEMIES AND ALLIES: IRAN THREAT
'I don't see any other way but to bomb Iran,' says former Israeli national security advisor
With new round of nuclear talks to begin Monday in Vienna, Israeli officials are losing confidence in Biden's determination to stop Tehran from building The Bomb – is war really coming?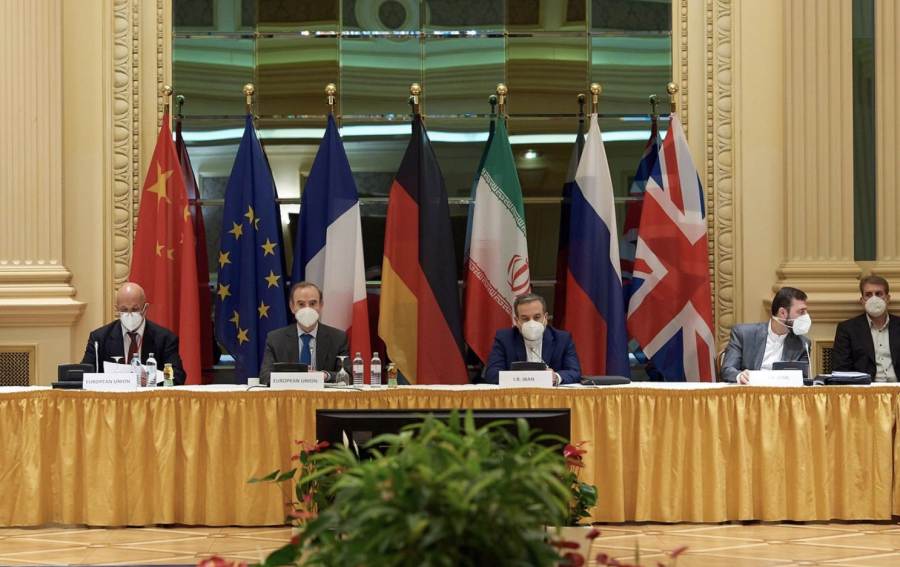 The Joint Commission of the JCPOA wraps up a round of nuclear deal talks in Vienna, May 1, 2021 (Photo: Enrique Mora/Twitter)
SIMI VALLEY, CALIFORNIA—On Monday, a new round of high-stakes negotiations are set to commence in Vienna as the world urgently tries to persuade the Iranian government to curtail or scale back its nuclear program.
Don't hold your breath.
At the moment, the chances of war are rising while the chances of a diplomatic solution are fading.
I'll be discussing the growing Iranian crisis and what it means for the U.S. and the world when I speak at the Ronald Reagan Presidential Library here in Simi Valley on Tuesday about my new book, "Enemies and Allies: An Unforgettable Journey inside the Fast-Moving & Immensely Turbulent Modern Middle East."
[To register to attend, please click here.] 
But with tensions rising and the clock ticking, let me sketch out some of the situation right now.
WHAT DOES BIDEN WANT?
President Joe Biden wants Tehran to agree to re-enter some new version of the 2015 nuclear deal known as the Joint Comprehensive Plan of Action (JCPOA), the deal from which President Donald Trump withdrew in 2018 saying it was "flawed" and "dangerous."
The problem is that senior Israeli officials – both current and former – are steadily losing confidence in Biden's determination to truly stop Tehran from building The Bomb before it's too late.
Many in Israel's new government are looking at Biden's surrender to the Taliban in Afghanistan, steadily plunging poll numbers in the U.S., and passionate belief in the effectiveness of the original JCPOA deal and concluding that Biden and his team are too desperate for a deal of almost any kind with Tehran.
They also believe that Biden has absolutely no stomach for taking U.S. military action to neutralize the Iranian nuclear threat, despite Washington's perennial insistence that "all options are on the table."
WARNING SIGNS OF A COMING WAR?
Thus, we are seeing a growing number of reports that Israel is preparing itself to strike Iran itself, if Israeli leaders conclude they have no other options and no more time.
Consider seven recent headlines: 

"I DON'T SEE ANY OTHER WAY BUT TO BOMB"
Most current senior Israeli leaders in the position of actually authorizing such strikes are staying quiet.
But a growing number of senior and highly respected formal Israeli security and intelligence officials are talking openly. 
Yossi Cohen, the former Mossad chief, said last week, that "independent strikes on nuclear sites, if Iran takes this path that endangers our existence, should and must be on the table – unequivocally."
Yaakov Amidror, Israel's former national security advisor, went even further.
"Israel cannot live with a situation in which the Iranians are getting closer and closer to the bomb, and it will soon have to make a decision how to stop it," Amidror told the BBC last week.
"I don't see any other way but to bomb [Iran's facilities], because I don't see the Iranians retreating from their dream of having a nuclear umbrella under which they can be even more aggressive than they are today," he added.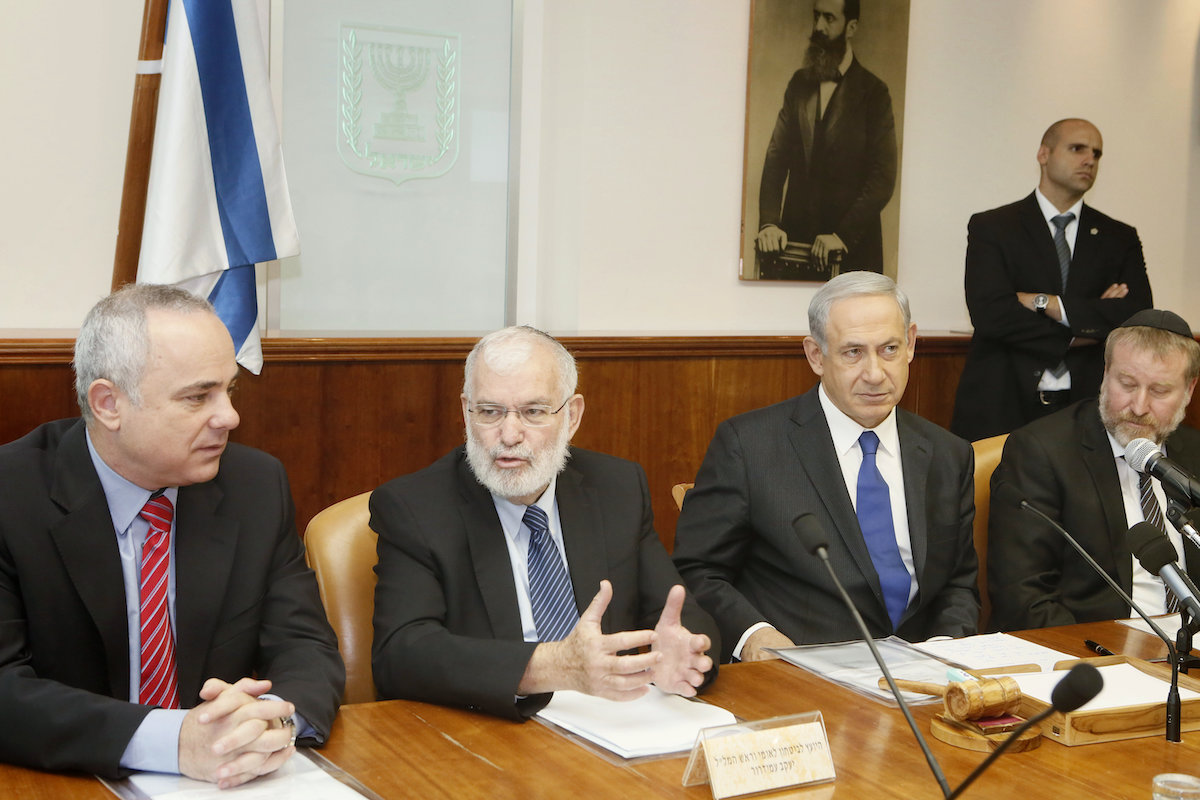 Then-National Security Adviser Ya'akov Amidror (2L) seen at the weekly Cabinet meeting at PM Netanyahu's office in Jerusalem, Nov. 3, 2013. (Photo: Miriam Alster/Flash90 )
At a security conference in Herzliya last week, Amidror said bluntly and publicly what many senior Israeli officials are saying privately.
"The world won't lift a finger" to stop Iran from getting nuclear warheads, Amidror said. "The Americans won't carry out a single mission."
"To many Americans, Iran is not a problem," he noted. "The Americans regard human rights and the Palestinian issue far greater problems to deal with than the Iranian threat."
In Herzliya, Amidror repeated his main point that Israel must be prepared to destroy Iran's military nuclear facilities on its own, reported Israel Hayom. 
"I hope it doesn't come to that, but unfortunately I believe in the end we will have no choice," he said. "The Americans do not want to act."
IS THERE ANY HOPE OF A DIPLOMATIC SOLUTION?
Obviously, the best-case scenario is that Biden and his team stand firm in Vienna, make no concessions – or very minor ones – and thus persuade the Iranians once and for all to shutter their nuclear program because the cost of U.S. economic sanctions are exacting too high a price on the Iranian people.
I am certainly praying for such an outcome, which is vastly preferable to a new regional war.
But, by all indications, the Iranians are digging in their heels and acting like they have no interest in a diplomatic deal.
Why? 
There are two possible reasons.
First, Tehran really doesn't want a deal, ever – they believe that they are so close to acquiring The Bomb – and so sure that Biden won't authorize U.S. military strikes, or even let Israel strike – that they see no point in giving up their dream of thermonuclear capability now.
Two, Tehran desperately wants a deal as soon as possible but doesn't want to look desperate – thus, by looking tough and seeming intractable, Tehran is testing to see how desperate Biden is for a deal, and feeling increasingly confident that the longer Tehran resists, the more major concessions Biden will make.
At this point, many Israeli officials share the assessment that Biden looks far too eager for a deal, and that a deeply flawed new agreement would be worse than the first one.
"What happened in 2018 [when Trump withdrew from the JCPOA] is that the Iranians advanced toward a bomb – they continued with their enrichment…to 60% [purity]," Amos Yadlin, former chief of IDF Military Intelligence from 2006 to 2010, said last week. 
"They have today three tons of enriched uranium, and most dangerously, they developed advanced nuclear centrifuges," Yadlin noted.
"Now, even if we return to the 2015 agreement, it's not the same agreement," he warned. "It doesn't keep Iran a year away from a bomb [as it was before the JCPOA was signed], rather only two months from a bomb."

Joel C. Rosenberg is the editor-in-chief of ALL ISRAEL NEWS and ALL ARAB NEWS and the President and CEO of Near East Media. A New York Times best-selling author, Middle East analyst, and Evangelical leader, he lives in Jerusalem with his wife and sons.
A message from All Israel News
Help us educate Christians on a daily basis about what is happening in Israel & the Middle East and why it matters.
For as little as $5, you can support ALL ISRAEL NEWS, a non-profit media organization that is supported by readers like you.
Donate to ALL ISRAEL NEWS
Current Top Stories
Comments