HOOPS, HASSLES AND HOPES: Tourists trickle into Holy Land, but Yaffa Tours owner urges Israel to 'ease restrictions to match other countries in our region'
Israelis are welcoming back tourists with a lot of warmth – and a little bit of shock after so long
Back in the Holy Land – A group of 10 intrepid Americans tour Israel after borders reopen in January 2022. (Photo: S J Levesque)
The guard at the Qasr al-Yahud baptismal site on the Jordan River looked up quizzically as a bus approached the location and shrugged as if to ask, "What is a bus doing here?"
One of the bus occupants popped his head out a window.
"We're a tour group."
"You guys are back?!"
The astonished guard swung the gate open and ushered them in.
This actually happened here in Israel last week. Patrick Hagerty recounted this comical scene last week during his long-awaited return to the Holy Land.
Yes, the tourists are back and Israelis have magnanimously welcomed them.
However, getting into Israel remains riddled with hurdles – and not everyone is willing to cross them.
Last week, ALL ISRAEL NEWS caught up with Hagerty's group to understand the procedures and hoops that a tourist must jump through in order to get to the Holy Land. This group of 10 Evangelical Christians from Oregon and Washington are some of the most recent tourists allowed back in after the latest six-week closure.
And they were in suspense up until the last minute as to whether their long-scheduled trip would transpire until Israel decided to reopen on Jan. 9.
LISTEN TO THEIR STORY ON THIS PODCAST INTERVIEW.
After that, the group had just a few days to fill out necessary paperwork and see if they individually met Israel's requirements.
"We originally had 38 signed up for our tour, but we ended up with just 10," Hagerty told us during the group's stay in Jerusalem.
Up until recently, Hagerty said, many were holding out to see if Israel would drop its vaccine mandate. Since the pandemic began, Israel has implemented some of the most stringent requirements for foreigners entering the country – first and foremost a COVID-19 vaccine within six months of travel.
"It was actually a struggle for me to agree to get the vaccine," Danielle Hagerty, Patrick's wife, said. "But we put a lot of money aside and I really wanted to come."
Had this trip been delayed again by a continued border closure, it could have rendered the Hagertys' vaccines obsolete pushing them over the 180-day limit required by Israel. They return to the U.S. at day 160.
In addition to proof of vaccination, travelers must also present a negative PCR test, upload their documents to a government website and fill out a health declaration form within 48 hours of travel. This leaves some travelers waiting on edge for approval from Israel's Health Ministry. One of this group's travelers only got her release while praying to board the plane at the San Francisco airport.
The entire experience was a bit harrowing, the travelers admitted. Halfway through their trip, the Hagertys and Marlise Flanagan, Patrick's sister, said the stress and confusion that accompanied the entry procedures had started to dissipate. But looming ahead of them was the need to arrange COVID testing within 24 hours of their flight back to the United States.
To complicate matters even further, the tour was originally booked through Tour Your Roots Ministry run by Yosef Rachamim ("Rami") Danieli. But Danieli – Hagerty's go-to tour guide – doesn't meet Israel's own COVID requirements and thus would have needed to provide negative corona tests throughout the tour in order to enter indoor sites such as museums and restaurants. He had to give up his tour and handed it over to his long-time colleague and friend, Michal Gal-Oz who runs a travel company.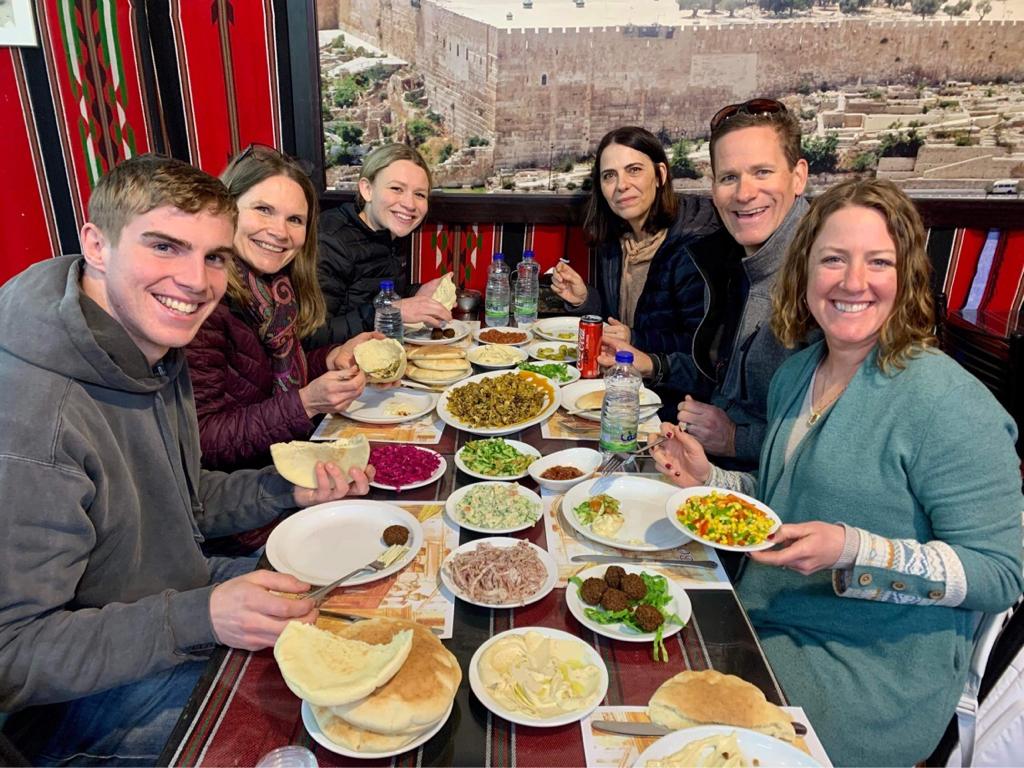 Marlise Flanagan (center left) and Patrick Hagerty (center right) led a tour to Israel in January 2022. (Photo: S J Levesque)
TOURISM INDUSTRY STILL WAVERING BETWEEN HOPE – AND HOOPS
Industry experts are hopeful that this West Coast contingent is the trickle that will lead to a flood of tourists. But Gal-Oz of Yaffa Tours, which took over Hagerty's trip, believes Israel can do more to get these numbers up.
"I am optimistic we can see more tourists here soon – if our officials will ease their own restrictions to match other countries in our region," Gal-Oz told us.
Yaffa Tours has more groups slated for this year from both the U.S. and Canada – including with Sharon Gogel, John Howson, Dr. Trevan Hatch, Dale Dueck, Pastor Dan Unrau and Pastor Matt Vincent.
Tourism had been entirely shut down for 15 solid months at the beginning – from March 2020 until late May 2021. Over the past nine months the industry has been going in fits and starts – but mostly stops and with many restrictions that have limited who can get in and how.
The re-openings were few and far between. In 2021 the borders were open:
May 23 through Aug. 15 (groups only)
Sept. 19 through Nov. 28 (groups only)
Nov. 1 through Nov. 28 (groups and individual tourists)
And in 2022, the border opened on Jan. 9 for both groups and individual tourists.
At some point, Israel required groups to undergo a serology test upon arrival at Ben-Gurion Airport in order to prove they had COVID antibodies. That has been dropped since the fall reopening.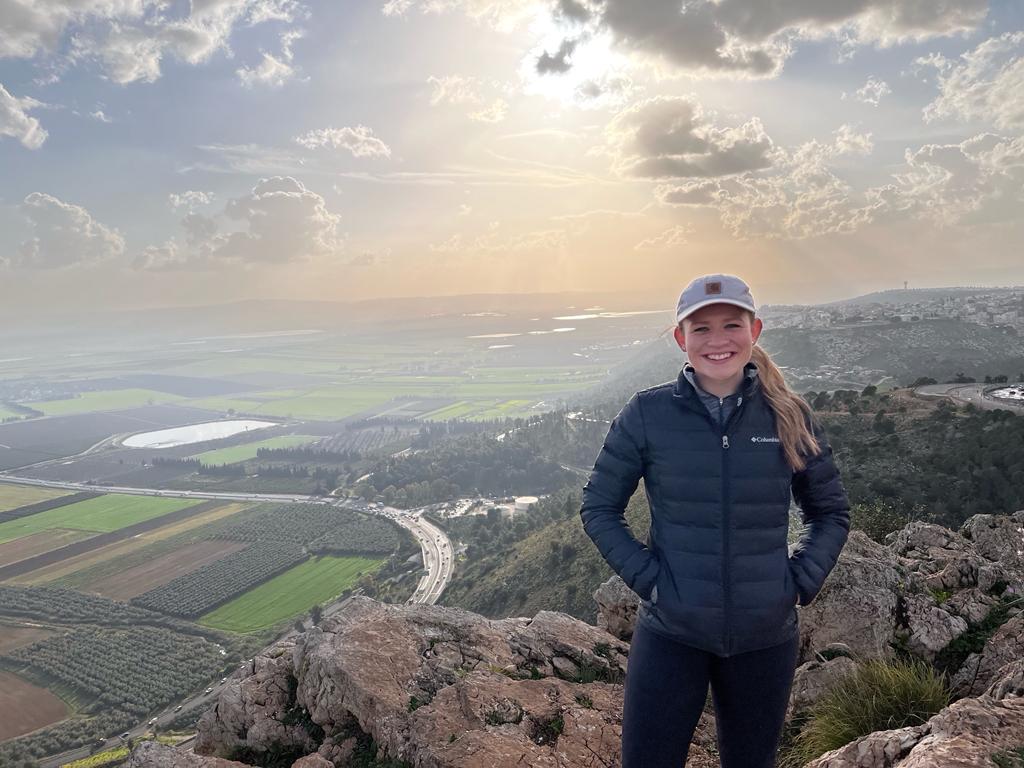 Amazing view from Mount Precipice in Nazareth, January 2022. (Photo: Isaiah Flanagan)
WAS IT WORTH THE HOOPS AND HASSLES?
Hagerty said he loves bringing people to the Holy Land because it brings the Bible to life – "it makes the Bible 3D for people, and there's no other way to do that other than to to be here."
Hagerty, from Oregon, and Flanagan, who lives in Washington, were determined to make this trip – originally scheduled for spring 2020 – finally transpire. They optimistically rescheduled that first trip for the fall that same year, but no foreigners made it to Israel in 2020.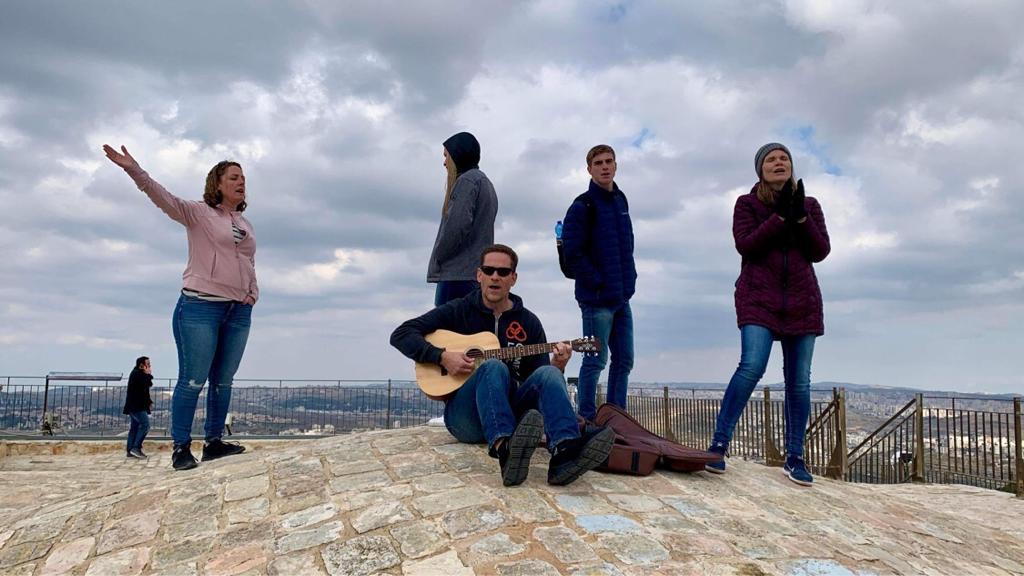 Worshiping in the Holy Land. (Photo: S. J Levesque)
During the first few days of their tour, the group felt the anxiety of the planning whirlwind start to dissipate. They worshipped on a roof at the City of David and viewed multiple biblical sites from a lookout where Samuel is believed to have judged the tribes of Israel.
"You can watch videos on YouTube of what the sites look like, but standing there and seeing it with your own eyes – there's no replacement and it validates the Bible," said Hagerty, executive director of their local Youth For Christ chapter. "It validates God's word, and it validates the message of Jesus Christ and you look at it and you know it's not a made up story. It's not a fairy tale. It's not just names of random places."
The Hagertys saw that firsthand through their daughter who is here on her first trip. In the Kidron Valley, she marveled that the site she was looking at actually dated back to the book of Kings – an experience she held onto as the tour continued.
The group braved dusty sites that have been closed for almost two years – including the Garden Tomb in Jerusalem which opened especially for the group to visit and to hold a communion service on Saturday.
Flanagan said everywhere they went they were welcomed by eager shop owners and site managers who just want to get working again. And despite the challenges of arriving, she urged others to book their trips.
"It is well worth it. Come – you can get through the hoops. It's totally doable," Flanagan said. "The Lord will take care of you – and He will bless your socks off while you're here."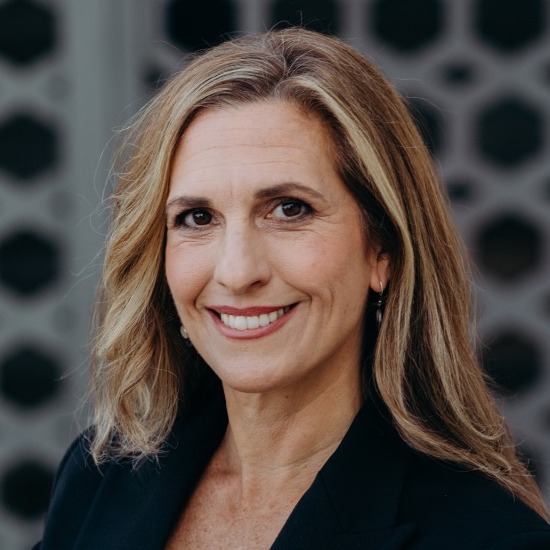 Nicole Jansezian was the news editor and senior correspondent for ALL ISRAEL NEWS.
Popular Articles
A message from All Israel News
Help us educate Christians on a daily basis about what is happening in Israel & the Middle East and why it matters.
For as little as $5, you can support ALL ISRAEL NEWS, a non-profit media organization that is supported by readers like you.
Donate to ALL ISRAEL NEWS
Latest Stories
Comments