Former US generals urge President Biden in an open letter to reject the emerging nuclear deal with Iran 
46 retired top U.S. military leaders warn the deal is "poised to fuel Iranian aggression" and pave "Iran's path to become a nuclear power"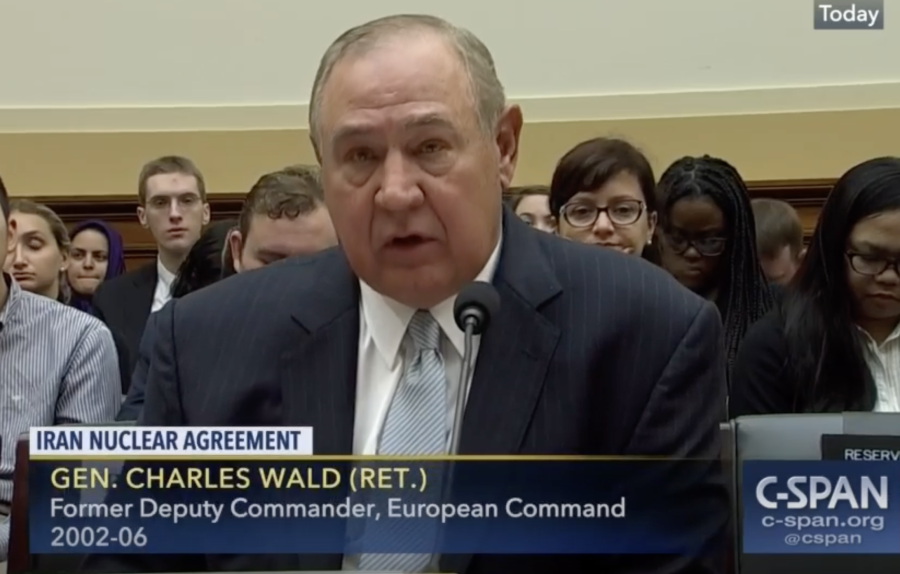 Gen. Chuck Wald (ret.) speaks before the U.S. House Foreign Affairs Committee about the nuclear deal with Iran, Oct. 11, 2017 (Photo: Screenshot)
A list of 46 retired U.S. military generals and admirals penned an open letter to Congress and President Biden warning against the pending nuclear deal with Iran. 
Organized by the Jewish Institute for National Security of America (JINSA), the group of former military leaders calls on the White House and lawmakers to reject the emerging deal, saying it will be "shorter and weaker" than the original 2015 agreement.
"As retired American military leaders who devoted their lives to the defense of our nation, we oppose this emerging deal that is poised to instantly fuel explosive Iranian aggression and pave Iran's path to become a nuclear power, threatening the American homeland and the very existence of America's regional allies," read the letter. 
The military leaders – led by co-chairs Gen. Chuck Wald, USAF (ret.) and Vice Admiral John Bird, USN (ret.) – noted in their letter to the threat leverage that the possession of nuclear arms by Russia has created in Europe. 
"In Ukraine, we are bearing witness to the horrors of a country ruthlessly attacking its neighbor and, by brandishing its nuclear weapons, forcing the rest of the world largely to stand on the sidelines," they noted. 
"The new Iran deal currently being negotiated, which Russia has played a central role in crafting, will enable the world's leading state sponsor of terrorism to cast its own nuclear shadow over the Middle East," they added.
The letter elaborates the dangers that the retired military officials recognize in the new nuclear deal, still under negotiations in Vienna. They claim that the new agreement will not put Iran "in a box," as promised, but rather could leave Iran twice as close to a nuclear weapon as the 2015 agreement. 
According to the JINSA initiated group, the deal will allow restrictions on Iran's nuclear program to start to lapse in just two years. It will permit Iran, by 2024, to build advanced centrifuges with which it can enrich more uranium even faster. Moreover, Russia will get paid to store Iran's enriched uranium.
By 2031, says the letter, Iran will be able to possess an unrestricted nuclear program and the capability to build a bomb at will. 
Another concern emerging from the terms of the JCPOA revival is that it will not compel Iran to reveal the extent of past efforts to develop nuclear weapons, as required by the 2015 agreement. Nor does the deal prohibit Iran's development of intercontinental ballistic missiles.
The retired generals also warned against fulfilling Tehran's latest demand from world powers in the negotiations, that the U.S. will remove its Islamic Revolutionary Guard Corps (IRGC) from the State Department's list of terror organizations. Their letter to the president noted that the IRGC, Iran's main terrorist wing, is responsible for the deaths of at least 600 American troops. 
The nuclear deal on the line, if signed, will put more U.S. soldiers and regional allies in danger. The generals say that the lifting of sanctions will generate "hundreds of billions of dollars for the radical regime in Tehran to fuel greater aggression." 
"America's closest regional partners, attacked regularly by Iran, already strongly oppose the proposed deal. If we will not help protect them against Iran, we cannot expect their help addressing threats like Russia and China," the letter concluded. 
"We instead support diplomacy that would genuinely end the threat posed by Iran's military nuclear program and counter Iran's regional aggression, backed up by credibly drawn and enforced redlines against Iranian nuclear and regional escalation."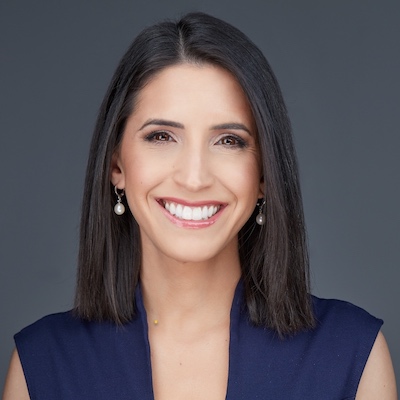 Tal Heinrich is a senior correspondent for both ALL ISRAEL NEWS and ALL ARAB NEWS. She is currently based in New York City. Tal also provides reports and analysis for Israeli Hebrew media Channel 14 News.
A message from All Israel News
Help us educate Christians on a daily basis about what is happening in Israel & the Middle East and why it matters.
For as little as $5, you can support ALL ISRAEL NEWS, a non-profit media organization that is supported by readers like you.
Donate to ALL ISRAEL NEWS
Current Top Stories
Comments