EXCLUSIVE INTERVIEW: Saudi leaders tell Jewish group they're ready to normalize with Israel, but first need to normalize with US
Saudis want robust, trustworthy alliance with Washington in face of Iran threats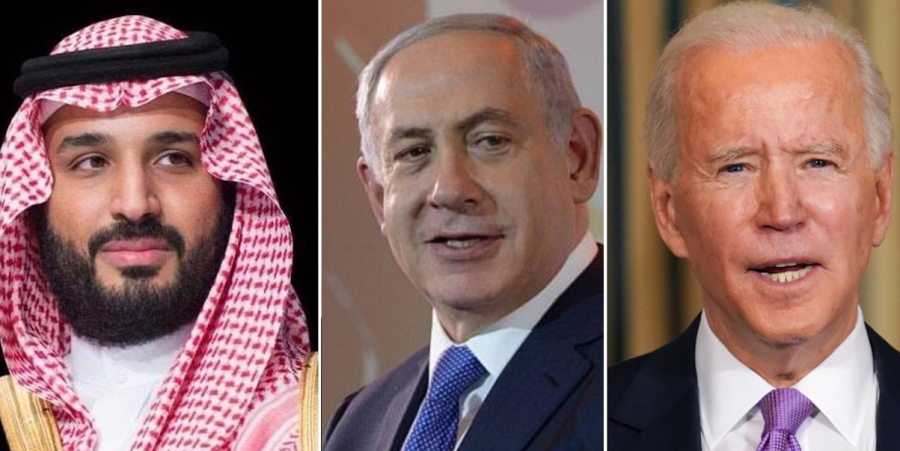 Saudi Crown Prince Mohammed bin Salman (Photo: Facebook), Israeli Prime Minister Benjamin Netanyahu (Photo: Amos Ben Gershom/GPO), US President Joe Biden (Photo: Shutterstock) (Photo compilation: ALL ISRAEL NEWS)
JERUSALEM—Could 2023 be a year for a dramatic breakthrough that could effectively bring the Arab-Israeli conflict to an end and open up a new era of peace and prosperity in the Middle East?
As Israel heads into the 75th anniversary of its miraculous and prophetic rebirth, I'm increasingly optimistic and urge the world's 600 million Evangelical Christians to "pray for the peace of Jerusalem" like you've never prayed before.
Here is why I believe a major breakthrough is increasingly close at hand.
Two years after the signing of the Abraham Accords – and for the first time in history – the senior leadership of the Kingdom of Saudi Arabia say they are, in fact, now ready to normalize relations with the State of Israel. 
But first, the Saudis say, they need to normalize relations with Washington, which are more strained and tense than any time in the eight decades since the U.S.-Saudi alliance began.
The Saudis insist they cannot take the risk of making peace with Israel – especially in the face of grave and growing threats from the Iranian regime – without strong and dependable security and economic ties with Washington.
This is no small development.
The Saudis' willingness to negotiate a full peace treaty with Israel is extraordinary.
Even more extraordinary is that senior Saudi leaders expressed these comments to a Jewish delegation that recently visited Riyadh.
WHO WAS ON THE JEWISH DELEGATION & WHICH SAUDI LEADERS DID THEY MEET?
Leading the delegation in November was John Hannah, who served as former-Vice President Dick Cheney's national security advisor.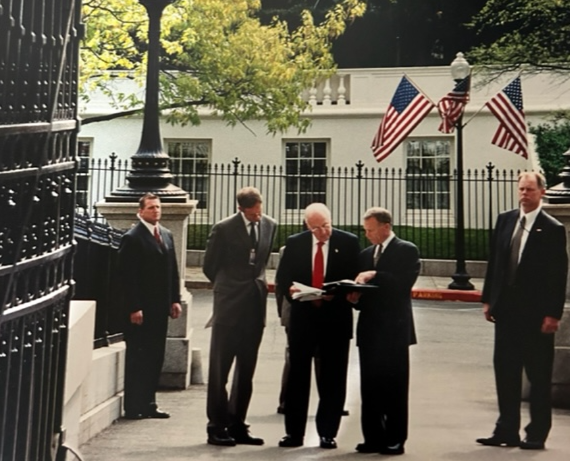 Then-Vice President Dick Cheney meeting outside the White House with John Hannah, who served as Cheney's national security advisory (Photo courtesy)
Today, Hannah is a senior fellow at the Jewish Institute for National Security of America, known as JINSA.
Last week, he published a column in the Jerusalem Post about his trip.
This week, in his first exclusive interview about the trip, Hannah told ALL ISRAEL NEWS that he and his colleagues met with the absolute top tier of Saudi leaders.
"We met with the crown prince," he told me via Zoom from his office in Washington. "We met with the defense minister. With the foreign minister. We met with the head of the Navy. The commander of the Air Force. The people in charge of their defense transformation at the Ministry of Defense. The person in charge of their military industries. We saw somebody I know that you probably know well – we had a lovely day at the Muslim World League with Sheikh Mohammed al-Issa. We went, of course, to ETIDAL, the Countering Extremism Center."
Joining the delegation, Hannah said, were "eight retired U.S. flag officers – four four-stars [and] four three-stars, all with deep experience in the Middle East, including the former commander at CENTCOM and former U.S. Ambassador to Saudi Arabia under President Trump, General John Abizaid; the former director of the National Security Agency, Admiral Mike Rogers; the former director of the Defense Intelligence Agency, Lieutenant General Bob Ashley; and others. It was a very impressive group. And we saw, essentially, without giving away too much, the people you would need to see – authoritatively – at a political and national security level."
Though the ground rules of the meetings prohibit Hannah and his colleagues from directly quoting specific Saudi leaders they met with, he said he is at liberty to express his impressions of what they saw and heard.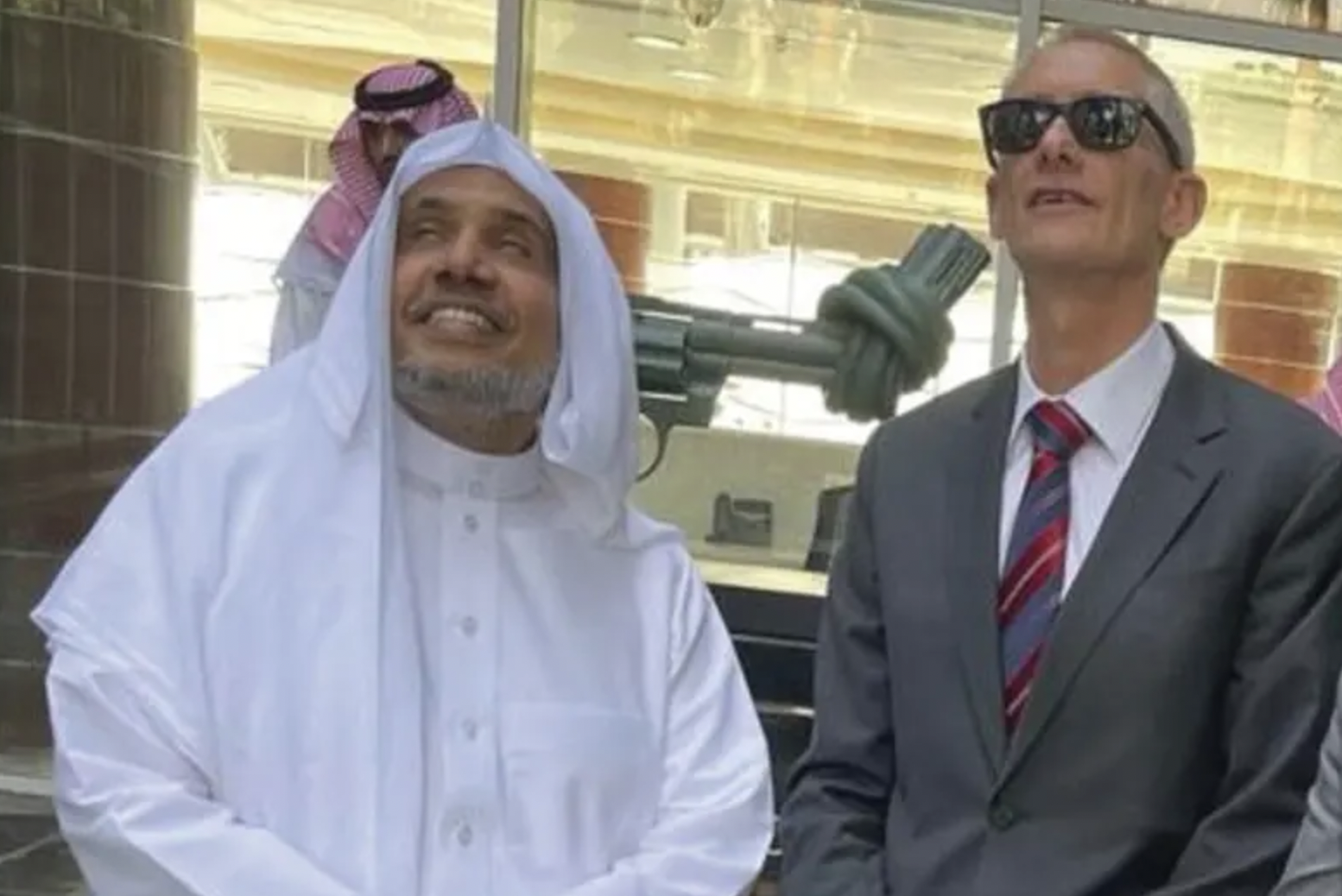 John Hannah met with Saudi Sheikh Mohammed al-Issa, secretary general of the Muslim World League, and a member of the ALL ARAB NEWS Advisory Board (Photo courtesy)
THE SAUDIS ARE READY TO "CROSS THE RUBICON"
"I came away with a stronger impression than I've ever had that…the top political and national security leadership in that country has made the decision that they are, in fact, prepared to make peace with Israel, to normalize relations," Hannah told me.
"They see it very much in their strategic interest to do so," he added. "They told us we have the same threats as Israel, the same allies, and the same enemies – most importantly, specifically, the Islamic Republic of Iran."
"I have a sense that they have now really thought through the requirements that they need to be able to cross that Rubicon and make a decision like the UAE, like Bahrain and Morocco have done, to actually normalize relations with Israel officially.
WHAT IS THE KEY OBSTACLE TO A SAUDI-ISRAEL PEACE AGREEMENT?
However, there is a very serious obstacle to peace, Hannah told me.
It's not Israeli Prime Minister Benjamin Netanyahu and his right-wing government.
Nor is it the refusal of the Palestinian leadership in Ramallah to agree to any form of direct negotiations with Israel, much less actually make peace.
The obstacle, the Saudis told Hannah, is the badly broken relationship between Riyadh and Washington.
Biden's visit to the kingdom last summer was a step in the right direction, but it was not nearly enough.
Bad blood remains. 
After all, President Joe Biden has called Saudi Crown Prince and de facto ruler Mohammed bin Salman (also known by his initial, "MBS") a murderer, despite the fact that he's never released proof that MBS ordered the murder of journalist Jamal Khashoggi or knew about the murder in advance.
Biden has called Saudi Arabia a "pariah" state and said there is "very little social redeeming value in the present government in Saudi Arabia."
What's more, since taking office, Biden has denied various arms sales to the Saudis, withdrawn some U.S. missile defense systems from the kingdom, and removed the Houthi rebels in Yemen –which have been continually attacking the kingdom –from the U.S. list of terrorist organizations.
"We came away with an almost unequivocal message that the problem from the Saudi perspective is not Israel," Hannah told me. "It's not the Palestinian issue. It is their lack of faith in the current state of the strategic relationship bilaterally between the United States and Saudi Arabia."
"They have looked around. They have been attacked in the past few years directly by Iranian drones and cruise missiles at their most critical oil infrastructure facility at Abqaiq. They say, 'We were attacked. The United States did not respond.'"
"Over the course of the last several years on arms sales, the United States has become a much less reliable and predictable supplier of the weapons that we feel are critical for our own defense."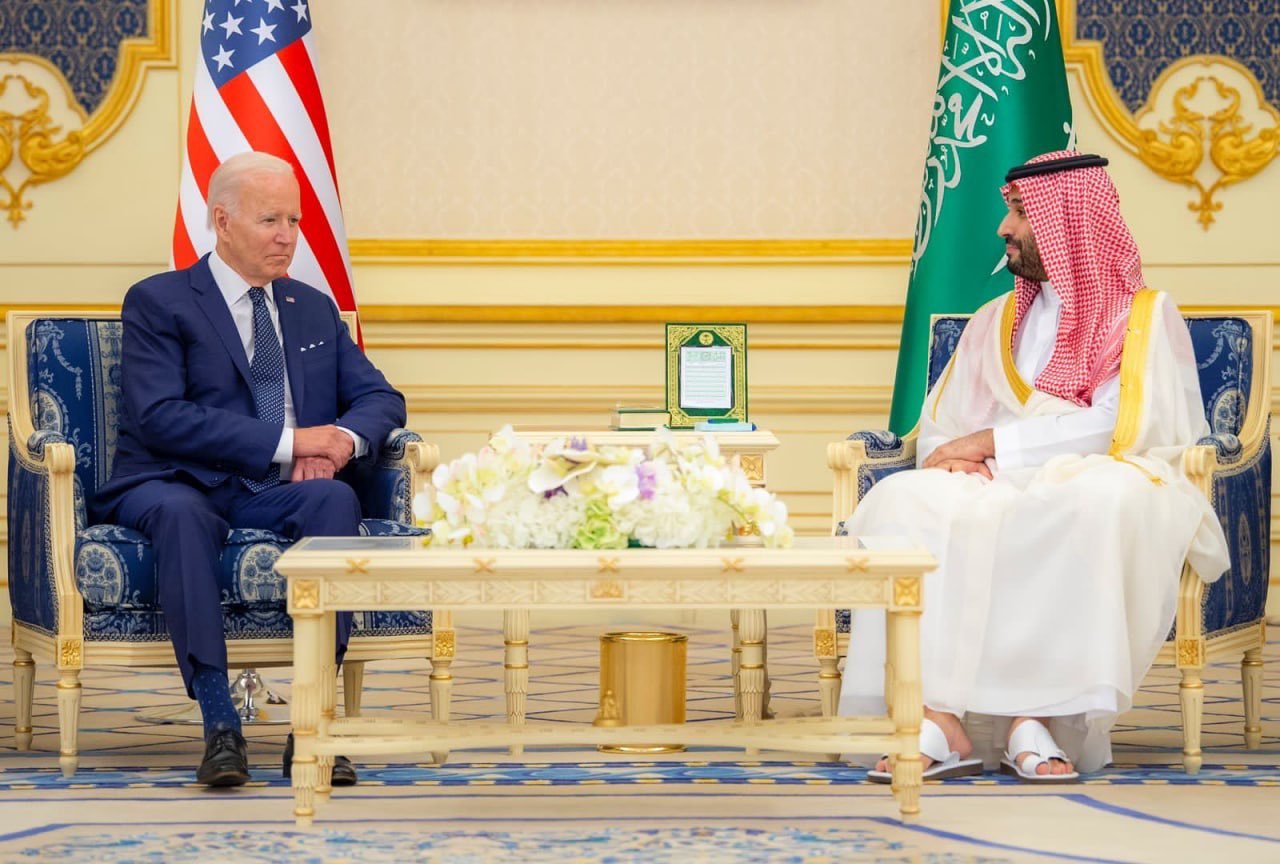 U.S. President Joe Biden meets Saudi Crown Prince Mohammed bin Salman, July 15, 2022 (Photo: Saudi Foreign Ministry)
For the Saudis, Hannah said, their bottom line was essentially this: "Before we can normalize with Israel, which is what we want to do, we need much greater confidence that we've got a normal strategic partnership with the United States."
Tomorrow, I'll share with you the part of the conversation that Hannah and I had about the possible role that Netanyahu could play in bringing Biden and MBS together.
For now, I want to underscore what a big story this is.
The Saudis are signaling for the first time – and to a Jewish-American delegation, no less – that they are ready to make peace with Israel.
What they want is a far better, stronger, and deeper security and economic alliance with the U.S. overall and a significantly improved relationship with both Republicans and Democrats in Washington.
We should all want that.
That's why we should pray that this badly broken relationship between Washington and Riyadh can be re-set and put on the road to healing.
I strongly believe that would be in the best interest of America, Israel and Saudi Arabia.

Joel C. Rosenberg is the editor-in-chief of ALL ISRAEL NEWS and ALL ARAB NEWS and the President and CEO of Near East Media. A New York Times best-selling author, Middle East analyst, and Evangelical leader, he lives in Jerusalem with his wife and sons.
A message from All Israel News
Help us educate Christians on a daily basis about what is happening in Israel & the Middle East and why it matters.
For as little as $5, you can support ALL ISRAEL NEWS, a non-profit media organization that is supported by readers like you.
Donate to ALL ISRAEL NEWS
Current Top Stories
Comments