WHAT DO ISRAELI JEWS BELIEVE?
EXCLUSIVE: Far more Israelis believe in God, heaven and hell today than in 1948, finds new survey
JERUSALEM, ISRAEL – The Jews that founded the modern State of Israel were overwhelmingly secular.
Most Jews who founded the country, in fact, were socialists, atheists and agnostics.
They had abandoned faith in the God of the Hebrew Scriptures in Western Europe, or had lived in the communist bloc countries of the Soviet Union and Eastern Europe and were prevented from believing in the God of Israel and having access to the Bible.
Most religious Jews in Europe believed it was forbidden for sinful men and women to rebuild the State of Israel.
They believed only the Messiah could do that.
Thus, there were very few religious Jews streaming into the Holy Land in the early- and mid-20th century.
THE FOUNDING GENERATION OF ISRAELIS WERE OPPOSED TO BELIEF IN GOD
Many Israelis in the 1940s and 1950s were not simply irreligious.
They were anti-religious.
They were opposed to belief in God – and they certainly didn't want religious people controlling their lives.
Their faith was not in God to build the new Israel but in themselves as hard-working, brave, and determined Zionists.
"Knowledge makes us free," Theodore Herzl, the founder of modern Zionism, famously said. "Therefore we shall permit no theocratic tendencies on the part of our clergy to arise. Every man will be as free and as unrestricted in his belief or unbelief as he is in his nationality."
Israeli socialist agricultural communities known as kibbutzim "were founded, and their life-style was shaped, by halutzim [Hebrew for pioneers], members of the Jewish socialist movement, who had left Eastern Europe in open rebellion against the Jewish religion," noted a chapter on "Religion In Israel" in the 1976 edition of the American Jewish Year Book.
"Often, their rejection of religion was not based on reasoning," the authors noted. "It was self-understood, in keeping with a prevailing mode of looking at the world. They simply 'could not understand how a young man could be religious in these times.'"
"The kibbutz participated in an antireligious revolt, but, at the same time, it consciously gave secular form to many teachings of Judaism and patterns of Jewish living," the authors added. "It thus has become suffused with Jewish purpose and culture."
Over time, however, secular Israeli Jews began to rethink their rejection of God.
A growing number of "kibbutzniks condemned their parents and teachers for rejecting the religious traditions, but only few were ready to accept belief in God," noted the authors of the Year Book. "'Our life is empty,' was the often-repeated complaint: "We live a grey life 365 days a year." They wanted to come to grips with what they called "the mystery of the existence of the Jewish people." The questions tumbled out in staggering confusion: What is the meaning and purpose of our life? Why are we hated by the Arabs? What is the point of the kibbutz? Why is Jewish history an almost unbroken string of persecution and death? Does Jewishness mean existence as such, or does it imply Jewish content and meaning? If we can't have religious faith, should we at least observe some traditional customs?"
BELIEVING IN GOD: A SEA CHANGE IN ISRAELI JEWISH THINKING
Now, an intriguing new survey released just this week indicates that far more Israeli Jews in 2023 believe in God than did their parents and grandparents.
There are very few atheists and agnostics in Israel any more.
Respondents were asked the following question: "Which of these statements come closest to your personal view?" 
63.6% of Israeli Jews said, "I believe in God as described in the Jewish tradition."

Only 22% said, "I believe there is some other higher power or spiritual force in the universe but I do not believe in God as described in the Jewish tradition."

A mere 14.4% said, "I do not believe there is ANY higher power or spiritual force in the universe.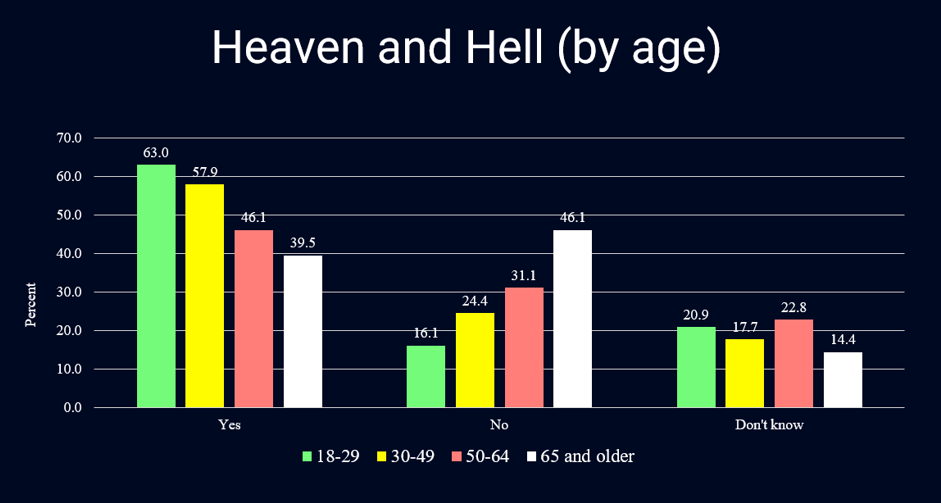 This represents a sea change in Israeli Jewish thinking over the past 75 years.
Indeed, the poll indicates that younger Israelis Jews are actually significantly more inclined to believe in the God of the Bible than older Israelis.
And significantly fewer younger Israelis are atheists than older Israelis.
The data also indicate that the less income an Israeli earns, the more inclined he or she is to believe in God, while the more affluent are less likely to believe.
BELIEVING IN HEAVEN AND HELL
It is not just the Jewish God that Israelis increasingly believe in.
More than half now believe in the existence of an afterlife. 
54.5% of Israeli Jews say they believe that heaven and hell are real places

Only 26.3% say they don't believe in the existence of heaven and hell

19.2% say they "don't know" if heaven and hell exist.
HOW WAS THE SURVEY CONDUCTED?
Two American Jewish professors designed the survey.
One was Dr. Mordechai Inbari, Full Professor in the Department of Philosophy and Religion at the University of North Carolina Pembroke.
The other was Dr. Kirill Bumin, the Dean of the Graduate Studies and Full Professor in the Department of Political Science and International Studies at Stonehill College
The scholars contracted with the Geocartography Knowledge Group, one of the leading research and polling companies in Israel, to professionally conduct the survey.
A representative sample of 1,200 Israeli Jewish respondents were surveyed.
The sample provides a 95% confidence level that the sampling error does not exceed ±2.82%.
The sample includes 1,000 respondents who were interviewed online in Hebrew.
It also includes 200 respondents who were interviewed by phone in Hebrew. This group consisted of Israelis ages 65 and over, and ultra-Orthodox Israelis, both of which are historically less responsive to online surveys and more responsive to phone surveys.

Joel C. Rosenberg is the editor-in-chief of ALL ISRAEL NEWS and ALL ARAB NEWS and the President and CEO of Near East Media. A New York Times best-selling author, Middle East analyst, and Evangelical leader, he lives in Jerusalem with his wife and sons.
Popular Articles
A message from All Israel News
Help us educate Christians on a daily basis about what is happening in Israel & the Middle East and why it matters.
For as little as $5, you can support ALL ISRAEL NEWS, a non-profit media organization that is supported by readers like you.
Donate to ALL ISRAEL NEWS
Latest Stories
Comments