EXCLUSIVE: Estonia's former foreign minister tells ALL ISRAEL NEWS his country needs US troops on the ground soon and Patriot missile defenses to protect against Russian threat
MP Urmas Reinsalu urges much closer ties between Estonia and Israel, says he's proud to host first Jerusalem Prayer Breakfast in Estonia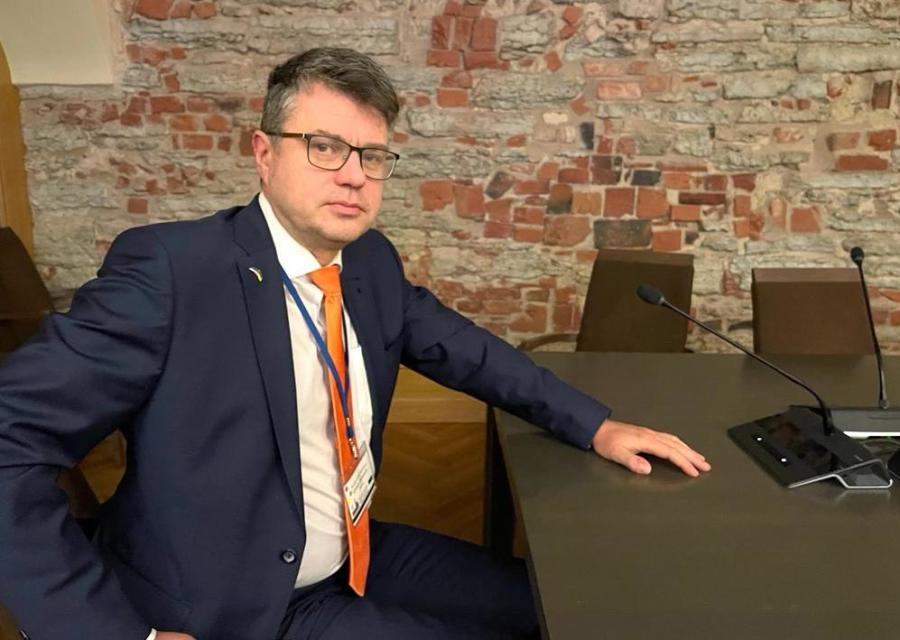 MP Urmas Reinsalu, former Estonian foreign minister (Photo: ALL ISRAEL NEWS)
TALLINN, ESTONIA—Russian President Vladimir Putin doesn't just want to invade and re-occupy Ukraine but all the Baltic states, including Estonia. 
And the only way to stop Putin long-term is for the U.S. and Israel to help NATO countries on Russia's border, such as Estonia, dramatically and rapidly beef up their defenses.
That's the assessment of Urmas Reinsalu, who served in some of the most influential positions in past governments, including foreign minister from April 2019 through January 2021, justice minister from 2015 to 2019 and defense minister from 2012 to 2014.
In an exclusive interview with ALL ISRAEL NEWS, Reinsalu called on the Biden administration to immediately put American forces on the ground here in Estonia.
American soldiers should serve alongside Estonia's military, along with the 2,000 British soldiers operating here as part of a NATO trip-wire contingent.
Reinsalu also said Estonia needs U.S. President Joe Biden to immediately deploy Patriot missile batteries on Estonian soil that are capable of defending his country's cities and military bases from a Russian attack.
What's more, Reinsalu – who is currently hosting the first-ever Jerusalem Prayer Breakfast here in the Estonian Parliament – said he wants a dramatically strengthened military partnership with the State of Israel.
WHAT IS HIS MESSAGE TO WASHINGTON?
"My main message is that the West should be ready to show the willpower and determination in fighting back against the dictator and aggressor in the Kremlin," he said.
"And this is not a recent crisis – the [Russian] war in Ukraine, including war crimes, crimes against humanity, has taken place for almost a decade."
"This is not an academic issue for us," he added. "This is a very urgent reality. It's very important to get more military capabilities to the Baltics."
"We have today on Estonian soil around 2,000 soldiers from the U.K. – they will double that number in the coming time. Is that enough? No, it's not enough."
"We would like to see also a permanent U.S. military presence," Reinsalu said. "We would be very proud to receive also the Patriot missile systems."
"America's place in the world security architecture is irreplaceable," Reinsalu told me.
Together, Estonia, the U.S., the British and the rest of NATO "must fight against evil," he insisted. "We should not be silent when freedom is threatened."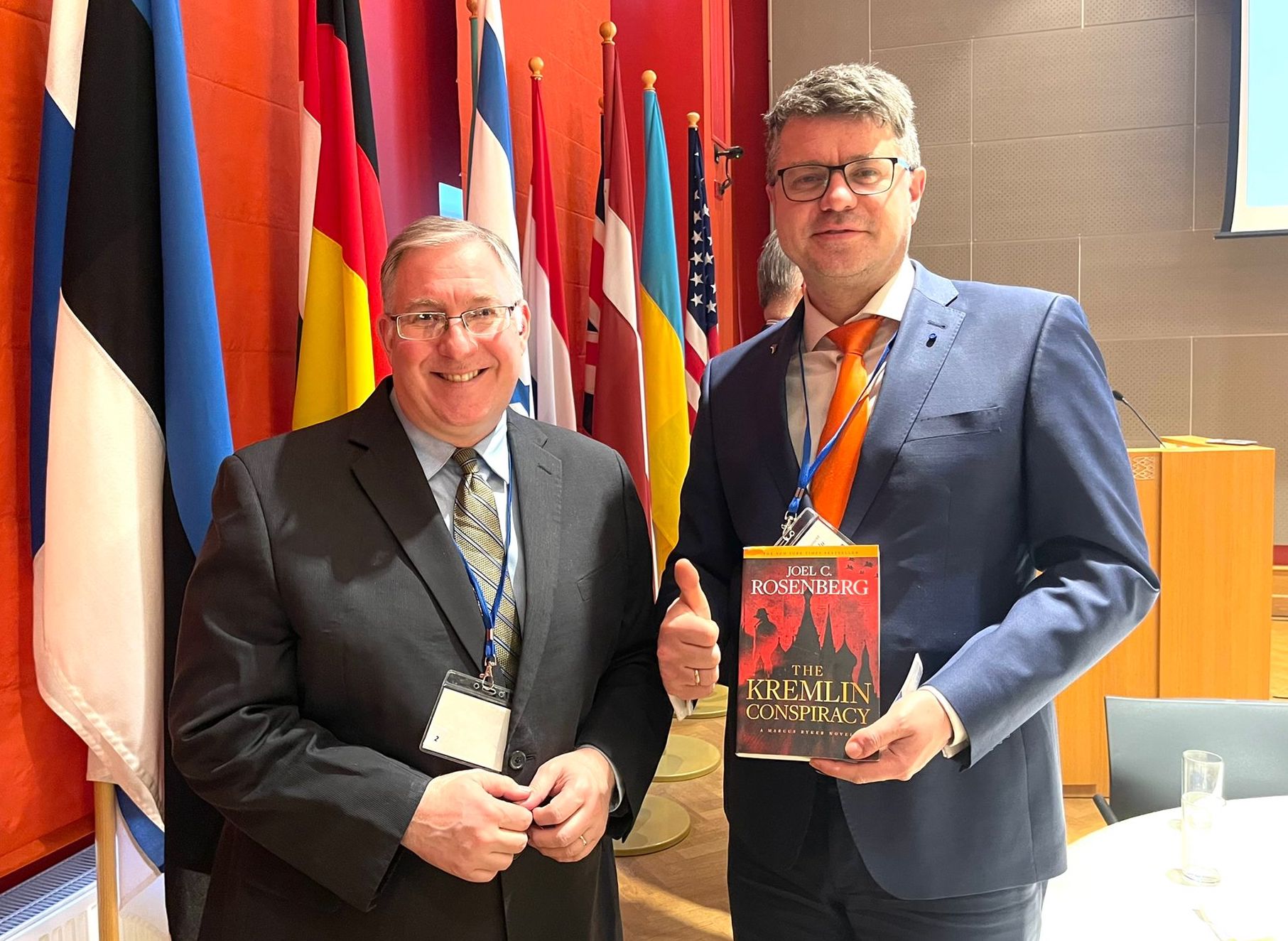 Joel C. Rosenberg with Estonian MP Urmas Reinsalu (Photo: ALL ISRAEL NEWS)
WHO IS URMAS REINSALU?
In the last government, Reinsalu, 46, served as Estonia's foreign minister.
In previous governments, he served as defense minister and justice minister.
He is a member of Isamaa, a center-right conservative and nationalist party.
HOW DOES HE SEE THE PUTIN THREAT?
"Putin only understands power," he said. "Putin only understands the deterrence and willpower of West – this is this key to stopping Putin from additional occupations in Ukraine" and from attacking the Baltic states of Estonia, Latvia and Lithuania. 
"The threat to the Baltics states is real," Reinsalu noted. 
"NATO countries – Europe as a whole – are under persistent Russian attack," including various forms of hybrid warfare, cyber warfare and assassinations of Russian dissidents living in Europe.
"The problem facing the Baltic countries, particularly, is that we have a grand deficit of power on the ground….When the situation escalates, it's going to be a large-scale war."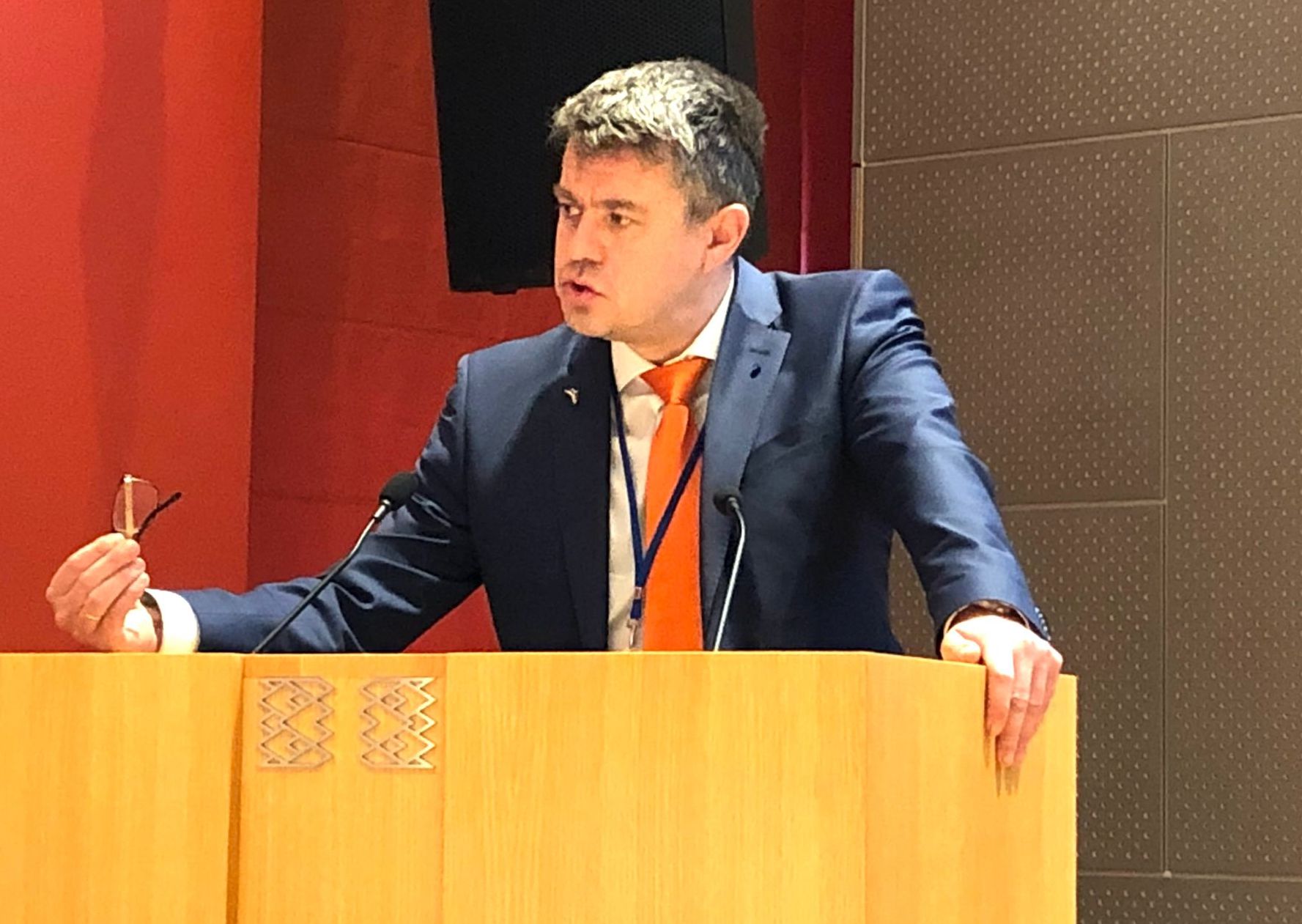 MP Urmas Reinsalu speaking at the Jerusalem Prayer Breakfast hosted in the Estonian Parliament (Photo: ALL ISRAEL NEWS)
HOW DOES HE VIEW ISRAEL?
"I'm truly proud to host in Tallinn, the capital of Estonia – for the first time ever in Estonia – the Jerusalem Prayer Breakfast," Reinsalu told me.
"We have here many prominent people from Israel, but also from around the globe. And we are also being watched online from almost 50 countries." 
Part of his motive for hosting this event is that he would like to see Estonia and Israel grow much closer diplomatically, economically and in terms of security ties.
Reinsalu is one of the leading pro-Israel voices in Estonia and has consistently pushed back at the European Union's constant criticism of the Jewish state.
For example, as foreign minister he opposed the EU effort to denounce President Trump's decision to move the U.S. embassy to Jerusalem.
He also opposed the EU effort to denounce the Trump peace plan.
"Geopolitically, Israel and the Estonian and Baltic countries face similar situations," he told me – they are all small countries facing large and lethal enemies.
"As democracies, we are very much like-minded states built on the rule of law."
"I think we have in Estonia very much to learn about the courage and determination of the Israeli people to be ready to defend themselves."
"Therefore, Estonia is – and is going to be – a devoted friend of Israel.
"I am conservative," he said. "I have an instinctive sympathy towards the Israeli people and their love to the country and what is very important."
"I think Estonia should be, in the international arena, a true defender of Israel."
He added that current Estonian Prime Minister Kaja Kallas – whose Reform party is sinking in the polls – isn't focused on strengthening ties with Israel and "could do more."

Joel C. Rosenberg is the editor-in-chief of ALL ISRAEL NEWS and ALL ARAB NEWS and the President and CEO of Near East Media. A New York Times best-selling author, Middle East analyst, and Evangelical leader, he lives in Jerusalem with his wife and sons.
A message from All Israel News
Help us educate Christians on a daily basis about what is happening in Israel & the Middle East and why it matters.
For as little as $5, you can support ALL ISRAEL NEWS, a non-profit media organization that is supported by readers like you.
Donate to ALL ISRAEL NEWS
Current Top Stories
Comments