Evangelicals hold largest-ever pro-Israel conference in Jerusalem – but online and on TV this year due to pandemic
ALL ISRAEL NEWS founder Rosenberg discusses importance of the Abraham Accords, others urge Evangelicals to invest in Israeli businesses, educate young people at the 40th event.
JERUSALEM – The International Christian Embassy of Jerusalem (ICEJ) hosted its largest-ever pro-Israel conference this week.
Featured were conversations with Israeli officials, Messianic and Arab pastors, and Evangelical leaders, including Joel C. Rosenberg, the founder and editor-in-chief of ALL ISRAEL NEWS (see below).
The speakers focused on range of critical issues, from the signing of the historic Abraham Accords, to the opportunity for Evangelicals to invest in Israeli businesses, to the urgency of educating the next generations of Christian young people about the theological reasons for loving Israel and standing with the Jewish people.
Typically, the annual "Feast of Tabernacles" event draws upwards of 5,000 Evangelical tourists from all over the world. Since Israel is currently closed to tourists due to the COVID-19 pandemic, this year's 8-day conference was webcast around the world and broadcast on various Christian TV networks, including GOD TV and DayStar.
Organizers believe they reached tens of thousands of Christians around the world – far more than usual – because the messages were webcast and televised.
In 1980, Prime Minister Menachem Begin Endorsed 1st ICEJ event
The theme of the historic 40th anniversary event was "Prepare the Way."
Jürgen Bühler, president of the ICEJ, interviewed his predecessor, Malcolm Hedding.
Hedding was the president of the ICEJ from 2000 to 2011.
He was part of the ICEJ from its conception in 1980, when the first Feast of Tabernacles was held in Jerusalem.
The two discussed various milestones of the ICEJ's work in Israel.
"We marveled. How did all these people get here? What did we do? It was just the grace of God," Hedding said. "All these 40 years, it's a grace and blessing of God over the ministry. It's supernatural."
Hedding shared that it was not a given that they would be able to operate. In 1980 it was only 35 years after the Holocaust and to open an institution of this magnitude like the ICEJ in the heart of Jerusalem was not accepted with open arms by everyone. There was a movement to shut them down as quickly as possible.
Hedding shared how they were able to secure Prime Minister Menachem Begin's endorsement and get the stamp of approval and thereby bring in a new era in Christian-Jewish relations.
Warming Jewish-Evangelical Relations
Bühler – who serves on the Advisory Board of ALL ISRAEL NEWS – added that every time the Israeli Prime Minister speaks to Evangelicals, he says that they are Israel's best friends.
"Today the climate has completely changed. We are welcome in so many places," Hedding says.
Yet not everyone knows the journey it took to get to this point.
"Yes, Christianity has a long history with anti-Semitism, they [Jewish people] have every right to distrust us," Hedding confirms. "The voice of the Christian Embassy – to achieve what it has in genuine love, concern and comfort for the Jewish people – has been a remarkable miracle from heaven. It's the grace of God."
Hedding explained during one conference interview how he achieved a partnership with Yad Vashem, the Holocaust museum in Jerusalem; a Christian edition of the Jerusalem Post; and a Christian pro-Israel caucus in the Knesset, the Israeli parliament.
Malcom Hedding speaking at ICEJ 40th Feast (screenshot)
He also mentioned the five booklets he put together to summarize the theology of Israel to pastors who wish to speak about Israel in their churches but were hesitant.
"The theology about what Israel is and what we make of it was [once considered] a bit off-the-wall," he noted. "There were radical political types, others had some sort of replacement theology. Others were drawn to keep Jewish law. It was a mess. I tried to address the major concerns of public Christian Zionism in these booklets and present how pastors can take Israel to the pulpit. It's not something new. Many great teachers, like John Wesley, Charles Haddon Spurgeon and Derek Prince taught this. Israel is not an isolated issue. It's on every page of the Bible. The modern resurrection of Israel is not a political accident – it's a fulfillment of biblical prophecies."
Rosenberg Discusses Historic Breakthroughs In Arab-Israeli Peace
Joel C. Rosenberg, founder and editor-in-chief of ALL ISRAEL NEWS, also spoke at the Feast in a session with Bühler and talked about the recent historic Abraham Accords, peace treaties between Israel and the United Arab Emirates and Bahrain.
"We are used to bad news from this area," Rosenberg said. "Assassinations, wars, the things you see in my novels. Now we finally see good news."
Rosenberg expressed hope that many more Arab countries would follow, but each in their own timetable.
When Bühler asked how he ended up meeting kings and leaders in the area, Rosenberg replied jokingly, "Well, I'm not very bright," and explained how he had made King Abdullah II of Jordan a character in one of his books, and one of the king's advisors read it and showed it to the king.
"Rather than ban me from the kingdom forever, he [King Abdullah] invited me to Amman, to visit the palace, which I blew up in my book," Rosenberg said.
At that meeting, Rosenberg had suggested that perhaps he bring a delegation of Evangelical leaders to visit Amman to get to know the king personally and better understand his perspective and the unique challenges that the Kingdom of Jordan faces. The king immediately accepted the idea.
That opened the door to bringing Evangelical delegations to other Arab countries, including the United Arab Emirates and Saudi Arabia. An Israeli official told Rosenberg that he was the first Israeli citizen to publicly visit with the leaders of Saudi Arabia.
When Bühler asked whether there is a true change of heart in the Gulf countries, or if the reasons for the peace accords are simply political, Rosenberg replied that Evangelicals are watching a dramatic answer to prayer.
"We have prayed for the peace of Jerusalem for as long as we can remember," he said. "God is answering those prayers."
But Rosenberg also confirmed that there are political reasons. Iran is a regional threat, and many Arab countries are worried about the mullahs in Tehran – not just Israel.
Rosenberg added, "I think the Arab leaders are frustrated with the Palestinian leadership -- not with the Palestinian people, and not with the cause; they still want independence for Palestine and for Jerusalem to be a part of that. But they are frustrated that [President Mahmoud] Abbas refuses to make peace, and they will not let him have veto power over their peace agreement with Israel any longer."
Is There A Prophetic Significance To Recent Peace Deals?
As for the prophetic timetable, Rosenberg said that Ezekiel chapters 36 through 38 not only revealed that Israel would be reborn as a nation in the "last days" of history, but that there would be a time of calm and stability in Israel before the "War of Gog and Magog" erupts, as described in Ezekiel 38 and 39.
"I could be wrong, but it seems like we are headed there," Rosenberg said of the rest of Ezekiel's prophecies. "It's compelling," he added, though he cautioned that "we don't know if the Gog and Magog is in a hundred years or in five years."
Rosenberg ended his session with Bülher with the same message he does not shy away from when speaking to Arab royalty or political delegations from around the world.
"Ultimately, every Jew and every Muslim needs to hear that the Messiah, the Son of God, has come, has died on the cross in this city (Jerusalem)," he said. "He rose again just as the Bible said he would. He is coming back to reign in this city. And they (Jew and Muslim) can have hope, and forgiveness, and eternal life, only through Jesus. That is my most important message wherever I go."
Media Advisor To Israel's Prime Minister Thanks Evangelicals – Urges Them To Focus On Educating Young People
Another speaker at the ICEJ conference was Hananya Naftali. Currently a media advisor to Prime Minister Netanyahu, Naftali started out as a YouTuber advocating for Israel online.
He shared that when he served in an IDF tank unit near the Lebanon border, Christian groups would come to visit them and bring them snacks and pizza. Many of the soldiers didn't understand why they came here to do that, why Evangelicals aren't just "normal" tourists who visit the holy sites and go home.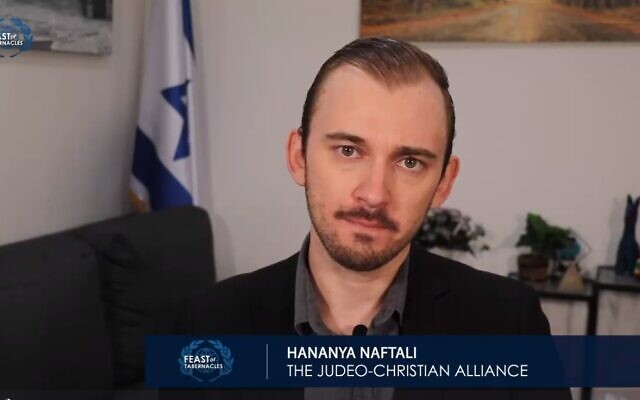 Hananya Naftali speaking at ICEJ 40th Feast (screenshot)
"To us Israelis, seeing Christians who don't live here, but love Israel, speak about Israel as if their hearts is here – it's strange for us," Naftali said, adding that more and more Israelis are accepting now, and understand that these Christians demand nothing in exchange.
"When I was in [serving in the] Gaza [war] in 2014, whenever I saw the messages from Christians that they are praying for us, it gave me energy and strength," Naftali told the ICEJ viewers.
Naftali also shared about an incident in Germany where he went to talk to Christians and thank the ones who pray for Israel.
"You prayed for us while we fought in Gaza and we felt it – we felt God is protecting us," he said.
But in that church was also a man who was angry and accused Naftali of Israel's atrocities against Palestinians.
"This shook me," Naftali says. "This was just one example, but we are seeing it more, especially among young people. Many younger Christians don't care about Israel. We must combat this indifference."
Naftali emphasized that Israel is of course not free from blemishes, but neither is any country, and that Bible makes clear that God loves Israel.
"Real Christians support Israel. Those who don't are either fake or misled," he said. "Why should Christians support Israel? I will ask the opposite question – why shouldn't you?"
Naftali warned his hearers to pay attention to their children and grandchildren.
"The people who don't understand why their parents or grandparents love Israel need to understand the relevance, and why it's important," he said.
"Supporting Israel doesn't make you old and outdated – it makes you part of the future -- part of something great!" Naftali added. "It doesn't make you older – although it certainly makes you wiser. Being a friend of Israel is being a friend of God."
Israeli Business Leader Urges Evangelicals To Invest In Israel
Calev Myers, President and Executive Chairman of ARISE – an Israeli non-profit organization aimed at encouraging Evangelicals to invest in Israeli businesses -- also spoke to ICEJ viewers.
"How do the Ten Commandments start?" Myers, an Israeli follower of Jesus, as well as a partner in a leading law firm in Jerusalem, asked. "The answer: 'I am the Lord your God who brought you out of Egypt.' This phrase comes up 87 times in the Torah. God wants us to remember that, because it's a part of his character. He saves, redeems, hears cries of injustices, and does something about it. But in two places in Jeremiah, God says that people will stop refer to him as the one bringing them out of Egypt, and instead as the one bringing them from the places where he had scattered them."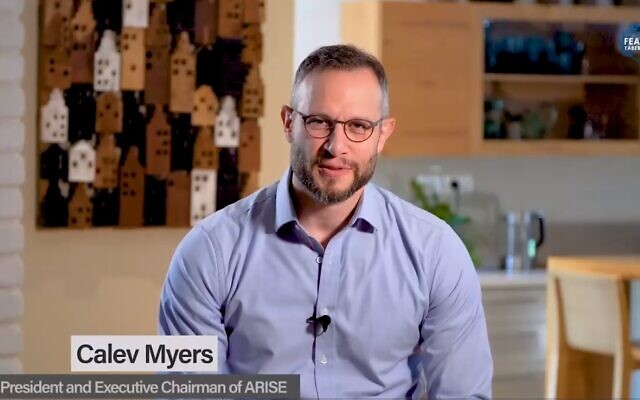 Calev Myers speaking at ICEJ 40th Feast (screenshot)
"This is the biggest miracle of our time," Myers said. "The fact that Israel exists shows us that God fulfills his promises. It's a powerful argument against skepticism. It sure helped my faith when I was struggling."
Myers spoke of the mind-boggling miracle that is Israel. Dispersed for 2,000 years, Hebrew was relegated to a prayer language only. Jews experienced hundreds of years of pogroms and the Holocaust. Myers compares that to where Jews are today. Same name. Same people. Same language. Same religion as 3,000 years ago. But now a sovereign, strong and growing nation. And it happened quickly. From a group of Holocaust survivors who arrived with nothing, having to absorb thousands of new immigrants and fight a new war every ten years, one of the strongest economies on earth emerged.
Myers detailed several Israeli inventions, international R&D centers, Israeli presence on Nasdaq, and the number of Israeli startups to emphasize the hi-tech miracle of Israel.
Ecologically, he noted, Israel now even exports water, as well as providing enough fresh water for the 12.5 million people living in the Land. A British researcher had said that the water in Israel would be enough for not more than 2 million people. But Israelis innovations with drip irrigation and the smart reuse of recycled water has made this "miracle" possible.
Myers interviewed the CEO and President of Watergen, an Israeli startup with machines that makes water out of air.
"Israel used to have a water scarcity problem, which Israeli scientists solved many years ago. Now it's our turn to help others," he said.
Myers also noted that Israel is a military miracle. In the War of Independence, Israel was outnumbered 4 to 1. He pointed to the Bible verse that "no weapon shall prosper against you" and said it has is being fulfilled.
Before Iron Dome came into use in 2010, he noted, around 20,000 rockets were shot against Israel. Myers did the math – it took Hamas 445 rockets for each Israeli casualty.
"Are Hamas just terrible at aiming, or is God intervening?" he asked.
In Ezekiel 36, God brought up an accusation against Israel – everywhere they go they defile my name. Why? Myers asked. Because it is said of them, these are the people of God, yet they are cast out of the land.
Myers noted that God said that he would bring them back to Israel to redeem his name.
"It's not because we deserve it, or that we are better than the Palestinians or anyone else," Myers said. "It's because God has promised it. You don't have to spend a lot of time in the Holy Land to see that we are far from holy."
"If God doesn't keep his promise to bring back Israel, no other promise in scripture is worth the paper it's written on," Myers pointed out. "He will move heaven and earth to make it happen. Even if we are dispersed, even if we speak different languages, even if we go through a systematic extermination – he will make it happen. Not even a vote in the UN can stop him."
Myer's pro-business organization, ARISE, arranges shipments of Israel products to people's homes to support local businesses hurt by the COVID-19 pandemic. For business people, he operates a b2b website which connects Christian businesses with Israeli ones.
All the interviews and videos produced by ICEJ for this year's "Feast of Tabernacles" can be viewed online.
Souvenirs can be ordered on their online store.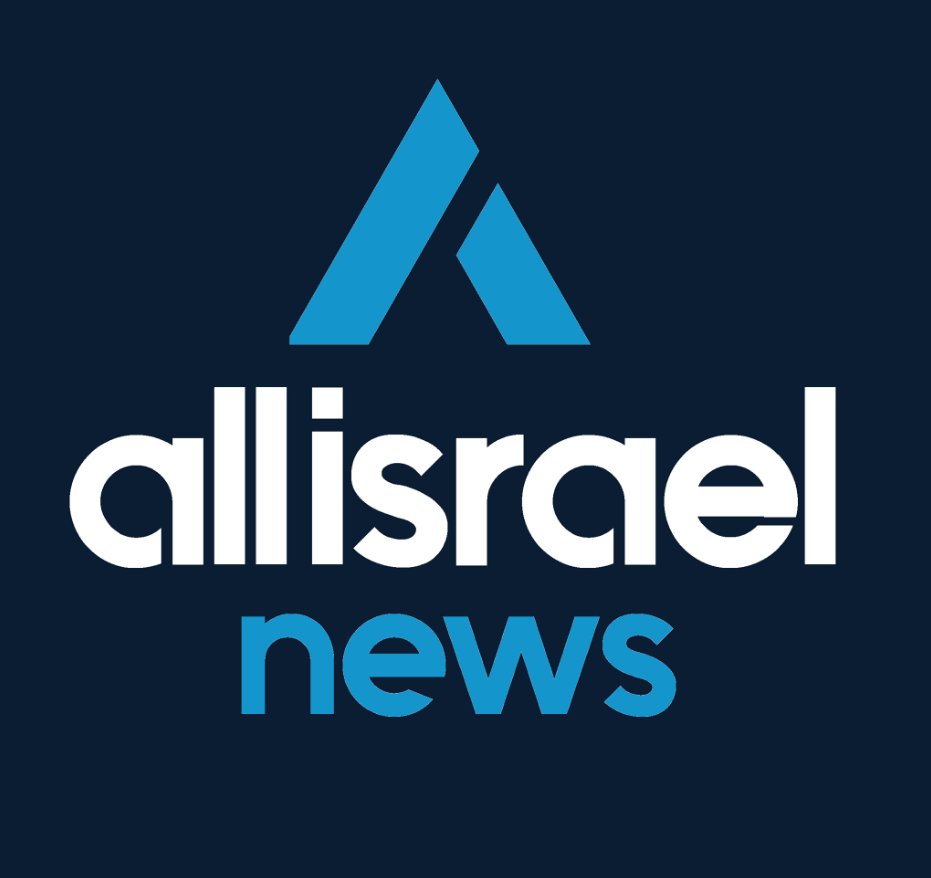 The All Israel News Staff is a team of journalists in Israel.
Popular Articles
A message from All Israel News
Help us educate Christians on a daily basis about what is happening in Israel & the Middle East and why it matters.
For as little as $5, you can support ALL ISRAEL NEWS, a non-profit media organization that is supported by readers like you.
Donate to ALL ISRAEL NEWS
Latest Stories
Comments