Estonians, other Baltic states, fear they are next if Putin invades Ukraine — here's what I'm hearing on the ground in Tallinn
Some good news: Courageous Baltic leaders are sending defensive weapons to Ukraine in solidarity
Estonian Prime Minister Kaja Kallas (Photo: Kaja Kallas Twitter feed)
TALLINN, ESTONIA—Fear is rising throughout the three Baltic states that Putin may be coming for them, too.
A middle-aged Estonian woman I sat next to on the flight from Frankfurt to Tallinn yesterday told me that while young people born after 1991 in Estonia, Latvia and Lithuania don't remember the horrors of living under Soviet occupation, their parents and grandparents do. 
"I do," she told me. 
Others tell me they worry that if Czar Putin invades Ukraine, what if they are next?
This is what I'm hearing now that I'm on the ground here in Estonia, talking to a wide range of people who say that Putin's threats are stirring up nightmares they thought we're long ago dead and buried.
Don't get me wrong: the Estonians and their democratic neighbors are not panicking. 
But they are preparing. 
ESTONIAN LEADERS SPEAK OUT
"The Baltic states are a NATO peninsula and therefore we have our worries," Estonian Prime Minister Kaja Kallas recently told reporters.
"As a society, we must be prepared for a surge of war refugees, a deepening energy crisis, cyberattacks, as well as a wider economic and social impact," Kallas added.
Eva-Maria Liimets, Estonia's minister of Foreign Affairs, warns that a Russian war could overwhelm the country with Ukrainians fleeing the danger and terrified of living again under Moscow's brutal hand.
"If there are war refugees coming from Ukraine then, like we have seen in previous crises, our government institutions have to be prepared for it," Liimets said.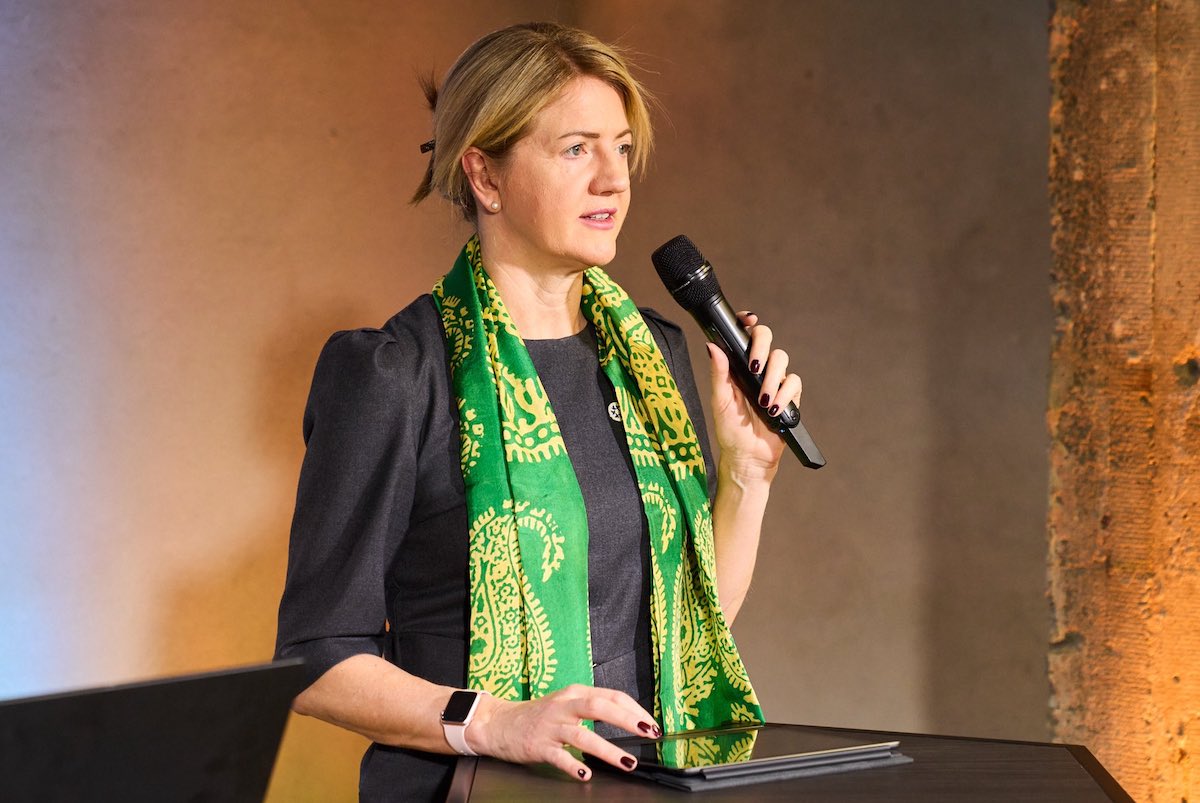 Estonian Minister of Foreign Affairs Eva-Maria Liimets (Photo: Eva-Maria Liimets Twitter feed)
"THE MOOD IS FULL OF ANXIETY"
"In Warsaw, Vilnius, Riga and Tallinn, the mood is full of anxiety," said historian Karolina Wigura and political analyst Jarosław Kuisz.
"The Russian military menace to Ukraine reawakens old traumas and, paradoxically, not only those generated from the east. Another angst is, to put it bluntly, that the West will again abandon us," they added.
"Many citizens of central and eastern Europe have clear memories of living under Moscow's rule. For them, 30 years of independence is not long enough to banish the worry that we are trapped in a cycle of ever-repeating history."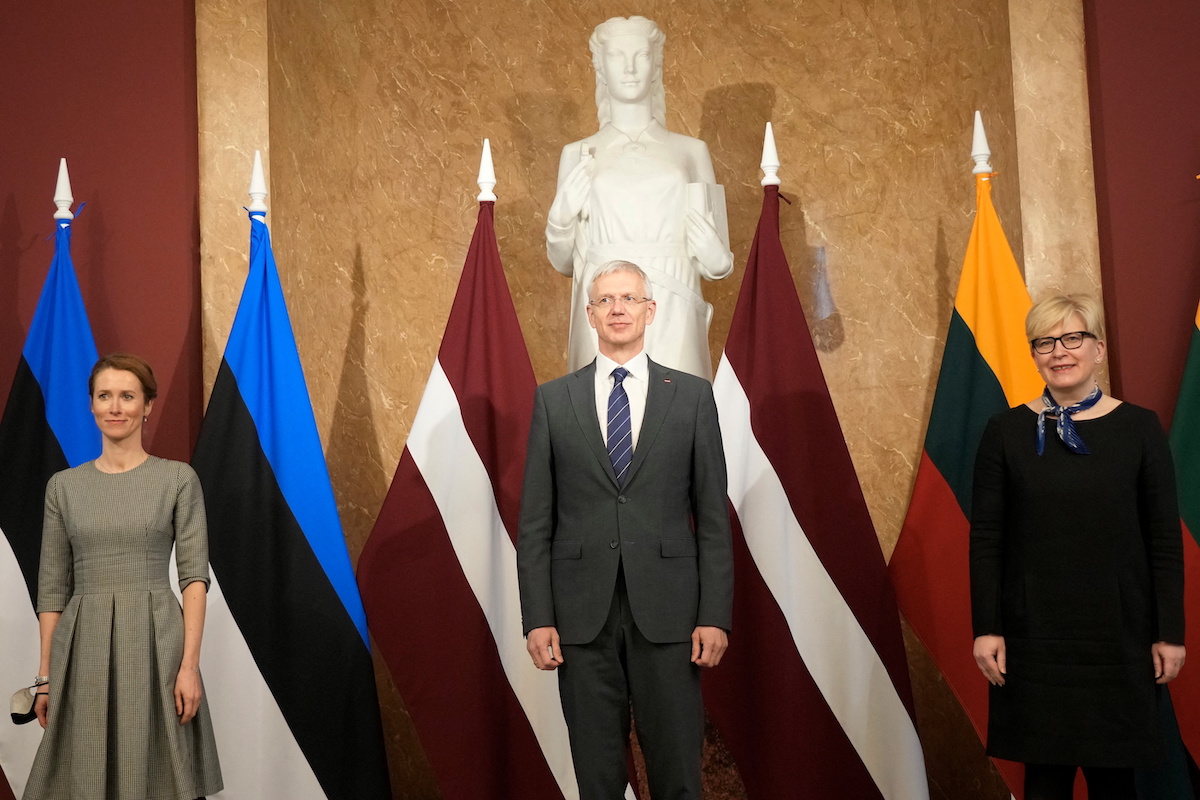 Estonian Prime Minister Kaja Kallas, Latvian Prime Minister Krisjanis Karins and Lithuanian Prime Minister Ingrida Simonyte pose for media in Riga, Latvia, February 4, 2022. (Photo: Reuters/Ints Kalnins)
One specific concern they raise: "Nearly a quarter of Estonia's population is ethnic Russian, and while integration has proceeded apace most ethnic Russians send their children to Russian language schools and watch Russian media. The country's third largest city, Narva, is 80% ethnic Russian and analysts see it as the most likely target for Moscow if the Kremlin decides to foment trouble."
The vast majority of Estonians are grateful to be in NATO and trust that the U.S. and other NATO member states will come to their rescue if Putin invades.
But most Estonians of Russian heritage don't want to be in NATO.
"A nationwide survey last year found that while almost 90 percent of Estonian-speaking respondents favored nato membership, just 32 percent of Russian speakers backed Estonia being part of the alliance," reported The Atlantic magazine in 2019.
A RUSSIAN INVASION ISN'T THE ONLY CONCERN
Fears of Moscow aren't limited to a full-on military invasion.
Estonia blames Russia for a "massive cyberattack" in 2007 that tried to cripple operations "in Estonia's parliament, banks, government departments, newspapers and broadcasters," noted a recent news report recounting the history of regional tensions.
Moscow denied any involvement. 
Just last month, the story noted, "Ukraine government websites were attacked with a warning posted on web pages that said 'Be Afraid and Expect the Worst.'"
The government in Kiev blamed Russia, but again Moscow denied the charge.
LATVIA SPEAKS OUT
"Baltic state leaders such as Latvia's Deputy Prime Minister, Artis Pabriks, fear their countries may be next if NATO cannot stop Mr. Putin from moving on Ukraine," reported The Globe and Mail. "Estonia, Latvia and Lithuania only broke free of Moscow 30 years ago, when the Soviet Union collapsed. All three countries joined NATO in 2004."
"If Ukraine falls to Russia…then we are next in line — that is very clear," Pabriks told The Globe and Mail in January.
SOLIDARITY WITH KIEV 
Fortunately, with the rest of NATO doing little to help Ukrainians (who are not part of the Alliance), the Baltic states have decided to send defensive weapons to Ukraine.
The German government is refusing to send Ukraine any weapons to protect themselves. Instead, Berlin is sending 5,000 helmets.
By contrast, the Baltic states are sending their brother anti-tank missiles.
"Estonian Minister of Defence Kalle Laanet, Latvian Minister of Defence Artis Pabriks and Lithuanian Minister of Defence Arvydas Anušauskas today issued a press statement in support of Ukraine, noting that they have received the necessary approvals from the United States to send weapons and continue to work closely to deliver them to Ukraine expeditiously," the release noted.
"Today Ukraine is at the forefront of separating Europe from the military conflict with Russia. Let's face it — the war in Ukraine is ongoing and it is important to support Ukraine in every way we can so that they can resist the aggressor," Minister of Defense of Estonia, Kalle Laanet said, adding he is pleased that in consultation with the Allies, Estonia has decided to donate weapon systems to Ukraine.
"Today we have all the necessary approvals from US to send the weapons. With this we show that we support Ukraine not only with words, but also with deeds. The Allies are united, but there is always a need for those who show initiative, Estonia is definitely one of those countries," Laanet added.
"Estonia will provide Javelin anti-armor missiles, while Latvia and Lithuania will provide Stinger anti-aircraft missiles and adjacent equipment to bolster Ukraine's defensive military capabilities. This defense related assistance follows the approval of the United States government on the third party transfer to provide U.S.-made equipment to Ukraine."

Joel C. Rosenberg is the editor-in-chief of ALL ISRAEL NEWS and ALL ARAB NEWS and the President and CEO of Near East Media. A New York Times best-selling author, Middle East analyst, and Evangelical leader, he lives in Jerusalem with his wife and sons.
Popular Articles
A message from All Israel News
Help us educate Christians on a daily basis about what is happening in Israel & the Middle East and why it matters.
For as little as $5, you can support ALL ISRAEL NEWS, a non-profit media organization that is supported by readers like you.
Donate to ALL ISRAEL NEWS
Latest Stories
Comments