ENEMIES AND ALLIES – groundbreaking new nonfiction book by Joel C. Rosenberg about Israel, Iran, Saudi Arabia and the future of war & peace in the Middle East – set to release Sept. 7
PRE-ORDER NOW: Book includes Rosenberg's exclusive, never-before-published conversations with Trump, Pence, Pompeo, Netanyahu, Gantz, Rivlin, and the most powerful leaders in the Arab world, including Saudi Crown Prince MBS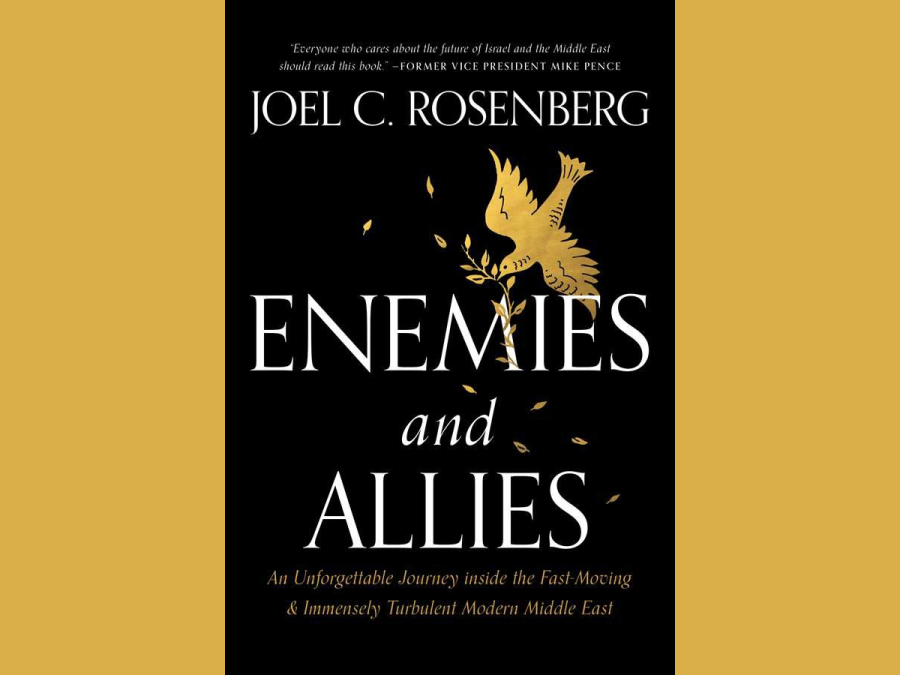 As the world rapidly approaches the 20th anniversary of the horrific attacks of Sept. 11, 2001, many are asking: Who are the most dangerous threats we face in the Middle East today?
Who are most important and trustworthy allies?
Why is the pace of change in the region seeming to accelerate exponentially?
And where is all this change taking us – towards peace, or another cataclysmic war?
Next month, Joel C. Rosenberg – the founder and editor-in-chief of ALL ISRAEL NEWS and ALL ARAB NEWS – will release his first nonfiction book in nearly a decade that will take readers on a journey in the Middle East and North Africa that is at times terrifying, and at times hopeful and encouraging.
"Enemies and Allies: An Unforgettable Journey Inside The Fast-Moving & Immensely Turbulent Modern Middle East" will be published on Sept. 7 in hardcover, e-book and audio formats.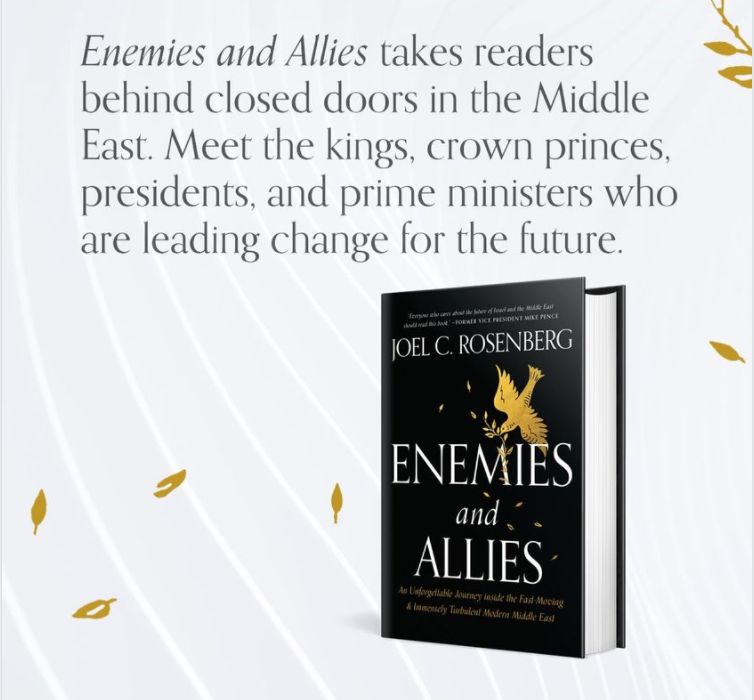 Rosenberg will launch a nation-wide media and speaking tour throughout the U.S. for the entire month of September.
Readers can pre-order the book now by clicking here.
"What happens in the Middle East – for better or worse – affects the entire world," said Rosenberg, who has some 5 million copies of his books in print. "The Middle East and North Africa have long been the epicenter of the momentous events that are shaking our world and shaping our future. Two decades after the horrific terrorist attacks against the United States on Sept. 11, 2001, the region is undergoing sweeping, historic, tectonic transformations. We ignore them at our peril."
"Attitudes are shifting – not just on the street but also in the palaces and the corridors of power that few outsiders ever see," Rosenberg noted. "Daily news coverage of specific events, like the kind we do on ALL ISRAEL NEWS and ALL ARAB NEWS is pointillism. What is needed is context. That is why I wrote this book. I will take you inside royal courts and capitals and introduce you to the most powerful figures in the region. Love them or hate them, these are the players driving the change. These are the leaders to keep an eye on."
In this groundbreaking 400-page book, Rosenberg examines a series of critical questions:
How close are the ayatollahs in Iran to building nuclear weapons, why exactly do they want nuclear weapons, will U.S. President Joe Biden take decisive action to neutralize the Iran threat, or will Israeli leaders be forced to take preemptive military action – alone – to prevent a Second Holocaust?

What exactly is driving the tectonic changes underway in the Middle East, from Iran's dangerous alliances with nuclear powers like Russia, China and North Korea, to the four dramatic Arab-Israeli peace agreements signed last year?

Why have the most powerful and controversial leaders in the Arab-Muslim world repeatedly invited Rosenberg, a Jewish Evangelical with both U.S. and Israeli citizenship, to meet with them for hours on end, to bring delegations of American Evangelical leaders with him and to discuss the most sensitive and challenging subject matters in the Middle East today?
Other books about the Middle East are currently being written by key players in the Trump administration, including former U.S. Vice President Mike Pence, former senior White House strategist Jared Kushner and former U.S. Ambassador to Israel David Friedman.
Rosenberg says that he is looking forward to all of them. He notes, however, that those books are many months – and, in some cases, years – away from being published.
"Enemies and Allies" will actually be the first book of its kind to go behind the scenes and report exactly how the game-changing Abraham Accords really came to pass.
"Enemies and Allies" will be the first book of its kind to examine in depth whether the Saudis are really moving towards making an historic peace treaty with Israel – and whether Crown Prince Mohammed bin Salman's Vision 2030 reforms are real, or just smoke and mirrors – based on extensive reporting inside the once-forbidden Kingdom.
"Enemies and Allies" will also be the first book of its kind to include exclusive, never-before-published conversations and interviews with most of the major leaders in the region, including:
Saudi Crown Prince Mohammed bin Salman

United Arab Emirates Crown Prince Mohammed bin Zayed

Egyptian President Abdul Fattah el-Sisi

Jordan's King Abdullah II

Senior Bahraini officials

U.S. President Donald Trump

U.S. Vice President Mike Pence

U.S. Secretary of State and CIA Director Mike Pompeo

Israeli Prime Minister Benjamin Netanyahu

Israeli President Reuven Rivlin

Israeli Defense Minister Benny Gantz

and many others
"The change underway in the Middle East and North Africa is coming fast and furious – and it is far from over," Rosenberg said. "My hope is that when readers have finished this book they will have a better appreciation for how their futures and fortunes are uniquely and inextricably connected to the people in the epicenter."
Rosenberg and his wife, Lynn, have gifted the worldwide rights of "ENEMIES AND ALLIES" to Near East Media, the non-profit organization that runs ALL ISRAEL NEWS and ALL ARAB NEWS.
Thus, all the future profits of the books will go to helping run these two websites and provide readers with fair and balanced coverage of Israel and the region, exclusive interviews with Israeli, Arab and American newsmakers and insightful analysis to help you understand not only what is happening but what it means and why it matters.
Rosenberg first announced the Sept. 7 release of the book – and began discussing why he wrote it – at the National Religious Broadcasters Convention in Dallas in June, as he interviewed former U.S. Secretary of State Mike Pompeo during one of the keynote sessions.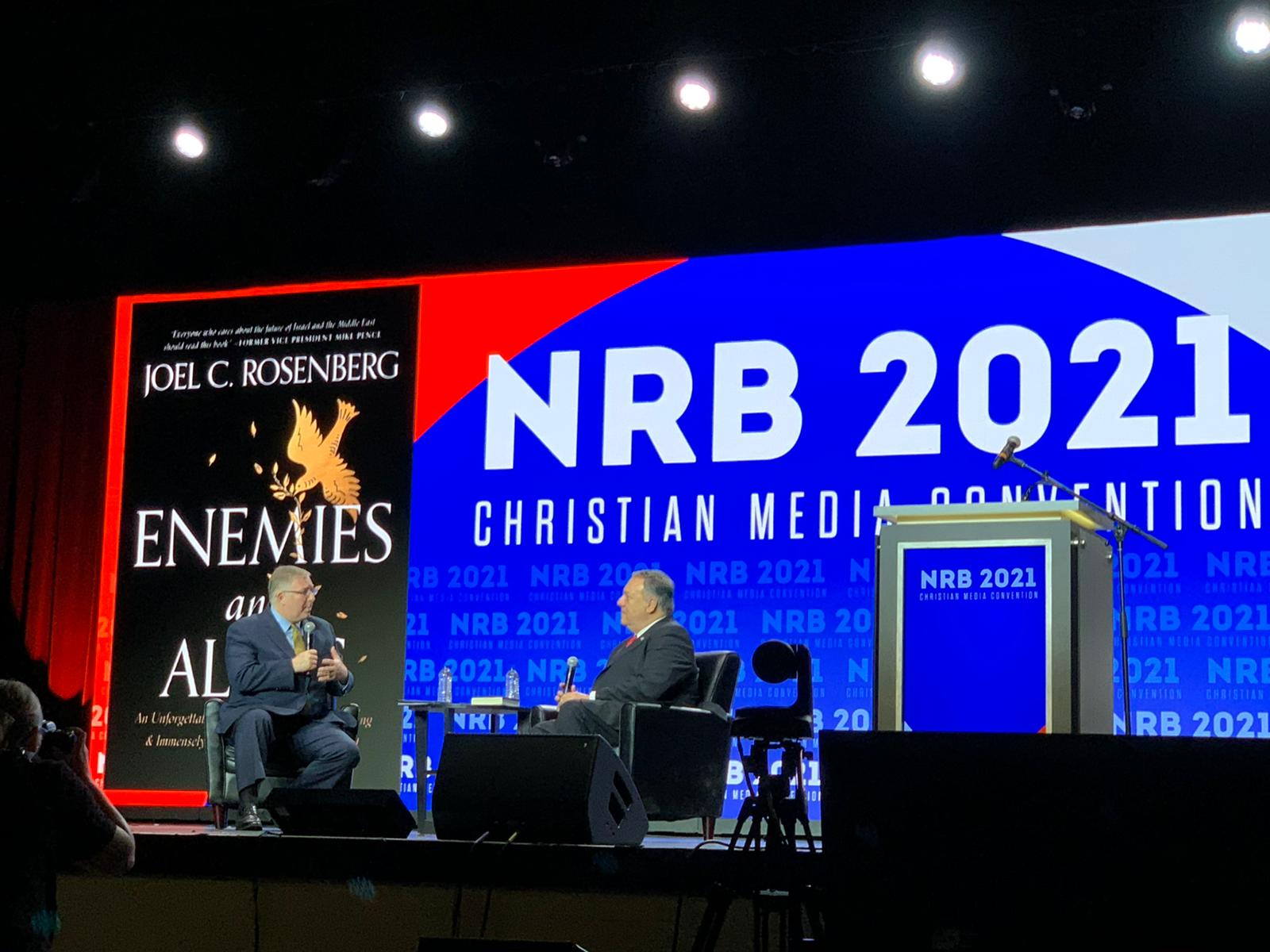 Joel C. Rosenberg with former U.S. Secretary of State Mike Pompeo at the 2021 NRB Convention (Photo: All Israel News)
To pre-order ENEMIES AND ALLIES, please click here.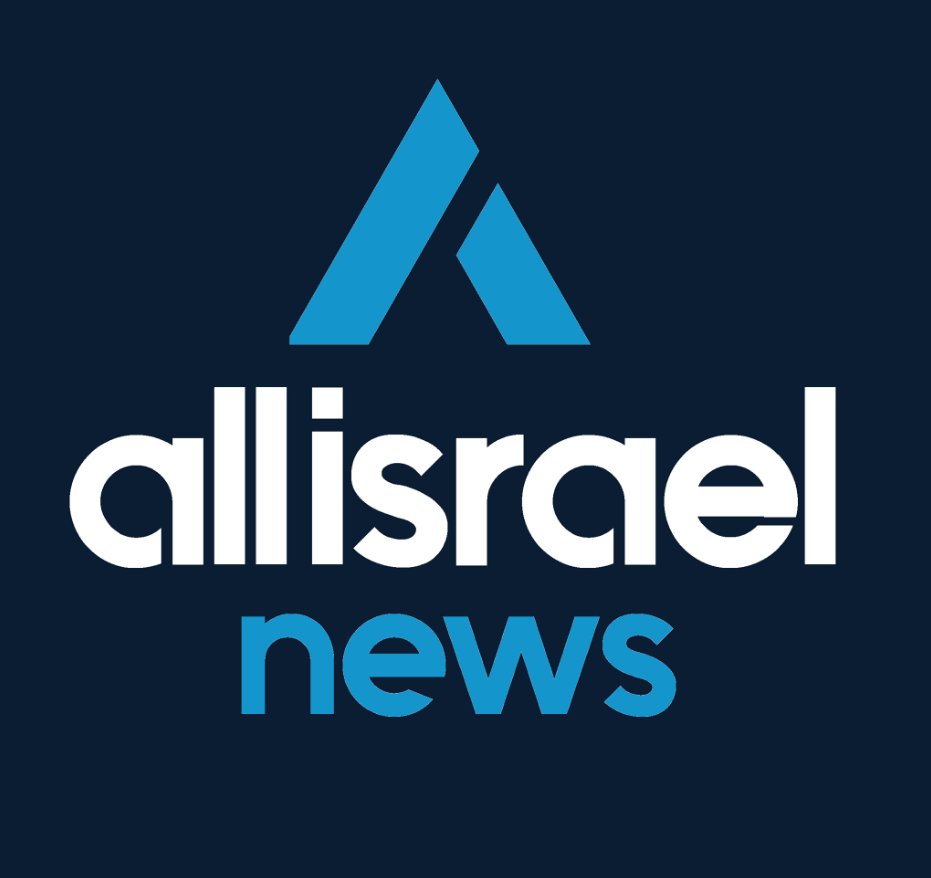 The All Israel News Staff is a team of journalists in Israel.
A message from All Israel News
Help us educate Christians on a daily basis about what is happening in Israel & the Middle East and why it matters.
For as little as $5, you can support ALL ISRAEL NEWS, a non-profit media organization that is supported by readers like you.
Donate to ALL ISRAEL NEWS
Current Top Stories
Comments