DeSantis dominates, Trump set to announce, but GOP 'red tsunami' doesn't materialize
Muddled midterms unlikely to change direction of U.S.-Israel relations
Republican Florida Governor Ron DeSantis celebrates onstage during his 2022 U.S. midterm elections night party in Tampa, Florida, Nov. 8, 2022. (Photo: REUTERS/Marco Bello)
JERUSALEM—A shocking night in the United States for both Republicans and Democrats as the "red tsunami" that some analysts were predicting failed to materialize.
Nor, apparently, has a "red wave."
Ben Shapiro, the Orthodox Jewish conservative commentator, called the midterms a "red trickle."
Republicans did pick up a number of House seats.
But at this hour it's still too early to say the GOP has won control of the House of Representatives.
They certainly are not on track to win 44 House seats, as former House Speaker Newt Gingrich predicted over the weekend.
Nor is it clear yet whether the GOP will gain control of the Senate – all eyes are on the Georgia and Nevada races and both are too close to call right now.
If Rep. Kevin McCarthy does become the Speaker of the House, he is very pro-Israel and the pro-Israel complexion of the House won't change significantly.
BIG NIGHT FOR DESANTIS
Republican governors were the big victors Tuesday night.
And no one had a bigger night than Florida Gov. Ron DeSantis.
The conservative Catholic won his first gubernatorial race in 2018 with just 49.6% of the vote.
But DeSantis overwhelmingly crushed his Democratic challenger Charlie Crist last night with a 59% to 40% final result.
"We have not only won an election, but we have rewritten the political map," DeSantis told his supporters in his re-election speech. He referred to his achievement as a "win for the ages" and hailed the "best-run campaign in the history of Florida politics."
DeSantis touted Florida as "the promised land," noting that many people have already "voted with their feet" by choosing to move there from states and cities governed by "leftist politicians." He attacked the woke agenda, saying it "has caused millions of Americans to leave these jurisdictions for greener pastures."
"We offer a ray of hope that better days still lie ahead," DeSantis added.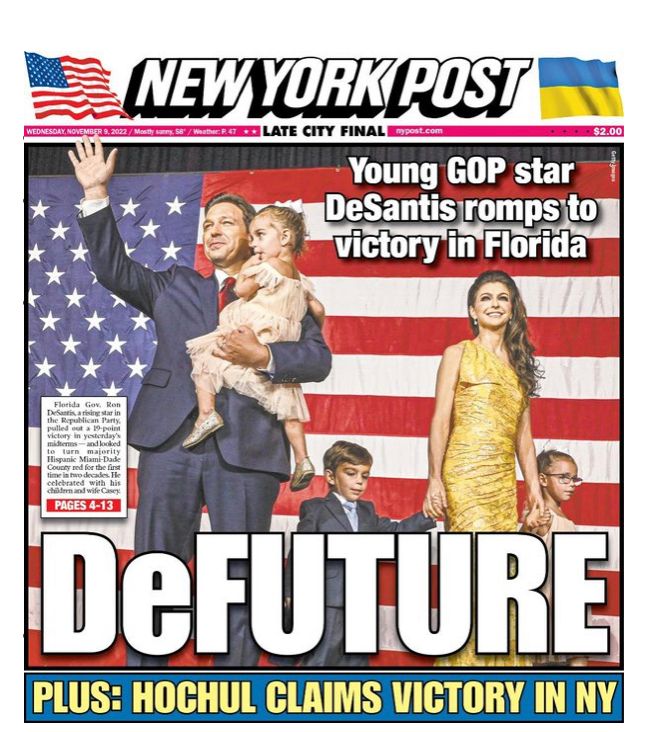 Front page of the New York Post
Florida was once considered a "swing state," which sometimes leaned towards the GOP and other times leaned to the Democrats.
But DeSantis now owns Florida, pulling it sharply to the right by successfully battling COVID, strengthening Florida's economy, hitting back hard against "woke" policies in schools and statewide government, successfully handling hurricane crises, and being perceived not just as unashamedly conservative but also a solid, effective chief executive.
Sen. Marco Rubio, Florida's conservative Evangelical incumbent, also won big, despite Democrats hoping for much of 2022 that he was vulnerable.
DeSantis' huge victory will turbocharge speculation that he may run for the Republican nomination for president.
Former President Donald Trump is teasing a "big announcement" at his Florida home, Mar-A-Lago, on Nov. 15. 
Trump will almost certainly announce that he is running for president, hoping to leap frog in front of other possible GOP contenders or even freeze the field.
More on all that soon.
But first, let's look at some other important races.
GOVERNOR SEATS
In Texas, Democrat Beto O'Rourke did not manage to unseat incumbent Republican Gov. Greg Abbott, according to a Fox News projection. O'Rourke, who was once regarded as the future of the Democratic party, lost a Senate race to Ted Cruz in 2018 and his presidential run in 2020.
Projections showed that another Republican governor who kept his seat is Brian Kemp of Georgia, who defeated Democrat challenger Stacy Abrahams for the second time. 
State Attorney General Josh Shapiro, a Democrat, is projected as the next governor of Pennsylvania, beating Republican state lawmaker Doug Mastriano who has been accused of having ties to an outspoken anti-Semite, the owner of the far-right social media platform Gab.
In New York, Republican Lee Zeldin failed to unseat incumbent Governor Kathy Hochul, despite overwhelming support from the Haredi Orthodox Jewish community and earlier poll predictions of a tight race.  
Michigan Gov. Gretchen Whitmer also prevailed over her Republican challenger, former TV host Tudor Dixon.
SENATE RACES
Trump-endorsed candidates J.D. Vance in Ohio and Ted Budd in North Carolina are projected to win their races. 
New Hampshire Democratic Sen. Maggie Hassan defeated Republican Senate candidate Don Bolduc.
The Georgia Senate race between Democratic Sen. Raphael Warnock and Republican challenger Herschel Walker was still too close to call when this article was published. 
WHAT THE RESULTS MEAN FOR ISRAEL
If the Republicans take over the House, this will certainly make Congress more aligned with Israel's next government led by Benjamin Netanyahu, which is expected to be the most right-wing in the country's history. Yet the big story of the 2022 midterms effecting the State of Israel is the strategic shift of the pro-Israel lobby AIPAC into direct political spending.  
AIPAC launched its political action committee (PAC) in January and already by April had raised $6 million for 326 pro-Israel Democratic and Republican candidates. The lobby has been investing resources to defeat anti-Israel candidates. Their effort has proven effective for 11 out of 12 Democrat primary races in which moderate, pro-Israel candidates have beaten their more progressive rivals. 
One key race where AIPAC has been highly involved took place in Pennsylvania's 12th congressional district. Democrat Rep. Summer Lee – a soon-to-be member of the so-called anti-Israel progressive squad – won the seat on Tuesday running against Republican Mike Doyle. 
Lee is the first black woman elected to Congress from Pennsylvania. Her seat was held by a Democrat Mike Doyle (yes, same name) who is retiring after a long career as Pennsylvania representative. 
Meanwhile, squad members congresswomen Rashida Tlaib (D-MI) and Alexandria Ocasio-Cortez (D-NY) have emerged as the projected winners in their races.
Now that the midterms are over, Israel's biggest concern is that the Biden administration might reinvigorate its efforts to reach a new nuclear deal with Iran. There is speculation that the process has been halted on behalf of the White House, not only due to Iran's support of Russia in its war against Ukraine, but also to avoid influencing the midterm election results. 

Joel C. Rosenberg is the editor-in-chief of ALL ISRAEL NEWS and ALL ARAB NEWS and the President and CEO of Near East Media. A New York Times best-selling author, Middle East analyst, and Evangelical leader, he lives in Jerusalem with his wife and sons.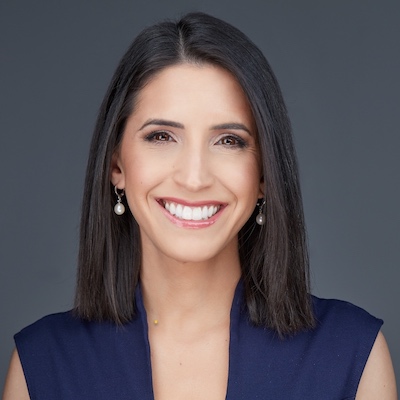 Tal Heinrich is a senior correspondent for both ALL ISRAEL NEWS and ALL ARAB NEWS. She is currently based in New York City. Tal also provides reports and analysis for Israeli Hebrew media Channel 14 News.
Popular Articles
A message from All Israel News
Help us educate Christians on a daily basis about what is happening in Israel & the Middle East and why it matters.
For as little as $5, you can support ALL ISRAEL NEWS, a non-profit media organization that is supported by readers like you.
Donate to ALL ISRAEL NEWS
Latest Stories
Comments