COVID CONUNDRUM: State of emergency, green passports extended in Israel, canceled in less-vaccinated Florida
Israeli doctor after the vote says: "This is what a shattered democracy looks like"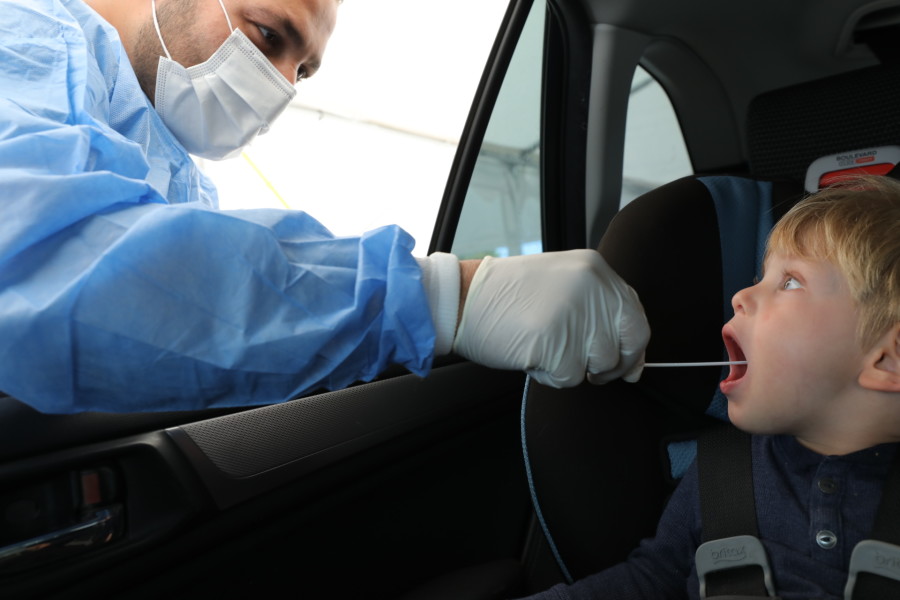 A health care worker takes test samples of an Israeli child at a drive-thru COVID testing station in Netanya, April 13, 2021. (Photo: Chen Leopold/Flash90)
On the same day that Florida's governor canceled a state of emergency and banned vaccine passports in the Sunshine State, the Israeli government voted to extend its own state of emergency – including the "green passport" system – for another 60 days.
The starkly different approaches were enacted at a time when Israel is much closer to reaching herd immunity than Florida, has a higher vaccination rate and registers less than 1% of new COVID-19 cases a day.
Infection rates and serious cases are the lowest they've been in months and more than 55% of the total population has been vaccinated.
With numbers such as these, some Knesset members at Monday night's vote questioned why the Ministry of Health recommended continuing emergency measures.
"We've been in this crisis a year, yet we still find ourselves without any long-term plan and no clarity as to how we will end this state of emergency," Knesset Member Yifat Shasha-Biton, No. 2 in the New Hope party, said before the vote. "The only strategy we have in the State of Israel is a strategy of intimidation, hysteria and ongoing irrationality in the decisions that we make."
Shasha-Biton, who headed the coronavirus committee, frequently went up against her own party at the time, Likud, noted inconsistencies in the COVID rules governing the nation.
"Aside from (the rules for) Ben-Gurion Airport, all the experts – including your own – say that all regulations, including the issue of the green pass, should be repealed immediately," she said. "We fail to understand why in some places they exist, limiting and making life difficult for the public. Yet, in other places – where it is politically convenient – everything is allowed."
Shasha-Biton was one of the few voices that questioned some of the government's emergency-time measures throughout the year and demanded statistics on infection rates before voting to close gyms, schools and other establishments.
Knesset Member Ofer Kassif of the Joint List voted with Shasha-Biton, saying there was no reason to extend the "dictatorial tools of an emergency situation."
"What we do need right now is not a state of emergency, but a recovery plan to help the hundreds of thousands who have lost their jobs and support for millions of students who have been both emotionally and academically affected," he said.
Only seven Knesset members out of 120 showed up for the party-line vote — 4 in favor of extending the state of emergency and 3 against.
In putting forth the motion, Deputy Health Minister Yoav Kish noted that "on one hand, morbidity rates are very low, due to the amazing vaccination campaign led by the health ministry and the prime minister."
"And on the other hand, we have great apprehension because of the emergence of virus variants that can thwart the success of this operation," he said.
In her recommendation to extend emergency measures, Health Director Dr. Sharon Alroy-Preis estimated that since the vaccine is only 96% effective, some 100,000 Israelis stand a chance of getting seriously ill.
Public health expert Yaffa Shir Raz, excoriated the report in a social media post.
"For a year and a half we did not have 100,000 seriously ill patients even when no one was vaccinated," Raz wrote on Facebook. "Does this claim have even faint logic when 5 million (total) and the vast majority of the at-risk population is vaccinated with a vaccine whose 'divine' effectiveness stands at 96%?"
Israel doctor and lecturer, Yoav Yehezkelli, who has opposed Israel's COVID policies, said nothing about these decisions is "scientific."
"There is no professional justification for continuing the state of emergency and the discriminatory restrictions derived from it in the form of the 'green passport,'" he wrote. "This is what a shattered democracy looks like."
The extension of these emergency-time rules allows employees to fire workers who cannot show proof of vaccination, recovery from COVID or negative tests every two days.
This also means that people without "green passports" – which includes children 15 and under – must show a negative COVID test if they want to enter certain places such as hotels, restaurants and cultural centers.
New stipulations to the emergency measure do, however, allow companies to set up rapid-testing stations outside these venues in order to let unvaccinated people enter with a negative test result.
Meanwhile, in Florida – with a population of 21.5 million and only 30% of the adult population vaccinated – Gov. Ron DeSantis announced on Monday an end to all emergency mandates related to COVID-19 in his state effective July 1.
Thrilled to sign legislation that prohibits COVID-19 vaccine passports in Florida. Neither government, nor private businesses, will be able to condition your participation in everyday life on producing private health information. https://t.co/0NMBk1l9zI

— Ron DeSantis (@GovRonDeSantis) May 3, 2021
"Thrilled to sign legislation that prohibits COVID-19 vaccine passports in Florida. Neither government, nor private businesses, will be able to condition your participation in everyday life on producing private health information," DeSantis wrote on Twitter.
Throughout the pandemic, Florida grappled with a spike in infections but, overall, its restrictions remained more lax that in Israel. In the past few weeks, Florida's rate of new infections has been hovering around 6% which is considered high, resulting in more than 3,000 new cases a day. One death was reported on May 2.
On the same day, Israel reported 73 new cases and two deaths, but a low 0.2% positivity rate. Serious COVID-19 cases have dropped below 100 nationwide for the first time since July.
Israel has implemented some of the most stringent restrictions and five months worth of national lockdowns in the past year. But despite its wildly successful vaccination campaign with the Ministry of Health slogan, "Back to life," it appears it will take a bit longer to get there than in Florida.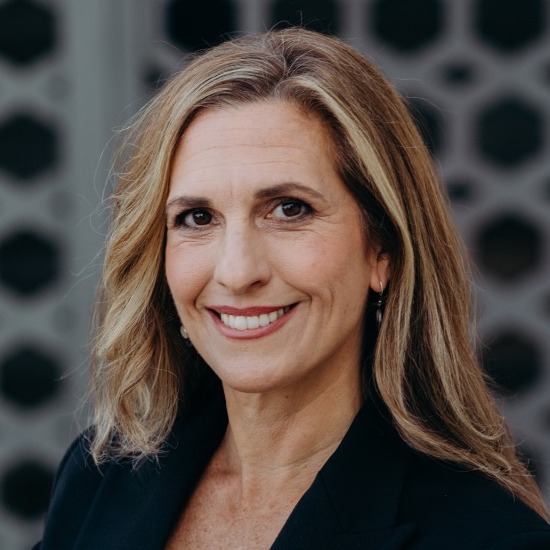 Nicole Jansezian was the news editor and senior correspondent for ALL ISRAEL NEWS.
A message from All Israel News
Help us educate Christians on a daily basis about what is happening in Israel & the Middle East and why it matters.
For as little as $5, you can support ALL ISRAEL NEWS, a non-profit media organization that is supported by readers like you.
Donate to ALL ISRAEL NEWS
Current Top Stories
Comments