Combating anti-Semitism – 'Not just for breakfast anymore'
NRB's Breakfast to Honor Israel features keynote address by former special envoy Elan Carr
Breakfast honoring Israel at the National Religious Broadcasters convention in Nashville 2022 (Photo: ALL ISRAEL NEWS)
Sitting at the National Religious Broadcasters annual Breakfast to Honor Israel in Orlando, Florida over coffee, plentiful food and orange juice, I was reminded of the late 1970s campaign TV commercial promoting orange juice as "not just for breakfast anymore." As various speakers underscored the imperative to support and bless Israel – and particularly to fight the growing scourge of worldwide anti-Semitism, one could say that the event sponsors have made the act of combating anti-Semitism "not just for breakfast anymore."
NRB's Breakfast to Honor Israel sponsors included the Combat Antisemitism Movement, the International Christian Embassy - Jerusalem and InGrace with Jim Scudder. Representatives from the organization spoke, complementing one another's call to support Israel, and included a keynote address by Elan Carr, former Special Envoy for Monitoring and Combating Antisemitism under the former-Trump  administration. 
Carr opened his speech by relaying an important effort by former U.S. Ambassador to Israel David Friedman, along with current U.S. Ambassador Tom Nides, who are leading a bi-partisan delegation in March of the Living. The program brings people to Poland to witness and remember the horrors of the Holocaust on Holocaust Memorial Day, and then continues with the life-affirming experience of going to Israel to experience Jewish life restored. As Carr noted, the experience goes from "heart wrenching to uplifting."
Carr described the experience – literally walking among the ashes of the millions of Jews murdered in Poland – and then, "a day or two later..in the City of Light, Jerusalem…The indigestible contrast of the experience between dark and light, between hell and heaven, darkness and light, death and light, evil and goodness."  
The former U.S. official shared that this "drives home the point any more than any other experience can, that the State of Israel is not just a very successful country…The State of Israel is the most decent and most beautiful and the most Godly response in history to history's greatest evil."
"Out of the ashes of death and destruction arose the third commonwealth of Jewish sovereignty in the Holy Land, a country alive with life and people and children," has risen, he continued and listed many ways that Israel is not just alive, but saving lives and modeling for the world an example of what humanity is capable of. 
Somewhat preaching to the choir, Carr said that honoring Israel is essential to Jews and Christians. He related that in his role as special envoy, he had many opportunities to engage Christian leaders in discussions about the importance of Israel. But he shared one particular experience about the concerns of a pastor who said the Church is losing its children's support for Israel, a crisis that is part of a constant assault on the State of Israel.   
"'We raise our children to be pro-Israel but after going to college they come back changed… An anti-Israel illness has seeped into the universities,'" according to the pastor.
One student in the audience agreed with Carr that he has observed in his own [younger] generation that support for Israel has eroded, and that it represents a problem "all around us," in the universities, not just in theology, history and political science, but even in math class. 
In his speech, Carr noted that the challenge to put a stop to this trend and turn the tide is  the need to recognize that just as Israel's enemies don't rest – from Iran to Hezbollah and Hamas and the Boycott, Divestment Sanctions (BDS) movement, as well as many other perpetrators of anti-Semitism and anti-Zionism – "we are not entitled to rest" either. 
Carr used one example as a call to action by noting that the NRB was taking place in May, corresponding to Jewish American Heritage Month, which he referred to as "America's best kept secret," despite that it has been on the U.S. calendar for 43 consecutive years. There is encouraging momentum with recent developments, including the participation of "no less than 135 U.S. mayors and 26 Republican governors participating," said Carr but added that more still needed to be done. 
"All this has led to momentum picking up with American leaders starting to embrace this at an historic level, but much more is to be done to make it a household name, something embraced and celebrated by all," Carr shared. "There are many 'American Heritage Months' and all that should be celebrated as part of "the rich tapestry," said Carr and called for a move to put Jewish American Heritage Month at the forefront. 
Jews around the world celebrate the biblical festival Shavuot (Pentecost), the anniversary of Moses bringing the Torah to the Jewish people at Mount Sinai, Carr said. Millions strong, the Jewish people stood together in unity at Sinai, and heard the communal public revelation of God's Word, as a "nation (that) trembled in awe." 
In a call to action for unity, Carr explained that not only did the Jewish people stand to receive the Torah together (as one of the most pivotal experiences in all of history), but when that happened, their response was "na'ase v'nishma," or "we will do, and we will hear."  =Jewish tradition teaches that this means even if we don't fully understand the Law and our obligations under it, that we must take action first, and then understand. 
Carr called anti-Semitism the "ancient human sickness" which "represents humanity's chief manifestation of godlessness," just as the Jewish people did at Mount Sinai, to combat the illness.
Just as most of the Breakfast to Honor Israel participants may not personally understand the impact of anti-Semitism on the Jewish people – or how and why anti-Semitism even exists, much less something that had historically been embraced in the Church –  the imperative to take action was powerful, and I found Carr's words to be a sobering and urgent call.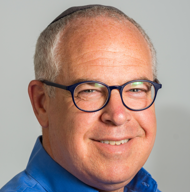 Jonathan Feldstein was born and educated in the U.S. and immigrated to Israel in 2004. He is married and the father of six. Throughout his life and career, he has become a respected bridge between Jews and Christians and serves as president of the Genesis 123 Foundation. He writes regularly on major Christian websites about Israel and shares experiences of living as an Orthodox Jew in Israel. He is host of the popular Inspiration from Zion podcast. He can be reached at firstpersonisrael@gmail.com.
Popular Articles
A message from All Israel News
Help us educate Christians on a daily basis about what is happening in Israel & the Middle East and why it matters.
For as little as $5, you can support ALL ISRAEL NEWS, a non-profit media organization that is supported by readers like you.
Donate to ALL ISRAEL NEWS
Latest Stories
Comments