Netanyahu negotiating plea deal to reduce criminal charges, but deal might force Bibi to leave Israeli politics forever, say Israeli media reports
If true, Netanyahu's public confession of guilt – and departure from the political scene – would be a bombshell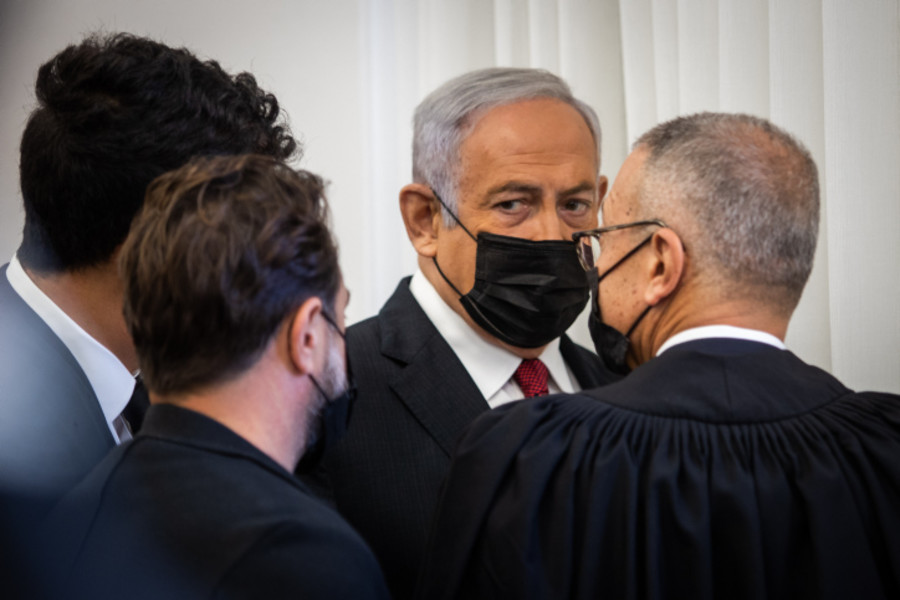 Former Israeli Prime Minister Benjamin Netanyahu arrives for a court hearing at the District Court in Jerusalem, Nov. 22, 2021. (Photo: Oren Ben/Flash90)
JERUSALEM —Benjamin "Bibi" Netanyahu has always insisted he is not guilty of any of the crimes for which he has been indicted.
Netanyahu has steadfastly maintained there is a political "witch hunt" being waged against him by the legal establishment and the media, and that he will fight the charges in court with everything he has until he is proven not guilty and completely vindicated.
He has repeatedly vowed never to cut a plea deal.
Yet Israeli TV networks and newspapers are suddenly filled today with reports that Netanyahu and his legal team are actively engaged in back-channel negotiations with Israeli Attorney General Avichai Mandelblit to do exactly that – cut such a plea bargain that would reduce the charges and eliminate the prospect of going to prison.
Reports say such a deal could be finalized in coming days, but all are citing unnamed sources.
Thus, I'd recommend caution.
Legally, Netanyahu is presumed innocent until proven guilty. What's more, until we have official confirmation that such negotiations are really happening, and are successful, and what the terms of such a deal really are, let's be careful not to draw fast conclusions.
A POLITICAL BOMBSHELL THAT COULD LEAD TO AN ENTIRELY NEW GOVERNMENT
That said, if the reports prove true, a public confession of guilt by Netanyahu – combined with his departure from the political scene – would be a bombshell.
If Netanyahu was really barred from running for office again, he would be forced out of his current role as leader of the opposition and the leader of the Likud party.
Primaries would likely be held quickly to determine a new leader of Likud.
And this could set into motion a chain of events that would collapse the current coalition government and create a new coalition, headed up by the new leader of Likud.
Elections might not even be necessary, though they could certainly still occur.
WHAT MIGHT A PLEA DEAL LOOK LIKE?
Under such a plea deal, Netanyahu "would leave the Knesset and in exchange, Case 2000 would be closed and the bribery charge in Case 4000 would be removed," reported the Jerusalem Post.
"In return, Netanyahu would plead guilty to the remaining charges of fraud and breach of trust, and would receive a sentence of community service without jail time."
The Post went on to note that "negotiation between the sides were stuck over the question of when Netanyahu will quit the Knesset, and whether it will be before he is convicted under the plea deal or after, since doing so would impact the question of whether his conviction would prevent his ability to run in a future election."
"While initial reports indicated that the negotiations had hit a dead end, TV networks reported on Thursday that the two sides are very close to signing a deal, although one major sticking point remains," noted the Times of Israel.
"According to Channel 13 news, prosecutors will only agree to a deal that includes an admission of moral turpitude and community service for Netanyahu," the Times added in its coverage. "If his actions are found to have carried moral turpitude, a guilty plea would bar Netanyahu from public service for seven years, likely ending the 72-year-old's political career for good."
"If he resigns before a final verdict, it would fall to the Supreme Court judge who heads the Central Elections Committee to make a decision before the next election to the Knesset," the Times noted.
"If, however, Netanyahu remains in office until a verdict is in place — Mandelblit's purported preference — then the judges will make the ultimate decision on whether his actions amount to moral turpitude. It was not immediately clear why this was a significant issue, however, since the same TV report indicated that in both scenarios, the crimes would likely be designated as constituting moral turpitude."
"Reports that Attorney General Avichai Mandelblit might offer Opposition leader Benjamin Netanyahu a plea deal have caused a political uproar, with the coalition worried that the government might not be able to stay together if such a deal is signed," reported Israel Hayom, the nation's largest newspaper.
"The coalition fears that if Netanyahu moves to the Right, the government would have no interest in keeping up the current partnership with Meretz, Labor, and Ra'am, and will attempt to form a coalition based on right-wing parties," Israel Hayom added.
"Netanyahu is the glue holding this government together," one coalition official said Thursday. "The New Hope people who said 'Anyone but Bibi' will have a hard time explaining why, if Netanyahu leaves the game, they continue to sit with the Left. The pressure on the Yamina members is very heavy, too."
Haaretz is reporting that "Netanyahu was the one who initiated the talks for a plea bargain between his lawyer Boaz Ben Zur and the state prosecution. Netanyahu's advisers see the approaching end of Mandelblit's term as an opportunity for a deal. The public interest to put an end to the case also came up in the talks, the sources said."
WHAT CHARGES NETANYAHU IS FACING?
We previously published this summary of the three cases against Netanyahu:
Case 4000: The most serious charge alleges that Netanyahu illicitly worked to benefit the business interests of controlling shareholder of the Bezeq media company Shaul Elovitch in exchange for positive coverage on Elovitch's Walla news site.

Case 1000: Netanyahu is accused of accepting hundreds of thousands of dollars' worth of gifts from two billionaires – Hollywood-based Israeli movie mogul Arnon Milchan and Australian magnate James Packer.

Case 2000: The premiere is charged with attempting to make a deal with the publisher of Yedioth Ahronoth, Arnon Mozes, for favorable coverage of him in exchange for legislation to curb the reach of a rival newspaper, Israel Hayom.

Joel C. Rosenberg is the editor-in-chief of ALL ISRAEL NEWS and ALL ARAB NEWS and the President and CEO of Near East Media. A New York Times best-selling author, Middle East analyst, and Evangelical leader, he lives in Jerusalem with his wife and sons.
A message from All Israel News
Help us educate Christians on a daily basis about what is happening in Israel & the Middle East and why it matters.
For as little as $5, you can support ALL ISRAEL NEWS, a non-profit media organization that is supported by readers like you.
Donate to ALL ISRAEL NEWS
Current Top Stories
Comments