Hezbollah forces in Lebanon fire 19 rockets at Israel, IDF retaliates
Is a Third Lebanon War about to erupt? Please pray for calm on the Israeli-Lebanon border.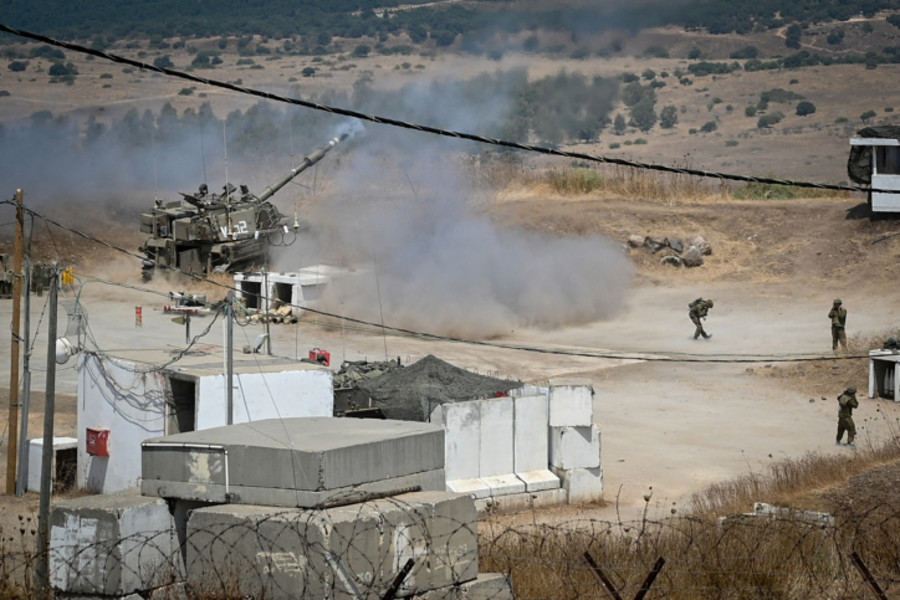 Israeli patriot missiles intercept rockets fired from Hizballah in Lebanon into the Golan heights, northern Israel and Israeli artillery forces retaliate fire towards them. August 2021. Photo by Michael Giladi/Flash90
Hezbollah, the Iranian-backed terrorist force, fired 19 rockets from southern Lebanon at Israel on Friday, raising fears that a Third Lebanon War could erupt.
The IDF announced that ten of the rockets were intercepted by Iron Dome batteries, while six landed in unpopulated sections of Israeli territory, and landed in Lebanon itself.
The IDF retaliated with artillery barrages, while Prime Minister Naftali Bennett huddled with Defense Minister Benny Gantz, IDF Chief-of-Staff Lt.-Gen. Aviv Kochavi and senior defense establishment officials to assess the situation and consider their next moves.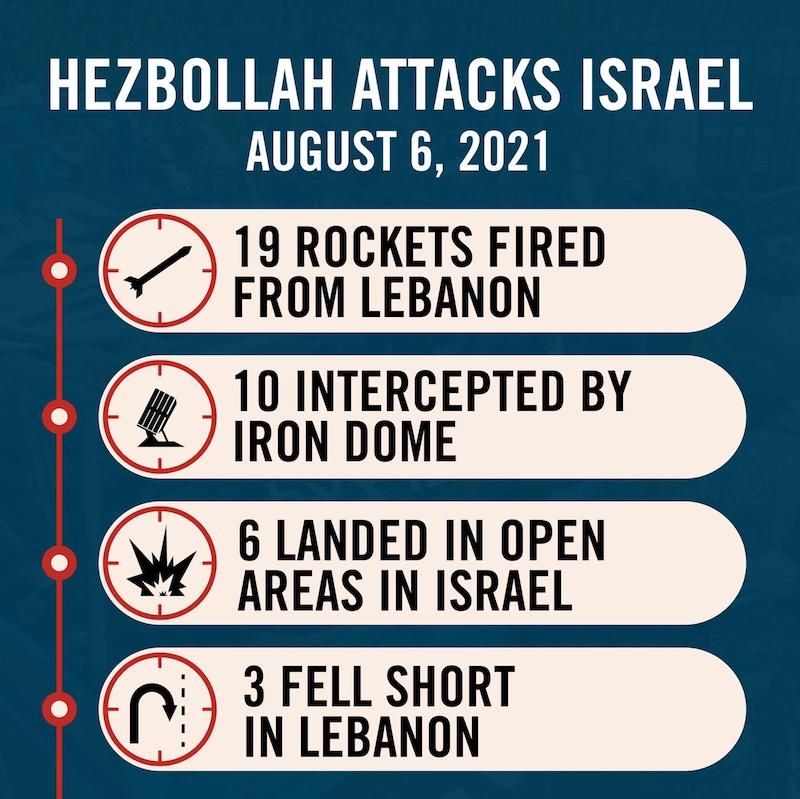 (photo credit: IDF Twitter)
Gantz warned this week that Iran is only 10 weeks away from producing nuclear bomb grade uranium, and that if the world did not take decisive diplomatic and economic measures to stop Tehran, Israel may have to resort to military force.
Was the Hezbollah decision to fire rockets at Israel a warning from Tehran?
"Iran has violated all of the guidelines set in the JCPOA and is only around 10 weeks away from acquiring weapons-grade materials necessary for a nuclear weapon," Gantz told a briefing of foreign ambassadors at the Foreign Ministry in Jerusalem.
"Now is the time for deeds – words are not enough," Gantz stressed. "It is time for diplomatic, economic and even military deeds, otherwise the attacks will continue."
Senior Israeli officials tell ALL ISRAEL NEWS that Hezbollah has an estimated 150,000 rockets and missiles aimed at Israel. These could all be unleashed at Israeli civilians if the IDF were to launch preemptive strikes on Iran's nuclear facilities.
WATCH: More than 10 rockets were fired from Lebanon into Israel, most of which were intercepted by The IDF Aerial Defense System. pic.twitter.com/tRlG7MCe0J

— Israel Defense Forces (@IDF) August 6, 2021
The Hezbollah attacks come days after the one-year anniversary of the massive and devastating explosion in Beirut that leveled the port, left 300,000 Lebanese people homeless, the government in tatters and much of the nation furious at Iran and Hezbollah for essentially having taken control of Lebanon but not improving the lives of the average citizen.
The Jerusalem Post noted this was "the sixth such [rocket] attack in recent months and the first that Hezbollah said it was behind. According to a statement released by the group, the barrage was fired in response to the Israel Air Force airstrikes carried out early Thursday morning after Palestinian militants fired three rockets towards the northern city of Kiryat Shemona on Wednesday."
The Post noted that the IDF "had initially retaliated Wednesday by firing some 100 artillery shells towards the launch sites and later carried out airstrikes."

Joel C. Rosenberg is the editor-in-chief of ALL ISRAEL NEWS and ALL ARAB NEWS and the President and CEO of Near East Media. A New York Times best-selling author, Middle East analyst, and Evangelical leader, he lives in Jerusalem with his wife and sons.
A message from All Israel News
Help us educate Christians on a daily basis about what is happening in Israel & the Middle East and why it matters.
For as little as $5, you can support ALL ISRAEL NEWS, a non-profit media organization that is supported by readers like you.
Donate to ALL ISRAEL NEWS
Current Top Stories
Comments