EXPOSING "CANCEL CULTURE"
BIG MEDIA STRIKES AGAIN: It's time to investigate DirecTV for canceling Newsmax TV, 4th largest US cable network
Newsmax – which is very pro-Israel – is now the 2nd conservative network DirecTV has canceled in two years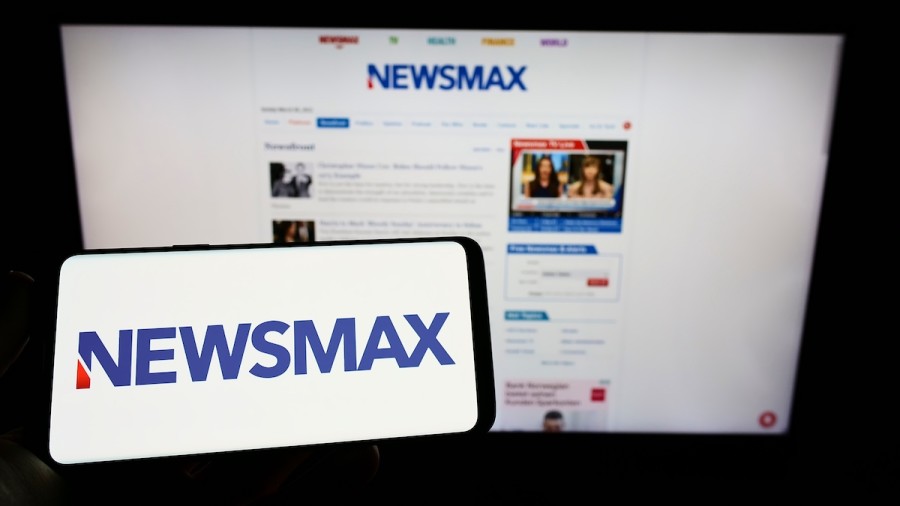 A mobile phone with logo of Newsmax Media Inc. on screen in front of business webpage.
JERUSALEM—The left-wing cancel culture continues sweeping across America with a vengeance.
In recent years, we've seen so-called "progressive" Big Tech and Big Media companies repeatedly ban prominent conservative leaders from speaking on platforms open to everyone else and supposedly dedicated to free speech.
It's been a serious problem at Facebook, who booted former U.S. President Donald J. Trump off its platform, among many other conservatives.
It was also a serious problem at Twitter, until Elon Musk bought the company for $44 billion, began restoring Trump and other canceled conservatives back onto the platform, and began exposing internal Twitter documents clearly indicating the decision by now-fired corporate executives to discriminate against conservative voices.
But now, entire conservative companies are finding themselves canceled.
The situation is rapidly going from bad to worse.
Two conservative TV news networks have been kicked off of one of the biggest cable systems in the United States, even though upwards of two dozen left-leaning news networks remain.
This isn't right.
It's time for both the U.S. Justice Department and Congress to launch full-scale investigations of whether such actions are violations of free and fair trade laws and/or illegal discrimination against free speech.
FIRST, DIRECTV KICKED "OAN" OFF ITS SYSTEM
In April 2021, DirecTV – the nationwide cable company in which AT&T has a 70% stake – kicked a conservative TV channel off its system.
The One America News Network, widely known as OAN and owned by Herring Communications, was 
de-platformed by DirecTV.
OAN was a favorite network of then-President Trump, who applauded its coverage and seemed grateful for its editorial viewpoint on a wide range of issues that often matched his own.
Immediately, Robert Herring Sr. – founder and CEO of Herring Communications – filed a $1 billion lawsuit against AT&T, charging that the decision to get rid of OAN was political.
"AT&T board Chairman William Kennard is a registered Democrat who was appointed FCC chairman by President Bill Clinton in 1997 and ambassador to the European Union by President Barack Obama in 2009," Forbes magazine reported.
"The data shows that OAN was ranked 24th (excluding broadcast networks) out of over 300 channels, placing OAN in the top 10%," Forbes noted.
What's more, Herring contends that it was actually AT&T who asked him to launch OAN as a conservative alternative to the Fox News Channel, because FNC is so expensive for cable systems.
"They [AT&T} told us they wanted a conservative network," Herring said during a 2019 deposition seen by Reuters. "They only had one, which was Fox News, and they had seven others on the other [left-wing] side. When they said that, I jumped to it and built one."
Both DirecTV and AT&T are trying to get the lawsuit thrown out of court.
But as of just last month, the case is still active.
NOW, DIRECTV HAS KICKED NEWSMAX OFF ITS PLATFORM
Perhaps emboldened by the fact it has not (yet) faced any definitive financial or legal blowback, DirecTV has decided to kick another conservative network off its system.
This time the target is Newsmax.
Newsmax is arguably America's most conservative TV news network.
It is also the most pro-Israel.
Christopher Ruddy, its founder and CEO, also notes that Newsmax is the 4th largest – and fastest growing – cable news network in the country.
Thus, he argues, it makes absolutely no business sense for DirecTV to de-platform them unless the decision is entirely political.
"This is a blatant act of political discrimination and censorship against Newsmax," Ruddy says.
An associate close to Ruddy told me that DirecTV is "home to 22 left-leaning news channels", most of which, they say, "have lower ratings than Newsmax."
I've known Ruddy for years and have been very impressed with the conservative magazine, website and TV empire he has built.
What's more, I've been encouraged by how pro-Israel both Ruddy and Newsmax are.
When we saw each other over dinner in Colorado in September 2020, I told him it was time for Newsmax TV to open a bureau in Israel.
He surprised me by saying he was already on it.
"We've just hired a reporter," Ruddy told me. "He's there now and we're getting up and running."
That was encouraging news and a few months later ALL ISRAEL NEWS published a profile on Daniel Cohen, the Newsmax Israel correspondent.
ALL ISRAEL NEWS and ALL ARAB NEWS also serve as a wire service for Newsmax, which re-publishes many of our original stories on their website, thus significantly expanding our readership.
While we aren't directly affected by the DirecTV decision, it infuriates me because it's part of an ongoing pattern of Big Tech and Big Media companies brazenly discriminating against conservative voices.
It's high time Washington get to the bottom of what's really going on and make things right.
GOV. DESANTIS, SPEAKER MCCARTHY ALSO CALLING FOR INVESTIGATIONS
High-profile political officials are also calling for investigations into such unfair trade practices against conservatives.
"There should be no ideological litmus test or any kind of test when it comes to these big companies who can make the decision to make or break a news network or any type of network," said Governor Ron DeSantis, The Hill newspaper reported last week. "And they'll give different rationales for why they don't want to do it, but the reality is they have so much other content that is very lightly viewed and yet they keep that on and it seems it's the One America News and the Newsmax who are being targeted, so I think it does warrant investigation."
The Hill also cited a letter that various Republican members of Congress sent to DirecTV executives.
"If Newsmax is removed from DirecTV, in less than a year House Republicans will have lost two of the three cable news channels that reach conservative voters on a platform that primarily serves conservative-leaning areas of the country," the letter stated.
Kevin McCarthy, the new speaker of the House, now also supports Congressional hearings into the matter, saying that bringing "sunlight" to these corporate practices would be helpful.
"I had discussions with a couple members now because it's very concerning to me," McCarthy told reporters last week.
"Now, Newsmax isn't the first one, OAN as well," he added. "And I think America should be able to have a choice in the news they are able to get — choice in being able to see it. I would hate to see somebody being kicked off simply because they provide something conservative, so I think it is a place that we should look at."

Joel C. Rosenberg is the editor-in-chief of ALL ISRAEL NEWS and ALL ARAB NEWS and the President and CEO of Near East Media. A New York Times best-selling author, Middle East analyst, and Evangelical leader, he lives in Jerusalem with his wife and sons.
A message from All Israel News
Help us educate Christians on a daily basis about what is happening in Israel & the Middle East and why it matters.
For as little as $5, you can support ALL ISRAEL NEWS, a non-profit media organization that is supported by readers like you.
Donate to ALL ISRAEL NEWS
Current Top Stories
Comments