Biden said the U.S. will not 'wait forever' for Iran to rejoin a nuclear deal
Lapid said regarding Iran: "Our way of life is what threatens them"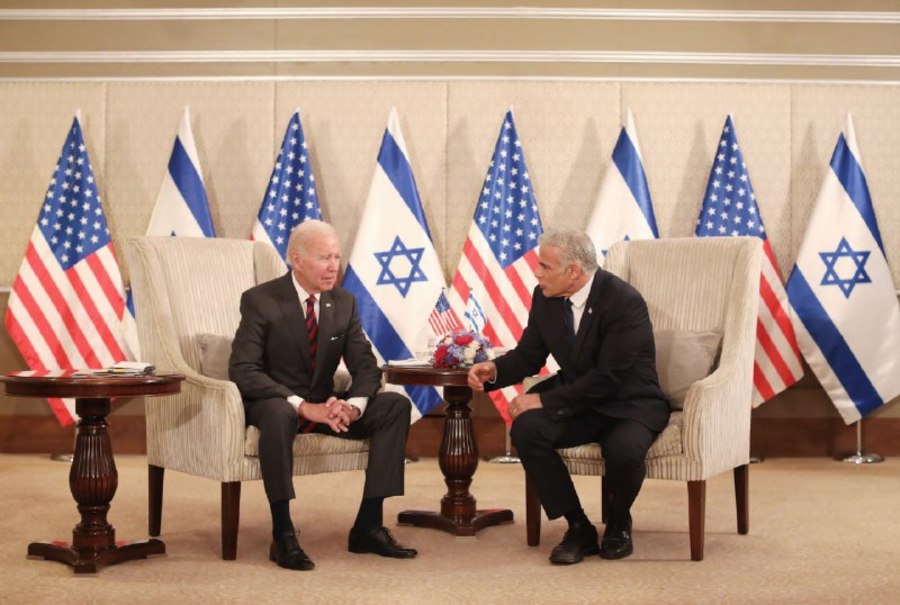 U.S. President Joe Biden and Israeli Prime Minister Yair Lapid met privately in Jerusalem, July 14, 2022. (Photo: Kobi Gideon/GPO)
President Joe Biden and Israeli Prime Minister Yair Lapid met in Jerusalem on Thursday to sign a new joint declaration aimed at strengthening the U.S.-Israel strategic partnership and countering Iran while both expressed support for the two-state solution. 
The declaration highlights the United States' commitment "never to allow Iran to acquire a nuclear weapon, and that it is prepared to use all elements of its national power to ensure that outcome."
Shortly after signing the historic document, Biden and Lapid delivered shared remarks from Jerusalem followed by questions from the media. 
Biden said the United States is "not going to wait forever" for Iran to rejoin a nuclear deal.
"We've laid out for the leadership of Iran what we're willing to accept to get into the JCPOA, and we're waiting for a response. When it will come is uncertain but we're not going to wait forever," Biden said.
He added that the U.S. is "committed to ensuring Iran never obtains nuclear weapons" and that doing so was "vital to the security of Israel and the U.S. and the rest of the world as well." 
"I continue to believe that diplomacy is the best way to achieve this outcome, while continuing to work with Israel to counter other threats ….[such as] proxies like Hezbollah," Biden said.
Israel's Prime Minister Yair Lapid stressed that what makes the Iranian regime develop its nuclear program is fear of the Israeli and American way of life. 
"What scares them the most is that their citizens, their people, can see us. They can see our quality of life. The dynamism and creativity of our economy. The rights of women and the LGBTQ community. Freedom of religion and freedom of speech," Lapid said. 
"Our way of life is what threatens them," he added. 
"It's what makes the Iranian regime develop its nuclear program, Hezbollah aim its missiles at us and terrorist organizations worldwide send suicide bombers. They want to destroy the only Jewish state in the world. We will never let that happen."
Addressing his message to Biden, Lapid insisted that "words will not stop" the Iranian regime, nor will diplomacy. 
"The only thing that will stop Iran is knowing that if they continue to develop their nuclear program, the free world will use force. The only way to stop them is to put a credible military threat on the table," said the Israeli premier. 
Earlier this week, Biden told an Israeli news channel that he will not hesitate to use force against Iran, "if that was the last resort."
"You have said many times, President, that 'big countries do not bluff.' I completely agree," Lapid continued. "It should not be a bluff, but the real thing. The Iranian regime must know that if they continue to deceive the world, they will pay a heavy price." 
The Israeli premier called on Biden to pass along a "message of peace" on Israel's behalf, as he makes a historic trip to meet with Arab leaders in Saudi Arabia tomorrow. 
"Mr. President, you will meet with the leaders of Saudi Arabia, Qatar, Kuwait, Oman and Iraq. I would like you to pass them all a message from us: Our hand is outstretched for peace. We are ready to share our technology and experience, ready for our people to meet and learn about one another, ready for our scientists to collaborate and our businesses to cooperate," Lapid said.
The Israeli prime minister added that "the book of Psalms says all of this in one verse," and quoted chapter 29: "The Lord will give strength to his people; the Lord will bless his people with peace."
"If we are strong, if we are determined, if the world understands that we will not hesitate to defend ourselves and our values – peace can come," Lapid concluded.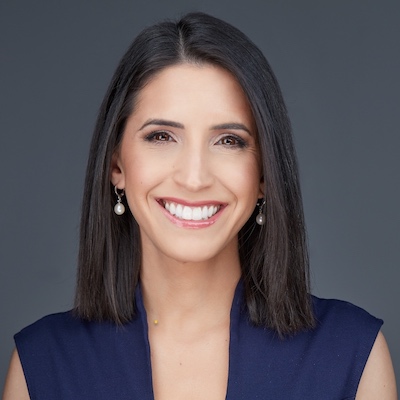 Tal Heinrich is a senior correspondent for both ALL ISRAEL NEWS and ALL ARAB NEWS. She is currently based in New York City. Tal also provides reports and analysis for Israeli Hebrew media Channel 14 News.
A message from All Israel News
Help us educate Christians on a daily basis about what is happening in Israel & the Middle East and why it matters.
For as little as $5, you can support ALL ISRAEL NEWS, a non-profit media organization that is supported by readers like you.
Donate to ALL ISRAEL NEWS
Current Top Stories
Comments