Biden at Yad Vashem: 'Hate is never defeated - it only hides'
U.S. president meets Holocaust survivors at Yad Vashem at conclusion of ceremony marking murder of more than 6 million Jews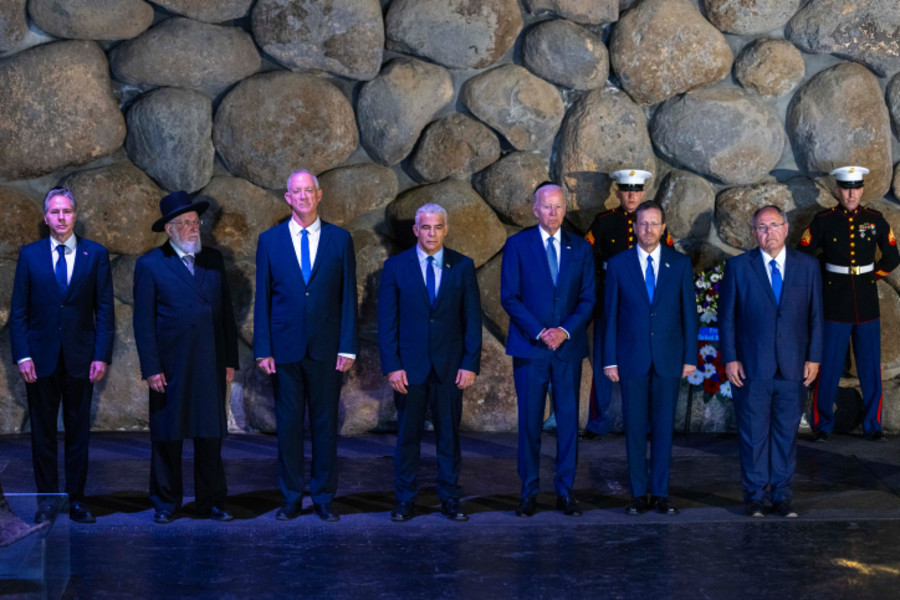 US president Joe Biden, Prime Minister Yair Lapid, Israeli president Isaac Herzog and Minister of Defense Benny Gantz during a ceremony at the Hall of Remembrance, at the Yad Vashem Holocaust memorial in Jerusalem on July 13, 2022, on Joe Biden first official visit to Israel since becoming US president. Photo by Olivier Fitoussi/Flash90
"We must never, ever, forget because hate is never defeated - it only hides," U.S. President Joe Biden wrote in the guest book at Yad Vashem, the World Holocaust Remembrance Center on Wednesday evening. 
"We must teach every succeeding generation that it can happen again unless we remember," his note continued. "That is what I teach my children and grandchildren. Never forget."
The president signed the guest book after a meaningful ceremony in the Hall of Remembrance, where he rekindled the Eternal Flame and laid a wreath on a slab under which ashes of Holocaust victims from extermination camps are buried.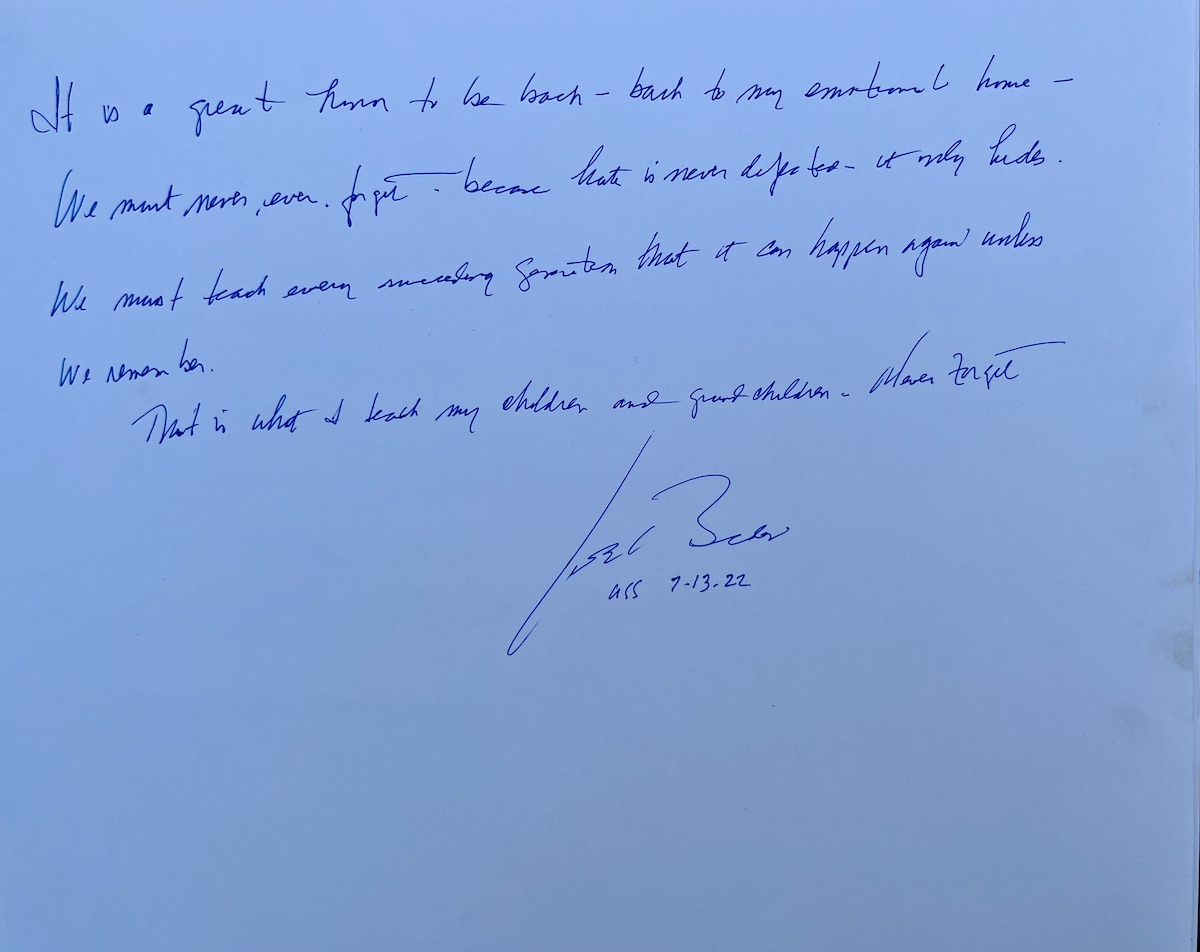 Handwritten note by U.S. President Joe Biden in the guest book at Yad Vashem (Photo: ALL ISRAEL NEWS)
The highlight of the president's visit to Yad Vashem, however, was his nearly 12-minute greeting with two Holocaust survivors – Rena Quint, 86, and Giselle (Gita) Cycowicz, 95. The president was meant only to shake their hands on his way out of the hall, but instead knelt down on one knee and embraced them, kissing Quint's cheek with tears in his eyes.
"Did you see the president hug me," Quint asked ALL ISRAEL NEWS shortly after the ceremony, as she sat down for a short interview, her face glowing with pride. "He asked permission to kiss me, and he kept on holding my hand and we were told not to touch him."
Quint's entire family was wiped out in the Holocaust; only she survived the Bergen-Belsen concentration camp. 
"He asked me where I came from and where I was born," Quint said, and "he really wanted to hear" the answer. She told Biden how after her mother and two older brothers were deported to the Treblinka extermination camp and murdered, she met her father, who was working in a slave labor factory. She could not stay there as a little girl, so she disguised herself as a boy to survive. 
At the end of the war, she went to Sweden until 1946, when she immigrated to the United States and was ultimately adopted by a childless Jewish couple from Brooklyn.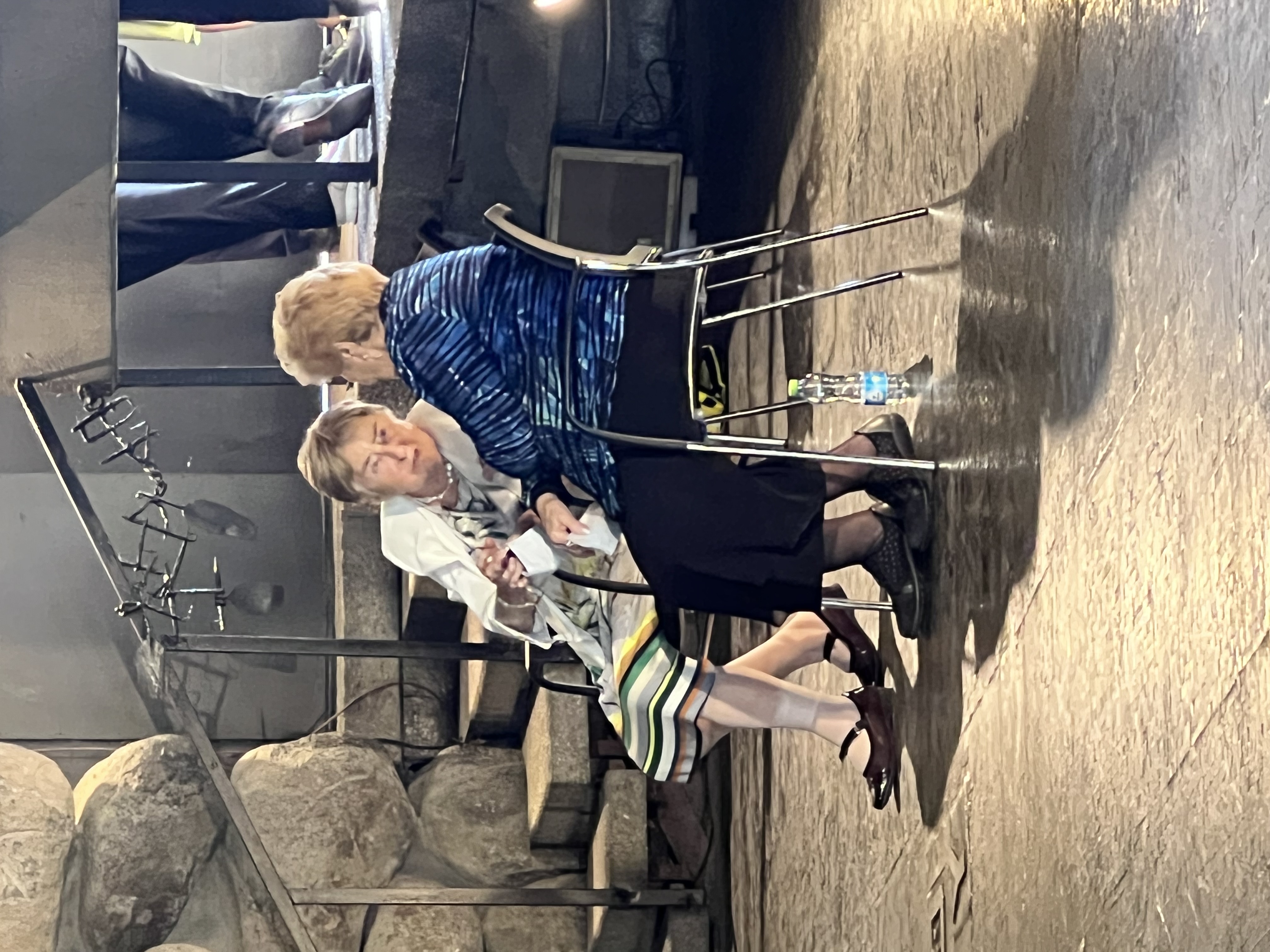 Holocaust survivors Rena Quint, 86, and Giselle (Gita) Cycowicz at Yad Vashem, July 13, 2022. (Photo: ALL ISRAEL NEWS)
"I told [Biden] that I am so grateful to the United States of America for allowing me to have a home," Quint recalled. "I have American adopted parents and an American husband, and we had four American children and now I have 22 grandchildren and 41 great-grandchildren so far, and two on the way.
"When I came to America, I did not know a soul there," she continued. "And I met so many friends, and now I have been invited to meet the most important person in the world, and … he treated me as his equal."
From the sidelines of the conversation, the survivors could be seen grasping the president's sleeve – crying and then laughing together. They spoke for so long that some of the officials accompanying Biden became slightly anxious, with President Isaac Herzog eventually cutting off the conversation by informing the survivors that Biden had to leave.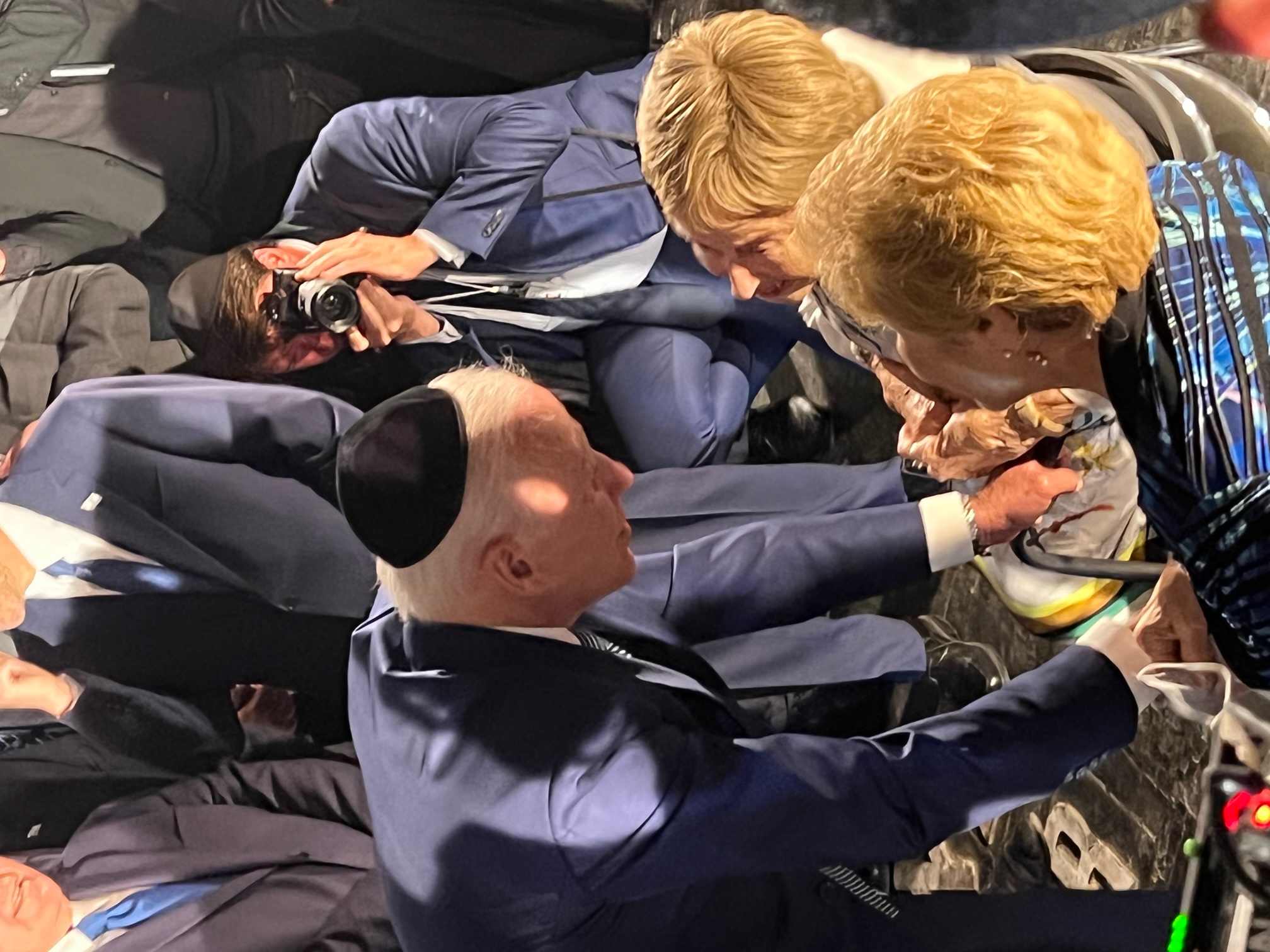 U.S. President Joe Biden with Holocaust survivors Rena Quint, 86, and Giselle (Gita) Cycowicz at Yad Vashem, July 13, 2022. (Photo: ALL ISRAEL NEWS)
ANTI-SEMITISM ON THE RISE IN U.S.
Biden wore a black velvet kippah for the official ceremony, which was held in the presence of Herzog, Yad Vashem Chairman Dani Dayan, Chairman of the Yad Vashem Council Rabbi Israel Meir Lau, Israeli Prime Minister Yair Lapid, Defense Minister Benny Gantz and U.S. Secretary of State Antony Blinken.
U.S. National Security Advisor Jake Sullivan and U.S. Special Envoy to Monitor and Combat Anti-Semitism Amb. Prof. Deborah Lipstadt were also present. 
During a recitation of "Walk to Caesarea" by the Ankor Children's Choir, Biden closed his eyes meditatively. He stood in silence as Cantor Shmuel Berland recited El Maleh Rachamim, a Jewish prayer for the souls of the martyrs of the Holocaust. 
"We believe that Holocaust remembrance and awareness is today especially important for two reasons," Dayan told ALL ISRAEL NEWS. The first is that "we are reaching a post-survivor – we will be without survivors – and second, we are witnessing a very dangerous rise in anti-Semitism all over the world.
"I think the visit by the American president to Yad Vashem and a meeting with survivors is extremely important on both counts," he said.
In April, the ADL reported an increase in anti-Semitic incidents in all U.S. states, including a 61% increase in attacks against synagogues and JCCs.
Dayan served as the Israeli consul general to New York from 2016 to 2020. He said that when he arrived in the city, he did not expect anti-Semitism to be high on his agenda. But in the course of his first 18 months, 15 Jews were murdered on American soil in anti-Semitic attacks.
"A presidential visit will not cure America from anti-Semitism, but it sends an important message to American society," he said. 
Dayan admitted that members of Biden's own Democratic Party have displayed hatred toward Israel and sometimes anti-Semitism but said he would still not characterize the party in general as anti-Israel or anti-Semitic and that he believes Biden has for decades demonstrated a "special sensitivity toward the issue of survivors." This included hosting survivors in the Oval Office on International Holocaust Remembrance Day in January. 
BIDEN'S DEEP JEWISH TIES
The president is originally from Delaware and for 30 years he had a close relationship with Rabbi Leonard Gewirtz, whom he affectionately called "my rabbi."
Gewirtz's son, Yossi Gevir, currently serves as head of governmental and external affairs for Yad Vashem. 
"Even though there are very few Jews in Delaware and Joe Biden did not know that many Jews, he always had good ties with members of the Jewish community," Gevir told ALL ISRAEL NEWS on the sidelines of the ceremony. 
Gevir said that Biden's original ties to his father, who has since passed away, were back in 1972 when he was running in his first senate race. 
"There were accusations by his opponents that he was anti-Semitic and some people who knew him asked my father to intervene," Gevir, who was 15 at the time, recalled. "My father did agree to speak to Biden, and he was convinced the guy was not anti-Semitic. And my father issued a statement that said you should vote for whoever you want to, but not based on these vicious rumors."
Biden was ultimately elected. 
"I can say Biden has a strong, visceral attachment to Jewish tradition," Gevir continued. "He has two Jewish daughters-in-law and a Jewish son-in-law. And I think he has personally worked very hard to fight anti-Semitism."
Survivor Cycowicz said she was enthralled by the president, whose arm she held tightly with her wrinkled hand and long fingers throughout most of their conversation. She said the meeting was "compensation for everything I have suffered and that I still feel to this day."
"Today is prophetic," she told ALL ISRAEL NEWS. "Not only did I speak to President Biden, but to all of the top diplomats of Eretz Yisrael [the Land of Israel]."
As the president left the survivors, Cycowicz could be heard saying to him, "I hope you will remember my name," to which Biden responded, "I will never forget you."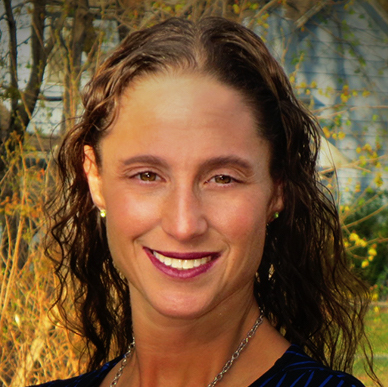 Maayan Hoffman is a veteran American-Israeli journalist and strategic communications consultant. She is Deputy CEO - Strategy & Innovation for the Jerusalem Post, where she also served as news editor, head of strategy and senior health analyst.
A message from All Israel News
Help us educate Christians on a daily basis about what is happening in Israel & the Middle East and why it matters.
For as little as $5, you can support ALL ISRAEL NEWS, a non-profit media organization that is supported by readers like you.
Donate to ALL ISRAEL NEWS
Current Top Stories
Comments