As left-wing voices in Democrat Party rage against Israel – blaming Jews, not Hamas for the war – Biden under immense pressure to force ceasefire
Will Biden stand firmly with Israel, or cave to Bernie Sanders, Elizabeth Warren, Rashida Tlaib, Ilhan Omar, AOC and the anti-Israel forces in Congress?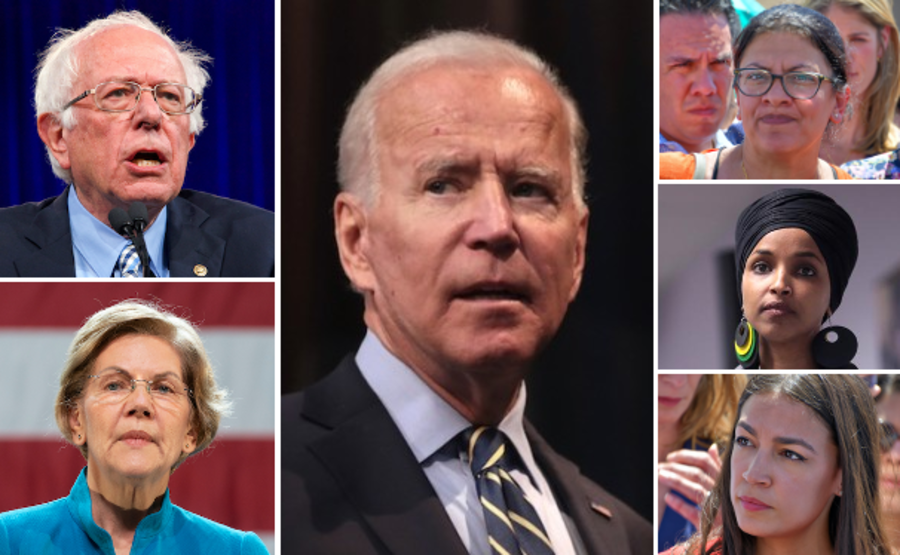 Senators Bernie Sanders and Elizabeth Warren, President Joe Biden, Reps. Rashida Tlaib, Omar Ilhan, Alexandria Ocasio-Cortez (Photos: Shutterstock and Gage Skidmore [CC BY-SA 2.0])
JERUSALEM – Joe Biden, who has long described himself as a "Zionist," may very well be the most pro-Israel member of the Democrat Party. 
But as the Gaza war continues, Biden is under tremendous and growing pressure to force Israel to a ceasefire well before Israeli leaders feel they have sufficiently degraded – if not completely destroyed – the military capacities of Hamas and Islamic Jihad in the Gaza Strip.
Such immense pressure is coming from his left.
In the Senate, the anti-Israeli movement is being pushed by Bernie Sanders and Elizabeth Warren.
In the House of Representatives, it is being driven by Rashida Tlaib, Ilhan Omar and "AOC," though it is certainly not limited to them.
The Gaza war is revealing a disturbing trend in American politics: the so-called "progressives" are becoming progressively more hostile towards the Jewish state.
They and their allies on Capitol Hill are viciously attacking Israel and accusing the Israeli government and military of being responsible for the war in Gaza and for war crimes against the Palestinian people.
How, then, will Biden respond?
PRESSURE BUILDING FOR A CEASEFIRE – BUT WILL IT COME TOO QUICKLY?
Today's headlines are filled with stories that Biden is pressuring Israel to agree to a ceasefire as early as Thursday.
To be sure, everyone – certainly everyone in Israel – wants an end to the 3,700-plus rockets that have left a dozen Israelis dead, hundreds wounded, and millions living in bomb shelters.
But current and former senior Israeli officials are concerned that Biden is not giving them time to sufficiently destroy the capacity of the terrorists to wage war against Israel again in the near future.
Ron Dermer, Israel's former ambassador to the U.S., said on MSNBC on Tuesday that a ceasefire is coming "but not just yet."
"Hamas launched this attack against us," Dermer explained. "When somebody comes over to you and clubs you and then says, 'We would like a ceasefire,' you don't just listen to them and accept the ceasefire. The Israeli people want to make sure that this ceasefire will be a long-term pause in hostilities."
"We've had four rounds of violence with Hamas – in 2008 and 2009, and again in 2012 and 2014, and now in 2021. And we've had many salvos of rockets fired at us in between," Dermer noted. "What the Israeli people want is for their government to exact such a high price from Hamas that Hamas regrets having started this in first place, but even more important, will not engage in this type of violence for a very long time in the future."
Nevertheless, Biden has apparently begun pushing Netanyahu hard to cease and desist.
"Publicly Supportive, Biden Is Said to Sharpen His Tone With Netanyahu in Private," declared a New York Times headline.
"In a phone call on Monday, Mr. Biden warned Mr. Netanyahu that he could fend off criticism of the Gaza strikes for only so long, according to two people familiar with the call," the Times reported "That conversation was said to be significantly stronger than an official summary released by the White House."
It is not, however, so much international criticism of Israel that Biden worries he cannot "fend off."
It is the ferocious onslaught against Israel coming from within Biden's own party.
Here is a look at the loudest voices on the left who are attacking Israel and Biden simultaneously.
BERNIE SANDERS: LEADER OF THE ANTI-ISRAEL MOVEMENT IN THE SENATE
The unabashed leader of the anti-Israel movement in the Senate is Bernie Sanders of Vermont.
He routinely calls Israel a "racist" and "bigoted" state that opposes basic human rights and "demonizes" Arabs.
Sanders has urged the U.S. to slash military aid to Israel, which includes funding for the Iron Dome anti-rocket system, or at least to "leverage" it to force Israel to embrace policies that he thinks are better.
"At a time when we spend $3.8 billion on military aid to Israel, we have the right to say to the Israeli government that the United States of America and our taxpayers and our people believe in human rights, we believe in democracy, we will not accept authoritarianism or racism and we demand that the Israeli government sit down with the Palestinian people and negotiate an agreement that works for all parties," Sanders said in 2019.
He was strongly opposed to President Trump moving the U.S. Embassy to Jerusalem, Israel's capital, and when the Senate voted 97-3 in February to keep the embassy there, Sanders voted no.
He has never attended or spoken at the annual American Israel Public Affairs conference, the largest pro-Israel event in the U.S., attacking the group for inviting leaders "who express bigotry and oppose basic Palestinian rights."
What makes his relentless attacks on Israel so potent – not just during this conflict but over decades – is that he is Jewish.
He, thus, gives cover to others in Congress and elsewhere who attack Israel with venom.
Almost from the moment the Gaza war erupted on May 10, Sanders went on offense not against Hamas or Islamic Jihad – but against Israel.
He blamed "the devastation in Gaza" on the Israeli Defense Forces – not on terrorists firing thousands of rockets at Israeli civilians – and denounced Israel's actions as "unconscionable."
In a New York Times op-ed on May 14, Sanders began pushing Biden hard for an immediate ceasefire while accusing Israeli Prime Minister Benjamin Netanyahu's government of working "to marginalize and demonize Palestinian citizens of Israel, pursue settlement policies designed to foreclose the possibility of a two-state solution and pass laws that entrench systemic inequality between Jewish and Palestinian citizens of Israel."
"In the Middle East, where we provide nearly $4 billion a year in aid to Israel, we can no longer be apologists for the right-wing Netanyahu government and its undemocratic and racist behavior," Sanders argued.
Given that Sanders was Biden's strongest political challenger during the 2020 Democrat primaries, his voice is one listened to closely and carefully in the Biden White House.
ELIZABETH WARREN: PROGRESSIVELY TURNING AGAINST ISRAEL
In the past, Senator Elizabeth Warren, the Massachusetts Democrat, was widely viewed as pro-Israel.
But after deciding to run for president in 2020, Warren positioned herself as the champion of left-wing progressives and became increasingly hostile towards the Jewish state.
Like Bernie Sanders, Warren opposed to President Trump moving the U.S. Embassy to Jerusalem.
When the Senate voted 97-3 in February of this year to keep the embassy in Israel's capital, Warren joined Sanders and voted no.
She is also openly calling for Congress to cut military aid to Jerusalem in order to force Israel to accept policies she deems best.
"If we're serious about arresting settlement expansion and helping move the parties toward a two-state solution, then it would be irresponsible not to consider all of the tools we have at our disposal," Warren told an online conference hosted by "J Street," a left-wing organization in the U.S. that is sharply critical of Israel. "One of those is restricting military aid from being used in the occupied territories. By continuing to provide military aid without restriction, we provide no incentive for Israel to adjust course." 
And while you would be hard-pressed to find her criticizing Hamas, Warren is openly and loudly pushing Biden to force Israel into an immediate ceasefire, and placing the blame for the war on Israel.
"Israeli airstrikes that destroyed international media outlets and killed innocent Gaza civilians tell us what we already know," Warren said, demanding Biden aggressively press Israel to "reach a ceasefire immediately" with Hamas.
RASHIDA TLAIB: PALESTINIAN, MUSLIM, AND LEADER OF THE ANTI-ISRAEL MOVEMENT IN THE HOUSE
No one is more hostile towards Israel in Congress that Rep. Rashida Tlaib.
The Muslim Michigan Democrat, who often wears a black and white keffiyeh, is the sole Palestinian in the U.S. House of Representatives, having been born to Palestinian parents.
She has extended family that still lives near Ramallah in the West Bank.
Tlaib openly supports the Boycott, Divestment and Sanctions (BDS) movement against Israel, even though the movement is widely denounced as "anti-Semitic" by everyone from Senate Majority Leader Chuck Schumer, the New York Democrat, to the German parliament.
In 2019, the House voted overwhelmingly – 398 to 17 – to condemn the BDS movement, calling the movement one that "promotes principles of collective guilt, mass punishment and group isolation, which are destructive of prospects for progress towards peace."
Yet Tlaib voted against the resolution, saying – as she has for years – that Israel is a "racist" state with an "apartheid system."
On Nov. 29, on the International Day of Solidarity with the Palestinian People, Tlaib retweeted a post that declared, "From the river to the sea, Palestine will be free," an anti-Semitic and potentially genocidal mantra that calls for Israel to be wiped off the map. She later deleted the tweet after a blistering backlash.
Even fellow Democrats attacked Tlaib on this.
"Rashida Tlaib is not just opposed to Israeli control of the West Bank – this slogan means she sees the entire State of Israel as illegitimate and wants it eliminated," observed a group of congressmen, senators and political strategists known as the Democrat Majority for Israel. "That's an immoral and reprehensible position."
Yet Tlaib, unapologetic, is attacking the Biden administration for supporting Israel in any way, shape or form.
"To read the statements from President [Joe] Biden, Secretary [of State Antony] Blinken, General [Lloyd] Austin and leaders of both parties, you would hardly know Palestinians existed at all," said Tlaib in remarks immediately reported by Al Jazeera.
When Air Force One landed yesterday in Detroit, Tlaib confronted Biden on the tarmac, demanding he punish Israel but cutting off U.S. aid to the Jewish state.
"The U.S. cannot continue to give the right-wing Netanyahu government billions each year to commit crimes against Palestinians," Tlaib told Biden, according to one of her aides. "Atrocities cannot be tolerated, much less conducted, with U.S.-supplied weapons."
In his speech in Dearborn, however, Biden did not distance himself from the radical Tlaib.
Rather, he lavished praise on her.
"I want to say I admire your intellect, I admire your passion and I admire your concern for so many other people," Biden said. "From my heart, I pray that your grandma and family are well. I promise you I'm going to do everything to see that they are, on the West Bank. You're a fighter, and God thank you for being a fighter."
ILAN OMAR: SOMALIAN, MUSLIM, AND VIRULENTLY ANTI-ISRAEL
Rep. Ilan Omar, the Democrat from Minnesota, is another leader in the anti-Israel movement in the House.
Born in Mogadishu, Somalia, in 1982, she and her Muslim family immigrated to the United States in 1995, settling eventually in the Minneapolis area.
Bitterly anti-Israel, in 2019 she was also named the "Anti-Semite of the Year" by an NGO that works to fight anti-Semitism.
Like many of her "progressive" colleagues, Omar, too, is blaming this Gaza war on Israel and demanding Biden force to Israel to stop fighting.
"Israeli air strikes killing civilians in Gaza is an act of terrorism," she tweeted, adding that "it's unconscionable to not condemn these attacks."
On Monday, Omar accused Israel of "crimes against humanity" and said it would be "appalling" for the Biden administration to provide further military aid to Israel, especially during this conflict in Gaza.
"Far right ethnonationalist Israeli leader Benjamin Netanyahu is now responsible for at least 1,505 casualties in Gaza, including 200 deaths, 59 of them children," Omar said in a statement on her website. "He has leveled entire residential buildings, targeting journalists and civilians alike in direct violation of international law. And he is doing so with direct funding and military assistance from the United States of America."
AOC: BLASTING BIDEN FOR BEING PRO-ISRAEL
Rep. Alexandria Ocasio-Cortez – the New York Democrat widely known by her initials, "AOC" – is yet another anti-Israel voice in Congress that is blasting Biden from the left.
"A group of leading progressive members of Congress offered a rare break from party unity, giving fiery speeches on the House floor that accused Mr. Biden of ignoring the plight of Palestinians and 'taking the side of the occupation,'" reported The New York Times. "Representative Alexandria Ocasio-Cortez of New York directly challenged the president, who had asserted that Israel had a right to defend itself. 'Do Palestinians have a right to survive?' she asked in an impassioned address. 'Do we believe that? And if so, we have a responsibility to that as well.'"
"We cannot just condemn rockets fired by Hamas and ignore Israel's state-sanctioned police violence against Palestinians — including unlawful evictions, violent attacks on protestors & the murder of Palestinian children," Rep. Mark Pocan, a Wisconsin Democrat, tweeted. "U.S. aid should not be funding this violence."
"His message was retweeted by Rep. Alexandria Ocasio-Cortez (N.Y.), who along with Reps. Rashida Tlaib of Michigan and Ilhan Omar of Minnesota has spotlighted Israeli aggression in the conflict in ways that go beyond conventional Democratic statements blaming both sides," reported The Washington Post.
"We stand in solidarity with the Palestinian residents of Sheikh Jarrah in East Jerusalem. Israeli forces are forcing families from their homes during Ramadan and inflicting violence," Ocasio-Cortez said in a tweet on Saturday.
"Alexandria Ocasio-Cortez called on the Biden administration to acknowledge its role in the injustice and human rights violations suffered by Palestinians," reported Al Jazeera. "This is our business. Because we are playing a role in it. This is not about both sides. This is about an imbalance of power."
HOW WILL BIDEN RESPOND?
These are by no means the only anti-Israel voices in the Democrat party.
They are simply the loudest.
But they are finding and nurturing allies in their cause.
The big question is how Biden will handle the anti-Israel movement growing on his left?
The current war in Gaza is one test.
How he handles U.S. relations with the terror regime in Iran is another.
For the moment, I will give Biden some credit.
He has gotten stronger and more vocal in his pro-Israel support over the past ten days.
At first, he said nothing about the Gaza war, and his team were making mealy-mouthed statements calling for "de-escalation" on both sides and refusing to clearly condemn Hamas and Islamic Jihad.
Biden did not even call Netanyahu for several days into the fighting.
Fortunately, Biden improved after a weak start – in his public statements, in his efforts to block anti-Israel resolutions at the UN, in his multiple calls to Netanyahu, and in approving $735 million in funding for precision-guided weapons for Israel.
But, again, the question is: Can Biden hold the line?
Will he strongly and unapologetically stand with America's most faithful ally in the Middle East?
Or will Biden cave to the anti-Israel voices on his left, force Israel into a dangerous and premature ceasefire, and make things worse?
The entire world is watching.

Joel C. Rosenberg is the editor-in-chief of ALL ISRAEL NEWS and ALL ARAB NEWS and the President and CEO of Near East Media. A New York Times best-selling author, Middle East analyst, and Evangelical leader, he lives in Jerusalem with his wife and sons.
A message from All Israel News
Help us educate Christians on a daily basis about what is happening in Israel & the Middle East and why it matters.
For as little as $5, you can support ALL ISRAEL NEWS, a non-profit media organization that is supported by readers like you.
Donate to ALL ISRAEL NEWS
Current Top Stories
Comments