Archaeologists believe they found the oldest Hebrew text in Israel – including the name of God
The potentially history-changing lead tablet that was found at Mount Ebal may provide proof that the Israelites were literate when they entered the Holy Land 
Close-up of the outside of the lead curse tablet discovered at Mt. Ebal in 2019. (Photo: Michael C. Luddeni/Associates for Biblical Research)
The earliest Hebrew text to date may have been discovered in ancient Israel, according to archaeologist Dr. Scott Stripling and a team of international scholars.
The text appears to be an old curse inscribed with 40 Hebrew letters on a lead tablet. The finding, which could be one of the greatest archaeological discoveries ever, was announced at a press conference on Thursday in Houston, Texas. 
The proto-alphabetic Hebrew text was unearthed in December 2019 during excavations on Mount Ebal. Located near biblical Shechem – the modern-day Palestinian city of Nablus – the mountain is known from Deuteronomy 11:29 as a place of curses. It is believed to be the site where Joshua built an altar to the Lord, described in Joshua 8:31 as "an altar of unhewn stones, upon which no man had lifted up any iron."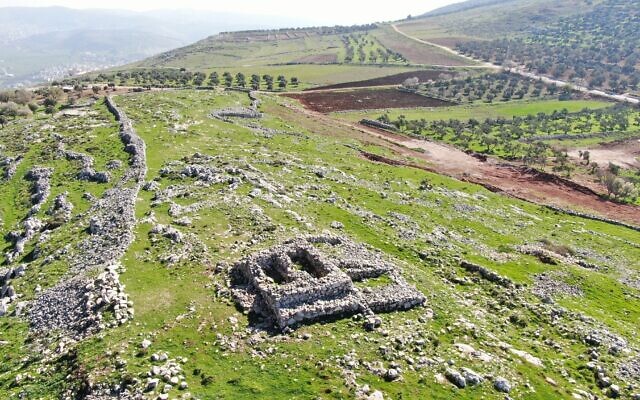 Archaeological site at Mount Ebal, February 15, 2021. (Photo: Shomrim Al Hanetzach)
The roughly 2x2 centimeters folded-lead curse tablet includes the acronym of God, YHVH, as well as the Hebrew word arur, which means "cursed." Archaeologists believe it dates to the Late Bronze Age (circa 1,200 BC), based on analysis of the scans and lead analysis of the artifact. 
Stripling and his team of four scientists from the Czech Academy of Sciences in Prague, along with two epigraphers, believe the tablet says: "Cursed, cursed, cursed – cursed by the God YHW. You will die cursed. Cursed you will surely die. Cursed by YHW – cursed, cursed, cursed."
According to the Times of Israel, the discovery would be the first attested use of the name of God in the Land of Israel. This may also reveal that Israelite literacy has been evident centuries before previously proven. If the date is verified, it means the Israelites were literate when they entered the Holy Land and therefore could have written the Bible since some of the events documented took place.
"This is a text you find only every 1,000 years," Haifa University Prof. Gershon Galil told the Times of Israel. Galil helped decipher the hidden internal text of the folded lead tablet based on high-tech scans conducted by the academy. The advanced technology was used in order to avoid destroying the tablet when trying to open it. 
"We know that from the moment they came to Israel, the Israelites knew how to write, including the name of God, clearly," said Galil. "It's not too surprising; people already knew how to write in other places," he added.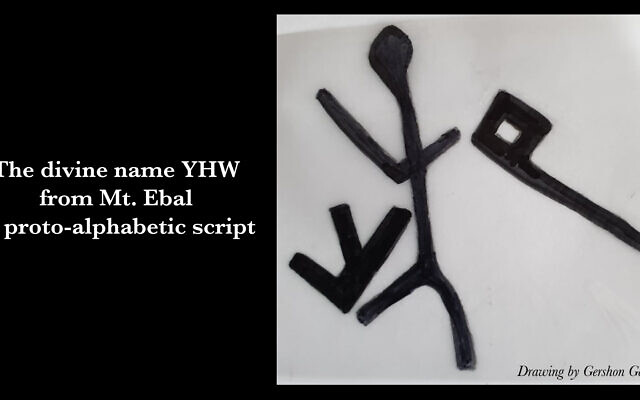 The name of God, YHWH, according to epigrapher Haifa University Prof. Gershon Galil. (Photo: Associates for Biblical Research)
The researchers have not yet published the new discovery in a peer-reviewed academic journal. They are planning to submit an article this year. Likewise, they have not yet releasing clear images and scans of the inscription for other academics to examine.
The Times of Israel noted that while it is irregular to promote an unpublished academic work, the scholars felt obligated to share news of their initial findings because of its history-changing potential.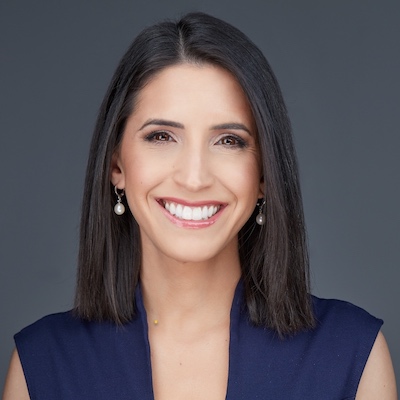 Tal Heinrich is a senior correspondent for both ALL ISRAEL NEWS and ALL ARAB NEWS. She is currently based in New York City. Tal also provides reports and analysis for Israeli Hebrew media Channel 14 News.
Popular Articles
A message from All Israel News
Help us educate Christians on a daily basis about what is happening in Israel & the Middle East and why it matters.
For as little as $5, you can support ALL ISRAEL NEWS, a non-profit media organization that is supported by readers like you.
Donate to ALL ISRAEL NEWS
Latest Stories
Comments