Amid a lightning-speed vaccination rollout, where is the Start-up Nation's own COVID shot?
Operation Warp Speed and Sputnik are just two iconic labels given to large-scale vaccination drives, China and the EU also claim vaccine projects of their own. But where is Israel?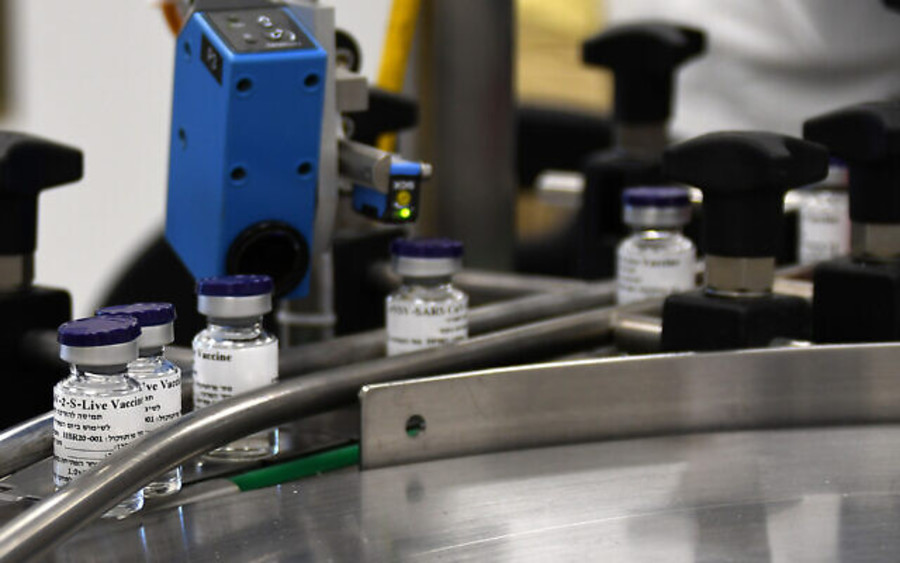 Vials of a potential coronavirus vaccine are seen on an assembly line in a photograph released by Israel's Institute for Biological Research, Oct. 25, 2020. (Photo: Israeli Ministry of Defense)
Israel remains best in class when it comes to the rollout of the COVID-19 vaccine. In just a few short months – from December through March – some 90% of eligible Israelis have received the vaccine or recovered from COVID.
Yet, what is little known is that while the country is currently relying solely on the Pfizer-BioNtech's mRNA-type injection, homegrown efforts remain underway to develop Israel's own "blue and white" coronavirus vaccine, albeit with very little fanfare. 
What's more, the raging success of Israel's campaign to vaccinate its entire population appears to have negatively affected the country's national efforts to develop its own vaccine production.
Israel: A real-time lab for big pharma
The structure of Israel's public healthcare system, based on a network of local clinics, has made a rapid and comprehensive vaccination campaign rollout feasible in terms of organization and logistics. 
Furthermore, Israel's medical recording system was entirely digitized in 1995 and Israel is still the only country in the world to have such a comprehensive digitization of these records, said Dr. Menahem Bitan, deputy chief medical officer of Meuhedet Health Services. 
This means that one of the allures for Pfizer, in supplying Israel with timely and large quantities of vaccines, was the promise of easily accessible data from the Israeli public health system. Privacy concerns have been raised, but the Health Ministry maintains that individual records remain protected and only available to Pfizer-BioNTech in aggregate form.
In the shadow of the widespread and effective Pfizer rollout across Israel – and much less advertised – have been the efforts of a few Israeli companies to develop a vaccine as well. And at this point, with so many Israelis already having gotten their shots, ALL ISRAEL NEWS set out to ask a few questions about where the "blue and white" products stood and whether these companies should even bother to continue their work.
"We still need this vaccine because we don't know what the future holds," Dr. OrTal Efrat underscored in an interview with The Media Line. "We don't know if Moderna and Pfizer's vaccines will work long-term or if some people won't be able to get their vaccines due to allergies or other medical reasons."
And another important point that Efrat noted, "This vaccine is also a Zionist project: We believe in and are proud to make a vaccine that was developed in Israel."
Going forward and with new virus strains cropping up at disconcerting frequency, there is no reason why Israel should not be fully engaged with its own vaccine project. 
So where do these efforts currently stand?
Israelis in the Start-up nation are natural problem solvers. Disasters like COVID-19 provide an invitation to excel rather than despair. So, it is not surprising that a spate of innovative Israeli COVID-19 initiatives shot up relatively quickly around the Jewish state. 
Among these, two serious contenders have taken center stage. The first is BriLife, from the Israel Institute of Biological Research (IIBR), a research lab under the auspices of the Defense Ministry. This effort, commissioned in February 2020, seems to have made steady progress, and has undergone successful Phase I and Phase II trials. 
The BriLife vaccine is vector-based, enabling the body's immune system to identify and combat the coronavirus. The production target is 15 million doses, which would allow widespread distribution of the Israeli vaccine abroad.
However, the program has hit a snag because Israel's rollout of the Pfizer shot has been so large-scale that it has been difficult to conduct Phase III trials in Israel. Therefore, the next trials will take place primarily in Brazil, where a majority of people have not been vaccinated and where the virus is also still prevalent.  
A further absurdity that stymied this project was the lack of recognition from Israel's own Health Ministry, which administers the "green passport" system for people vaccinated against COVID or who have received the Pfizer-BioNTech immunization. 
The Health Ministry, at least at first, excluded citizens who – patriotically – volunteered to participate in trials for the homegrown effort from receiving a green passport – and with that denied them a "return to normal" that their fellow citizens who got the Pfizer jab are enjoying. This despite their arguably larger sacrifice for partaking in clinical trials for the Israeli vaccine, even a placebo. 
The project seems to have been hampered further by Prof. Shmuel Shapira's surprise announcement that he is stepping down as director general for the IIBR.
The private-sector initiative
The second contender for a blue and white vaccine is MIGAL Galilee Research Institute, a private company which operates partially under the auspices of the Israeli Science and Technology Ministry. Developing a COVID-19 vaccine is a natural extension of MIGAL's year-long research in the area of coronavirus vaccines.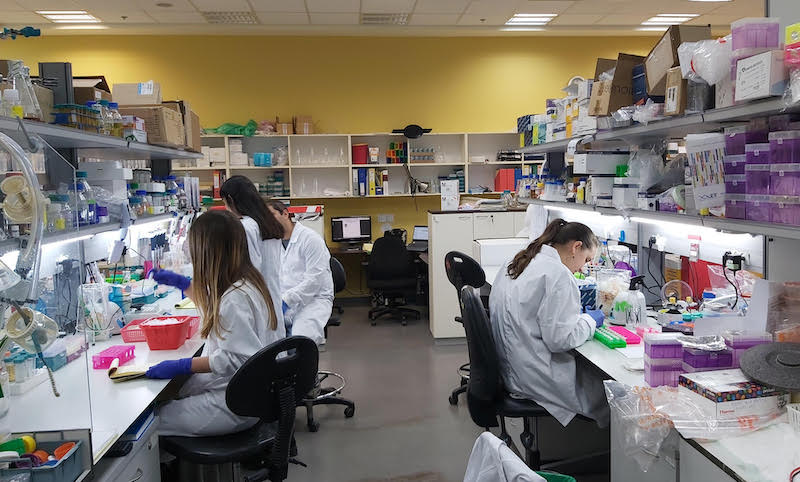 MIGAL Research Institute laboratory (Photo courtesy)
A further interesting feature of this effort includes a round of funding from OurCrowd, which raised $12 million in 2020. 
However, MIGAL's research strategy was never intended primarily for Israel. MIGAL could not hope to match the resources allocated to high-speed clinical trials carried out on a massive scale by pharmaceutical giants such as Pfizer and Moderna. 
Further, Israel's political and budgetary gridlock ruled out any expectations of an expedited effort in this regard.
MIGAL spokesperson Yael Shavit told ALL ISRAEL NEWS that the institute's strategy from the outset was long term, intended to create a financially viable and logistically feasible alternative to supply developing countries with a vaccine. 
The pandemic is global and the unique advantages that Migal's effort offers in this context include:
Oral ingestion allowing for ease of distribution and administration

Adaptability to new variants

Safety for people with weakened immune systems 
The vaccine is still undergoing trials with final results expected later this year. 
Nimble Determination – second-generation COVID vaccines? 
In another visionary vaccine effort, leaders from Israel, Denmark and Austria met earlier in March as a forum of smaller, developed countries who have been consulting together throughout the pandemic in order to learn from one another. 
This cooperation has become even more relevant as the European Union's coordinated efforts have failed to guarantee timely vaccination procurement in the quantities needed for a successful inoculation campaign. 
While still on the drawing board, the prime ministers of the three countries are in talks to develop vaccine production to combat future variants of COVID-19. 
Still, the steps forward for this product remain unclear. 
What is next?
Israel's vaccination strategy seems to have been multi-pronged and, it seems, wise and reasonable for the most part. The Jewish state placed several different bets with foreign suppliers as well as domestic research and development. 
However, Israel's own homegrown efforts to develop a vaccine were hampered by this very strategy, subject to challenging conditions and were met with a lack of internal support.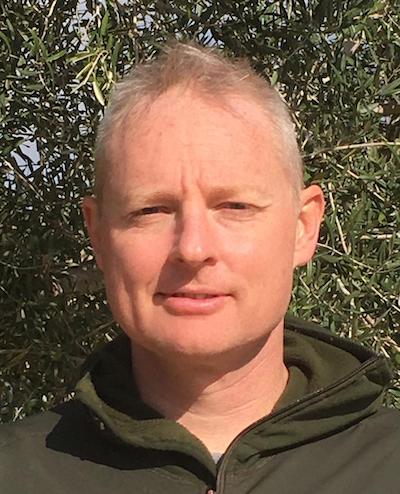 Dan Herron has lived in Jerusalem since 2014. He holds a MA in Political Science from Copenhagen University as well as an MA in Islamic and Middle Eastern Studies from the Rothberg International School at Hebrew University. Before moving to Israel, Dan taught English and international relations at the Royal Danish Air Force and Naval academies in Denmark.
A message from All Israel News
Help us educate Christians on a daily basis about what is happening in Israel & the Middle East and why it matters.
For as little as $5, you can support ALL ISRAEL NEWS, a non-profit media organization that is supported by readers like you.
Donate to ALL ISRAEL NEWS
Current Top Stories
Comments