ALL ISRAEL NEWS confirms: Netanyahu, Mossad chief made secret trip to meet with Saudi Crown Prince, US officials
Exclusive polling by ALL ARAB NEWS found 80 percent of Americans want Saudi to be next country to join Abraham Accords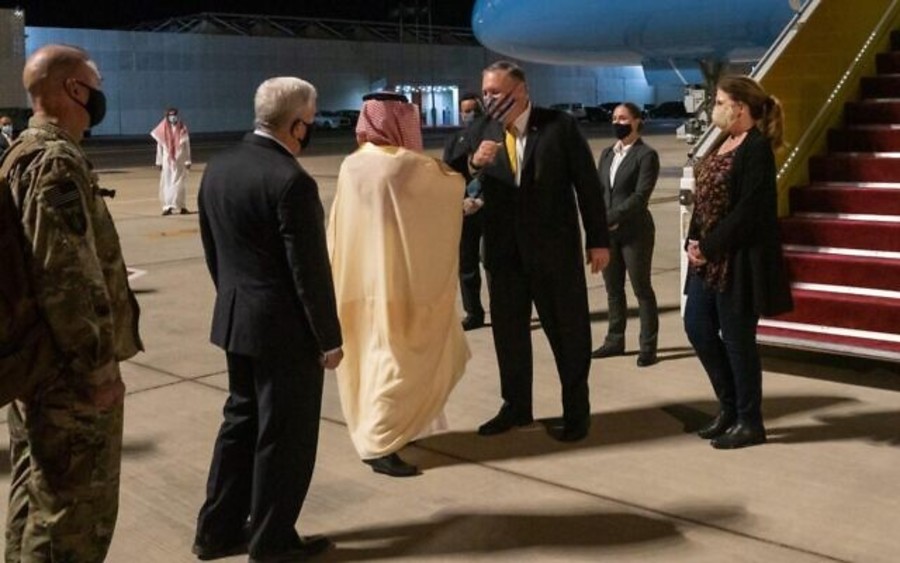 JERUSALEM — ALL ISRAEL NEWS can now confirm that Israeli Prime Minister Benjamin Netanyahu and Mossad chief Yossi Cohen secretly flew to the northwestern province of Saudi Arabia on Sunday and met with Saudi Crown Prince Mohammed bin Salman and U.S. Secretary of State Mike Pompeo.
Unconfirmed reports emerged in Israel's Hebrew language media on Monday morning that the prime minister made the clandestine trip and met with senior American and Saudi officials in a region known as NEOM. The reports quickly got picked up by English-language media in Israel creating quite a buzz throughout the country.
ALL ISRAEL NEWS confirmed those reports through multiple senior diplomatic Israeli and American sources.
The news is a bombshell in a region rife with speculation that the Saudis may be the next Arab country to normalize relations with the Jewish state and join the historic Abraham Accords.
ALL ISRAEL NEWS was the first to confirm the story – to read our full report, please click here.
Exclusive polling done for our sister site, ALL ARAB NEWS, found that 80% of Americans want Saudi Arabia to be the next Arab country to make peace with Israel and for the next American president to make brokering such a deal one of his top foreign policy priorities.
The moves in recent months by the United Arab Emirates, Bahrain and Sudan have set the stage for more Arab states to join the Abraham Accords. U.S. President Donald Trump has repeatedly stated that the Saudis would eventually sign on.
While my conversations with the Saudi crown prince regarding Israel and the peace process were off the record, both MBS and those close to him have been signaling publicly in recent years that normalization with Israel was not out of the question.
We should be cautious in drawing any hasty conclusions that the Saudis are ready to seal a formal peace deal, but a meeting with Netanyahu could be seen as the first of many steps toward negotiating such a deal.
Why Timing is a Factor in Saudi-Israel Secret Meeting
There is a case, however, for moving quickly. Joe Biden has threatened to "reassess" the U.S.-Saudi alliance, which has grown strong under President Trump. Biden has been deeply angered by several major mistakes, including the heinous murder of Saudi dissident journalist Jamal Khashoggi. Biden has threatened to restrict American arms sales to the Kingdom among other possible policy decisions.
By moving fast to declaring a major peace deal with the Jewish state, MBS could scramble Washington's largely negative view of him and the Kingdom by making a historic and positive treaty with the Israelis.
The crown prince would then enter a new relationship with a Biden administration with a wave of peaceful and encouraging overtures.
However, MBS has multiple options available to him. He could also take a series of increasingly high-profile steps with Israel that would also bring him positive headlines while still maximizing his negotiating leverage with Washington, Jerusalem and even Ramallah.
One possible scenario: MBS urges the Palestinian leadership to return to the negotiating table in return for the Saudis delaying full normalization with Israel. If Palestinian Authority President Mahmoud Abbas rejected such a proposal, that could clear the way to MBS deciding it was time to join the Abraham Accords.
Biden and his team want to see the Abraham Accords set the table for direct Palestinian-Israeli negotiations over a two-state solution.
While much about this visit remains murky at the moment, one thing we know for sure is that MBS has multiple objectives. Among them:
How does he put the Kingdom in the best possible position to strengthen the Saudi-U.S. alliance if or when Biden takes office?
How can he dissuade Biden from rejoining the Iran nuclear deal without robust conversations with the Kingdom and other Arab and Israeli allies in the region?
How can the Kingdom formalize and intensify an effective regional alliance against the Iran threat?
How can MBS reset international opinion him and the Kingdom in order to attract foreign direct investment and millions of international tourists, both of which are critical to the success of his vision 2030 economic reform agenda?
ALL ARAB NEWS Poll Finds Vast American Support for Saudi-Israel peace
Americans, it seems, are eager for a potential Saudi-Israeli deal. A poll conducted exclusively for ALL ARAB NEWS showed that 80 percent of Americans  overwhelmingly want Saudi Arabia to be the next country to join the Abraham Accords.
Poll respondents were asked to evaluate the following statement: "Now that the U.S. has helped the United Arab Emirates, the Kingdom of Bahrain and the Republic of Sudan sign full peace treaties and normalization agreements with the State of Israel, I believe that the Kingdom of Saudi Arabia should be the next Arab country to make peace with Israel. The next president, whoever it is, should make brokering an Israeli-Saudi peace treaty one of his top foreign policy priorities."
Some 78.4 percent of Americans said they agreed.
ALL ARAB NEWS wondered whether these numbers could cause the Saudis to announce a "desire to move forward with a normalization agreement with Israel if they have already concluded such a deal would be in the Kingdom's own national interest?"
The survey was conducted by McLaughlin & Associates between Nov. 1-4, 2020, of 1,000 actual U.S. voters and had a margin of error of +/- 3.1% with a 95% confidence interval.

Joel C. Rosenberg is the editor-in-chief of ALL ISRAEL NEWS and ALL ARAB NEWS and the President and CEO of Near East Media. A New York Times best-selling author, Middle East analyst, and Evangelical leader, he lives in Jerusalem with his wife and sons.
A message from All Israel News
Help us educate Christians on a daily basis about what is happening in Israel & the Middle East and why it matters.
For as little as $5, you can support ALL ISRAEL NEWS, a non-profit media organization that is supported by readers like you.
Donate to ALL ISRAEL NEWS
Current Top Stories
Comments