After hesitation, Evangelical leaders begin reacting to blow up between Trump and Netanyahu, going on-the-record with ALL ISRAEL NEWS
Few Christians had any idea that Trump felt betrayed by – much less angry at – Bibi until now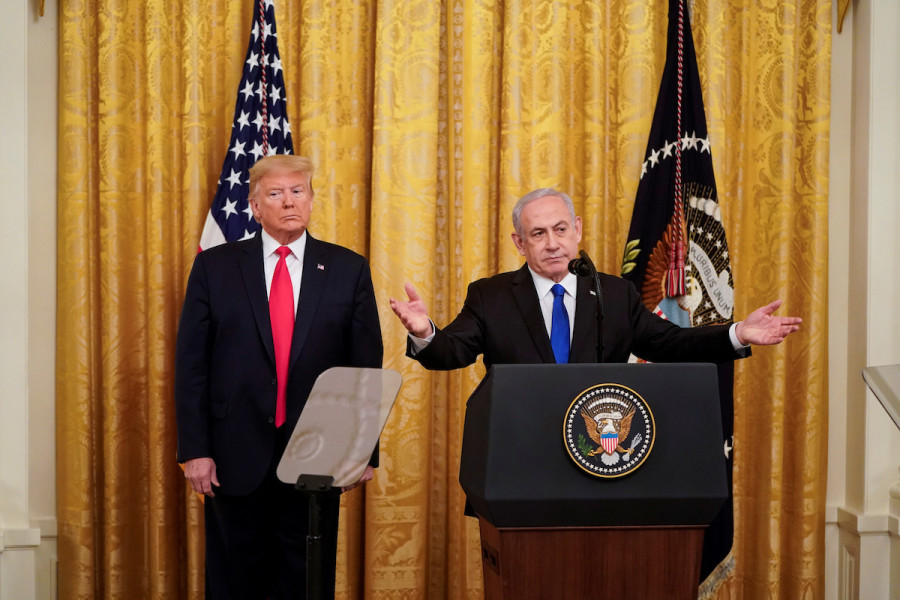 U.S. President Donald Trump and Israel's Prime Minister Benjamin Netanyahu deliver joint remarks on a Middle East peace plan proposal in the East Room of the White House in Washington, U.S., Jan. 28, 2020. (Photo: Joshua Roberts/Reuters)
NEW YORK CITY—Evangelical reactions to the big story in Israel has been uncharacteristically slow in coming.
When the news first broke in Israel last Friday morning that former President Donald J. Trump had gone on-the-record to trash former Israeli Prime Minister Benjamin "Bibi" Netanyahu – going to far as to say, "F*** him" – it was certainly a bombshell.
ALL ISRAEL NEWS quickly published an account of the stunning scoop from Israeli reporter Barak Ravid's new book – TRUMP'S PEACE – to inform our mostly Evangelical Christian readers.
I was interviewed about the story on Newsmax TV on Friday afternoon.
The first reaction I got from Evangelicals all over the U.S. was shock and disbelief.
They all certainly believed Trump was capable of dropping an F-bomb on his adversaries and enemies. They just couldn't process the notion that he would use such language against a close friend, and couldn't understand why.
Many readers – not Evangelical leaders, but rank-and-file readers – attacked me on Twitter and on Facebook as peddling "fake news."
But this was not fake news.
I had heard the audio of the interview for myself – and not just the soundbite but the context.
Trump really did say it. And he meant it. Trump really does feel deeply betrayed by – and angry at – the former Israeli premier.
INITIAL RELUCTANCE TO COMMENT
So, ALL ISRAEL NEWS continued to report the story, explaining why we knew the story really was true, publishing an exclusive interview with Ravid, and beginning to consider the implications of such a sharp break between these two world leaders who seemed so close and who accomplished so much together. 
From the beginning, I reached out to a wide range of Evangelical leaders to get their reactions, but at first no one wanted to go on-the-record.
They wanted to be sure it was really true. And once they realized it was, they wanted some time to process what they thought and whether they wanted to say anything.
NOW EVANGELICAL LEADERS ARE TALKING – SOME, ANYWAY
Most Evangelical leaders tell me they don't want to comment, for a variety of reasons.
Still, some have decided to share their thoughts with ALL ISRAEL NEWS because the story is so important and because they hope and believe that the rift can be repaired.
"So very sad," said former Gov. Mike Huckabee, who hosts a weekly program on TBN, the world's largest Christian TV network, and serves on the Advisory Board for ALL ISRAEL NEWS.
"It's bad enough [for Trump] to use the vulgar language to express a personal hurt, but to embrace [Palestinian Authority President Mahmoud] Abbas is just plain inexplicable," Huckabee – a good and loyal friend of both leaders – told me.
"It would have been so easy for him [Trump] to simply say, 'I'm disappointed that after all we've been through together, that Bibi would be in such a rush to cozy up to Joe Biden, whose policies favoring Iran and punishing Israel have not been helpful to anyone but Iran.'"
Amb. J. Kenneth Blackwell, the former Secretary of State of Ohio, was in charge of Trump's domestic policy transition team in 2016. He also serves on the board of Near East Media, the non-profit organization that runs ALL ISRAEL NEWS and ALL ARAB NEWS.
"The relationship between these two strong-willed leaders is both simple and complex," Blackwell told me.
"On the simple side, they agree on the shared foundational interests of their two nations. On the complex side, they both are demanding in their personal relationships."
"This personal dust-up between the two will blow over when matters of state are once again on the table," he predicted, stressing his optimism.
Jack Graham is the senior pastor of Prestonwood Baptist Church in Dallas, Texas, and the former president of the Southern Baptist  Convention, overseeing some 4 million Baptists worldwide. He also recently joined the Advisory Board of ALL ISRAEL NEWS.
"The relationship between Israel and the U.S. and its leaders is essential for both nations and the world," Graham said.
"For this reason it will be important for former President Trump to reconcile with Benjamin Netanyahu and clarify his reported remarks. Both men must rise above personal emotions and move forward and continue to unite around the mutual goals of our two countries." 
A RELATIONSHIP BASED ON THE BIBLE, NOT ON SPECIFIC POLITICAL LEADERS 
Even Christian leaders who didn't want to speak on the record emphasized to me that their love for Israel and the Jewish people is based on the teachings of the Bible – both Old and New Testaments – and transcends any particular president or prime minister.
Over and over again, they noted that while they greatly appreciate the accomplishments of Trump and Netanyahu, and faithfully pray for both men and their families, Evangelical support for the Jewish state is not beholden to either man.
Johnnie Moore was the co-chairman of Trump's Evangelical advisory council at the White House, and was close both to the former president and to a wide range of Evangelical leaders around the U.S.
He also served as a commissioner on the U.S. Commission on international Religious Freedom (USCIRF), and currently serves as a member of the ALL ARAB NEWS Advisory Board.  
"Certainly, the relationship between American Evangelicals and Bibi preceded the relationship with President Trump by many, many years," Moore noted. "But Bibi was an Israeli prime minister and Trump was an American president. There's a difference between the two for Americans."
"Trump and Bibi were a good team, and not because they always agreed and not because they always shared the same motivations, but because they acted, and acted creatively, when others just talked."
"Most voters are interested in what politicians DO, not just what they SAY," he added. 
Moore went on to point out that "Evangelicals aren't beholden to any politician or political party. When politicians do what's right, we'll celebrate them – Trump or Biden, Bennett or Bibi – and when they do something we think is wrong we will tell them, but often privately, as long as we have the opportunity to do so privately."
"Here's what I'm sure of," Moore said. "Whoever is in Jerusalem or Washington, D.C. when it comes to Israel, they can count on the friendship of the hundreds of millions of Evangelicals around the world, and that includes at least one-third of the electorate in the United States."

Joel C. Rosenberg is the editor-in-chief of ALL ISRAEL NEWS and ALL ARAB NEWS and the President and CEO of Near East Media. A New York Times best-selling author, Middle East analyst, and Evangelical leader, he lives in Jerusalem with his wife and sons.
A message from All Israel News
Help us educate Christians on a daily basis about what is happening in Israel & the Middle East and why it matters.
For as little as $5, you can support ALL ISRAEL NEWS, a non-profit media organization that is supported by readers like you.
Donate to ALL ISRAEL NEWS
Current Top Stories
Comments