Why is an Israeli Arab Christian businesswoman running for Knesset with Defense Minister Benny Gantz's party?
In exclusive interview with ALL ISRAEL NEWS, Ilham Hazen shares her views – and notes Gantz will automatically become Prime Minister in November if nation forced to go to 5th round of elections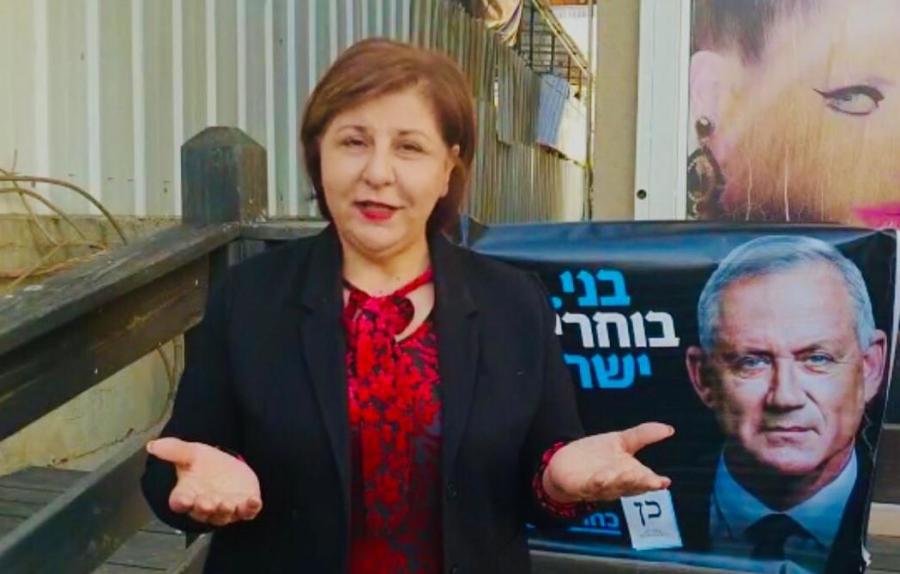 Ilham Hazen (photo credit: Blue & White party)
JERUSALEM – As part of ALL ISRAEL NEWS' continuing coverage of a wide range of Israeli candidates and political parties, I interviewed Ilham Hazen, a Christian Arab businesswoman from northern Israel who is running for the Knesset with Blue and White, the centrist party founded by Defense Minister Benny Gantz.
One of the most intriguing things Hazen told me is that based on the coalition agreement that Gantz signed with Prime Minister Benjamin Netanyahu earlier this year, if the nation is forced to go to a fifth round of elections, Gantz will automatically become prime minister in November and will remain so until a new government is formed. 
A senior Blue and White advisor confirmed to me that this is accurate – and that if Israel had to go to a sixth election, Gantz would actually remain PM.
Beyond this, Hazen made a heartfelt case for Gantz as a centrist statesman who, among other positive qualities, has demonstrated his commitment to help Israeli Arabs and Christians.
As we reported on March 9, Gantz recently visited Hazen's church in Haifa as part of his outreach both to Israel's Arab and Christian communities. 
My interview was conducted via email and Hazen's answers in Arabic were translated into English by the Blue and White staff.
ROSENBERG: Do you see a change in Israeli-Arab society with regard to wanting more involvement in Israeli politics and to be more integrated into Israeli society?
HAZEN: Israeli Arabs understand that they have to be an important and integral part of the State of Israel. The failed efforts of the [Arab] Joint List to solve the problems of Arab society has led to both the formation of new parties by us Israeli Arabs, and to Jewish parties – such as Blue and White – including Arabs in their lists in an effort to appeal to Arab society. I think we need to work and to act to be a practical part [of wider Israeli society] and not a "state within a state" – rather, [we need to become] an important and integral part of the State of Israel.
ROSENBERG: Why have you specifically agreed to be part of Blue and White and run with Benny Gantz?
HAZEN: I was with Blue and White in the last election, and I chose to stay with them [for this election]. I believe that, out of all the party leaders today, Benny Gantz is the most suitable. He's a respectable, statesman-like person who can bring a different tone to the Israeli political discourse. He wants unity – he wants us all to be equal under the law and under the State of Israel. He does not differentiate between people, and this is a very, very important thing. I believe that, once the election is over, Blue and White will end up with a central and decisive position in the newly-formed government. If there is no decision and we go to a fifth election, then Benny Gantz, according to the coalition agreement, will be prime minister in November. Therefore, we, in both Jewish and Arab society, must ensure that Benny Gantz and Blue and White remain in the Knesset.
ROSENBERG: What kind of policies are you trying to advance to help Israeli Arabs? 
HAZEN: Israeli Arabs will be helped most by policies that are inclusive and embracing. The government of Israel and the Israeli establishment must recognize this fact, and treat Israeli Arabs as an integral part of the state – as equal citizens. We must give them the rights they deserve, and deal with the very difficult problems that have been around for many years and are constantly getting worse. The government has presented plans that have not been resolved, and are getting harder to achieve [the longer we wait]. Warm and embracing policies for the Arab public will be much better for both the Jews and us.
ROSENBERG: Why should Arab Christians in Israel consider voting for you, Gantz and Blue and White?
HAZEN: The Christian people in Israel are a dignified and peaceful community, seeking integration and inclusion within the state's establishments. I believe that, as such, we deserve better representation and that Blue and White's efforts to engage with all parts of society and foster greater cohesion are essential to advance that goal. 
ROSENBERG: All the Arab Knesset Members who are part of the Joint List voted against the Abraham Accords, the historic peace agreements with the United Arab Emirates, Bahrain, Sudan and Morocco. How do you view the Abraham Accords?
HAZEN: In my eyes, the Abraham Accords are great. They are a very important direction for coexistence and partnership between Arabs and Jews. I want more Arab countries to join in, [so that] the whole Middle East will eventually live in peace, side by side. No one has another place to live, so we Jews and Arabs, working together, must find the best joint path – the path of peace – so that we can live next to each other without fear, in friendship, good neighborliness and partnership. 

Joel C. Rosenberg is the editor-in-chief of ALL ISRAEL NEWS and ALL ARAB NEWS and the President and CEO of Near East Media. A New York Times best-selling author, Middle East analyst, and Evangelical leader, he lives in Jerusalem with his wife and sons.
A message from All Israel News
Help us educate Christians on a daily basis about what is happening in Israel & the Middle East and why it matters.
For as little as $5, you can support ALL ISRAEL NEWS, a non-profit media organization that is supported by readers like you.
Donate to ALL ISRAEL NEWS
Current Top Stories
Comments