Whoopi Goldberg's revolting remarks about Jews and the Holocaust should be roundly condemned
Her vile comments on "The View" were ignorant and offensive — and prove why sound Holocaust education is more important and urgent than ever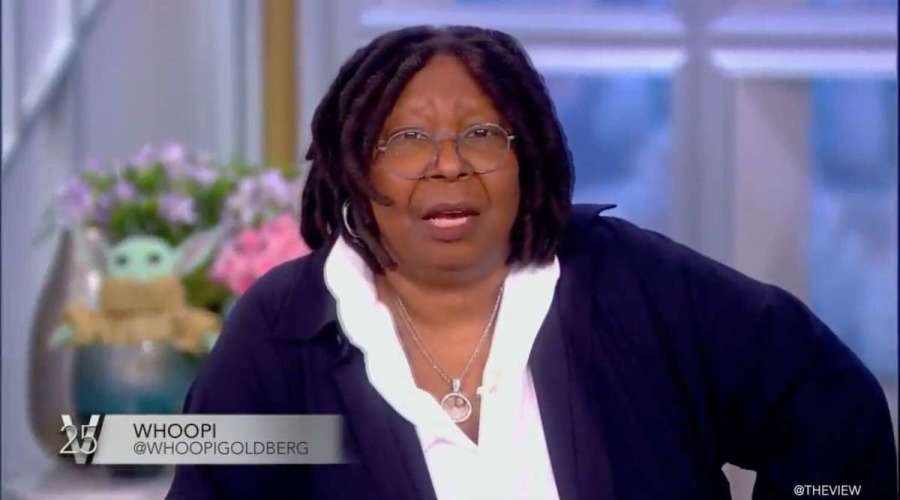 Whoopi Goldberg on "The View" (Photo: Screenshot)
JERUSALEM—Can someone explain to me why exactly Whoopi Goldberg is a daytime talk show host in the United States? 
She has absolutely no idea what she's talking about on so many issues, but she's really gone too far in her most recent comments on Jews, the Holocaust and anti-Semitism. 
On Monday, the Hollywood actress, comedienne and co-host of "The View" uttered some of the most ignorant and offensive arguments I've ever heard in the mainstream media.
THE CONTEXT
The discussion was about the recent 10-0 decision by a school board in Tennessee to ban the book, "Maus: A Survivor's Tale," a Pulitzer Prize winning graphic novel — written and illustrated by Art Spiegelman, who is Jewish — to tell the story of his family's horrifying experiences going through the Holocaust. 
"We don't need to enable or somewhat promote this stuff" about the Holocaust and the systematic murder and extermination of six million Jews in Europe during the Nazi regime. "I am not denying it was horrible, brutal and cruel."
"It shows people hanging," the board member added. "It shows them killing kids. Why does the education system promote this kind of stuff? It is not wise or healthy."
The move sparked a nationwide controversy, suddenly boosting sales of "Maus" and driving it up the Amazon bestseller list.

THE REMARKS
During the discussion on "The View," Whoopi insisted her fellow co-hosts "be truthful" and admit that, "the Holocaust isn't about race."
Despite repeated pushback from the others who kept saying, "It is," Whoopi repeatedly insisted, "No! It's not about race."
She tried to argue that Jews are white and thus the Nazi era was about white people attacking and killing other white people.
"It's about man's inhumanity to man — that's what it was about," Whoopi said, "it's not about race."
To her credit, Ana Navarro rightly countered the nonsense, trying to explain to Whoopi that the Holocaust was at its core about the horrors of "white supremacy," about the Aryan race deciding that Jewish people were an inferior race that had absolutely no rights whatsoever, including the right to live. 
But Whoopi would have none of it, saying, "But these are two white groups of people!" 
Whoopi Goldberg's revolting remarks about the Holocaust should be roundly condemned by all, especially by Evangelicals who understand God's great love for Israel and the Jewish people.
Her vile comments — especially so close after International Holocaust Remembrance Day last Thursday — were ignorant and offensive.
They prove yet again why sound Holocaust education is more important and urgent than ever, and not just for all children but for all adults. 
THE APOLOGY
After the show and the uproar it caused, Whoopi issued an apology.
"On today's show, I said the Holocaust 'is not about race, but about man's inhumanity to man.' I should have said it is about both," she said in a statement on Twitter Monday night. 
"As Jonathan Greenblatt from the Anti-Defamation League shared, 'The Holocaust was about the Nazi's systematic annihilation of the Jewish people — who they deemed to be an inferior race.' I stand corrected."
I'm glad that she corrected herself, but a solitary tweet isn't enough.
Whoopi needs to actually apologize — on air to the millions who watch "The View."
But she should also do more to help herself and others replace ignorance with education. 
She and her colleagues should do an entire program from the Holocaust Museum in Washington.
And invite the author/illustrator of "Maus" to come on the program to discuss his story.

Joel C. Rosenberg is the editor-in-chief of ALL ISRAEL NEWS and ALL ARAB NEWS and the President and CEO of Near East Media. A New York Times best-selling author, Middle East analyst, and Evangelical leader, he lives in Jerusalem with his wife and sons.
A message from All Israel News
Help us educate Christians on a daily basis about what is happening in Israel & the Middle East and why it matters.
For as little as $5, you can support ALL ISRAEL NEWS, a non-profit media organization that is supported by readers like you.
Donate to ALL ISRAEL NEWS
Current Top Stories
Comments