ABRAHAM ACCORDS – TWO YEAR ANNIVERSARY
'We are changing the face of the Middle East,' Prime Minister Lapid tells UAE foreign minister in trip I suspect sets the stage for historic state visit by UAE President MBZ
I had the opportunity to see my friend Sheikh Abdullah bin Zayed yesterday, who has become an increasingly close friend of both Israel and Evangelical Christians. Here's what I saw.
UAE Foreign Minister Sheikh Abdullah bin Zayed Al Nahyan visits the Yad Vashem Holocaust Memorial and Museum in Jerusalem, Sept. 15, 2022. (Photo: Yad Vashem/Miri Shimonovich)
HERZLIYA PITUACH, ISRAEL—Though it received no coverage in the increasingly clueless and pathetic international media, yesterday was a big day in the history of Arab-Israeli relations.
Why?
Because Sheikh Abdullah bin Zayed visited Jerusalem.
Sheikh Abdullah is the UAE's minister of Foreign Affairs and International Cooperation.
He is the younger brother of UAE President Mohamed bin Zayed, widely known by his initials, MBZ.
He is the son of Sheikh Zayed al Nahyan, the founder of the modern Emirati state, which received its independence from the British in 1971 and has become the most technologically advanced, peaceful, and prosperous nations in the entire Arab world.
He is also one of the co-architects of the Abraham Accords, having worked closely with his older brother and with Yousef al-Otaiba, the UAE's ambassador in Washington, in crafting the historic peace and normalization agreement with Israel.
On Sept. 15, 2020, it was Sheikh Abdullah who was present at the White House to actually sign the Abraham Accords with his Bahraini counterpart, Israeli Prime Minister Benjamin Netanyahu, and U.S. President Donald Trump.
Yesterday was not the first time Sheikh Abdullah has been to Israel – that occurred in March when he joined his fellow foreign ministers from Israel, Egypt, Bahrain, and Morocco at The Negev Summit in southern Israel.
That said, it was the UAE leader's first time ever to visit Jerusalem, thus making Sheikh Abdullah the highest ranking Emirati official ever to visit Jerusalem.
It was his first time to Yad Vashem, the Holocaust memorial.
It was his first time to the Israeli shores of the Mediterranean in a city north of Tel Aviv called Herzliya Pituach.
But I believe this is just the beginning.
I suspect the trip is laying the groundwork and setting the stage for a dramatic, historic and exciting state visit to Israel by the UAE President Mohammed bin Zayed.
To be clear, no one has said that publicly.
But MBZ personally told me when I brought a group of Evangelical leaders to meet with him in Abu Dhabi in October 2019 that he wanted two things: 1) to make peace with Israel; and 2) to visit Jerusalem for the first time in his life.
Having accomplished the first goal, now I believe that MBZ is eager to accomplish the second.
It's going to happen – MBZ is coming to Jerusalem – and when he does, it will be huge.
WHERE DID SHEIKH ABDULLAH GO THURSDAY?
Landing late Wednesday night, the foreign minister began Thursday in Jerusalem at the Israeli President's Official Residence.
There he had a working lunch with President Isaac Herzog.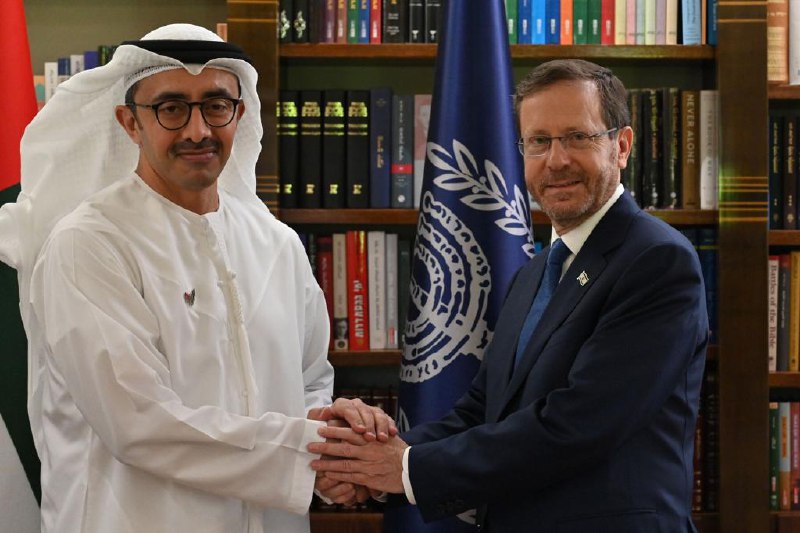 Israeli President Isaac Herzog welcomes UAE Foreign Minister Sheikh Abdullah bin Zayed Al Nahyan to the President's Residence in Jerusalem, Sept. 15, 2022 (Photo: Kobi Gideon/GPO)
Next, Sheikh Abdullah traveled to Yad Vashem, Israel's Holocaust museum, memorial and research center.
The Emirati thus became one of the few Arab Muslim leaders ever to do so.
There, he honored the 6 million Jews who perished in the Holocaust, laid a wreath in the Hall of Remembrance, and signed the guestbook.
"I am here today to remind ourselves of the lessons that history teaches us and the great responsibility upon us to act with tolerance for building our community and society," he wrote. "We must take the brave step of building a bridge of true peace for the coming generations."
Then, Sheikh Abdullah went to the Prime Minister's Residence.
He was greeted with a bear hug and a broad smile by Israeli Prime Minister Yair Lapid, who was Israel's foreign minister when he first became friends with the Sheikh.
The two discussed a range of economic, trade, agriculture and tourism matters.
But "Topic A" was how to handle the rapidly rising Iranian threat and the Biden's administration apparent unwillingness to get tough with Tehran.
The two then spoke to reporters.
"My friend, together, we are changing the face of the Middle East," Lapid told his esteemed guest. "We are changing it from war to peace, from terrorism to economic cooperation, from a discourse of violence and extremism to a dialogue of tolerance and cultural curiosity."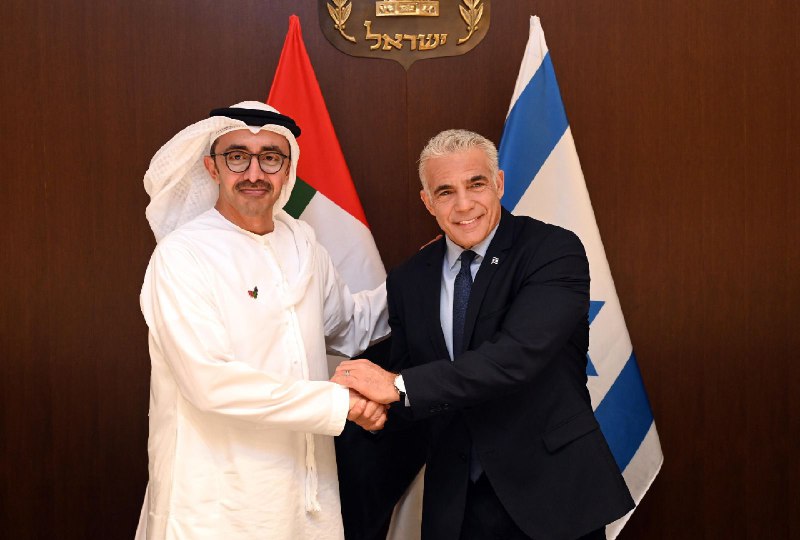 Israeli Prime Minister Yair Lapid meets with UAE Foreign Minister Sheikh Abdullah bin Zayed Al Nahyan, Sept. 15, 2022 (Photo: Haim Zach/GPO)
A BEAUTIFUL RECEPTION FOR A TRUE FRIEND OF ISRAEL
Next, Sheikh Abdullah traveled by motorcade from the Israeli capital to Herzliya Pituach.
Here, he was again greeted by Herzog who held a beautiful reception for him in celebration of the Abraham Accords and the extraordinary boldness and courage shown by Emirati leaders to break the quarter-century stalemate in Arab-Israeli peacemaking and usher in a new – and far warmer – era of peace and cooperation.
Trade between Israel and the UAE is expected to nearly double this year to $2 billion, and soar to $5 billion soon.
Several hundred thousand Israelis have traveled to the UAE over the past two years to see the gorgeous Gulf country for themselves.
Direct flights between the countries are packed.
But this is just the beginning.
Soon, we pray, large numbers of Emirati Muslims will begin coming to Israel to worship at the al Aqsa Mosque in Jerusalem, visit the Dome of the Rock, and tour Jewish and Christian holy sites and Israel's many historic wonders, as well.
I was honored and grateful to be invited by Mohamed Al Khaja, the UAE ambassador to Israel, to attend the reception, which was held on the rooftop of the Ritz Carlton.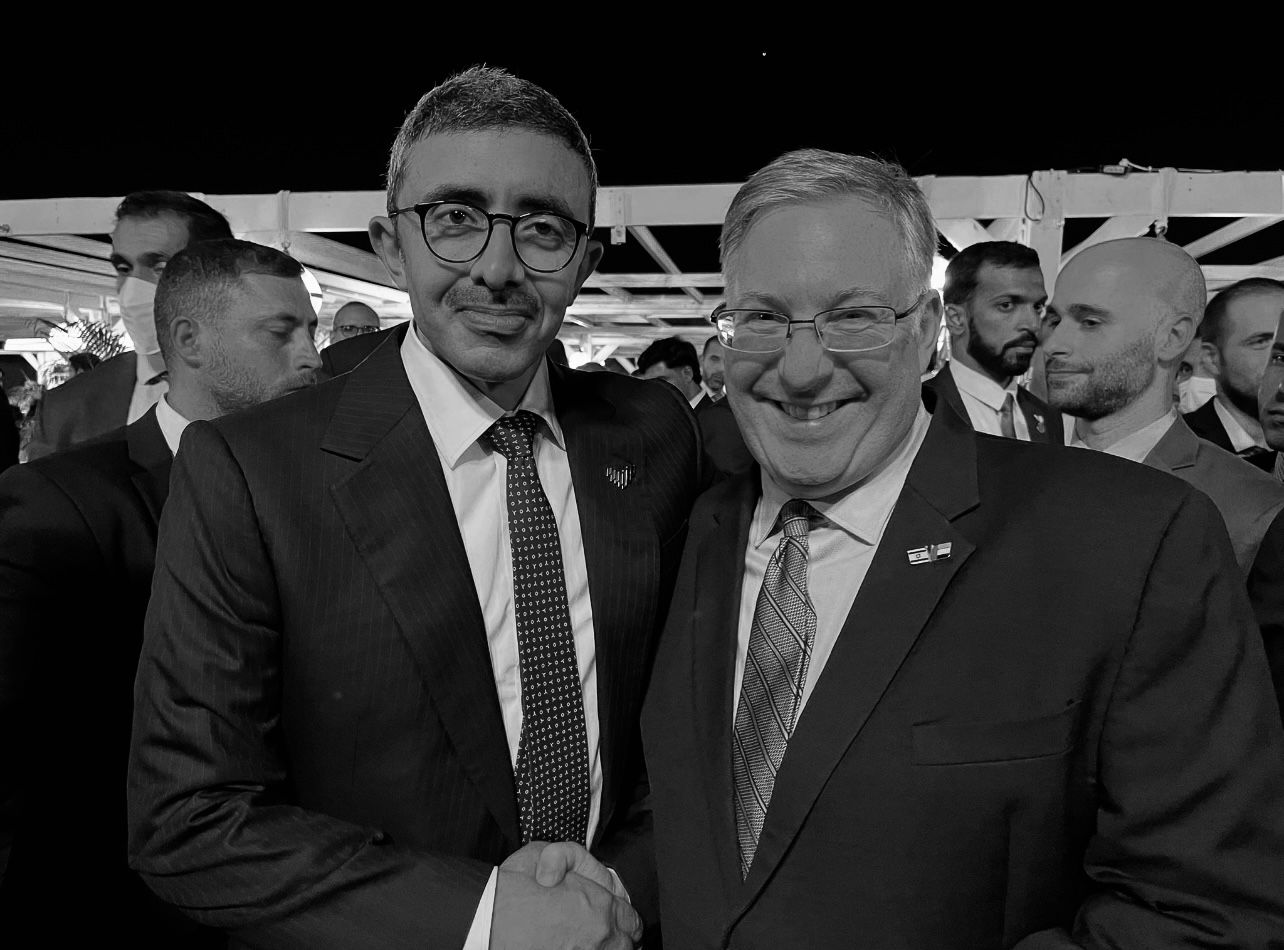 Joel C. Rosenberg and UAE Foreign Minister Sheikh Abdullah bin Zayed Al Nahyan, Herzliya, Sept. 15, 2022 (Photo: ALL ISRAEL NEWS)
After Herzog and Sheikh Abdullah made remarks, Herzog and his wife departed back to Jerusalem.
But Sheikh Abdullah stayed, mingled, shook hands with guests, answered their questions, invited them to come visit the UAE and posed for pictures (even though security had initially asked people not to pull out their mobile phones).
I was one of the first to have the opportunity to greet him.
Having spent hours with Sheikh Abdullah over the years in Abu Dhabi, the capital of the UAE – including in April when I brought the first ever "Abraham Accords Delegation of Evangelical Business & Media Leaders" to see him – it was a blessing to be able to see him for my first time in my own country.
I welcomed him to Israel and thanked him and MBZ for all they have done, not only to advance peace but to open the way for Bahrain, Sudan, Morocco and Kosovo to follow.
"It's great to see you again, Joel, and congratulations!" he told me with a broad smile as he took my hand.
"Why are you congratulating me?" I asked in surprise. "You and your brother are the ones changing history, my friend."
Nevertheless, he insisted that I and other Evangelical Christians have helped make this peace possible.
I introduced him to my friend, Hananya Naftali, who serves as media aide to former Prime Minister Benjamin Netanyahu.
I also introduced him to Ariel Kahana, the diplomatic correspondent for Israel Hayom, the country's largest daily Hebrew newspaper.
Kahana asked when he thought other Arab countries, particularly Saudi Arabia, were likely to join the accords.
In his soft-spoken and gentle manner, Sheikh Abdullah replied that the key to persuading other Arab nations to normalize relations with Israel is to prove to the region and the world that the Abraham Accords are working and are great blessing to both sides.
"We've got to make this work," he said. "The point right now is not to get other countries to join. It's to deepen and widen and strengthen economic and security relations and expand tourism between the countries that have already joined the Abraham Accords. We need to create the conditions so that other countries say, 'Why haven't we joined yet?'"
WHO WAS AT THIS LOVELY RECEPTION?
While there only a few hundred guests at the reception – it felt very private and intimate – those who attended were a veritable "Who's Who" of Israel's legislative and diplomatic corps, along with various ambassadors and a few journalists.
Here's just a partial list of the folks I chatted with: 
Former Israeli Prime Minister Benjamin Netanyahu and his wife, Sara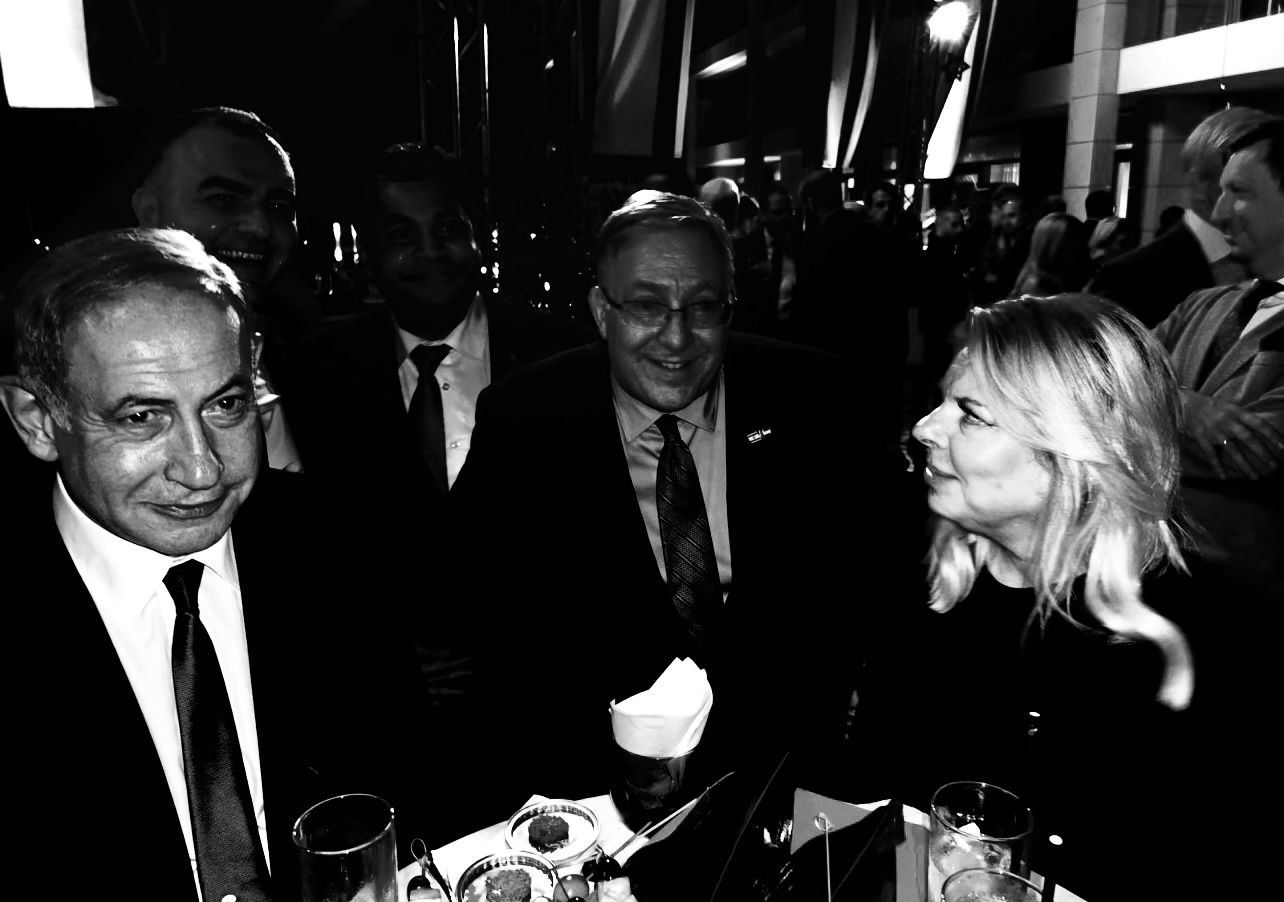 Joel C. Rosenberg with Benjamin and Sara Netanyahu, Herzliya, Sept. 15, 2022 (Photo: ALL ISRAEL NEWS)
Avi Berkowitz, former senior advisor to President Donald Trump and a co-architect with Jared Kushner of the Abraham Accords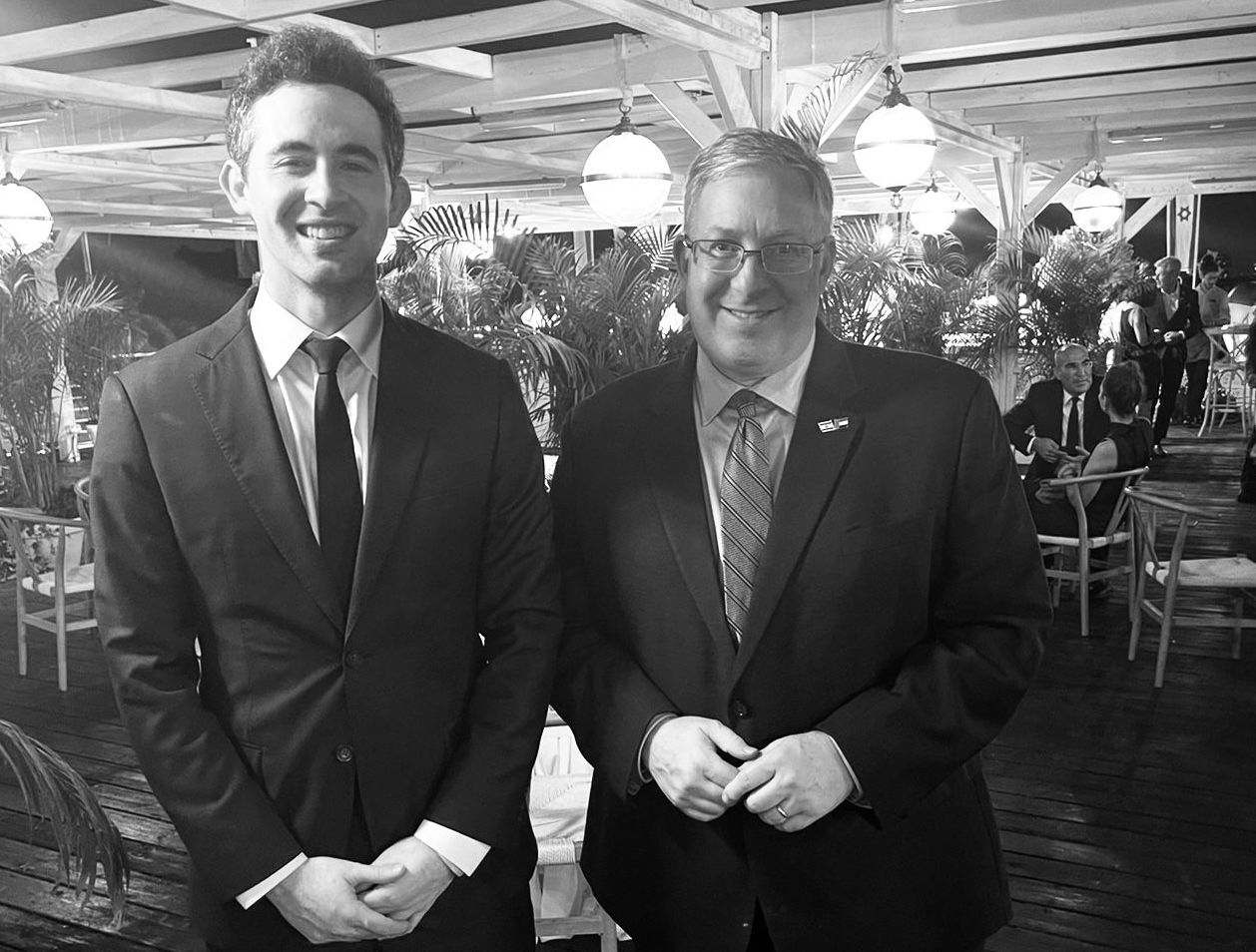 Joel C. Rosenberg and Avi Berkowitz, Herzliya, Sept. 15, 2022 (Photo: ALL ISRAEL NEWS)
Her Excellency Noura bint Mohammed Al Kaabi, the UAE's Minister of Culture and Youth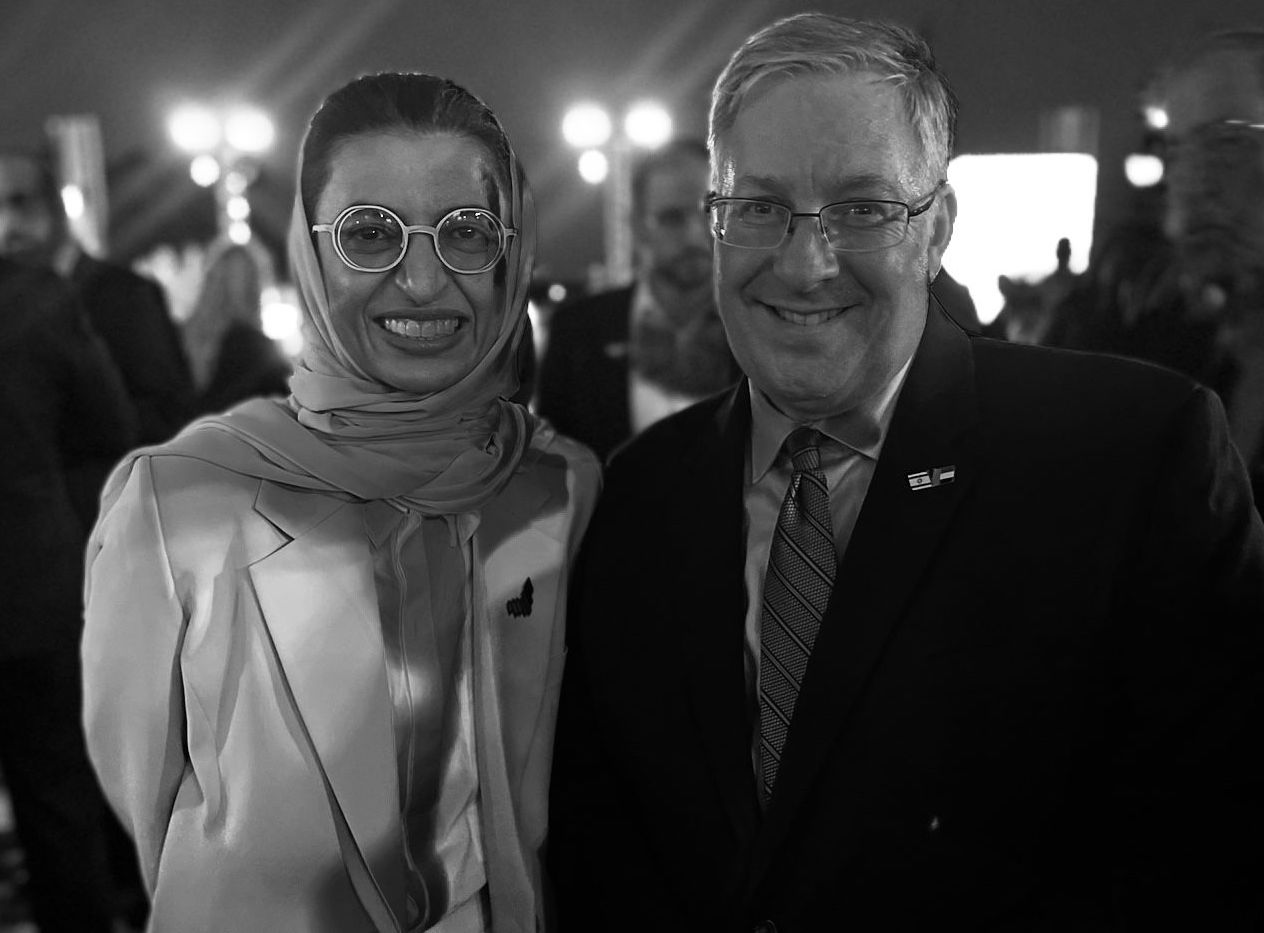 Joel C. Rosenberg and Noura bint Mohammed Al Kaabi, Herzliya, Sept. 15, 2022 (Photo: ALL ISRAEL NEWS)
Amir Hayek, Israel's ambassador to the UAE

Esawi Frej, an Arab-Israeli Muslim who is a member of Knesset from the Meretz Party and currently serves as Israel's minister of Regional Cooperation

Ofir Akunis, a member of Knesset in the Likud Party who served under Netanyahu as minister of Regional Cooperation and is currently the co-chair of the Abraham Accords Caucus in the Knesset

Ruth Wasserman Lande, a member of Knesset from the Blue & White Party who is the other co-chair of the Abraham Accords Caucus in the Knesset 

Asher Fredman, director of the Israeli office of the Abraham Accords Peace Institute, founded by Jared Kushner

David Aaronson, deputy director of the Israeli branch of the Abraham Accords Peace Institute, and former senior advisor to Akunis when he was minister of Regional Cooperation

Tom Nides, the U.S. ambassador to Israel

Barak Ravid, Israel's leading diplomatic correspondent

Seth Frantzman, Middle East analyst and security correspondent for The Jerusalem Post

Michael Divon, UAE correspondent for the Khaleej Times
Other prominent Emirati and Israeli officials that I noticed were there but didn't have a chance to connect with included 
Her Excellency Reem Ebrahim Al Hashimy, minister of State for International Cooperation

Yossi Cohen, former Mossad chief

Yuval Steinitz, former minister of Intelligence and Minister of Energy

Ron Dermer, Israel's former ambassador to the U.S., Netanyahu's most trust advisor on foreign policy and a co-architect of the Abraham Accords
WHAT DID THEY SAY?
Below are Sheikh Abdullah's remarks at the reception in Herzliya:
Two years ago, on the 15th of September 2020, my country charted a new path for the region. The signing of the Abraham Accords, led to the thriving and dynamic relationship our countries enjoy today.
We must continue building on this strong foundation to contribute to peace, stability, and prosperity in the region.
The Abraham Accords were based on a simple premise: that diplomacy and communication would promote greater stability, prosperity, and hope. Today, we can say with great confidence that the premise was correct.
We are building a brighter future together by expanding opportunities for our peoples, and people across the region. The UAE's founding principles of coexistence, tolerance and inclusiveness form the basis of our vision for a more peaceful and prosperous region.
Over the last five decades, we have become home to more than 200 nationalities, and we have recently welcomed a growing number of Israeli tourists, students and entrepreneurs, reaching about half a million visitors.
This has bolstered our people-to-people ties, strengthening the human dimension to our relationship.
In that spirit, the stability of the region can only be fully realized by finding a solution to the Palestinian issue. This solution must meet the legitimate aspirations of the Palestinian people, including establishing an independent state. The UAE will continue to support all peaceful initiatives that aim to facilitate the fulfillment of these hopes.
The Abraham Accords are also a gateway to solving global issues that call on us to cooperate: climate change, science and technology, healthcare, food and water insecurity, and much more. And in this regard, it is important to highlight the positive impact the accords have already had by changing the narrative and developing new frameworks for cooperation and dialogue.
This has continued beyond the region. Earlier this year, the UAE, Israel, India and the U.S. formed the 'I2U2' grouping. This working group is facilitating deeper cooperation in critical areas and building stronger partnerships from the Middle East to Asia and America.
The center of all our efforts is a shared commitment to shape a new history for our part of the world. The Middle East is the birthplace of Judaism, Christianity, and Islam; from the region, these great religions spread the light and comfort of faith around the world.
Today, however, peaceful coexistence is threatened by extremism, hate speech, and violence. These threats must concern all of us, and confronting them will require sustained and joint international effort.
Next year, in Abu Dhabi, we will celebrate the opening of the Abrahamic Family House, consisting of a mosque, a church, a synagogue and an educational center. It will epitomize the universal values which motivated the accords: harmony, coexistence, and understanding, side by side to become an educational center for every sect and religious group, as well as a religious center to embody universal values; values that stimulate harmony, coexistence and understanding.
Yehuda Amichai, one of Israel's greatest poets wrote, 'yet the knowledge of peace makes its way from one place to another like children's games, which are so much alike everywhere you go.'
Over the past two years, our belief in peace has seen us achieve countless milestones. We have turned plans into concrete action, and developed a thriving relationship to help us accomplish our shared strategic objectives.
We will continue this work as we deepen the accords and spread their inclusive vision of a regional community for progress.
Below are Prime Minister Lapid's remarks upon meeting with UAE Foreign Minister Sheikh Abdullah:
Your Highness, Sheikh Abdullah bin Zayed –
This is an historic visit of a regional leader that will advance the regional architecture we have been building this past year in the Middle East.
This is a visit of a strategic partner, that will strengthen economic and security ties between our countries.
This is a visit of a close and dear friend, with whom I can talk about everything.
And my friend: we will indeed discuss everything during your visit here.
Cooperation between our countries is progressing at an unbelievable pace.
Just a month and a half ago, the two of us took part in the virtual summit of the I2U2 initiative together with President Biden, Prime Minister Modi and President Mohammed bin Zayed.
That economic cooperation initiative was born at a dinner you hosted in Washington together with Secretary of State Tony Blinken.
Before that, we met at the historic Negev Forum, together with the foreign ministers of the United States, Bahrain, Morocco and Egypt.
When we thought of creating that meeting, you were the first person I called.
I knew that if you came, others would follow.
That is exactly what happened, and in my eyes: that is the essence of leadership.
Before that, you welcomed me to Abu Dhabi, when we opened Israel's Embassy there.
There and then, you defined our shared goal: To transform the relationship between our countries into a bond between our peoples.
To turn the ties between our governments into ties between businesses.
To ensure that our peoples benefit from our ties.
To allow the instinctive entrepreneurship of our two great nations to drive us forward.
We have made huge strides this past year, but we have not even scratched the surface of the potential for cooperation in all fields— the economy, food security, energy, water, cyber and of course, security.
Last January, I was appalled -- as was every Israeli, and every civilized person -- by the criminal drone attack on your beautiful country.
Israel stands shoulder to shoulder with you in the face of any terrorist attack.
Regrettably, we have experience in this area.
We know how it feels.
And we know which country is behind these attacks.
We know what needs to be done in response, and we know the right way to do it.
My friend, together, we are changing the face of the Middle East.
We are changing it from war to peace, from terrorism to economic cooperation, from a discourse of violence and extremism to a dialogue of tolerance and cultural curiosity.
You may know that the Hebrew word  Shalom has two meanings – both hello and peace.
So, I greet you with shalom, and I wish us all shalom: A blessing of peace.
Welcome to Israel, my dear friend.

Joel C. Rosenberg is the editor-in-chief of ALL ISRAEL NEWS and ALL ARAB NEWS and the President and CEO of Near East Media. A New York Times best-selling author, Middle East analyst, and Evangelical leader, he lives in Jerusalem with his wife and sons.
Popular Articles
A message from All Israel News
Help us educate Christians on a daily basis about what is happening in Israel & the Middle East and why it matters.
For as little as $5, you can support ALL ISRAEL NEWS, a non-profit media organization that is supported by readers like you.
Donate to ALL ISRAEL NEWS
Latest Stories
Comments