THE BIBLE PROPHECY PROJECT
WATCH VIDEO #1: Here's why I'm launching 'The Bible Prophecy Project,' a new series of YouTube videos
27% of all Bible verses are prophecy, yet too few pastors teach on them – so, let's try something different
The Bible Prophecy Project logo (Image: All Israel News
JERUSALEM, ISRAEL – For the last two decades, I've traveled all over the globe trying to help people discover – or rediscover – the purpose and power of Bible prophecy.
After all, prophecy is an intercept from the mind of God.
By it, we come to better understand who God is, what He is like, what He wants from us and how to love and serve Him.

We also get a sneak peek into the future by the only One who really knows what is coming down the line.
We get to see future events – good ones and bad – that God in His sovereignty and kindness wants us to see, to know, to process and to prepare for.
To be sure, I've seen some wonderful and encouraging fruit over the years as I've taught these prophecies.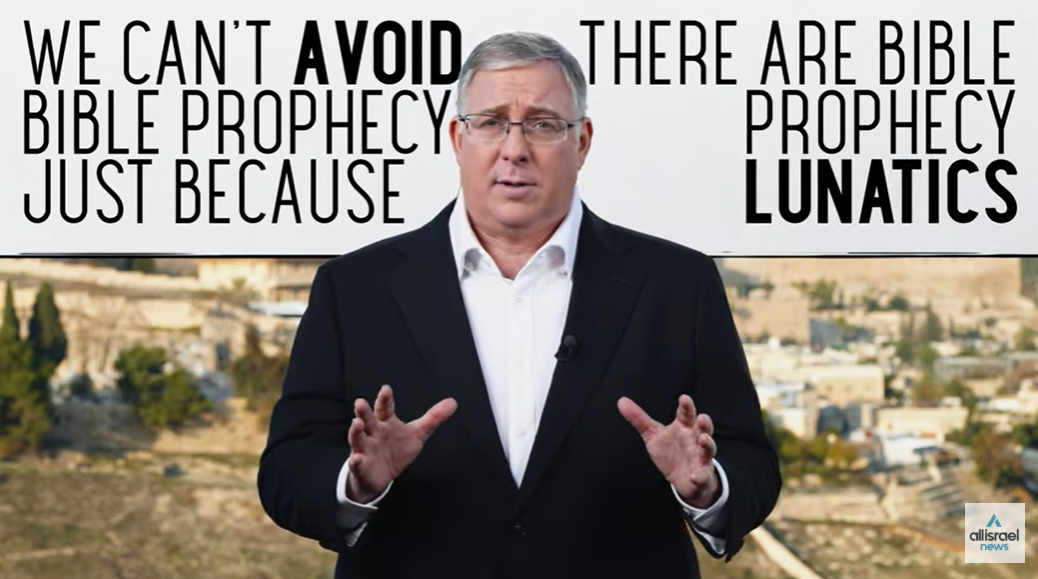 Screenshot from the video
It's so exciting to see people open up the Word of God and have their eyes opened – often for the first time – to eternal truths and future events they never understood, never even imagined, before.
But I have to be honest.
I'm astonished by how few pastors, priests, and ministry leaders are willing to teach Bible prophecy.
Too often they skip it, ignore it, even dismiss or belittle it.
Yet fully 27% of the Bible is prophecy.
About half of those verses describe events that have already come to pass.
They are prophecies spoken by the Hebrew prophets, Jesus Christ, and the apostles and they have already come true. 
But the other half these passages tell us what is yet to come, what will happen in the "eschatological future."
It's a big deal that 27% of the Bible are prophetic verses.
It means that more than 1-in-4 verses of Scripture deal with prophecy.
Why, then, are so many Bible teachers skipping or ignoring such a huge amount of information that God specifically put in the Bible precisely so we would be prepared for what is coming?
I can't tell you how much this grieves me.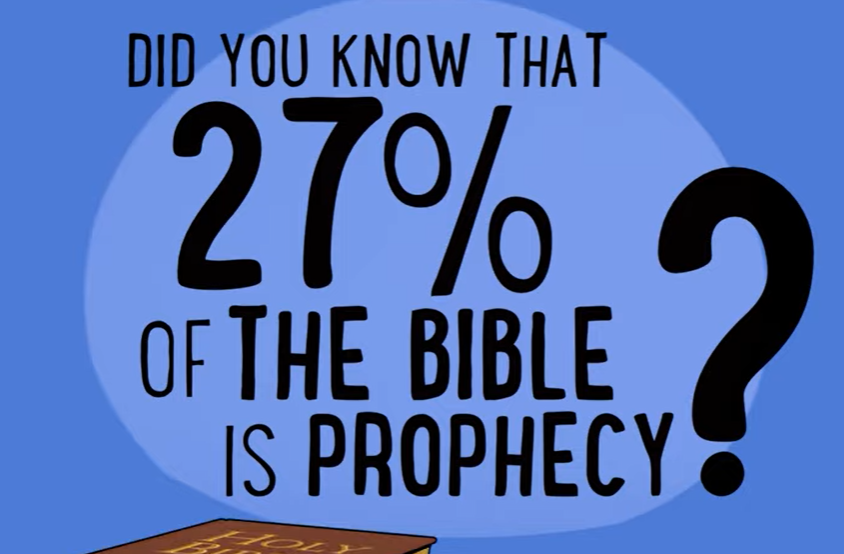 Screenshot from the video
Yet I simply cannot keep traveling all over the planet and racking up bazillions of frequent flyer miles to teach those who are not learning prophecy from the spiritual shepherds charged with their care. 
With all the responsibilities on my plate, I simply don't have the time.
For years I've been asking, "Lord, isn't there a better way?"
And the answer is yes.
There are a number of other ways to help people rediscover the purpose and power of Bible prophecy.
After much prayer, my colleagues at Near East Media (the non-profit that runs ALL ISRAEL NEWS and ALL ARAB NEWS) and The Joshua Fund have decided to help me chart a new path.
Today, we launch THE BIBLE PROPHECY PROJECT.
Lord willing, the project will have a range of strategies.

But the first one is a series of short, educational videos that seek to unpack and explain various portions of prophecy in clear, compelling, and creative ways.
They're designed for everyone:
Adults and children

Those who have studied the Bible a lot and those who are novices

Those who are followers of Jesus Christ and those who are not – or aren't yet
Yes, I could have written a book about all this.
And I still might.
But it strikes me that YouTube videos are a huge way that people learn all kinds of subjects these days.
Why not make videos that can point us to the future – and to eternity?
I hope you enjoy Volume One, "The Power of Prophecy."
Please share it with others on social media.

Send us your questions.
And send us your requests for what other Bible prophecies you want to learn more about.
In the meantime, let me leave you excerpts from the writings of the ancient Hebrew prophet Ezekiel.
It's a fascinating passage to chew on and discuss with your family and friends.
Then He said to me, "Son of man, stand on your feet that I may speak with you!' As He spoke to me the Spirit entered me and set me on my feet; and I heard Him speaking to me."
Then He said to me, "Son of man, I am sending you to the sons of Israel, to a rebellious people who have rebelled against Me…."
You shall say to them, "Thus says the Lord God"….
They will know that a prophet has been among them….
You shall speak My words to them whether they listen or not….
Open your mouth and eat what I am giving you.
Then I looked and behold, a hand was extended to me, and lo, a scroll was in it. When He spread it out before me, it was written on the front and back, and written on it were lamentations, mournings, and woe.
Then He said to me, "Son of man, eat what you find; eat this scroll, and go, speak to the house of Israel."
So, I opened my mouth, and He fed me this scroll.
He said to me, "Son of man, feed your stomach and fill your body with this scroll which I am giving you."
Then I ate it, and it was sweet as honey in my mouth. 
Then He said to me, "Son of man, go to the house of Israel and speak with My words to them."
(Ezekiel 2:1 through Ezekiel 3:4)

Joel C. Rosenberg is the editor-in-chief of ALL ISRAEL NEWS and ALL ARAB NEWS and the President and CEO of Near East Media. A New York Times best-selling author, Middle East analyst, and Evangelical leader, he lives in Jerusalem with his wife and sons.
Popular Articles
A message from All Israel News
Help us educate Christians on a daily basis about what is happening in Israel & the Middle East and why it matters.
For as little as $5, you can support ALL ISRAEL NEWS, a non-profit media organization that is supported by readers like you.
Donate to ALL ISRAEL NEWS
Latest Stories
Comments