UN Watch: Resolving to fix the United Nations' anti-Israel bias
Author writes that the world bodies tend to pick on Israel while ignoring the colossal human rights abuses from North Korea, China, Syria, and Iran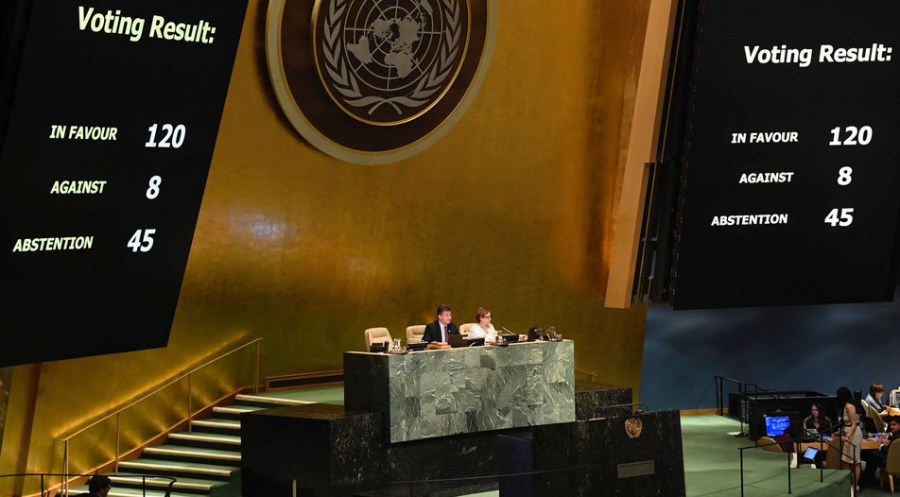 The UN General Assembly votes on and adopts a resolution calling for greater protection for Palestinians, while accusing Israel of 'excessive' use of force (Photo: Evan Schneider/UN)
Gilad Erdan, Israel's ambassador to the U.S. and the United Nations, strode to the podium on Oct. 29 at a special session of the United Nations Human Rights Council (UNHCR) at the UN General Assembly in New York.
"It's always open season on Israel at the Human Rights Council," Erdan declared. He recounted some of UNHCR's earlier examples of exaggerating supposed Israeli human rights transgressions, including the 1975 resolution that Zionism was racism.
Then, in a dramatic step, he tore up the distorted UNHCR report and announced, "Its only place is the dustbin of anti-Semitism, and that is exactly how we shall treat it." Erdan then scolded the UNHCR further for its anti-Israel bias further, declaring, "The suffering of the victims of humanity's greatest crimes goes unnoticed. Shame on you, shame on you, shame on you!"
Proverbs 6:16-19 (NASB) fittingly describes the UN's anti-Israel bias: "There are six things that the LORD hates, seven that are an abomination to Him: haughty eyes, a lying tongue, and hands that shed innocent blood, a heart that devises wicked plans, feet that run rapidly to evil, a false witness who declares lies, and one who spreads strife among brothers."
The special session – held when the UN General Assembly meets in order to discuss an important wide-ranging topic – seems hardly special when you consider that Israel's enemies use it to bludgeon this nation for offenses, real and imagined. In fact, Israel – the world's lone Jewish state – is the only country that is permanently on UNHCR's agenda. Established in 2006, on paper the UNHCR identifies itself with noble goals – to promote and protect human rights around the globe, "guided by principles of universality, impartiality, objectivity and non-selectivity."
But the reality is so much different. Since its inception, the organization has condemned UN nation states 142 times. However, condemning Israel 95 times out of 142 is preposterous.
UNHCR tends to ignore the colossal human rights abuses from North Korea, China, Syria, and Iran – abuses of, for instance, Christians and Muslim Uyghurs in China or Nigerian Christians. I find it astounding that dictatorships such as those in Cuba, Venezuela, and Somalia are nevertheless represented on the 47-member council. 
Fortunately, the United Nations Watch (www.unwatch.org), founded in 1993, has become a powerful instrument for combating untruths about Israel. Located in Geneva, Switzerland, right next door to the UNHCR headquarters, it is a non-profit non-governmental organization (NGO). Its purpose is to scrutinize the performance of the UN using the "yardstick of its own charter" and hold them accountable. 
UN Watch has developed an exceptional, extensive UN Watch Database available online to anyone in the world. The UN Charter, signed in San Francisco on June 26, 1945, contained noble goals to prevent war, promote freedom, and provide peaceful strategies to settle conflicts. Regrettably, their noble goals have long been tarnished by nations that have no business in the UN—as outlined in Article 6 of their charter: "A Member of the United Nations which has persistently violated the principles contained in the present Charter may be expelled from the Organization by the General Assembly upon the recommendation of the Security Council." 
With their consistently biased resolutions, one might think the UN Security Council members had never read Article 6. The Security Council's composition is instructive. With five permanent members – China, France, Great Britain, the Russian Federation, and the United States – and 10 rotating members, the permanent members are a combination of U.S., French, and British democracies, China's brutal communism, and Russia's mixture of dictatorship and democracy.
Exploring UN Watch's database, it is obvious how far the United Nations has strayed from its founding principles. The database is easy to navigate and is full of UN speeches with texts, committees, voting records, and more. This resource links information with actionable items that all clear-thinking citizens can easily implement to oppose the UN's wrong decisions. UN Watch is laser-focused on history, attitudes, propaganda, and resolutions against Israel. It is worth noting that UN Watch's factual submissions correcting UN reports are mostly rejected. 
The executive director of UN Watch is Hillel Neuer. Recognized as one of the world's top human rights advocates, he has an impressive resume – and his dedication is a stellar example for advocacy. McGill University in Montreal, Canada, awarded their Jewish native son an honorary Doctor of Laws in 2018, naming him "a voice for those without one." In various articles, he is described as an activist who is "feared and dreaded" (Tribune de Genève) by dictatorships. The Journal de Montreal commented that Neuer "makes the UN tremble."
Israel's Ma'ariv newspaper listed Neuer as one of the "Top 100 Most Influential Jewish People in the World." His leadership is a blessing not only to all who suffer human rights abuses worldwide. For evangelical Christians who detest the UN's stubborn anti-Israel bias, he represents us! 
Neuer skillfully follows in the footsteps of Morris B. Abram, the Founding Chair who established UN Watch in 1993. Abram's life story is the stuff of legends. Growing up in Fitzgerald, Georgia, he pioneered civil rights litigation, and the American Jewish Committee elected him as president in 1964. A Rhodes Scholar, Abram grew into a globally recognized human rights champion. Among too many accomplishments to list, he prominently advocated in the 1980s on behalf of Jews in the Soviet Union. In 1993, United Nations Watch was the first NGO designed to hold the United Nations accountable to the principles of its charter. Abram, who died in 2000, left a legacy that has improved the plight of millions in peril worldwide and given us a way to help cure anti-Semitism at the UN. 
Earlier in the year, on March 22, Erdan spoke at UN Watch's virtual launch of its website portal. First commenting, "We cannot allow the anti-Israel lies spewed at the UN to go unchallenged," he went on to praise the "phenomenal" UN Watch website. He added, "The UN Watch Database is a great resource to learn more and take action."
Estimates show that there are approximately 600 million evangelicals in the world. Our influence as advocates for the only Jewish state has potential to influence the decisions at the United Nations using the fantastic tool UN Watch has created. 
In illogical resolutions since 2015, the UN has condemned Israel 112 times, North Korea, 6, and Iran, 5. Imagine the difference we can make if millions of us took five minutes to read a UN Watch action item and responded with an email. Let us determine to help cure the UN's anti-Israel bias.
Please pray this week:
Pray for UN Watch that its success to hold the UN accountable will increase. 

Pray that the next UN Secretary-General will serve with moral clarity. 

Pray that more UN delegates will have the opportunity to visit Israel. 

Pray that pro-Israel Christians will choose UN Watch as a tool for advocacy.

Pray against the growing anti-Israel hostility within the UN and around the globe. 
This article originally appeared here.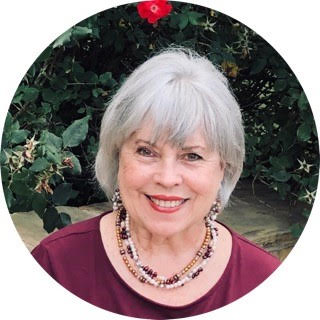 Arlene Bridges Samuels pioneered Christian outreach for the American Israel Public Affairs Committee (AIPAC). After nine years she retired and later worked part-time with International Christian Embassy Jerusalem USA. Arlene is now an author at The Blogs-Times of Israel and writes a weekly column at CBN ISRAEL. She has often traveled to Israel, including being invited three times by Israel's Government Press Office to their annual Christian Media Summit. Read more of her articles on her CBN Israel blog.
A message from All Israel News
Help us educate Christians on a daily basis about what is happening in Israel & the Middle East and why it matters.
For as little as $5, you can support ALL ISRAEL NEWS, a non-profit media organization that is supported by readers like you.
Donate to ALL ISRAEL NEWS
Current Top Stories
Comments