STATE OF THE UNION: U.S. President Biden presented a 'blue-collar blueprint'; called for bipartisan action to rebuild the middle class
The president's address drew heavily on the economic progress that the United States has made since the COVID-19 pandemic, accused Russia and China of inflation and aggressions that test America
President Joe Biden delivers the State of the Union address to a joint session of Congress at the U.S. Capitol, Feb. 7, 2023. (Photo: Jacquelyn Martin/Pool via REUTERS)
U.S. President Joe Biden delivered his second State of the Union speech on Tuesday, his first before a divided Congress. 
The president touted his administration's efforts dealing with inflation, Russia's invasion of Ukraine and China's recent violation of U.S. sovereignty with a spy balloon, among other issues. 
Biden tried to paint an "optimistic, hopeful and forward-looking" picture of the U.S., without making any hints about his intentions to run for office again in 2024. 
The U.S. president dedicated most of his speech to highlighting the country's economic resilience in the wake of the COVID-19 pandemic. 
He began his address by saying that "the story of America is a story of progress and resilience. Of always moving forward. Of never giving up. A story that is unique among all nations."
"We are the only country that has emerged from every crisis stronger than when we entered it. That is what we are doing again," Biden said. 
"Inflation has been a global problem because of the pandemic that disrupted supply chains and Putin's war that disrupted energy and food supplies," Biden argued, claiming that the U.S. is better positioned than any country on earth to deal with the inflation crisis, and added that the price of gas and food are declining.
"Jobs are coming back, pride is coming back, because of the choices we made in the last two years," he added.
Outlining an economic plan with "new standards to require all construction materials used in federal infrastructure projects to be made in America," the president stated that "this is a blue-collar blueprint to rebuild America and make a real difference in your lives."
He vowed to invest in places and people "that have been forgotten" or treated as "invisible" amid the economic upheaval of the past four decades.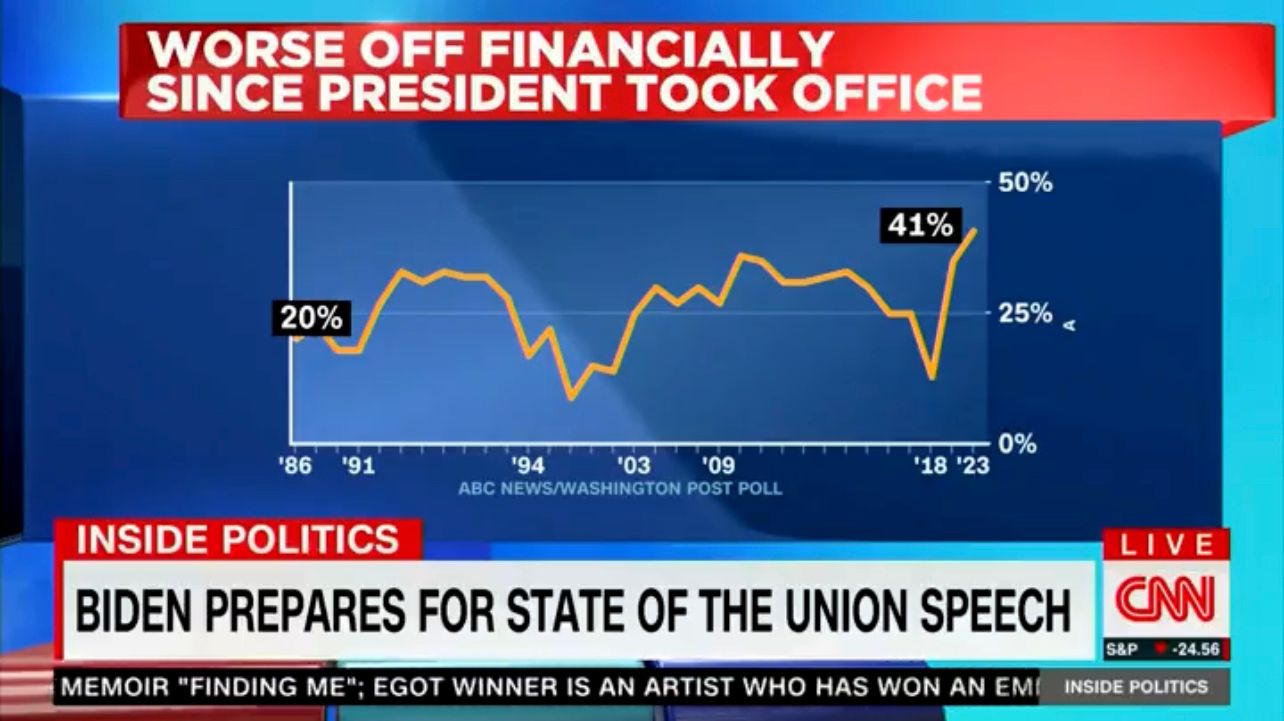 Biden reiterated his promise to not raise taxes on anyone earning less than $400,000 a year, and pledged to pay for his ideas "by making the wealthy and big corporations begin to pay their fair share."
The president stressed that his mission is to restore the soul of the nation, to "build back the backbone of America – the middle class" and to unite the nation. 
Biden's speech comes a few days after the government stated that U.S. employers added 517,000 jobs in January, with the unemployment rate falling to 3.4%, its lowest level since 1969.
Despite these growth indicators, a new poll released on Monday showed that the majority of likely-Democrat voters don't want Biden to seek re-election. 
An Associated Press-NORC Center for Public Affairs Research poll found that only 37% of Democrats are in favor of 80-year-old Biden running for the top office again. That number stood at 52% just a few months ago, before the 2022 midterm elections. 
Biden's performance as president earned the approval of only 41% of Americans and the disapproval of 53%. His approval rating has seen a steady decline since the November midterms. 
During his SOTU address, Biden affirmed the signing of "over 300 bipartisan laws since becoming president" and urged for further bipartisan action on police reform and immigration. 
His remarks on welfare programs stirred a Republican uproar in the chamber. When Biden said his political rivals wish to cut Social Security and Medicare, a few Republican Congress members booed and chanted "you lie." 
"Some of my Republican friends want to take the economy hostage unless I agree to their economic plans," Biden claimed. 
"All of you at home should know what their plans are. Instead of making the wealthy pay their fair share, some Republicans want Medicare and Social Security to sunset every five years," he added, facing loud resistance from GOP members.  
The president also called on Congress to act to ban "assault weapons," as well as "codify Roe v. Wade to protect every woman's constitutional right to choose [an abortion]."
On the foreign front, Biden stressed that the U.S. is "in the strongest position in decades to compete with China or anyone else in the world." 
"I am committed to work with China where it can advance American interests and benefit the world. But make no mistake: As we made clear last week, if China threatens our sovereignty, we will act to protect our country. And we did," said Biden, in reference to shooting down China's spy balloon after it traversed the United States.  
The second foreign challenge Biden mentioned during his major speech was Russian President Vladimir Putin's "brutal war against Ukraine."
"Putin's invasion has been a test for the ages. A test for America. A test for the world," Biden stressed. "Together, we did what America always does at our best. We led. We united NATO and built a global coalition. We stood against Putin's aggression. We stood with the Ukrainian people." 
Addressing the Ukrainian ambassador to Washington, who was in the room, Biden promised to keep standing with Ukraine "as long as it takes." 
Among the special guests mentioned by the president in his speech were rock star Bono, the family of Tyre Nichols, the Monterey Park shooting hero and a Holocaust survivor.  
Arkansas Gov. Sarah Huckabee Sanders, who previously served as spokesperson in former U.S. President Donald Trump's White House, delivered the rebuttal to Biden's speech.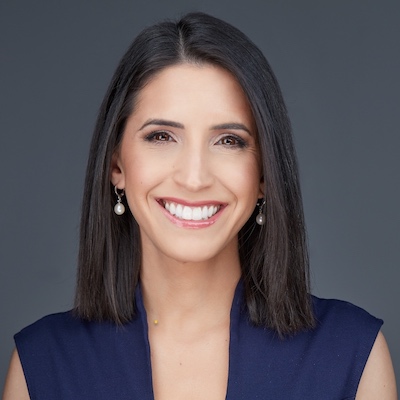 Tal Heinrich is a senior correspondent for both ALL ISRAEL NEWS and ALL ARAB NEWS. She is currently based in New York City. Tal also provides reports and analysis for Israeli Hebrew media Channel 14 News.
Popular Articles
A message from All Israel News
Help us educate Christians on a daily basis about what is happening in Israel & the Middle East and why it matters.
For as little as $5, you can support ALL ISRAEL NEWS, a non-profit media organization that is supported by readers like you.
Donate to ALL ISRAEL NEWS
Latest Stories
Comments