Sarah Huckabee Sanders says Biden's 'weakness puts our nation and the world at risk'
'Forgive me for not believing much of anything I heard tonight': Evangelical Arkansas governor delivers rebuttal to US President Joe Biden's State of the Union address, stepping out of the Trump-shadow as a rising star in the GOP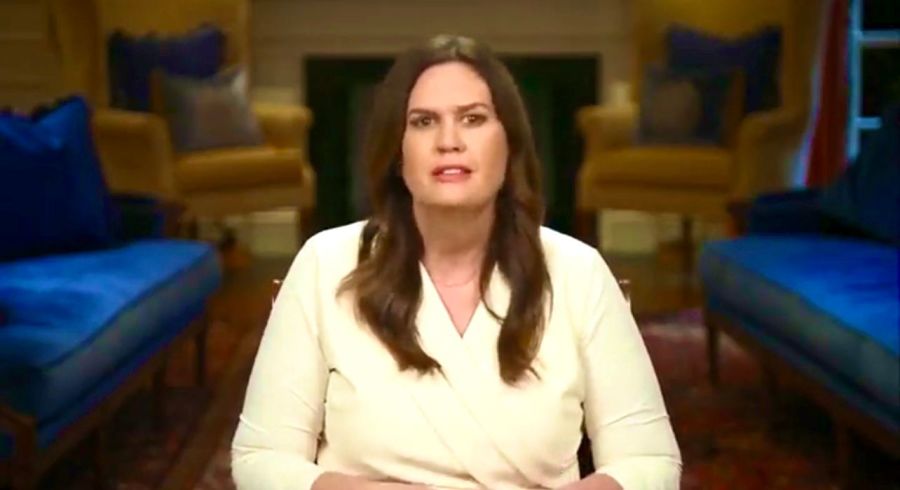 Arkansas Governor Sarah Huckabee Sanders delivers the Republican response to President Joe Biden's State of the Union address, Feb. 7, 2023 (Photo: Screenshot)
Arkansas Governor Sarah Huckabee Sanders delivered a scathing Republican response to U.S. President Joe Biden's State of the Union address on Tuesday, saying Biden is "unfit to serve as commander-in-chief" and that his "weakness puts our nation and the world at risk."
"Being a mom to three young children taught me not to believe every story I hear. So forgive me for not believing much of anything I heard tonight from President Biden," Sanders said at the beginning of her speech. 
"From out-of-control inflation and violent crime to the dangerous border crisis and threat from China, Biden and the Democrats have failed you," she said.
In her SOTU rebuttal, Sanders attempted to frame the Biden administration's record as reflecting a radical Democrat agenda. She characterized the differences between the political left and right in America as a "choice between normal and crazy."
"It's time for a change. Let us reaffirm our commitment to a timeless American idea, that government exists not to rule the people but to serve the people," Sanders said. "Democrats want to rule us with more government control, but that's not who we are. America is the greatest country the world has ever known, because we're the freest country the world has ever known." 
"The Biden administration seems more interested in woke fantasies than the hard reality Americans face every day," Sanders said. "Most Americans simply want to live their lives in freedom and peace, but we are under attack in a left-wing culture war we didn't start and never wanted to fight," she added. 
"In the radical left's America, Washington taxes you and lights your hard-earned money on fire, but you get crushed with high gas prices, empty grocery shelves, and our children are taught to hate one another on account of their race, but not to love one another or our great country," Sanders elaborated.
Making the case for "young Republican leadership," Sanders noted the 40-year age gap between her and Biden. 
"At 40, I'm the youngest governor in the country. At 80, he's the oldest president in American history. I'm the first woman to lead my state. He's the first man to surrender his presidency to a woke mob that can't even tell you what a woman is," she said.
Sanders' criticism of Biden's leadership focused on issues such as the teaching of critical race theory and gender ideology. She also lambasted the Democrat president's COVID-19 pandemic policies and its handling of illegal immigration. 
In response to the president's boasting about the resilience of the U.S. economy post-pandemic, Sanders said Biden had "inherited the fastest economic recovery on record" from the previous president. 
Further complimenting her former boss, former U.S. President Donald Trump, Sanders noted that when Biden assumed office, he was given "the most secure border in history. Cheap abundant, home-grown energy. Fast-rising wages. A rebuilt military. And a world that was stable and at peace. But over the last two years, Democrats destroyed it all."
"Make no mistake: Republicans will not surrender this fight. We will lead with courage and do what's right, not what's politically correct or convenient," the Arkansas governor vowed. 
Sanders, an Evangelical Christian, gained national attention when she became a spokesperson for the Trump White House in July 2017. She served until June 2019. Sanders also worked for two years in the George W. Bush administration. 
Last month, she was sworn in as Arkansas' first female governor, following in the footsteps of her father, Mike Huckabee, who was the 44th governor of the state. 
In 2008, Huckabee ran for the Republican presidential nomination with his daughter running his campaign. Some commentators believe that Sanders might aim for the highest U.S. office in the future. 
Senate Minority Leader Mitch McConnell and House Majority Leader Kevin McCarthy referred to Sanders as a "representative for a new generation of Republicans," in a joint statement last week, announcing her nomination for the SOTU rebuttal. 
Her speech to Biden not only elevated her stature within the GOP but also gained Sanders' a national platform to step out from the Trump shadow as a rebranded rising star. 
Since the midterms, she has largely avoided commenting on her former boss, despite her gubernatorial campaign leaning heavily on national politics. Moreover, Sanders has not announced if she is endorsing Trump in the 2024 presidential race. 
When asked about Trump last month on Fox News Sunday with Shannon Bream, Sanders said: "I love the president. I have a great relationship with him. I know our country will be infinitely better off if he was in office right now instead of Joe Biden."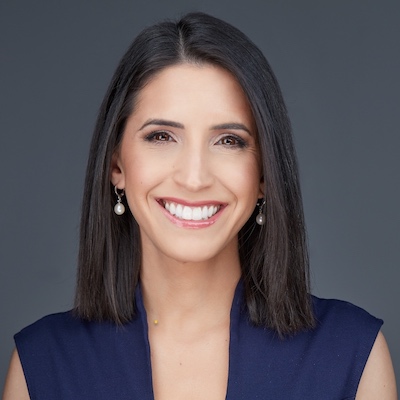 Tal Heinrich is a senior correspondent for both ALL ISRAEL NEWS and ALL ARAB NEWS. She is currently based in New York City. Tal also provides reports and analysis for Israeli Hebrew media Channel 14 News.
A message from All Israel News
Help us educate Christians on a daily basis about what is happening in Israel & the Middle East and why it matters.
For as little as $5, you can support ALL ISRAEL NEWS, a non-profit media organization that is supported by readers like you.
Donate to ALL ISRAEL NEWS
Current Top Stories
Comments