Proposals, weddings, births! Israel becomes more hopeful and Jewish 'davka' during wartime
Despite the tragic events of Oct. 7, Israelis deliberately choose to celebrate life
Benny Maidan and Naomi Theodor walking down the aisle (Photo: Shahar Cohen)
As the war today marks one full month of hostilities, Israel is experiencing an unprecedented surge of births, marriage proposals and weddings, despite the war looming over its society. Why is that? We can sum it up in one Aramaic word – davka. Originally meaning "precision" in Hebrew, we use this word to express something that is done in spite of, or specifically because of.
Hamas wants less Jews in Israel? We will davka create new families and make more babies.
Benny Maidan, 25, and Naomi Theodor, 20, had planned to get married in April or May of 2024, and this past September they were looking for a venue within their budget but were unable to find anything. And then the war broke out, Benny was called up to his reserve troop in the Golani Brigade, close to the Lebanese border.
"As the war started, we felt this urge that something wasn't finished. We caught ourselves wishing we were already married, or that we had married earlier," Naomi told ALL ISRAEL NEWS during a recent interview. "And then we heard news of couples getting married in their army bases, and thought it might be an option."
Naomi is referring to something being seen in Israeli news media more and more: A couple whose wedding ceremony was canceled due to the war, and decided to get married on their military base instead.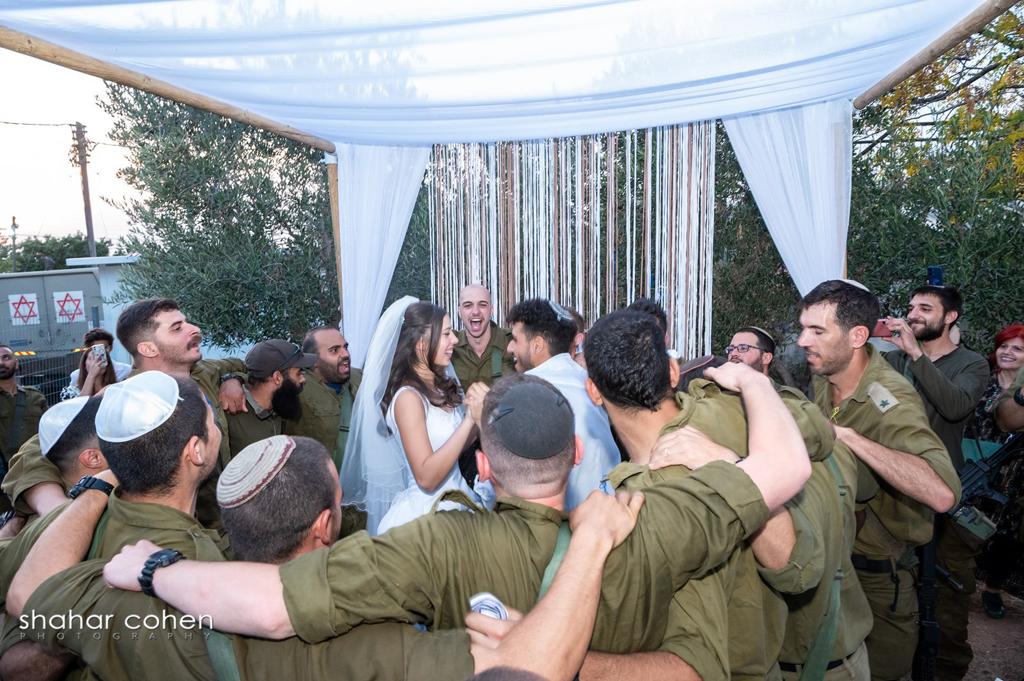 Wedding of Benny Maidan and Naomi Theodor (Photo: Shahar Cohen)
Already on Oct 17, just ten days after the war started, former Israeli Prime Minister Naftali Bennett shared on social media a photo of the couple Tamar and Adir, getting married in their uniforms and posted:
"Lately I find myself more and more urging young couples who have gone out for a long time to get married and have kids. I think I have already set up 4-5 weddings for injured people, or bereaved family members. Our victory against our enemies will not just be through the hell we will unleash on them in the battlefield, but also by starting new lives of the Jewish people here in the Land of Israel. With optimism, with building a new generation, with faith, and with growth from the horrible pain," Bennett wrote.
"Here in the photo are Tamar and Adir, getting married in Kibbutz Urim in the south. You don't need a fancy venue, a catering, or a band. Not even a wedding dress. You can get married in uniform, with a military rabbi, an army bottle of wine, and some chicken and rice from the military kitchen. There's no people like the People of Israel – 'In thy blood live.'", which is a reference to Ezekiel 16:6.
Similarly, the Times of Israel reported on Oct. 28 about numerous weddings, davka, during this time. In some cases, it was a wedding ceremony that was scaled down but still took place on its planned date. In other cases, such as Benny and Naomi's celebration, the wedding date was shifted to an earlier date than what was originally planned for because of the war. In some cases, the scaling down means that not all family and friends are able to attend. In other cases, the number of guests actually increases, as Israelis are volunteering in droves to be a part of the celebration and bring joy to the bride and groom.
These weddings frequently go viral on social media in a nation that is starving for good news and glimpses of hope.
Benny's military comrades volunteered to arrange his wedding, Naomi told ALL ISRAEL NEWS. She was told that all she needed to do was to find a dress, arrange for the rings and show up.
"In my mind, I thought we would get married and they'll hold a piece of bedsheet over our heads [for the chuppah], get married and go home. But then I saw how everyone was really giving their all into this and was happy to be part of it."
Wedding of Benny Maidan and Naomi Theodor (Photo: Shahar Cohen)
Naomi describes how the comrades arranged a professional chuppah, catering, a photographer, flowers, wedding cake, makeup and hair – everything for free.
The guys of the Golani Brigade met every evening to plan the wedding, with each one pitching to help via their connections and who would be available and wiling to volunteer their time and effort.
Naomi said the guys didn't even let Benny in on all the plans.
"I was still concerned about the safety," Naomi said, in reference to the frequent missile attacks being launched by the Hezbollah terror organization against military bases near the northern border.
Benny told her, "If something happens, we'll go into a bomb shelter, and then hopefully come back and finish the wedding, and that we can't let ourselves be overwhelmed by 'what if'-scenarios."
Another issue that could have potentially held things up was the legal procedure with the Israeli rabbinate, which can take up to at least three months in some cases.
With less than two weeks to plan the wedding, Naomi said, that issue was also resolved, as military rabbis at the army base were able to pull some strings for them.
"Two days before the wedding I was told, 'The wedding is in two days, on October 26th.' My family arranged a decorated car for me, I wore my dress and we went up north, and I had no idea what would happen," Naomi said.  Except for the soldiers at the base, the only invited guests were the couple's closest family members – their mothers and siblings.
Benny and Naomi are both fatherless, as Benny's father was a Holocaust survivor who passed away from old age and Naomi's father died from COVID two years ago at only 54 years old.
The couple first met each other while Naomi and her family were mourning her father's death. The wedding would take place just a few days before the second anniversary of her father's death, on what is referred to in Yiddish as the second Yahrzeit.
This is also something unique for Jews in Israel, to go from bereavement to joy overnight. This is reflected in the way we celebrate memorial day of our fallen soldiers – a holiday that is observed one day before we celebrate the Jewish state's freedom and establishment – Independence Day – and is a deeply-rooted part of the Jewish experience.
"When I arrived, I was overwhelmed because everyone was wearing green, and they were all excited about me, shouting  'The bride has arrived!' and you could really see the joy in their eyes," Naomi continued.
"They took me to a room they had prepared for me, and this guy said, 'Let's do your hair.' And then a lady came and did my makeup, and then there's music, they're getting flowers ready, and then I go outside and I see this huge really professional chuppah."
"Someone came up and said, 'Hi, I'm the videographer,' and someone else says he's the photographer. I had no idea I was going to have a videographer at my wedding. They took us around the place and took pictures of us. Then we had the ceremony under the chuppah, which was very emotional. And then the famous singer Shay Tzabari shows up and sings, and then we go dancing," Naomi shared.
"The food was amazing.: Steaks, chicken pullets… I was in shock that they made this whole thing and everyone were so happy for us. And then we go dancing again, and the famous singer Idan Amedi, whose music I love, showed up and sang especially for us. It was so amazing and beautiful. A 40-year-old high-ranking officer was crying his eyes out during the ceremony."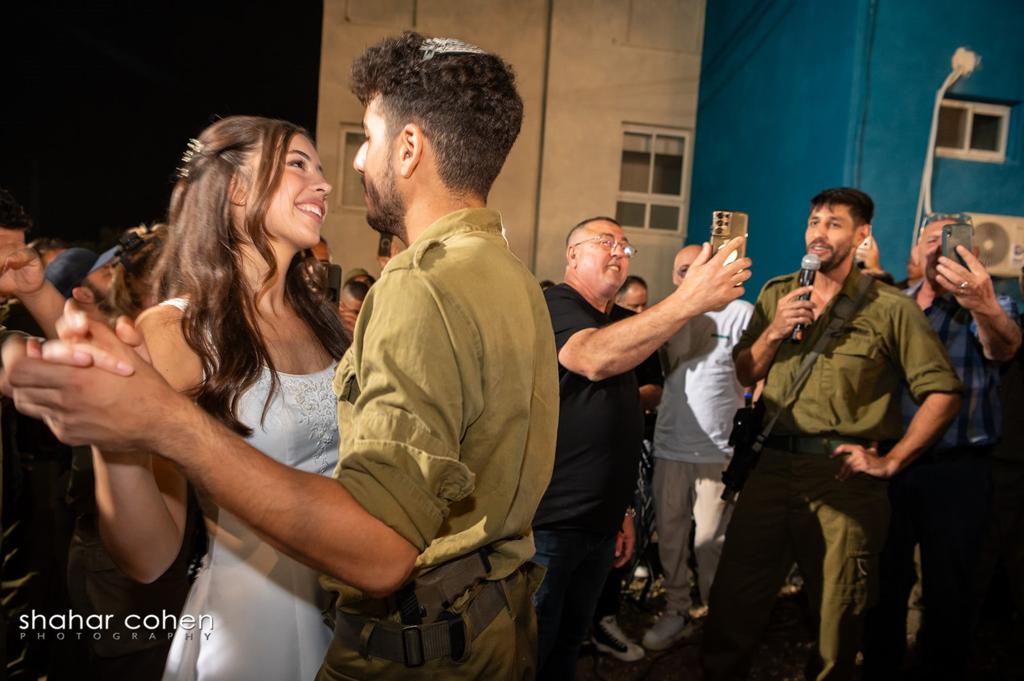 Idan Amedi singing at Benny Maidan and Naomi Theodor's wedding (Photo: Shahar Cohen)
The phenomenon of Israeli celebrities appearing for free at military weddings has become more  common in recent days, with many reportedly surprising the bride and groom by appearing and performing at weddings.
During one portion of Benny and Naomi's wedding ceremony, loud gunfire could be heard as the Israel Defense Forces was shooting at Hezbollah target.
After the ceremony was finished, the couple was sent to a cabin for their wedding night – also for free.
"Everyone gave from their goodness from their heart. The providers of the services for the wedding came from all over the country, from Ashkelon, Tel-Aviv, drove all the way and volunteered their time just to make us happy."
Naomi shared that the lady in charge of making the chuppah told her that her husband had been at the nature festival that was brutally attacked by Hamas terrorists on Oct. 7. Her husband saw his friends being shot in front of his eyes, which was very traumatic.
Regarding the wedding chuppah, "She told me that she did this because what we're doing gives hope again," Naomi shared. "I really saw the heart people have to help in times of need."
"We often forget that," she added, "but in times of need, Israelis are really good. We're all here for one another."
This togetherness and solidarity within Israeli society – and the Jewish community at large – is what Hamas terrorists did not take into account on the day they invaded and massacred Israeli soldiers and civilians.
Hamas saw Israel's protests and debates over judicial overhauls and corruption scandals, and thought the Jewish state would remain divisive under fire.
But they were wrong. This war against Hamas in Gaza has made Israeli society more united than ever, and more connected to its Jewish identity.
"I also think about all these families being broken apart, and we have the privilege of stand on the same land and start a new family and a new home in Israel," Naomi said during the interview.
"The venue, the amount of flowers, the exact right dress, nothing of that really matters. What matters is to start a new family in Israel at a time like this. We both love this country and felt this is an important statement. I had friends wondering why getting married during a war, when something could happen to him, and I answered - that's exactly why! If something does happen to him, I want to be by his side," she said.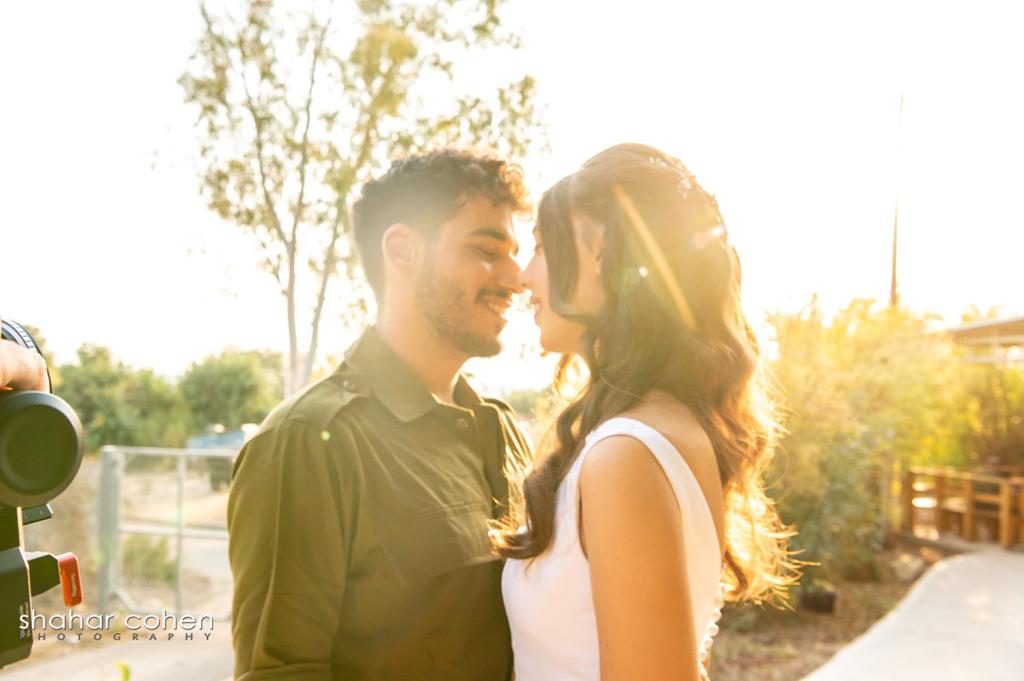 Benny Maidan and Naomi Theodor at their wedding (Photo: Shahar Cohen)
This hope, with weddings, marriage proposals, births, etc.; some 300,000 Israelis living abroad who returned home to serve in military reserves to protect and defend the State of Israel; and even the wave of new immigration we expect as Jews begin to feel more unsafe in the diaspora – all of these things make the Israel even more significant for Jewish society than ever.
And such anticipation and hope for the future is happening davka at such a time as this.
"But the more they afflicted them, the more they multiplied and the more they spread." – Exodus 1:12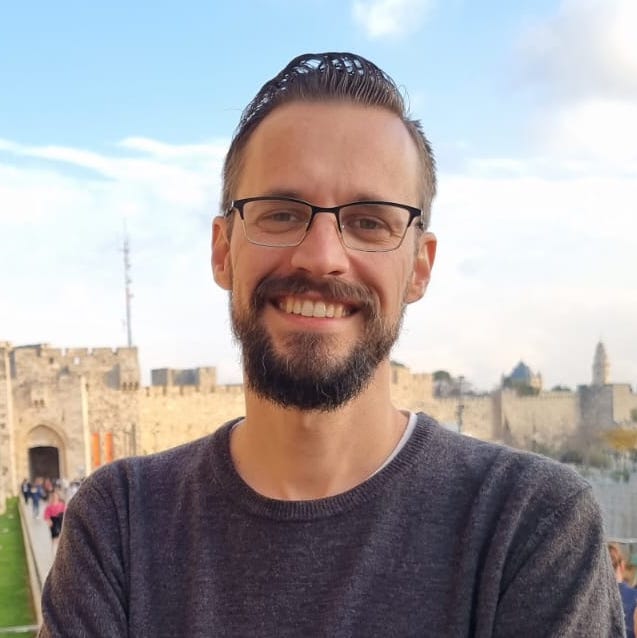 Tuvia is a Jewish history nerd who lives in Jerusalem and believes in Jesus. He writes articles and stories about Jewish and Christian history. His website is www.tuviapollack.com
Popular Articles
A message from All Israel News
Help us educate Christians on a daily basis about what is happening in Israel & the Middle East and why it matters.
For as little as $5, you can support ALL ISRAEL NEWS, a non-profit media organization that is supported by readers like you.
Donate to ALL ISRAEL NEWS
Latest Stories