2024 U.S. PRESIDENTIAL CAMPAIGN.
Pence v. Trump will be epic, bloody – no VP has ever challenged his own president
Here are 4 things Pence must do to break out of the pack as an Evangelical, pro-life, pro-Israel candidate
U.S. President Donald Trump listens to Vice President Mike Pence address the coronavirus response daily briefing at the White House in Washington, March 19, 2020. (Photo: REUTERS/Jonathan Ernst)
JERUSALEM, ISRAEL – Buckle up.
Pence v. Trump promises to be an epic and bloody campaign.
No vice president in American history – in either party – has ever challenged the very president with whom he served in a primary battle for his party's nomination.
It's unheard of.
Crazy, actually.
But these are crazy times.
Most people peg Mike Pence's chances of surviving, much less winning, this mega-showdown with Donald Trump at zero.
The rest would put his chances at less than zero.
Trump certainly seems like a prohibitive frontrunner – with 53.2% support in national polls, according to the Real Clear Politics average of all recent credible surveys.
Pence is averaging only 3.8% support in national polls.
Florida Governor Ron DeSantis – with 22.4% -- is far better positioned to challenge Trump, but he's still a whopping 30 points behind.
Joel C. Rosenberg with U.S. President Donald Trump and Vice President Mike Pence (Photo: ALL ISRAEL NEWS)
So, why would Pence even bother?
Four reasons.
PRAYER – Pence and his wife, Karen, have long prayed about this race – they know they're called to run, even though they're not sure they're called to win.

EXPERIENCE – Pence believes he has far more proven experience as an Evangelical, conservative, and policy leader than Trump or DeSantis – and, of course, he's right about that, though it won't be enough.

TEMPERAMENT – Pence believes the country wants a president who's a proven fighter but also has a temperament that is thoughtful, magnanimous, and able to appeal to Independents, and even conservative Democrats, something many Republicans don't see as Trump's strengths.

IOWA – Pence believes that Midwestern Evangelicals in Iowa are far more likely to embrace him, a fellow Midwestern Evangelical, than a former president who paid off a porn star or a Catholic governor who is untested on the national or world stage. Fair or unfair, that's the premise he's testing.
In a normal presidential campaign cycle, all these attributes – plus the fact that he's deeply pro-Israel – should mean that Pence would be in the top tier of candidates, if not leading the pack, at least in Iowa.
But this ain't a normal cycle.
Far from it.
So, here's what Pence would have to do to break out of the pack.
Challenge Trump directly, daily and relentlessly – on the campaign trail and in the debates, Pence has to make this a fight between him and Trump (and no one else) over what went right and wrong and why during their four years in office. Trump may very well be infuriated. But that works to Pence's advantage. The media will cover the fight and that's exactly what Pence needs to cut through the clutter and get his message noticed.

Be funny – to be sure, Pence would never attack Trump in a mean or cheap way, nor should he. Rather, he would have to use Reaganesque humor to contrast himself in both substance and style with Trump's anger towards him. He should hire great joke writers, not speech writers.

Never use a prepared text – Pence is at his most engaging when he's answering voters' questions, telling stories, telling jokes, being personal with people. But when he's delivering a formal speech he can be wooden and too buttoned up.

Move to Iowa – The Hawkeye State is do or die. If Pence doesn't win there, I don't see any viable way forward for him.
Look, I've been a friend of Mike Pence for more than a decade.
But I'm not endorsing him or anyone else in this campaign.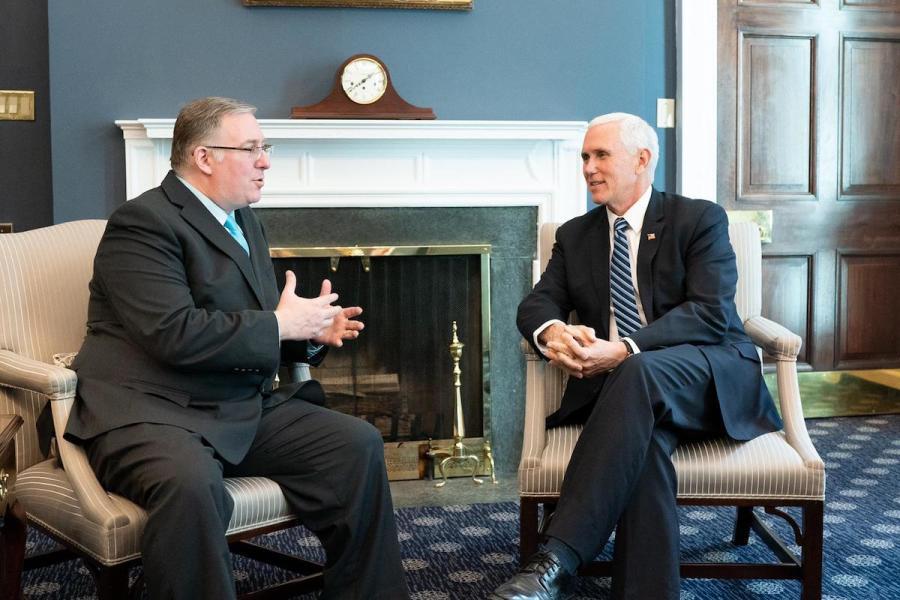 Joel C. Rosenberg with former US Vice President Mike Pence (Photo: ALL ISRAEL NEWS)
What I am going to do is cover the race closely for ALL ISRAEL NEWS and THE ROSENBERG REPORT.
Why?
Because whoever emerges as the next president of the United States and the next commander-in-chief is going to have a huge impact on Israel, Iran and the broader Arab/Muslim world, not to mention U.S. policy towards Russia, China, North Korea and the southern border with Mexico.
I understand why it's tempting for pollsters and political pundits and prognosticators to write off Pence – and Sen. Tim Scott, and Amb. Nikki Haley, and Gov. Chris Christie, and the others – entirely.
After all, aside from low poll numbers, Pence has unique weaknesses.
Here's just two. 
He led the COVID task force and worked closely with Dr. Anthony Fauci – this could be the kiss of death in the GOP primaries (it's also a huge liability for Trump, which DeSantis is preparing to exploit)

He comes off as too nice, too quiet, and too vanilla to most Republicans
But it's a mistake to ignore him at the starting line.
Why?
Because frontrunners like Trump stumble – he may not, but if he does, the dynamics of the race will change overnight.
Because impressive challengers like DeSantis also stumble – remember what happened to GOP governors like Jeb Bush, Rick Perry, Chris Christie, Scott Walker, and so many others? They came out of the starting gate running strong. But they never made it to the finish line.
Pence will need both Trump and DeSantis to stumble for him to gain traction.
And let's not forget his strengths.
Pence has built a lot of friendships and alliances with conservatives and Christians over the last 30 years.
He can raise lots of money.
He has a very experienced policy and political team around him.
He himself is super experienced, having served not only as the second most powerful man in the American government but also as the governor of Indiana, as a member of Congress, and senior member of the House Republican leadership.
He's super conservative on policy – a bold leader on cutting and reforming the tax code, reforming the welfare system, protecting the southern border with Mexico, advancing parents' rights, championing school choice and other education reforms, advancing religious freedom, and much more.
He's super pro-life – Pence may be the most genuine and sincere and consistent member of the pro-life movement ever to run for the presidency, having advised Trump on picking three pro-life Justices to the Supreme Court, and thus helping overturn the ghastly Roe v. Wade decision of 1973 that has led to the deaths of more than 63 million unborn babies.
He's also super pro-Israel – the main champion inside the Trump White House for moving the embassy to Jerusalem, recognizing the Golan Heights as sovereign Israeli territory, strengthening one of the few Americans who has ever addressed the Knesset, Israel's parliament.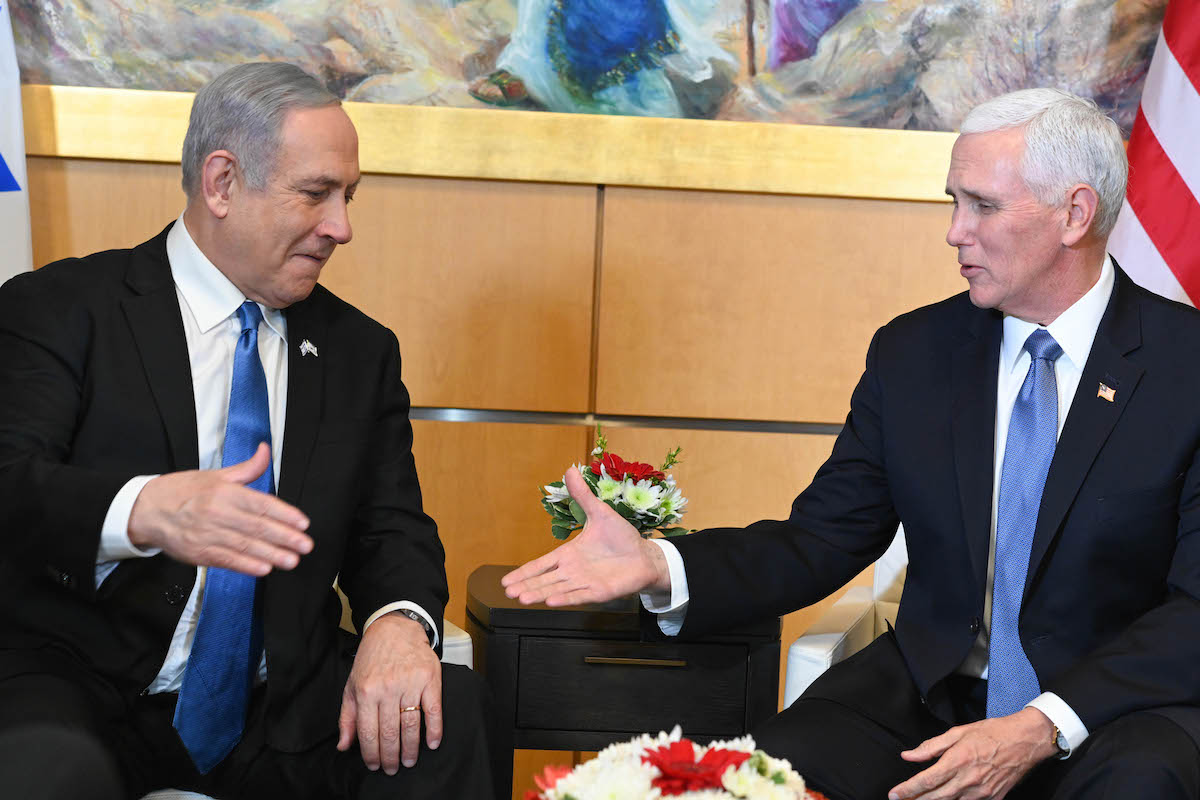 U.S. Vice President Mike Pence meets with Israeli Prime Minister Benjamin Netanyahu at the U.S. Embassy in Jerusalem, January 23, 2020. (Photo: Matty Stern/U.S. Embassy Jerusalem )
These qualities are precisely why Trump chose him to be his running mate in 2016.
And it's always possible – by no means obvious, but certainly possible – that God intends to raise up this humble, experienced, devout Evangelical to the most powerful office on earth.
The question now is this: does Pence have what it takes to fight his way through the crowd to win the top slot in the party, and the country?
I honestly don't know – but the battle ahead could be one for the ages.

Joel C. Rosenberg is the editor-in-chief of ALL ISRAEL NEWS and ALL ARAB NEWS and the President and CEO of Near East Media. A New York Times best-selling author, Middle East analyst, and Evangelical leader, he lives in Jerusalem with his wife and sons.
Popular Articles
A message from All Israel News
Help us educate Christians on a daily basis about what is happening in Israel & the Middle East and why it matters.
For as little as $5, you can support ALL ISRAEL NEWS, a non-profit media organization that is supported by readers like you.
Donate to ALL ISRAEL NEWS
Latest Stories
Comments