Peace in My Lifetime?
An Evangelical leader and founding member of ALL ISRAEL NEWS reflects on witnessing the signing of the Abraham Accords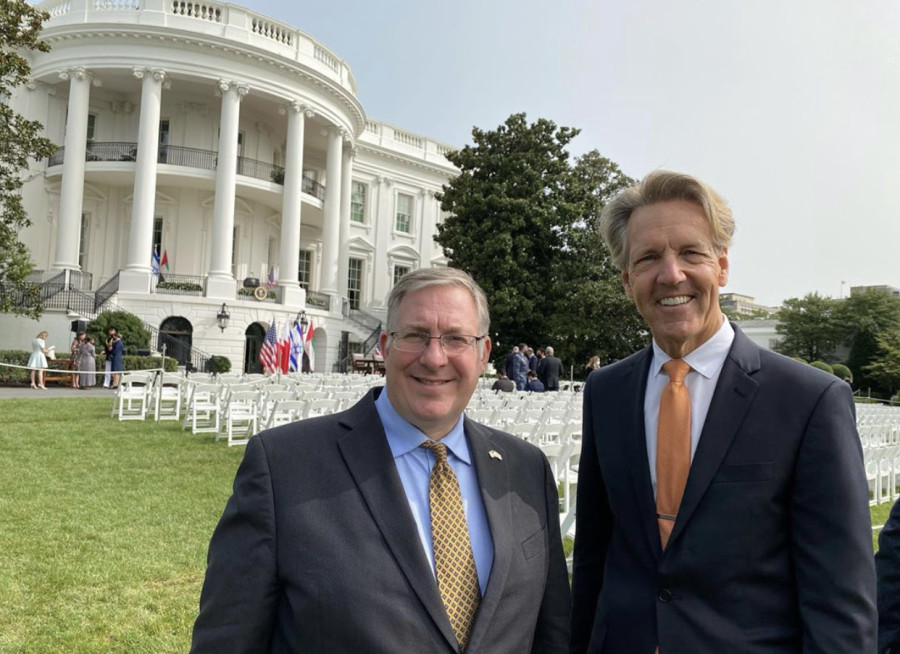 All Israel News Editor-in-Chief Joel Rosenberg and Pastor Skip Heitzig at the White House for the Abraham Accords signing ceremony on Sept. 15, 2020. (Photo: All Israel Staff)
"I am witnessing history in the making," I thought as I sat with a modest but animated crowd on the south lawn of the White House this past Tuesday.
It's the deal any American president would dream of. To have two Arab leaders and the Israeli Prime minister come to the table and sign a peace agreement is surely enough to secure an honorable place in history.
President Donald Trump brokered the agreement between UAE, Bahrain, and the state of Israel that was formally signed in English, Hebrew, and Arabic at the ceremony. Foreign Minister Abdullah bin Zayed, Bahrain's Foreign Minister Abdullatif Al Zayani and Israel's Prime Minister Benjamin Netanyahu all stood together on the veranda facing the audience, gave a short speech each, and then descended the steps to the dais toplace their signatures on paper.
Bahrain's Minister of Foreign Affairs called it, "a historic move for peace in the Middle East." UAE's Abdullah bin Zayed Al Nahyan referred to it as "an opportunity for a fresh approach to tackling the region's challenges."
But the yearning for regional peace was summed up by Netanyahu on Thursday when he stated, "This day is a pivot of history. For thousands of years the nation of Israel has prayed for peace. For decades the State of Israel has prayed for peace"
He talked about "extending the circle of peace" and for ensuring peace "for all the children of Abraham."
Appropriately dubbed The Abraham Accords, the document promotes mutual understanding and coexistence, as well as religious freedom between nations whose religious structure varies widely.
Abraham's children and grandchildren haven't always gotten along this nicely, but today nations of them were, and the talk is that more Arab nations will follow.
As a pastor, I have prayed for peace in the Middle East for decades, almost five decades to be exact. I remember the first peace treaty between Israel and Egypt in March of 1979. I had been living on a kibbutz in northern Israel around the time of the Camp David Accords and the subsequent treaty signing. It was as if the entire state of Israel held it's collective breath as then Prime Minister Menachem Begin, and Egypt's President Anwar Sadat committed their nations to peace in the presence of American President Jimmy Carter.
Now, 41 years later, I was at the White House witnessing in person another historic signing. Trump's wheelhouse has always been bring people to the negotiating table, but to be invited to witness this table, was to me an unimaginable honor.
In the last 72 years of Israel's history as a modern state there have been only two peace settlements, Egypt in '79and Jordan in 1994.
It has been 26 years since there was any overture for peace with Israel and an Arab neighbor.
Now, in just one day, there two more. As the dominoes begin the fall down the corridor of peace, Prime Minister Benjamin Netanyahu's words from the White House today seem most appropriate.
Citing Psalm 29:11 in Hebrew and then in English he said, "May the LORD give strength to his people! May the LORD bless his people with peace!"
————
Skip Heitzig ministers to over 15,000 people as senior pastor of Calvary Church in Albuquerque. He reaches out to thousands across the nation and throughout the world through his multimedia ministry including a nationwide half-hour radio program, Connect with Skip Heitzig. He is also a founding member of the Board of Near East Media, the non-profit organization that oversees ALL ISRAEL NEWS and ALL ARAB NEWS.
A message from All Israel News
Help us educate Christians on a daily basis about what is happening in Israel & the Middle East and why it matters.
For as little as $5, you can support ALL ISRAEL NEWS, a non-profit media organization that is supported by readers like you.
Donate to ALL ISRAEL NEWS
Current Top Stories
Comments