Orthodox Jews, Evangelicals urge Israel's chief rabbi to call for National Day of Prayer on Monday
After all, Monday, Nov. 6, will mark 30 days since the war began
Israel's Ashkenazi Chief Rabbi David Lau attends a ceremony on the first night the Jewish holiday of Hanukkah, at the Western Wall in Jerusalem's Old City, November 28, 2021. (Photo: Flash90)
JERUSALEM, ISRAEL – Yesterday, ALL ISRAEL NEWS published my column, "It's time for Israeli leaders to call for a 'National Day of Prayer' based on 2 Chronicles 7:14."
Today, a range of Israeli Orthodox Jewish leaders told me they agree.
While they believe that individual – and even synagogue prayers – are important, they say it is absolutely urgent that Israelis turn, as an entire society, to prayer and fasting, seeking God's mercy, forgiveness, and favor for the war to end quickly, decisively and with as few deaths as possible.
Evangelical pastors all across Israel, the U.S., and elsewhere have also contacted me to say the same thing.
They cite numerous examples throughout the Bible where the nation turned to the Lord in such dangerous times and the God of Israel showed up in a mighty way.
Now, both Orthodox Jews and Evangelical Christians are calling on David Lau – Israel's Chief Rabbi – to take the lead on such an initiative.
THE MAYOR OF EFRAT WENT PUBLIC FIRST
Oded Revivi, the Orthodox Jewish mayor of the city of Efrat – just south of Jerusalem and close to Bethlehem – was the first to go public.
At 10:32 a.m. local time, Revivi reposted my column on X, the social media platform previously known as Twitter, with this comment.
"Although coming from an Evangelical clergyman, there is no doubt that there is a place to declare a National Day of Prayer," the mayor wrote.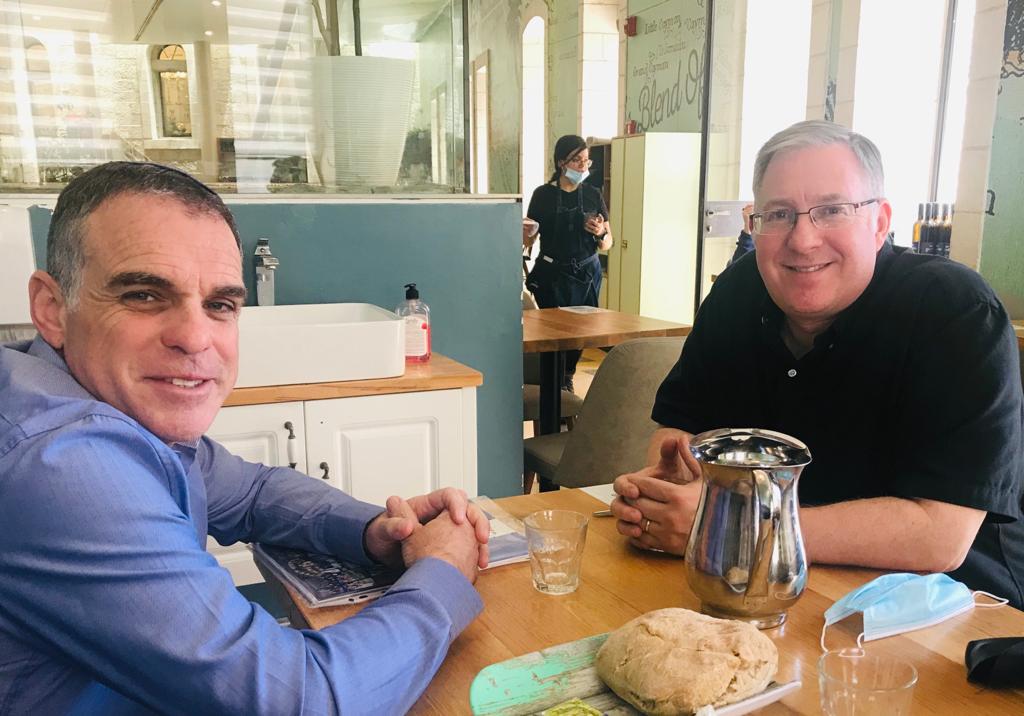 Joel Rosenberg and Mayor Oded Revivi (Photo: ALL ISRAEL NEWS)
"Maybe this coming Monday when will mark the 30th day [since] the terrorist attack on Simchat Torah."
Then, at 1:27 p.m. local time, Revivi issued a statement to the press in Hebrew.
Here is the English translation.
* This coming Monday we will mark the 30th day of fighting: a call for a national day of prayer *
The head of the Efrat Local Council, Oded Revivi, is calling on Chief Rabbi David Lau and elected officials to establish a national day of prayer this coming Monday.
On the 30th anniversary of the start of the terrible war, many members of the public consider it necessary to hold a day of prayer for the IDF soldiers and the abductees after a difficult month of losses and battles.
Oded Revivi: "There is no doubt that there is a place to declare a National Day of Prayer, as early as this coming Monday when we will mark the thirtieth anniversary of the terrorist attack with Simchat Torah."
While I reminded him that I'm not actually a clergyman, I was very grateful to see how enthusiastic Mayor Revivi was about mobilizing the entire nation of Israel to turn to the God of Israel in prayer and fasting.
MORE ORTHODOX JEWS ARE SPEAKING OUT
Over the past few hours, I've been hearing from other Orthodox Jews who strongly support this idea, as well.
"On individual basis, Israeli Jews, who are not even particularly religious, have turned to prayer in a very significant way," Jonathan Feldstein, an Orthodox Jewish journalist and thought leader here in Israel, told me.
"It's a very important initiative to bring us all together for a powerful national prayer, not just because we want God to hear our prayers but I think in doing so, it will provide us strength and encouragement as well."
"In 2014, there was a massive organized prayer event at the Western Wall, which had the same impact of bringing us all closer together, finding inspiration in something that is still yet so painful and difficult," Feldstein – who frequently writes columns for ALL ISRAEL NEWS – added.
"I pray that we will have many moments of inspiration among the pain and fear and grief, that unfortunately we are already experiencing and which probably will continue."
Another rabbi wrote to me about the idea of a national day of prayer, "I love it!"
He told me that he is now working to inform and mobilize other rabbis across the country.
Another rabbi that I've known for many years said he's encouraged that "we've been saying Psalm 121 in our services every day as committed Jews all around the world."
While not opposed to the idea of a national day of prayer, he said he wasn't sure that Prime Minister Benjamin Netanyahu would actually call for such a thing.
Other Israeli Jews have told me they agree and think it is more likely that such an initiative would have to come from the chief rabbi, given Israel's unique religious and political culture.

Joel C. Rosenberg is the editor-in-chief of ALL ISRAEL NEWS and ALL ARAB NEWS and the President and CEO of Near East Media. A New York Times best-selling author, Middle East analyst, and Evangelical leader, he lives in Jerusalem with his wife and sons.
Popular Articles
A message from All Israel News
Help us educate Christians on a daily basis about what is happening in Israel & the Middle East and why it matters.
For as little as $5, you can support ALL ISRAEL NEWS, a non-profit media organization that is supported by readers like you.
Donate to ALL ISRAEL NEWS
Latest Stories