Netanyahu's 'Two-Tweet solution:' PM congratulates Biden while thanking Trump
After four years of close cooperation with Trump, and the president still not conceding, Netanyahu must strike a precarious balance between Trump and any future US administration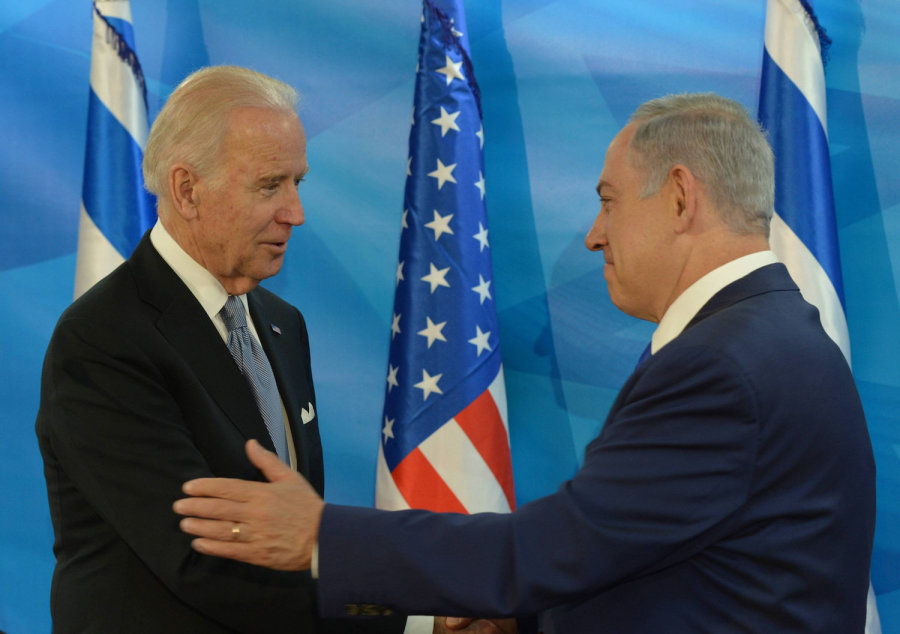 Israeli Prime Minister Benjamin Netanyahu meets with then US Vice President Joe Biden at the Prime Minister's Office in Jerusalem, on March 9, 2016, during Biden's official visit to Israel and the Palestinian Authority. (Photo by Amos Ben Gershom/GPO)
Israeli Prime Minister Benjamin Netanyahu and President Reuven Rivlin were conspicuously among some of the last world leaders to congratulate former Vice President Joe Biden after he declared victory in the 2020 U.S. elections.
It is no secret that Netanyahu enjoyed a warm friendship with President Donald Trump and that Israel was the recipient of many favorable American decisions during the president's four years in office.
At 7:30 a.m. Sunday morning, Israel time, Netanyahu became one of Israel's last high-ranking officials to congratulate Biden. He posted two tweets — one congratulating the president-elect and the other other thanking Trump. An Israeli journalist, Amichai Stein, dubbed it the two-tweet solution.
"Congratulations Joe Biden and Kamala Harris. Joe, we've had a long & warm personal relationship for nearly 40 years, and I know you as a great friend of Israel. I look forward to working with both of you to further strengthen the special alliance between the U.S. and Israel," he wrote.
He quickly followed up with sentiment directed toward Trump.
"Thank you Donald Trump for the friendship you have shown the State of Israel and me personally, for recognizing Jerusalem and the Golan, for standing up to Iran, for the historic peace accords and for bringing the American-Israeli alliance to unprecedented heights."
Though many Israeli leaders publicly praise bipartisan U.S.-Israel relations, they also fear returning to the days when Biden was vice president, and relations between U.S. President Barack Obama and Netanyahu were acrimonious at best.
"A large part of the moves that Trump and Netanyahu have made in the last four years appear in lists prepared by the Biden people regarding the steps that should be taken back and canceled starting on January 20," according to a report in Walla.
Dan Shapiro, former U.S. Ambassador to Israel, said the establishment of a Palestinian state "will return as the strategic goal of the Biden administration."
In addition, Minister Tzachi Hanegbi warned that a Biden presidency will lead Israel into war.
"Biden has said openly for a long time that he will go back to the nuclear agreement. I see that as something that will lead to a confrontation between Israel and Iran," he said on Channel 13 news last week.
Trump removed the U.S. from the agreement brokered by the Obama administration in 2015. Biden has already indicated that he may rejoin it.
"If Biden stays with that policy, there will, in the end, be a violent confrontation between Israel and Iran," he stated.
Otherwise, the public comments remained overwhelmingly positive. Rivlin also send a belated blessing this morning congratulating Biden and his Vice President-elect Kamala Harris at 7 a.m.
"Mr President-elect, as a long-standing friend of Israel, you are now the leader of the free world and of the State of Israel's closest and most important ally. The strategic alliance between our two countries and peoples is stronger than any political leadership, and is not based solely on friendship. It is rooted deeply in our shared values and in our long-standing commitment to freedom and democracy as the foundations of our societies."
He also thanked Trump for his "four years of partnership in strengthening Israel's security, and to thank the American people for their steadfast support and friendship."
Israeli Defense Minister Benny Gantz was the first high-ranking Israeli leader to congratulate Biden at around 4 a.m. Israel time.
"As the election results become final, I extend my heartfelt congratulations to Joe Biden, a long-time supporter and friend of Israel, and to his running mate, Kamala Harris, who has made history as the first woman elected VP." Gantz tweeted as Biden was delivering his victory speech in the U.S. "I look forward to continuing to deepen the steadfast bond and strong defense ties between our peoples, as allies in the effort to strengthen democracy, stability, and peace worldwide."
Gantz is hoping to work with Biden as prime minister, an office which he hopes to assume in the fall of 2021 in a rotation deal he made with Netanyahu.
Israeli leaders, many who stressed Israel's unbreakable bond with America, flooded cyberspace with positive, hope-filled congratulatory messages.
"Mazal tov to President-elect Joe Biden. I had the privilege of working with him for nearly five years...he's a champion of the US-Israel alliance. I wish him and VP-elect Harris every possible success," wrote Michael Oren, the former Israeli ambassador to the U.S.
Opposition leader Yair Lapid said in a statement: "The relationship between Israel [and] the US is based on shared values and interests that I'm sure will be at the heart of your work. I expect to work with the new administration and with members of both parties in Congress to deepen and strengthen the special relations between Israel and the United States."
Nir Barkat, former Jerusalem mayor, was the first from Netanyahu's Likud party to congratulate Biden and said he hoped "the courageous and positive relationship between the two countries will continue." He also thanked Trump for "his incredible contribution to the State of Israel" during his tenure.
Yamina party head Naftali Bennett congratulated Biden and also hailed Trump.
"You took truly revolutionary steps in the fortification of Israel's existence," he tweeted. "You brought us peace without giving up land. You made it clear the focus of the region is not the Palestinians. We will never forget this and we will always remain thankful."
Several lawmakers from left-wing parties, however, took the opportunity to disparage Donald Trump.
"After 4 years of nastiness, lies and thuggishness, the time has come for honest and decent leadership," Nitzan Horowitz, head of the Meretz party, wrote on Twitter.
"Good riddance. We're rid of a disturbed, lying idiot, who scorned all that is just and right and embraced all that is bad and depraved," Shelly Yachimovich, former leader of the Labor party and now a radio show host, tweeted. "A narcissist megalomaniac, misogynistic, harassing racist, who threatened to take all achievements of equality and progress back to the stone age. A heavy shadow has been removed from the world."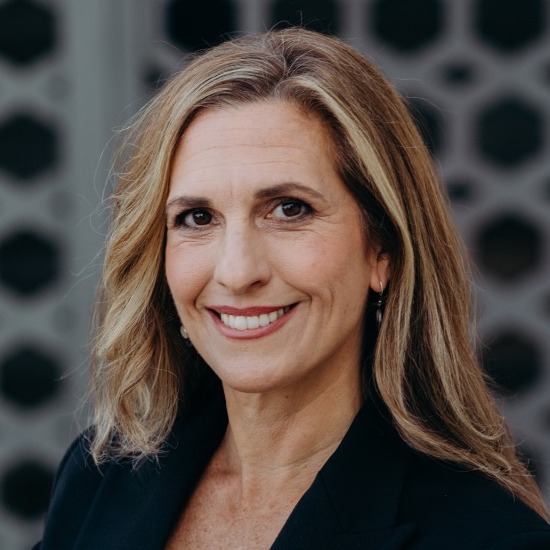 Nicole Jansezian was the news editor and senior correspondent for ALL ISRAEL NEWS.
A message from All Israel News
Help us educate Christians on a daily basis about what is happening in Israel & the Middle East and why it matters.
For as little as $5, you can support ALL ISRAEL NEWS, a non-profit media organization that is supported by readers like you.
Donate to ALL ISRAEL NEWS
Current Top Stories
Comments