Netanyahu – fearing he's being outmaneuvered and could lose premiership – brutally attacks rival Naftali Bennett in live press conference
Bennett says if Netanyahu can't form coalition, he is ready to form a "unity government" and become prime minister – what will happen next?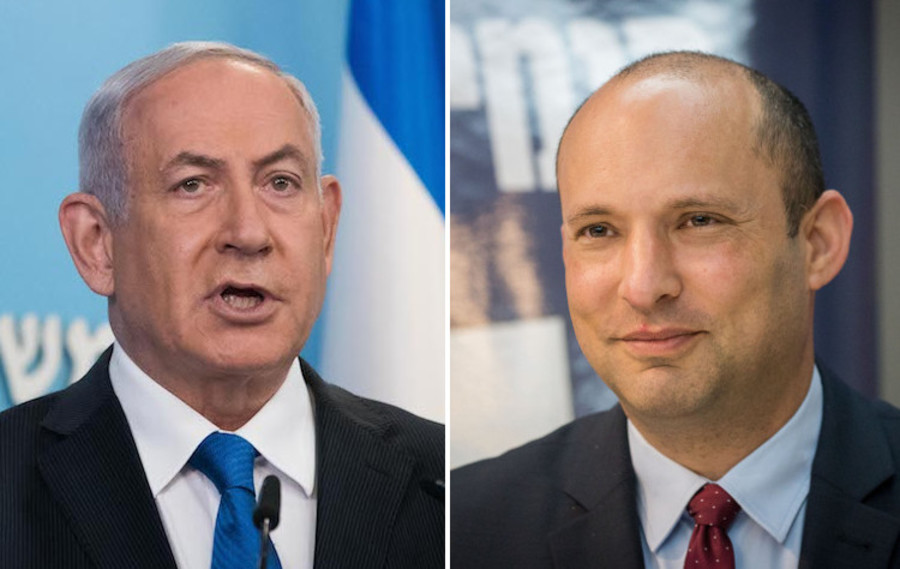 JERUSALEM – Israeli Prime Minister Benjamin "Bibi" Netanyahu is running out of time. 
He must form a governing coalition by May 4 or lose his chance.
While he has the support of 59 Knesset members, the problem is that Bibi still cannot figure out a way to find two more for the 61 seats he needs to form a majority in the 120-seat parliament.
Fearing he is being outmaneuvered and could lose the premiership he has held for 10 years straight – and 13 years overall – Netanyahu held a press conference Wednesday night and, on live TV, launched a brutal, blistering attack on rival Naftali Bennett.
Why?
Because it increasingly looks like Bennett, who previously served as Netanyahu's chief of staff and was once his closest political ally, could become the next prime minister.
Bennett said Wednesday that if Netanyahu cannot form a coalition, the country must not go to a fifth round of elections.
Thus, Bennett – a loyal right-wing politician who runs a party called Yamina which means "rightward" – is prepared to form a "unity government" with parties from the right, center and left.
It's not clear whether Bennett can pull it off.
His party only won seven seats in the March elections.
And there are enormous policy and personality differences in the various parties he would have to stitch together to form a government.
But Netanyahu is so worried that he unleashed on Bennett last night, even though Bibi would absolutely need Bennett and his seven seats if he were ever to form a government in the future.
"Unlike what you claim, Naftali, you're doing everything to torpedo a right-wing government," Netanyahu said in the press conference.
He accused Bennett of being ready to "assassinate the right."
Bennett says he is a right winger, but he wants "to lead a left-wing government of [Yair] Lapid, Meretz and Labor supported by the Joint List….While we have the mandate, you sealed a deal with Lapid on a government of the left and the extreme left," Netanyahu said.
He specifically accused Bennett of "spitting in the face of democracy" by thinking that a man with only seven seats could become prime minister.
Instead, in a late-hour gambit to stay in power, Netanyahu is calling for the Knesset to pass a new law allowing for direct elections for the prime minister, not the whole Knesset.
There would be a fifth election, then, but only to see who the country wants to be the premier.
Netanyahu is confident the country would elect him, and he urged Bennett and his party to vote in favor of such a bill, which Bennett has previously said he would support.
That said, Netanyahu insisted, "I am not resigning" to let someone else lead the Likud party.
"We are doing all we can so we won't be in the opposition," he said. 
He also dismissed speculation that he would accept a deal in which he would step down from being prime minister in order to be elected by the Knesset as president, following the end of Reuven Rivlin's term this summer.
"I am not interested in being president and never was."

Joel C. Rosenberg is the editor-in-chief of ALL ISRAEL NEWS and ALL ARAB NEWS and the President and CEO of Near East Media. A New York Times best-selling author, Middle East analyst, and Evangelical leader, he lives in Jerusalem with his wife and sons.
A message from All Israel News
Help us educate Christians on a daily basis about what is happening in Israel & the Middle East and why it matters.
For as little as $5, you can support ALL ISRAEL NEWS, a non-profit media organization that is supported by readers like you.
Donate to ALL ISRAEL NEWS
Current Top Stories
Comments