Keep your eye on Benny Gantz – as his poll numbers rise, he's key to passing balanced judicial reform
With Netanyahu's poll numbers dropping, Bibi reached out to Gantz on Tuesday to discuss possible way forward
National Unity party head Benny Gantz speaks during a joint press conference of heads of opposition parties in Tel Aviv, Mar. 16, 2023. (Photo: Avshalom Sassoni/Flash90)
JERUSALEM, ISRAEL – For the past several months, Benny Gantz has been doing two things.
First, Israel's former defense minister, and several years ago our "alternative prime minister," has been voicing sharp criticisms about the specifics of the judicial reform plan moving its way through the Knesset, and the speed by which the government is pushing the reforms to final passage, warning the whole thing could lead to "civil war."
Second, Gantz has offered to engage in talks with Israeli Prime Minister Benjamin "Bibi" Netanyahu in hopes of defusing the mounting national crisis and forge a broad national consensus on a final reform package, so long as Netanyahu first paused the legislation.
Until now, Netanyahu has not been paying attention.
But the Israeli people have.
This morning, two new polls were released that show Gantz and his party have nearly doubled their support.
They are now poised to be the second biggest party in the country, if elections were to be held soon.
What's more, the polls indicate that Netanyahu and his Likud party are in the process of losing significant public support.
A careful look at the numbers make it clear why we should keep a close eye on Gantz and why he is likely the key to getting a wise, thoughtful and balanced version of judicial reform passed this year.
"The polls published by Channel 12 news and Kan news both showed a major blow dealt to…Netanyahu's Likud party, dropping to just 25 seats from the 32 it holds in the current Knesset," reported the Times of Israel.
"Opposition leader Yair Lapid's Yesh Atid party would shrink slightly to 22 seats according to both polls, down from the 24 it currently controls," the Times added.
"But the big winner appears to be National Unity party leader Benny Gantz, whose party would receive 23 seats according to Channel 12 and 21 seats according to Kan, soaring from the 12 it holds now."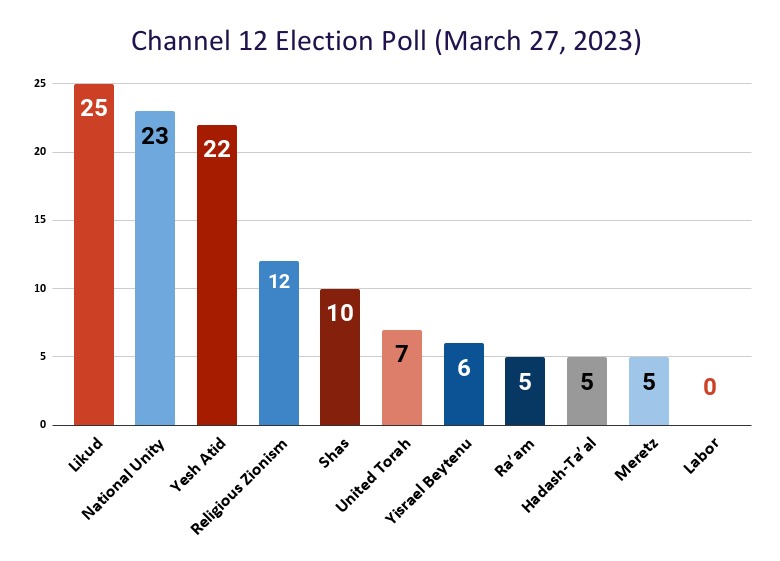 What's more, Israelis increasingly see Gantz as prime minister material.
Asked by the Kan poll who they think should lead the country in a head-to-head matchup:
Gantz received 37% support

Netanyahu only received 30%
There were two more intriguing results from the new public opinion surveys.
Both asked whether Israelis agreed with Netanyahu's decision to hit the "pause button" on the current judicial reform legislation and open up talks on a possible compromise.
"Channel 12's survey showed that 63% of respondents – including 60% of Likud voters – support a halt to the current judicial overhaul legislation, compared to 24% who oppose any such pause," according to the Times.
"Kan's poll showed 62% of the public supporting a pause of the legislation, and 22% saying that it should continue," the Times also noted.
Meanwhile, "the Channel 12 poll saw 68% of respondents give Netanyahu a poor grade for his current performance, with just 25% rating him positively."
Also, "63% of respondents – and 58% of Likud voters – said they opposed Netanyahu's decision to fire Defense Minister Yoav Gallant over his call for a pause in legislation."
No Israeli leader has more experience reading the political and social tea leaves than Bibi.
To his credit, Netanyahu is now listening to the public, halting progress on the judicial reform bill, and opening up talks with opposition leaders.
He's also seeing how widely – and increasingly – respected Gantz is.
So, Tuesday morning Netanyahu reached out to Gantz to begin a dialogue.
As ALL ISRAEL NEWS reported earlier today, Netanyahu told the public on national TV that he read a letter from National Unity party leader Benny Gantz, in which he promised to engage in talks on all issues related to judiciary reform.
The premier vowed to explore Gantz's initiative, with the support of his right-wing political allies. 
"When there is an opportunity to avert a civil war through discussion, as a prime minister, I am taking a break for dialogue. I am giving it a genuine opportunity for genuine dialogue to reach a wide agreement," Netanyahu continued. 
Gantz has already assembled his negotiating team to meet with Netanyahu.
The team includes Gideon Sa'ar, Israel's former Justice Minister and the number two official in Gantz's National Unity party.
"I stood here a few weeks ago and said we could have a civil war and that Netanyahu would be responsible," Gantz said Monday night after Netanyahu's announcement to pause the bill. "I welcome his decision to stop. Better late than never."

Joel C. Rosenberg is the editor-in-chief of ALL ISRAEL NEWS and ALL ARAB NEWS and the President and CEO of Near East Media. A New York Times best-selling author, Middle East analyst, and Evangelical leader, he lives in Jerusalem with his wife and sons.
A message from All Israel News
Help us educate Christians on a daily basis about what is happening in Israel & the Middle East and why it matters.
For as little as $5, you can support ALL ISRAEL NEWS, a non-profit media organization that is supported by readers like you.
Donate to ALL ISRAEL NEWS
Current Top Stories
Comments