Jared Kushner holds conference call with Evangelical, Jewish leaders, discusses Israel, Middle East peace and his new book, 'Breaking History'
Kushner repeatedly writes about his relationship with Evangelicals in memoir of his unlikely but strikingly successful White House journey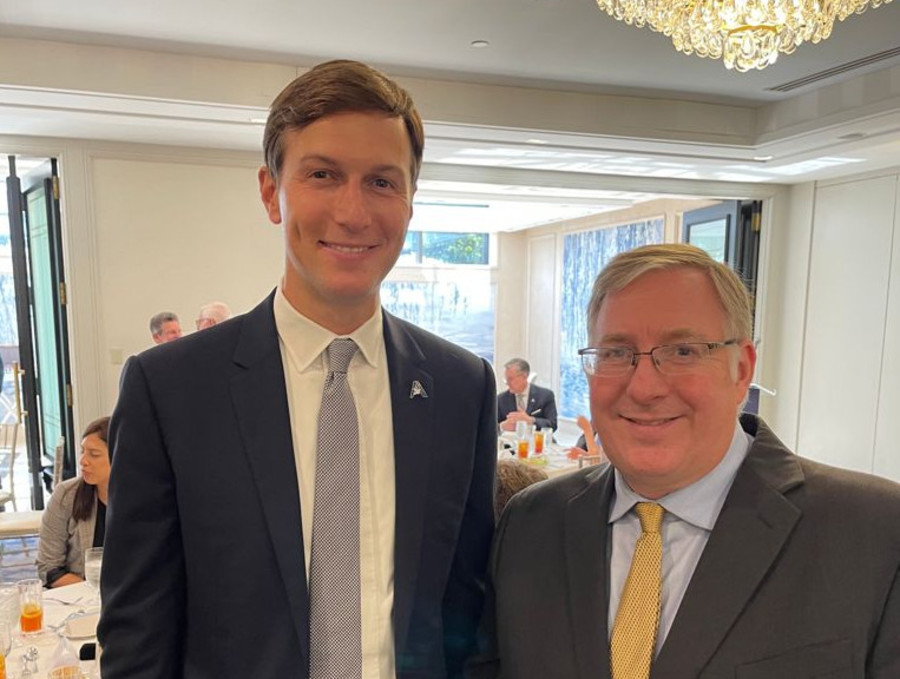 Jared Kushner and Joel C. Rosenberg at a one-year anniversary event of the Abraham Accords in Washington, D.C., September 2021 (Photo: ALL ISRAEL NEWS)
JERUSALEM—Jared Kushner doesn't describe himself as a particularly religious person.
He is ethnically Jewish, of course, and was raised in a Jewish home.
When he married Donald J. Trump's daughter – Ivanka – she converted to Judaism. Together, they are raising their children as Jews.
That said, growing up and building his professional life in and around Manhattan, Kushner didn't meet many Evangelical Christians until he began helping his father-in-law run for president.
That's what makes Kushner's interest in, affection for and strategic alliance with Evangelical Christians both fascinating and noteworthy.
And this dynamic is one of the themes that he weaves into his fascinating new book, "Breaking History: A White House Memoir."
Just published on Tuesday, the book quickly hit No. 1 on Amazon. The New York Times ran a review of the book calling it "soulless" and "selective" in its content and recalling of events.
But, I just began reading my copy and – despite the NY Times review – I have no doubt it will become a New York Times bestseller.
What makes it so interesting is that Kushner takes readers inside his unlikely, tumultuous, but strikingly successful journey from Manhattan real estate mogul to senior campaign advisor for Trump to senior White House policy strategist to Middle East peacemaker.
And at critical junctures along the way, he describes actively working to build relationships with Evangelicals.
Yesterday, as part of his book launch, Kushner spoke with Evangelical and Jewish faith leaders across the U.S. on a conference call.
The call was organized by Paula White-Cain, a long-time friend and advisor to both former Trump, Kushner and the family.
On the call, Kushner thanked "Pastor Paula" for helping him "mobilize the faith community" and specifically "the Evangelical community" behind Trump's unconventional campaign for the presidency as well as the policies he pursued once taking office.
Kushner explained that prior to the 2016 presidential campaign he thought of himself as an "outsider" to politics who "was actually probably more center-left, living in New York" than Evangelicals or Orthodox Jews, most of whom are quite politically and socially conservative.
Yet over time, he said, he came to "work very closely with the Evangelical and faith community" on a range of issues.
Domestically, this included bipartisan prison reform.
Internationally, this included recognizing Jerusalem as the capital of Israel, moving the U.S. embassy to Jerusalem, strengthening the U.S.-Israel alliance and helping broker not just one but four Arab-Israeli peace and normalization treaties that became known as the Abraham Accords.
"I'd say about 30% of the book is about my experience in the Middle East," he told those on the call, "going in as a novice in diplomacy and really spending time with all the leaders in Israel – Prime Minister [Benjamin] Netanyahu and others – and then meeting with the leaders in the Arab world like Sheikh Mohammed bin Zayed [of the United Arab Emirates], Mohammed bin Salman in Saudi Arabia, and [Saudi] King Salman."
In the book, he said, he explains "how we came up with the thesis for the Abraham Accords and how it came together."
"I joke with people today that we succeeded on Plan C only because we failed going through the alphabet three times before. So, you know, we kept trying things. They didn't work. And we kept learning and adjusting and trying new things."
"Ultimately, we were able to make the breakthrough between Israel and the United Arab Emirates, and then Bahrain, and then Sudan, and then Kosovo, and then finally Morocco."
Kushner also spoke of the Trump administration's success in "uniting the GCC," the Gulf Cooperation Council, which had severe strains – notably between Qatar and the rest of the GCC – which he called "a big stumbling block towards getting more Abraham Accords done."
What many Americans still don't fully realize, Kushner said, is that "what we have done essentially is bring about the beginning of the end of the Arab-Israeli conflict."
That, he said, is just one example – but a big one – of where his title, "Breaking History," came from.
Seven times in the book, Kushner talks about his relationship with Evangelicals.
The first reference comes as he explains how Trump chose his vice presidential running mate.
The decision, Kushner explains, came down to three names: former New Jersey Governor Chris Christie, former House Speaker Newt Gingrich and then-sitting Indiana Governor Mike Pence.
"After we read the vetting files of the three candidates, I joked that Christie's file read like a John Grisham thriller, Gingrich's read like a Danielle Steel romance novel, and Pence's read like the Bible," Kushner quips.
"I thought Pence was the perfect choice," he quickly adds. "A midwestern governor with experience in Washington as a congressman, he was respected by Evangelicals, and his steady nature counterbalanced Trump's enthusiasm."
The second reference to Evangelicals in the book comes when Kushner describes the choice of David Friedman – one of Trump's most trusted legal advisors – not only to be the U.S. ambassador to Israel but to be part of the Middle East peace team.
"David Friedman rounded out the core team," Kushner explains. "A successful bankruptcy lawyer in Manhattan, Friedman had earned the confidence and friendship of Trump over fifteen years. Some criticized his selection as ambassador because he was a pro-Israel hawk with connections to the Evangelical and Jewish right wings, but I saw this as an asset. He was well positioned to build relationships with the Israelis and report information back to Washington."
At another point in the book, Kushner describes an event that Trump did at a church in Miami "to launch one of his most important campaign coalitions, Evangelicals for Trump."
In the end, 81% of self-described White Evangelical Christians voted for Trump in 2016.
Some 79.4% voted for Trump in 2020 – a decline of 1.6 points – according data from Trump's own pollster.
In such a close race, even that small a decline in Evangelical support hurt Trump.
Today, there remain Evangelicals who are sharply critical of Trump's character, even if they generally supported his policies.
All that is interesting and a discussion for another day.
What I am finding so interesting about Kushner's book is how clearly this "center left" Jewish businessman from Manhattan saw the importance of the Evangelical Christian community.
He eagerly helped his father-in-law court Evangelicals and embrace them.
What's more, he tirelessly worked to advance an Evangelical policy agenda on one critical issue after another, including strengthening the U.S.-Israel alliance, confronting the apocalyptic Islamists in Iran, and advancing the peace of Jerusalem for which so many millions of Jews and Christians pray based on the command of Psalm 122:6.
What's next for Jared Kushner?
That remains to be seen.
But he has made many friends in the Evangelical world and they will be watching his next moves closely.
Disclaimer: This article contains an affiliate link to buy the book "Breaking History: A White House Memoir" on Amazon. Near East Media, parent organization of ALL ISRAEL NEWS, may earn a commission at no additional cost to you.

Joel C. Rosenberg is the editor-in-chief of ALL ISRAEL NEWS and ALL ARAB NEWS and the President and CEO of Near East Media. A New York Times best-selling author, Middle East analyst, and Evangelical leader, he lives in Jerusalem with his wife and sons.
A message from All Israel News
Help us educate Christians on a daily basis about what is happening in Israel & the Middle East and why it matters.
For as little as $5, you can support ALL ISRAEL NEWS, a non-profit media organization that is supported by readers like you.
Donate to ALL ISRAEL NEWS
Current Top Stories
Comments