Israel's opposition leader gives rare credit to Netanyahu, praises UAE peace deal as 'fantastic' and a 'great move'
In exclusive interview with ALL ISRAEL NEWS, Yair Lapid says he has plenty to criticize Netanyahu about, but PM's decision to make peace with Abu Dhabi is not one of them.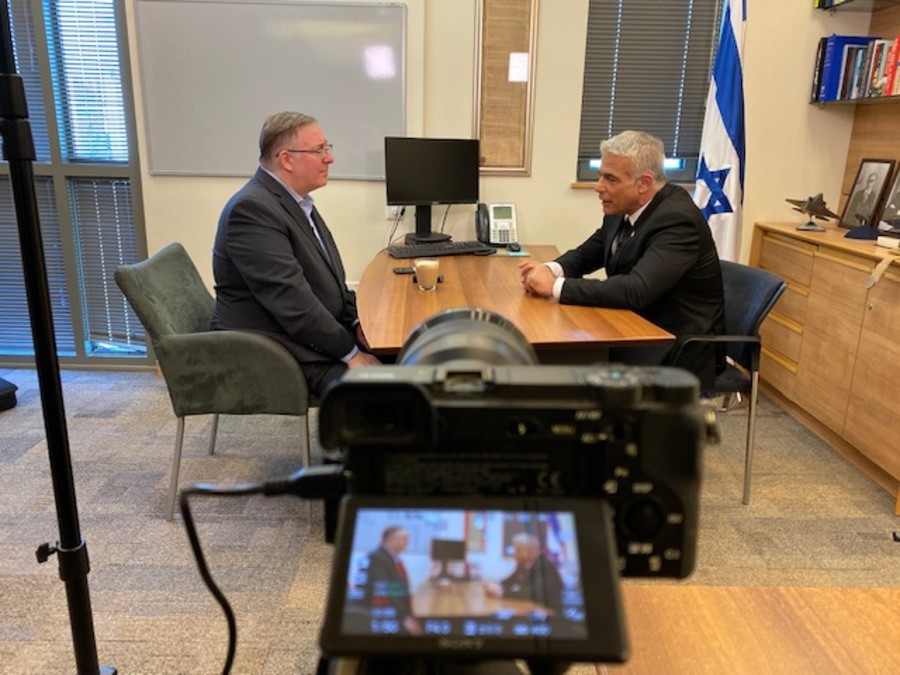 Editor-in-chief Joel C. Rosenberg interviews Israeli leader of the opposition Yair Lapid in his Knesset office. (Photo credit: All Israel News)
JERUSALEM – It is not often that we hear Yair Lapid praise anything that Prime Minister Benjamin Netanyahu does.
Almost never, in fact.
So, when he does, it's news.
Lapid, after all, is not merely a member of Knesset – Israel's parliament – he is also the leader of the opposition. He is openly trying to bring down the Netanyahu government, which he blasts for doing a terrible job handling the COVID-19 crisis and the economy.
I will write about Lapid's searing criticisms tomorrow, in part two of this series of articles. In part three, I'll relay Lapid's surprising efforts to reach out to Evangelicals.
Today, in part one, I want to focus on Lapid's rare words of support for Netanyahu's decision to make peace with the United Arab Emirates rather than pursuing "annexation" of large swaths of the biblical territories of Judea and Samaria, commonly referred to as the West Bank.
I sat down with Lapid in his Knesset office and found him full of warm words for the peace treaty and the economic and cultural doors it will open for all Israelis. He also expressed his desire that the UAE deal will eventually persuade the Palestinians to make peace with Israel and finally accept a two-state solution.
Here are excerpts from our interview:
ROSENBERG: How do you see this peace deal?
LAPID: Actually, I don't see this as the leader of the opposition but as an Israeli patriot. This is a great move. This type of agreement will do a world of good, for the people of Israel, for the people of the Emirates, for the economy of both countries. Israel, as you know, is a very innovative country. The Emirates have a very smart way of investing. So we can do a lot of things together.
I have enough opportunities, or reasons, in order to criticize this government. But on this, I was just happy. I've been speaking, since 2015, about the necessity of moving into a regional process in order to make peace.
Lapid (R) and Rosenberg (L). (Photo credit: All Israel News)
People have asked me, "Yeah, but what about the peace process with the Palestinians?"
Listen, people think that if we have made a peace agreement with the Emirates – and hopefully an agreement with Bahrain will follow, maybe other countries, hopefully with Saudi Arabia down the road – then people will feel that there is no need to do anything on the Palestinian front.
I happen to think the opposite. I think countries that have become our friends, like the Emirates – with leaders who are as smart as MBZ [Crown Prince Mohammed bin Zayed]  – this is somebody you want to listen to. This is someone who can be helpful in any future negotiation we might have with the Palestinians.
So, it might even be a good thing in terms of going forward with the Palestinians. But the move itself is fantastic.
The Jordan deal [in 1994] was the last time I saw people so optimistic about a deal.
These are not optimistic times. The virus has made our life a bit gloomy. Pessimism is all around. So, good news is always good....
ROSENBERG: When you and I spoke last, you had wanted to make a regional push to build peace treaties with other Arab states, and you were concerned about the annexation move [that Netanyahu was advancing over the summer] that could upend a lot of those opportunities. Do you believe that annexation – or applying sovereignty over sections of Judea and Samaria by Israel – is that off the table? Has it been sidelined? Are you against it under any circumstances? Or do you see this just as a delay, until we go deeper into a peace process [with the Palestinians]?
LAPID: I would differentiate sovereignty from annexation, and the differentiation is [that] annexation is a unilateral thing. In any future agreement – and it doesn't matter if Netanyahu is prime minister or I am prime minister – Israel will say, "No way on earth that the Jordan Valley is not part of Israel. Ariel is part of Israel. Ma'ale Adumim is part of Israel. Gush Etzion is part of Israel. All of those are historic pieces of land. They are also essential to our security. But we can get this as some part of a negotiation, some part of an agreement, which I think is important.
We have no interest in ruling 2.9 million Palestinians in Judea and Samaria, and we need to separate from them. This is an Israeli interest. Separation from the Palestinians, under the two-state solution, is not something we need to give the world, or the Palestinian Authority, or the Arab League, or anyone, as a gift. It's in Israel's interest. We want to separate. We don't want to rule them forever. I don't want my grandchildren to still be in, I don't know, Nablus, because they have no business there. And I know some of those areas are biblical, but I'm also a realist.

Joel C. Rosenberg is the editor-in-chief of ALL ISRAEL NEWS and ALL ARAB NEWS and the President and CEO of Near East Media. A New York Times best-selling author, Middle East analyst, and Evangelical leader, he lives in Jerusalem with his wife and sons.
A message from All Israel News
Help us educate Christians on a daily basis about what is happening in Israel & the Middle East and why it matters.
For as little as $5, you can support ALL ISRAEL NEWS, a non-profit media organization that is supported by readers like you.
Donate to ALL ISRAEL NEWS
Current Top Stories
Comments