I'm sickened and grieved by the demonic mass murder in Buffalo and the racist, anti-Semitic manifesto allegedly written by the gunman that calls for the slaughter of Blacks and Jews
Even though I live in Jerusalem, I grew up Western New York – not far from Buffalo – and I've been rattled by this story. Here's why.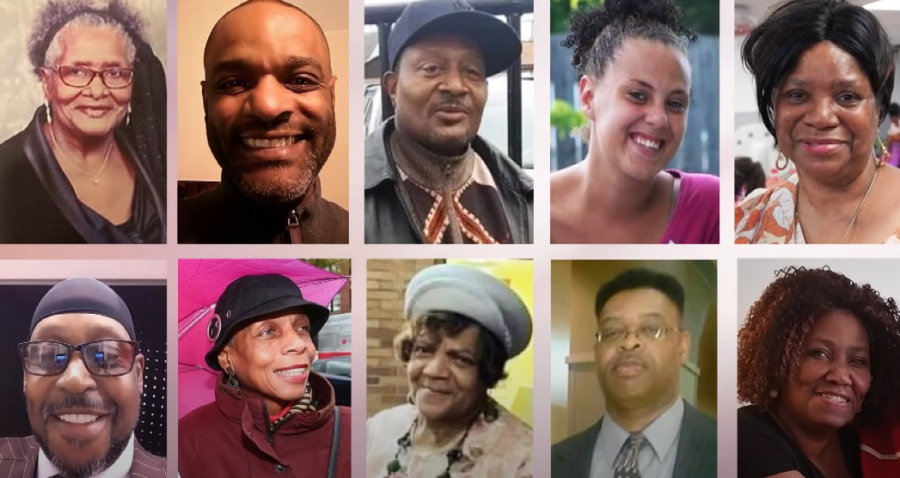 Photo: Screenshot from the KTLA 5 channel on YouTube
JERUSALEM—There is no other way that I can describe the brutal murder of 10 innocent African Americans in a grocery story in Buffalo, New York, on Saturday.
It was demonic.
This wasn't simply a crime.
This was sheer evil at work.
"What happened here is simple and straightforward terrorism – domestic terrorism – violence inflicted in the service of hate," U.S. President Joe Biden said yesterday. "White supremacy is a poison."
He is absolutely right.
Indeed, the attack has rattled me.
Even though I live now in Jerusalem – half a world away from the attack – I grew up in Western New York.
Born in Syracuse, my family moved when I was about two years old to a little village called Fairport, just outside of Rochester, barely an hour's drive from Buffalo.
Growing up, I spent a good deal of time in and around Buffalo, especially after one of my sisters got married and moved there.
So I've been watching the story closely and praying for the Lord to comfort and heal everyone who has been affected.
The more details I learn about this attack and its victims, the more grieved I am.
Eleven of the 13 people who were shot were Black, two were White.

All 10 of those who died were Black.

Four worked at the store, while six were customers.

One of the heroes of the tragedy was an African American security guard named Aaron Salter. ABC News reports that Salter was a retired Buffalo police officer who "was killed after he confronted the gunman, who entered the store wearing military fatigues, body armor and a tactical helmet. Salter…shot the assailant, Buffalo Police Commissioner Joseph Gramaglia told ABC News on Sunday. But the bullets had no effect due to the bulletproof vest the suspect wore, and the gunman returned fire, striking Salter. Gramaglia described Salter as a 'true hero' who undoubtedly saved more lives during the encounter….'He went down fighting,' Gramaglia said. 'He came in, he went towards the gunfire. He went towards the fight.' One Tops employee, a mother of seven, told ABC News that if it hadn't been for Salter, she and her 20-year-old daughter, who was working at the register, would not have known the gunman was headed in their direction. When she saw Salter pull out his weapon, they knew they had to run, and they both made it out alive, she said." 
Image: Screenshot from the NYT Twitter feed
The more I learn about the 18-year-old man arrested and charged with the mass slaying – and with the racist, anti-Semitic manifesto he allegedly wrote – the more sickened I become.
Consider just a sampling of sick quotes from the manifesto:
"Call me an ethno-nationalist eco-fascist national socialist if you want, I wouldn't disagree with you."

"I'm advocating for is (sic) the gentiles vs. the Jews. We outnumber them 100x, and they are not strong by themselves. But by their Jewish ways, they turn us against each other."

"The Jews are the biggest problem the Western world has ever had. They must be called out and killed."

"We cannot show any sympathy towards them [Jews] again."
And that's not all – there is much more:
"I wish all JEWS to HELL! Go back to hell where you came from DEMON!"

"The Jews are responsible for many problems that we in the western world face today….For our self-preservation, the Jews must be removed from our Western civilizations, in any way possible." 
"The manifesto's language closely echoes the themes of previous rants posted by white supremacist shooters, and refers repeatedly to the virulently racist and anti-Semitic Great Replacement conspiracy theory, which argues that Jews are responsible for non-white immigration into the United States, and that non-white immigrants will eventually replace (and lead to the extinction of) the White race," noted the Anti-Defamation League in a report posted on its website on Saturday.
"Before the shooting, [the man later arrested and charged] allegedly posted a virulently racist, 180-page manifesto detailing his reasons for the attack," noted the ADL. "According to the manifesto, [he] chose that store and zip code because he believed a high percentage of Black people live there. This mirrors the approach taken by White supremacist shooter Patrick Crusius, who targeted a Walmart in El Paso, Texas, with a substantially Hispanic customer base."
Time magazine reports that "significant sections of the Buffalo gunman's document are copied from the manifesto of the New Zealand man who killed 51 people in the massacre he live-streamed in Christchurch. The Buffalo shooter also casts himself as a hero in the mold of other racist mass shooters, including Dylann Roof, who killed nine Black parishioners during a Bible study in Charleston, S.C., in 2015. He situates his act as part of 'the movement,' discusses using 'techniques that increase media coverage,' and encourages fellow extremists to 'use edgy humor and memes in the vanguard stage, and to attract a young audience.'"
What happened in Buffalo is shocking and wrong and reprehensible.
What makes it worse it that it is part of a deeply disturbing pattern of hatred and racism and violence that is metastasizing like a cancer across the United States, and around the world.
In 2012, I wrote about book called, "Implosion: Can American Recover From Its Economic and Spiritual Challenges In Time?"
I ask now what I asked then: What in the world is happening in America?
Is America simply in decline, or are we like the Roman Empire, stumbling toward collapse?
Once, such a question would have struck most Americans as ludicrous – even offensive. 
But times have changed.
Large segments of American society have also come to believe that the United States is in severe trouble. Not just run-of-the-mill, garden-variety trouble, but real peril. Grave danger. And not just from threats without, such as radical Islam, but from threats within, such as financial ruin and moral decay. 
Vast numbers of Americans have come to believe we have entered a period of severe and potentially irreversible decline. 
What's more, many Americans go even further, fearing that the United States is in serious risk of economic and social collapse, not mere decline. 
Some fear the U.S. is following the path of the Roman Empire and wonder if their country is destined for destruction. 
What's even more striking is that these Americans are not limited to a particular political party, religion, socioeconomic status or region of the country. 
They don't represent just one sliver or slice of the country. 
Rather, they increasingly span the full spectrum of partisan, ideological, racial, cultural and spiritual backgrounds. 
Were one somehow to be able to put them all in the same place, they would surely have more disagreements than agreements on how best to solve our country's problems. 
But they would agree on at least one thing: they all genuinely wonder if we are in jeopardy of witnessing the end of America as we have known her for so long.
Ten years later, I'm more concerned about the future of America than ever.
The country I was born and raised in needs to get far more serious about fighting racism, anti-Semitism and the culture of hatred and death.
Above all, America needs a spiritual revival within the Church, and a Third Great Awakening among the society at large.
Politics will not save America.
Only the God of the Bible can.

Joel C. Rosenberg is the editor-in-chief of ALL ISRAEL NEWS and ALL ARAB NEWS and the President and CEO of Near East Media. A New York Times best-selling author, Middle East analyst, and Evangelical leader, he lives in Jerusalem with his wife and sons.
A message from All Israel News
Help us educate Christians on a daily basis about what is happening in Israel & the Middle East and why it matters.
For as little as $5, you can support ALL ISRAEL NEWS, a non-profit media organization that is supported by readers like you.
Donate to ALL ISRAEL NEWS
Current Top Stories
Comments