I'm excited to announce that TBN and I will launch THE ROSENBERG REPORT – a weekly, prime-time TV show from Jerusalem – on Oct. 6
Two years ago, I launched ALL ISRAEL NEWS and ALL ARAB NEWS. Now, I'm deeply honored to join forces with the world's most-watched Christian TV network to report on wars, rumors of wars and the future of peace in the Epicenter
JERUSALEM—It's been a hot, intense summer in the Middle East.
The government led by Israeli Prime Minister Naftali Bennett fell.

U.S. President Joe Biden made state visits to Israel and Saudi Arabia.

U.S. forces took out Ayman al-Zawahiri, al-Qaeda leader and one of the masterminds of the 9/11 attacks.

Radical Islamist terrorists in Gaza fired 1,100 rockets at Israel.
Yet the fall could be even hotter and more intense.
Biden is poised to agree to a nuclear deal with Iran.

Russian President Vladimir Putin continues to commit war crimes in Ukraine while forging a closer and closer alliance with Iran.

Israelis will hold our fifth round of elections in less than four years.

And the U.S. mid-term elections could radically alter – or paralyze – the domestic and foreign policy trajectory of the world's most powerful nation.
What does it all mean? Where is it all heading? How should it affect the way we live and the way we pray?
Two years ago – on Sept. 1, 2020 – my colleagues and I launched two new websites, ALL ISRAEL NEWS and ALL ARAB NEWS, to track and make sense of the tectonic changes going on here in the Middle East, as well in the U.S., Russia, China and other countries that affect us in the Middle East.
Now, I'm excited and deeply honored to join forces with TBN, the Trinity Broadcasting Network – the world's most-watched Christian TV network – to take our reporting and analysis to vastly larger new audiences.
In May, I signed a deal with TBN to anchor and serve as executive producer of a new current affairs program.
On Oct. 6, THE ROSENBERG REPORT will premiere on TBN.
The show will be:
Weekly on Thursday nights at 9 p.m. eastern

30 minutes

Produced at TBN's studios here in Jerusalem

Focused on Israel and the Arab/Muslim world, but also covering major geopolitical, economic and spiritual events and trends in the U.S. and around the world, all from a biblical worldview

Yesterday, TBN president Matt Crouch and his wife, Laurie, announced THE ROSENBERG REPORT during an interview we did here in Jerusalem.
The interview aired on "Praise," TBN's flagship prime-time program.
"Joel, we think you're the right guy to help TBN communicate the importance of this region, the importance of Israel, the importance of Israel's place in the world and America's alliance to it," Matt Crouch explained.
"This is the center of the world," Crouch added, looking out over the Old City, the Temple Mount, and the Mount of Olives. "This is the epicenter of the world, Israel."
"Joel, I feel like everyone in our viewing audience wants to sit here in Israel with you and ask you what's going on….I believe people are going to say that we finally found the right guy, with the right credentials, the right resume."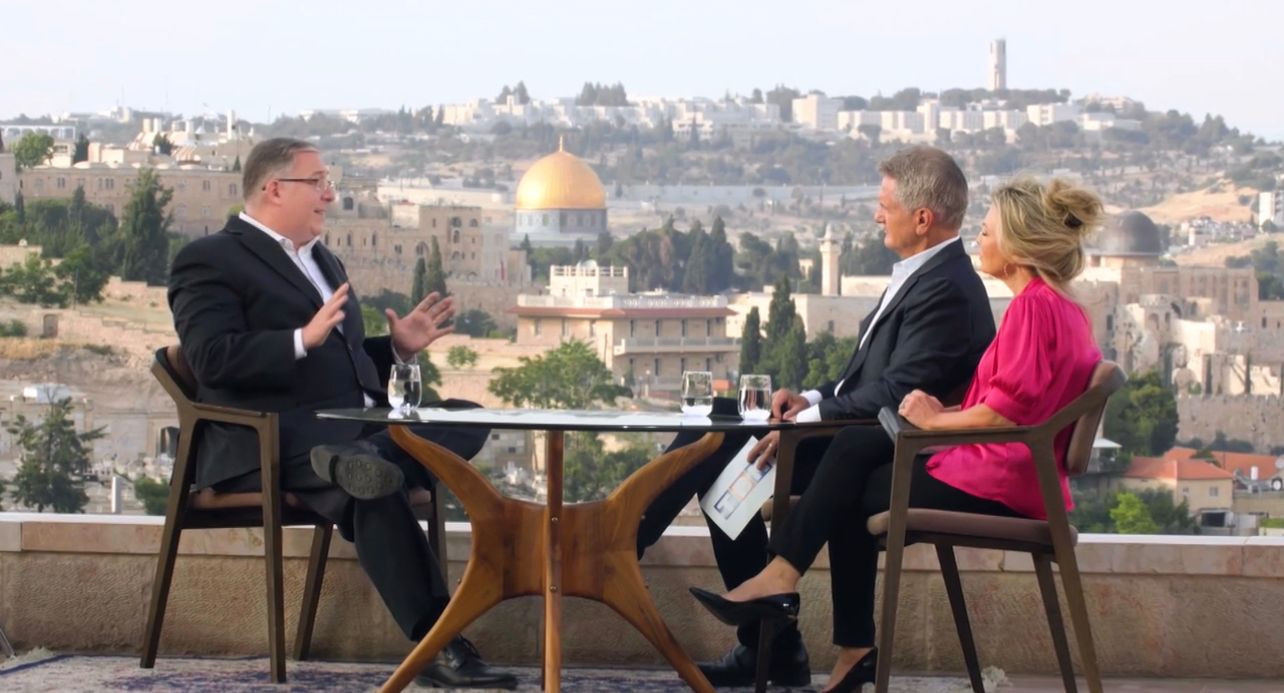 TBN president Matt Crouch and his wife, Laurie, announce THE ROSENBERG REPORT in an interview of Joel C. Rosenberg (Photo: Screenshot)
It was a fun and wide-ranging interview, as they asked me about my spiritual and professional journey.
It was also a humbling moment.
"Matt and Laurie, I'm really grateful and honored to be part of the TBN family, and excited about launching this show in the fall," I told them. "And I think THE ROSENBERG REPORT seems like a good name."
"I still question your judgment because I've got a face for radio," I quipped. "But you are the head of the world's largest Christian television network. So, you probably know better than me."
On a serious note, I conceded that when Matt had invited me to Dallas last December to pitch me the idea of anchoring and producing such a show, I was hesitant given all the other responsibilities on my plate.
Still, I agreed to pray about it and seek counsel from family and friends, including the boards of two non-profit ministries that I have founded, The Joshua Fund and Near East Media, which oversees ALL ISRAEL NEWS and ALL ARAB NEWS.
The counsel was unanimous.
To a person, people told me that they believe God is opening an extraordinary door to take my message – and far more importantly, the message of the Bible, and a Biblical understanding of what is happening in the Epicenter and why it matters to all of us – to a much, much wider audience.
And doing so at a Kairos moment in human history.
In time, my wife, Lynn, and I came to the same conclusion.
"Many Christians have been distracted in recent years by COVID, and their churches being closed and vaccines debates," I told Matt and Laurie on their program. But increasingly, "the eyes of the nations are shifting more and more to here. That doesn't mean there aren't important things going on in other places in the world. But in the end, Jesus is coming there. He's not coming to Washington or Beijing or Moscow or London. He's coming here, to Israel, to Jerusalem. And so, Satan hates this place, and these people – my people – because God loves us."
"People have been saying for years that what happens in Las Vegas stays in Vegas, but nobody says that about Jerusalem," I added. "This is a city that has been conquered dozens of times. This is the city where Jesus came. This is where He died. This is where He rose again. And where He is coming back. This city impacts everybody in the world because this is where the Gospel came from."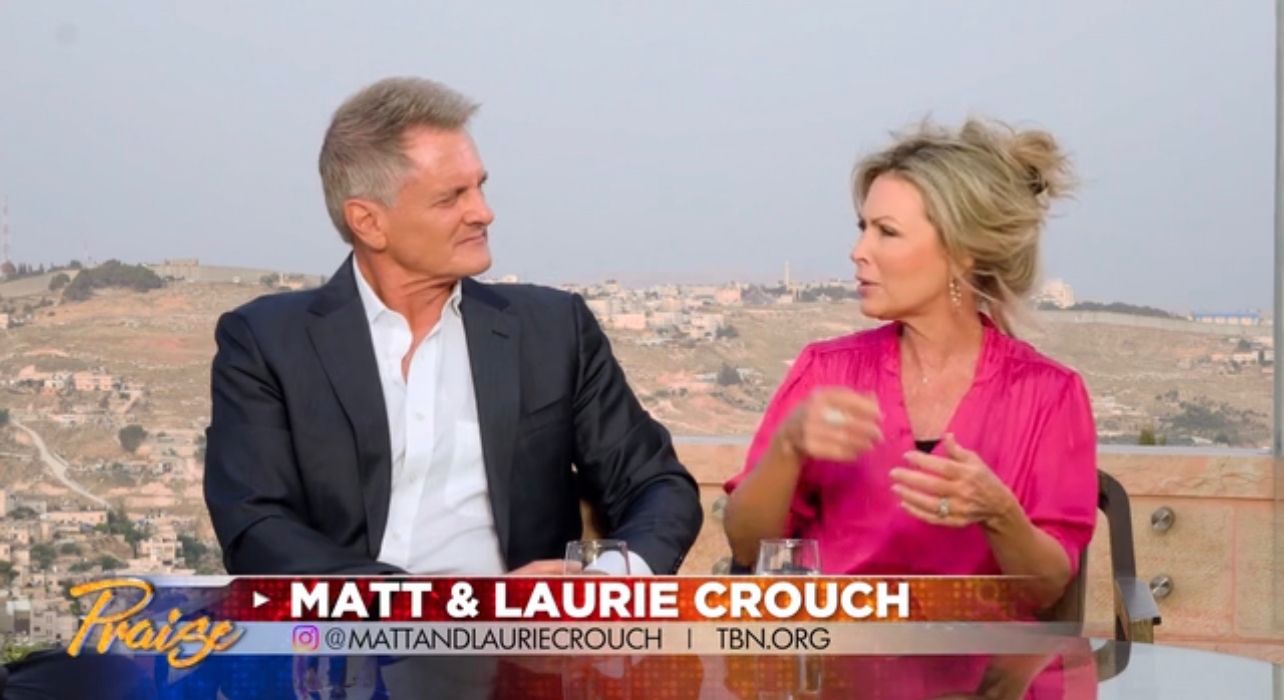 TBN president Matt Crouch and his wife, Laurie, in an interview of Joel C. Rosenberg (Photo: Screenshot)
To be sure, many wars and terrorist acts have happened here, I conceded. Now the Iranian regime is feverishly trying to build nuclear weapons to annihilate Israel and bring about a Second Holocaust.
At the same time, Evangelicals have been praying for the peace of Jerusalem for decades, and we are seeing God answer our prayers with the historic Abraham Accords.
What's important for us to remember, I explained, is that God said in the scriptures that Israel is the "apple of His eye."
God tells the nations, "Do not come after My people, My country, My city. Love the neighbors, but don't come after the people of My eye, the apple of My eye."
"And now I live here as a Jew, as an Israeli, as an American, as an Evangelical follower of Jesus," I said. "And I am fascinated by this place."
How exciting it is now to have another platform to talk about Israel – and the God of Israel – every week, from Jerusalem, to a worldwide television audience.
I can't wait.
In the weeks ahead, I'll be sharing more.
For now, I ask you to pray for us as we hire the team, build the sets, write the scripts, shoot lots of footage and prepare to launch on Oct. 6.
Thanks so much.

Joel C. Rosenberg is the editor-in-chief of ALL ISRAEL NEWS and ALL ARAB NEWS and the President and CEO of Near East Media. A New York Times best-selling author, Middle East analyst, and Evangelical leader, he lives in Jerusalem with his wife and sons.
A message from All Israel News
Help us educate Christians on a daily basis about what is happening in Israel & the Middle East and why it matters.
For as little as $5, you can support ALL ISRAEL NEWS, a non-profit media organization that is supported by readers like you.
Donate to ALL ISRAEL NEWS
Current Top Stories
Comments