Hanukkah in Israel: The whole country gets in the mood
Hanukkiot can be found in windows in almost every neighborhood, regardless of whether people are secular or Orthodox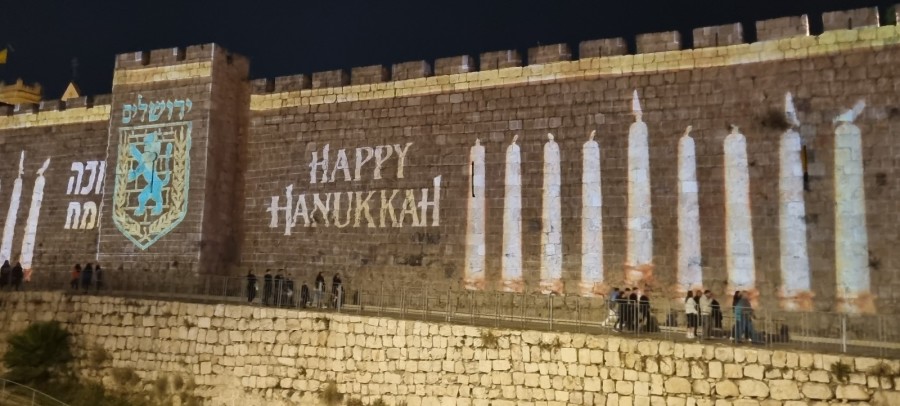 Hanukkah greeting shown on the wall of Jerusalem's Old City (Photo: Sharon Altshul)
Hanukkah in Israel is eight days of parties, candle lightings and jelly doughnuts.
"In America, Hanukkah is gift-giving," said Real Jerusalem Streets photographer Sharon Altshul. "In Israel, Hanukkah is everything else."
Altshul has been living in Israel for 16 years. She spent time in West Virginia, Boston, Vancouver, Silver Spring, Melbourne and Flatbush before making Aliyah. Today, she photographs the streets of Jerusalem and shares those images with the world.
She says that what struck her when she moved to the country – and continues to ignite her each year – is how Hanukkah takes over Israel for Jews of all levels of religiosity. Children are off school and families celebrate the holiday together.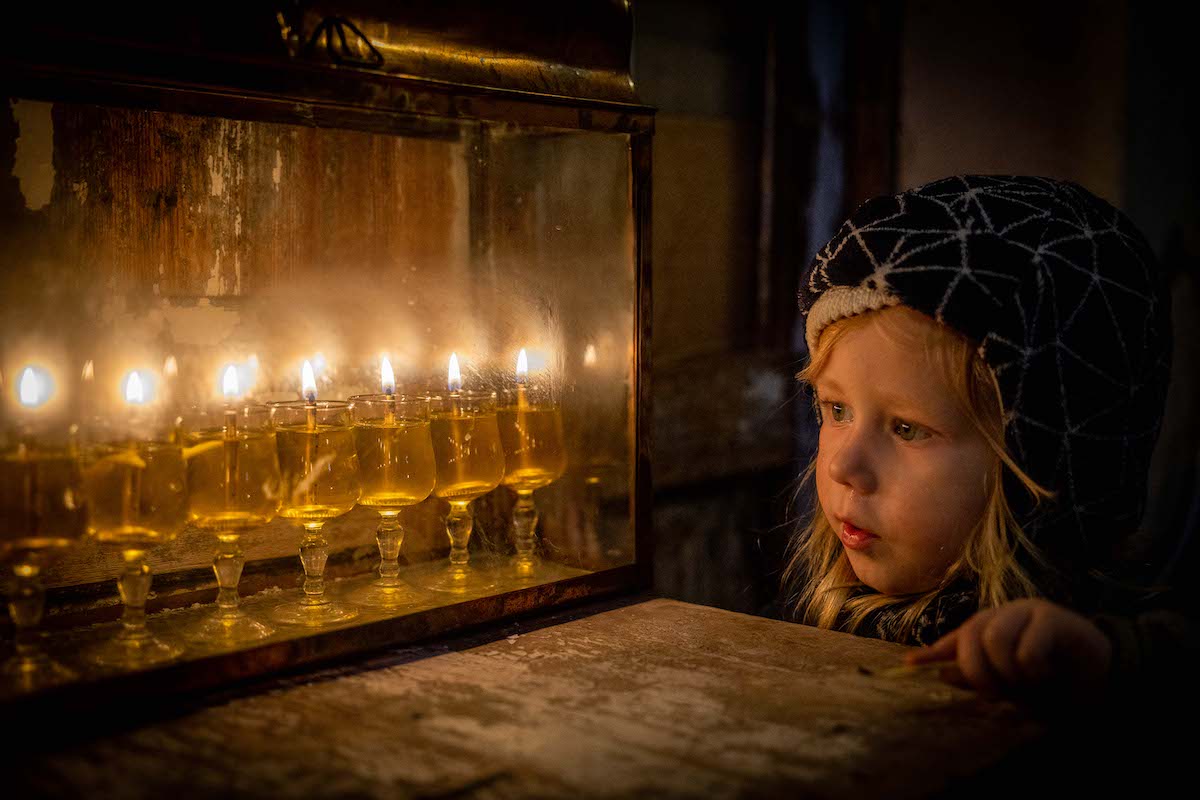 A child looks at a hanukkiah on the last night of Hanukkah in Jerusalem's Mea Shearim neighborhood, Dec. 25, 2022. (Photo: Yonatan Sindel/Flash90)
The whole country gets into the mood, from the grocery stores to the restaurants, she said. 
"I remember the other day; I was driving in Tel Aviv and I saw an ad for toothpaste. There was a little girl smiling and she was sitting next to a hanukkiah," said Altshul.
The stores sell chocolate coins known as Hanukkah gelt. They have sales on oil – for frying, which Jews do a lot on the holiday to commemorate how a small pitcher of oil for the Temple's menorah miraculously lasted eight days.
The major cities even adorn their street lights with sparkling lights in the shape of hanukkiot, dreidels and other holiday paraphernalia. 
But the best part, Altshul said, is how hanukkiot appear in every window.
Hanukkiot have eight branches and a "worker candle," but are meant to represent the seven-armed menorah from the days of the Temples. 
"I speak to my family back home and they talk about rising antisemitism. They hide their hanukkiot on their dining room tables, whereas in Israel, they are sitting in the windows or in glass cases by the front door, lighting up the streets," Altshul said. "They just shine."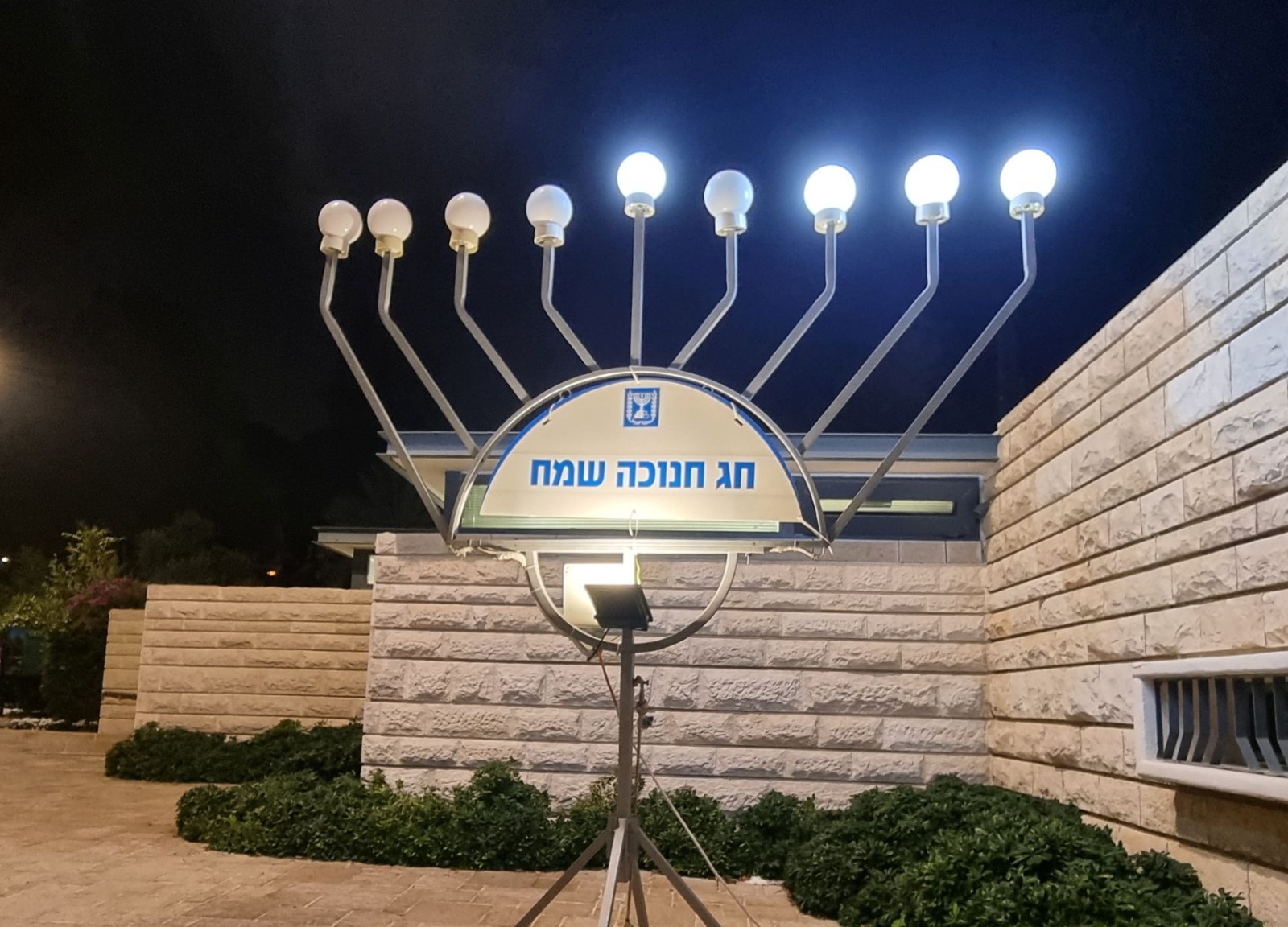 Large hanukkiah in Jerusalem (Photo: Sharon Altshul)
She noted how as a photographer she often walks the streets during Hanukkah to snap shots of all the gorgeous candelabras. And here, again, she said these hanukkiot can be found in almost every neighborhood, regardless of whether people are secular or Orthodox.
Altshul added that in the States, Christmas music plays on the radio, but in Israel Hanukkah music is played on the radio and in stores throughout the eight-day holiday.
Altshul is an Orthodox Jew. But Laura Cornfield, secular, described Hanukkah very similarly to Altshul.
"I think everyone has a family tradition of lighting candles together even if they don't celebrate otherwise," Cornfield, director of Media Central, said. "We all make a real effort to be together each night of Hanukkah."
She said that people hold Hanukkah "parties" – candle lighting ceremonies with sufganiyot (Hanukkah doughnut) and latkes (fried potato pancakes) almost every night of the holiday. Offices send their workers home early to enjoy the holiday with their families. 
"Secular people are out, walking around, Hanukkah parties all around and all across the board," Altshul said.
"On Thursday night, I was at Gregg [a restaurant in Jerusalem] for dinner and the waiters literally stopped serving the meal to light candles and everyone in the place started singing along," she continued. "We all know the songs here – no matter your upbringing."
The candle lighting ceremony at the Western Wall is streamed live on social networks throughout the whole holiday.
Moreover, unlike in the U.S., where the Christian community dreams of a white Christmas, in Israel the weather is generally just beginning to get cold and outdoor activities can still take place. Although it rained on the last day of Hanukkah this year, most of the days were nice enough to enjoy street fairs and other activities. 
Cornfield added that gift giving is also different in Israel.
"With the non-religious families in the U.S. there is always this underlying competition with Christmas," Cornfield said. "The holiday has become very materialistic in America. But here, every family has their own gift-giving tradition. Most do not involve large gifts each night."
Finally, the holiday is all about the sufganiya – the doughnut.
Cornfield and Altshul both talked about how everyone eats doughnuts and the bakeries compete for most beautiful and most delicious. 
Quipped Altshul: "Even in the bakeries that are not kosher, everyone is trying for the fanciest and the gooiest doughnut."
The last night of Hanukkah began on December 25. The holiday ends December 26 at sundown.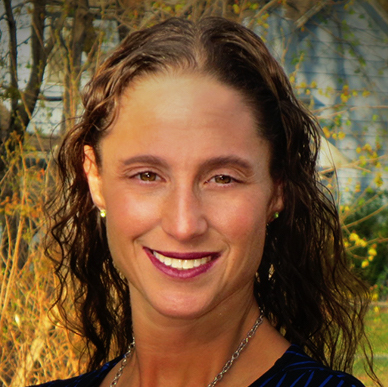 Maayan Hoffman is a veteran American-Israeli journalist and strategic communications consultant. She is Deputy CEO - Strategy & Innovation for the Jerusalem Post, where she also served as news editor, head of strategy and senior health analyst.
A message from All Israel News
Help us educate Christians on a daily basis about what is happening in Israel & the Middle East and why it matters.
For as little as $5, you can support ALL ISRAEL NEWS, a non-profit media organization that is supported by readers like you.
Donate to ALL ISRAEL NEWS
Current Top Stories
Comments