Opinion Blog / Guest Columnist
ALL ISRAEL NEWS is committed to fair and balanced coverage and analysis, and honored to publish a wide-range of opinions. That said, views expressed by guest columnists may not necessarily reflect the views of our staff.
God's Word to Israel: 'Take heart and be strong; have no fear!'
His Word pierces the darkness of news and fake news
Family and friends attend the funeral of IDF lone soldier Benjamin Leib at the cemetery in Jerusalem, October 10, 2023. (Photo: Noam Revkin Fenton/Flash90)
Amid the domestic political crisis and escalating social divisions in recent months, growing apprehension in Israel has centered around the looming specter of civil war and national disintegration. Yet, instead of internal strife, the nation now grapples with an external enemy in a conflict that has wrought widespread devastation, causing thousands of tragedies.
In the aftermath of the initial shock, we consume news through various media channels, often unsure of what to believe. For instance, a viral post on social media claimed that Israel had bombed the 1,160-year-old Saint Porphyrius Church in the Gaza Strip. Fortunately, it didn't take long to debunk this as fake news, which was spread by the enemy. Saint Porphyrius Church's Bishop promptly addressed the false claims on social media in response to inquiries.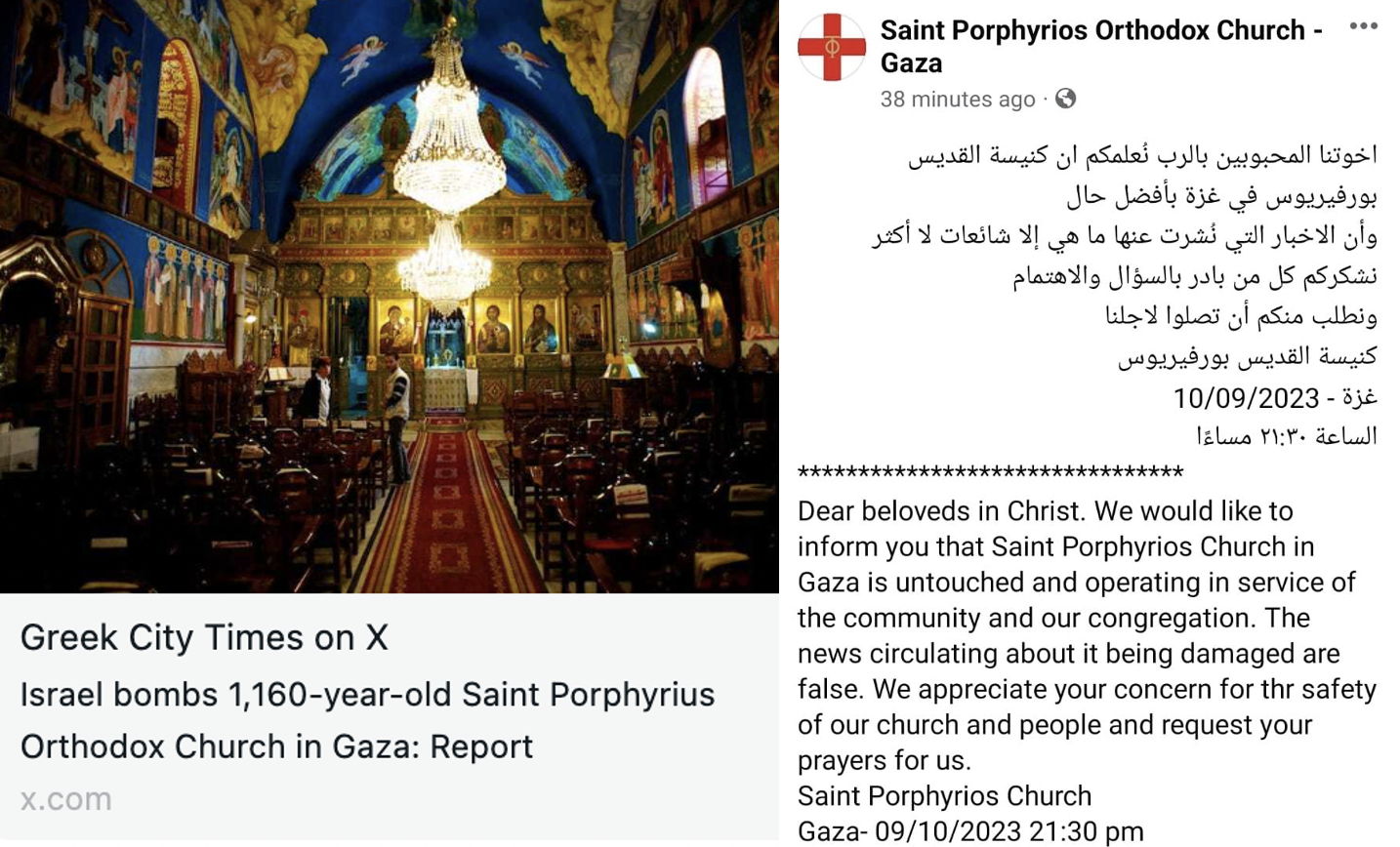 Fake news article, message released by Saint Porphyrius Orthodox Church debunking the story (Photo: Screenshot)
In another instance, ill intentions were not the issue but the following vividly illustrates our vulnerability to the unregulated deluge of news.
"I'm not sure if it's true, but it might be wise to be prepared," read a voice message from one of my acquaintances, forwarding a message they received from a friend.
The message relayed a warning from an Israeli woman who, according to her husband, a high-ranking member of the Israel Defense Forces, advised people to stock up on dry food, water, cash for a week, gasoline, and a battery-operated radio. The reason cited was the potential for days without access to water, internet or electricity.
I replied, "It's the kind of message no one takes seriously in principle, but everyone seems to be taking it to heart." Then, with curiosity piqued, I decided to visit the nearby supermarket myself. To my astonishment, I encountered an unusually large crowd, quite atypical for a Monday afternoon. Shelves stood emptied, devoid of baked goods and eggs, while the mineral water supply had run dry. Shoppers were hastily filling their baskets with whatever they could find.
Later, the IDF Home Front Command issued a warning, debunking a viral voice message that had been circulating online, stating that it lacked any factual basis. However, shortly thereafter, they released a different statement advising people to ensure they had a three-day supply of water, food, battery-powered radios, cash, and essential documents ready in the secure room of their homes. Those who hadn't already done so, inundated the nation's shops, supermarkets, gas stations and kiosks.
In response to the public's reaction, the Home Front Command was then quick to clarify that this wasn't a new directive but rather a longstanding recommendation. It's a list worth having at hand, not only for the current situation but also for preparedness in the face of earthquakes and other potential disasters.
In a world filled with a deluge of news and fake news designed to manipulate us, individuals often find themselves adrift without a timeless guide that remains unaffected by human intent, whether benevolent or malevolent. Without such guidance, we become vulnerable to instinctual reactions fueled by fear, anxiety and panic.
Yet, for those of us, the believers, God's Word stands as a beacon of blessing. It provides comfort, tranquility, peace, and security even in the midst of the most challenging circumstances.
The barbaric attack by Hamas took place on a day of immense significance – a day designated by God in the biblical calendar, known as Shemini Atzeret/Simchat Torah. This day marks the conclusion of the Feast of Tabernacles. It's a day when the first part of the book of Joshua is traditionally read in synagogues worldwide, and this reading includes the following verses:
"I will not fail thee, nor forsake thee... Be strong and of good courage!... Have not I commanded thee? Be strong and of good courage; be not afraid, neither be thou dismayed: for the LORD thy God is with thee whithersoever thou goest."
Could it be a coincidence that this prophetic phrase fell on a day of brutal bloodshed and panic? The believer knows that there are no coincidences.
The nation is currently reeling from shock, enduring suffering and engaged in a fierce battle.
Regardless of the magnitude of the loss and the danger, Israel's ultimate safety is not in jeopardy. Just as God has promised countless times through the prophets: He, who can bring blessings even from the most significant calamities, will not forsake His people; He will personally defend Israel.
His divine plan cannot be altered by human intentions. We often struggle to comprehend His path, only grasping parts of it in hindsight, as God's ways surpass our own in wisdom and understanding.
"For my thoughts are not your thoughts, neither are your ways my ways, says the LORD. For as the heavens are higher than the earth, so are my ways higher than your ways, and my thoughts than your thoughts." (Isaiah 55:8-9)
In the darkest hours of the Holocaust, who could have imagined that in just a few years, the prophecy from the prophets about the Jewish nation in the end times would be fulfilled, and God would regather Israel in the Promised Land?
Or 50 years ago, after the shock of war casualties from the Yom Kippur War in Israel, who among the Israelis would have believed that peace with Egypt could be achieved? Apart from a few leaders, almost no one. However, in 1979, the first Middle East peace treaty was signed.
After years of growing social division, faced with approximately 1,000 casualties in the past four days, the opposing factions of protesting masses have come together again. This is a positive development, albeit one that came at a painfully high cost, offering a glimmer of hope.
The most we can offer is beyond practical assistance: We hold steadfast to God's promises, praying for the peace of Jerusalem, for the families of the victims, and for the injured on both sides. Above all, we pray for the true peace of God to dwell in our hearts and the hearts of our loved ones, as stated: "The Lord of peace Himself give you peace always, by all means."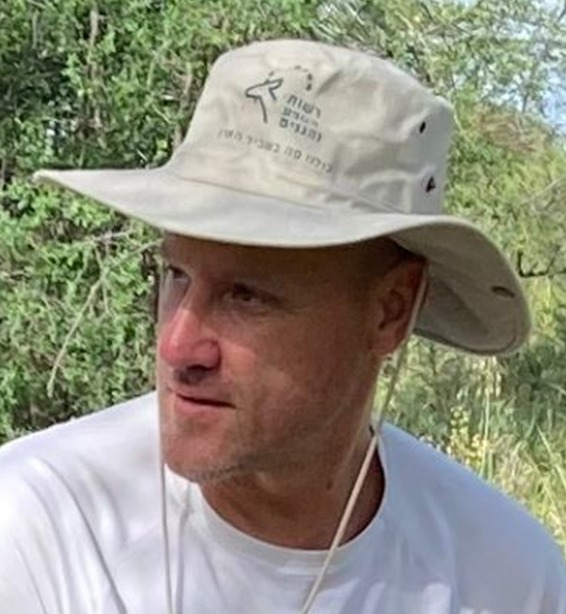 Yehuda is a former mathematics and science teacher in Israel's first accredited Messianic school, based in Jerusalem, holding academic degrees in mathematics, physics, and philosophy. He joined the ALL ISRAEL NEWS staff in August 2023.
Popular Articles
A message from All Israel News
Help us educate Christians on a daily basis about what is happening in Israel & the Middle East and why it matters.
For as little as $5, you can support ALL ISRAEL NEWS, a non-profit media organization that is supported by readers like you.
Donate to ALL ISRAEL NEWS
Latest Stories